We'd start this piece with a hearty bread-related joke of some kind, but the singers of the various bands that performed at the third annual Breadfest already cracked every possible one. A less expansive affair than last year's sprawling event, the burgeoning Riverwest institution (Riverwest Fest surrogate?) still encompassed Wednesday through Sunday nights across eight different venues, and the best part was that a person could conceivably catch every set of music without being in two places at once. It still took three Milwaukee Record writers to cover most of it, but it was a blast, once again.
WEDNESDAY
The party got started at Foundation, an unlikely festival venue that proved to be a perfect setting for the surf-rock stylings of King Eye & The Squirts and the one-off Riverwest supergroup known as The Duckmen. The two groups served up virtually indistinguishable sets of Ventures and Dick Dale classics, well-known movie themes, and of course, Link Wray's "The Rumble" (the highlight of the King Eye set). For all their inexperience as a live outfit, The Duckmen (featuring members of Calliope, The Flood, and The Zelda Routine) actually seemed to be the more well-rehearsed of the two bands—at least as far as our rum-addled ears could discern through the capacity crowd of chatty revelers. It was a pleasantly festive, early start to the weekend. [Cal Roach]
THURSDAY
Remember the days when a four-band bill would send you into a panic attack? Each band always seemed hell-bent on playing a full a 45- or 60-minute set, and the dreaded "Milwaukee Time" late showtime would guarantee you wouldn't get home until 3 a.m. Thank goodness those days are over. Thursday's four-group lineup at Linneman's found The Midwestern Charm opening with a just-long-enough set of noisy guitar rock that included new-ish track "Molasses Massacre Of 1919" and a terrific cover of "Stop & Think It Over." It took a while for the crowd to venture in from Linneman's bar, but when it did, it was treated to some terrific lead guitar work that would put Built To Spill to shame, and expert power-pop melodies that floated and surfed above the din. Rio Turbo showed up next with the shortest set of the night, but it was an undeniable party-starter. With the lights low and the crowd primed, Joe Peterson and company whipped through some of their greatest, sleaziest hits, including "Ish Ish," "Bloody Knuckles," and "Rock N Roller." Peterson wielded a handheld strobe light throughout, making picture-taking a near impossibility. No matter: Rio Turbo is definitely a "you-have-to-be-there" band, and demands to be seen live. Chicago's Mutts had the unenviable job of following Rio Turbo, and the crowd thinned a bit. Happily, by the time the group got to their excellent "Shake It Up" and a keyboard-infused cover of Nirvana's "Lithium," the room was lapping up the "Tom Waits meets Little Richard meets punk" vibe.
At this point, what can be said about Thursday's headliner, The Fatty Acids? The tireless "scramble-pop" mainstays are as Milwaukee as butter burgers and cheese curds, and never fail to disappoint. Their show served two functions: as a capper to Breadfest day 2 and as a tour send-off. Joining them was the equally tireless Jay Anderson, who provided sax accompaniment throughout a set that included Fatty gems like "Airsick." "I loved Myles back when he was just a character in Sonic The Hedgehog," quipped singer Josh Evert about Breadfest's main organizer, who was in the crowd, no doubt mentally preparing for three more days of mayhem. [Matt Wild]
FRIDAY
There's another new bar on the corner of Pierce and Center, and somewhere in Vegas the odds are in on this place making it longer than the Impala Lounge or River Horse. High Dive is either a work in progress or a true dive, except the men's room is curiously tidy and fully functional. Friday's early show had to be moved from Cocoon Room after its untimely demise, with High Dive ousting Ground Zero at the eleventh hour. It may not have been an all-ages show any more, but the ambience was still decidedly DIY. The only problem with the more stripped-down nature of this year's Breadfest was the super short sets. Live Tetherball Tonight, who played one of last year's more memorable sets, introduced a new song from their forthcoming debut full-length ("It'll be out…sometime," said singer/guitarist Ryan Gehrig), which turned out to be one of only four songs they squeezed in. Ylla only played three, although their caustic, trigonometric tunes tend to be a bit longer than the average punk song. On one hand, it might be difficult to spot a mistake within the jarring rhythmic shifts, but we're consistently amazed by the togetherness of Ylla, and we could've used another half hour of it—and of Tetherball, for that matter.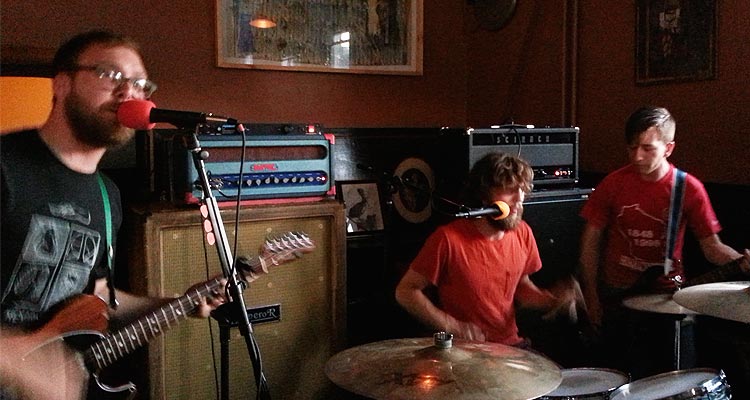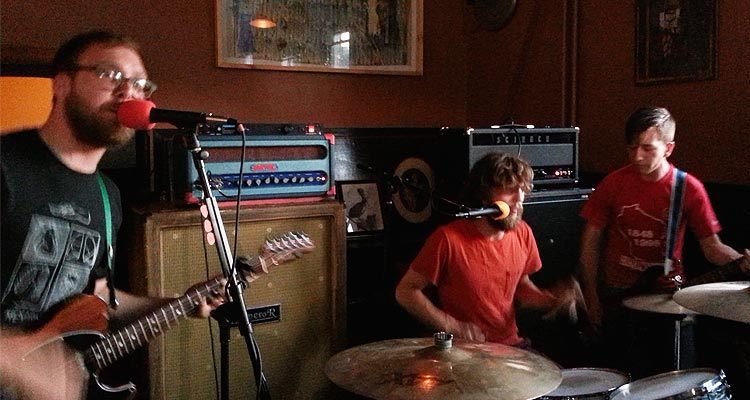 Friday's late show took place at the Riverwest Public House. First up were Brief Candles, who seemed a little shaky to start out (and again, they only played four songs), but it all came together in the sublime closer, starting with a riff Robert Smith wishes he was sad enough to write, slowly swelling into a howling cascade of noise, as all Brief Candles shows must.
Bassist/vocalist Audrey Pennings arrived in the nick of time to allow Sin Bad to play a short set; she walked in, plugged in, and away they went as if they play all their shows this way. If you acknowledge that well-crafted pop-punk can never really go out of style, you can't go wrong with this band (they also dreamed up one of the best band names in recent memory). Perhaps appropriately, Pennings' bass cut out in the middle of the final song. Little harm done, however, and the set turned out to be a nice breather in between shoegaze assaults.
Austin's Ringo Deathstarr are regular visitors to Milwaukee, so it seemed appropriate that they play this locally focused fest. Regardless of propriety, they blew the doors off the Public House. They have the most refreshing way of ending songs: rather than bathe everyone in a nebulous haze of effects and feedback in between songs like most acts of their ilk, they make a point of definitive endings, chopping off all sound abruptly. The songs themselves are great, often a bit heavy and Melvins-ish compared to most shoegazers, and with busy, guttural bass work by Alex Gehring that constantly tricks you into thinking you're getting a text notification throughout your entire body. Finally, a band got to play for a reasonable chunk of time.
Next up was Maritime. Onstage, Davey von Bohlen is a curious mixture of aw-shucks charisma, manic energy, and rock-star ego; you never quite know if you can take him seriously. The dingy Public House must've been somewhat of a throwback to early Promise Ring days for him, and the sound was admittedly pretty bad for most of the evening, so we can't really blame him for his passive-aggressive bitching at the sound guy as Maritime took the stage. Resplendent in a Cincinnati Bengals t-shirt, von Bohlen opened with new single "Milwaukee" (the band's new album, Magnetic Bodies/Maps Of Bones, comes out October 16 on Dangerbird Records), complete with its refrain of "You're my one-horse town." Still, the back-and-forth between von Bohlen and lead guitarist Dan Hinz won over the crowd, in terms of both banter and music. Hinz concocted some truly inspired solos during the set, not to mention several past-your-bedtime jokes. "Sometimes the drunk guy who grabs the mic…he's in your band," von Bohlen quipped. As expected, "Guns Of Navarone" sent everyone home happy. [CR]
SATURDAY
Mad Planet was poised to host the climax of Breadfest 2015. It boasted the most eclectic bill of the weekend: a couple of the city's most promising rising stars as well as Breadking Records founder Myles Coyne's first solo show with a full band since last year's Brady Street Fest. First up were Dream Attics, a vaguely psychedelic synth-pop four-piece. Guitarist Nick Tovarek basically provided all the atmosphere and beats as well as the strums, and while many of the band's songs blended together in a dreamy, post-Postal Service dance, the weird enthusiasm of frontman Shane English kept things interesting, especially for the last song, which featured some unexpectedly heavy guitar work. This bodes well for a follow-up to last year's enjoyable debut EP, Unbend.
With the Rusty Nickel Band scattered, Mr. Coyne has assembled a new outfit that features Victor Buell IV (Calliope, etc.) on guitar, Chuck Zink (Mortgage Freeman) on bass, and Steve Vorass, Jr. (I'm Not A Pilot, etc.) on drums. Coyne hinted at a less folky direction at the last Rusty Nickel show, but Saturday's set was all electric, and quite potent at that. The new songs retain Coyne's trademark rambling mixture of sentiment and folksy philosophy, with a broad range between slow, pensive stuff and upbeat rock, sometimes within the same tune. Buell in particular added some terrific textures and leads, but as much as the peripherals and superficialities of style may have changed, there was no mistaking any of it for anything other than Myles Coyne.
There's a similar concept at work with NO/NO, the post-Delphines project from core members Harrison Colby, Lucas Riddle (absent Saturday, with Rio Turbo's Joe Peterson filling in on bass), and Jeremy Ault. They've added singer/keyboardist Cat Reis (Rio Turbo, etc.) and in the process morphed into a more electronic-oriented band, but that distinctive Colby guitar tone and those catchy, clanging riffs will forever tie the two bands together—which is by no means a bad thing. NO/NO, who have completed a debut full-length with no release date yet, may not evoke the freaky melodrama of The Delphines, but they've lost none of the urgency while adding elements of infectious danceability and even (gasp!) joy. Their set was nonstop energy, recalling the best elements of '80s post-punk combined with an edgy modern pop sensibility, if that's something that still exists. If not, it must be unique to NO/NO.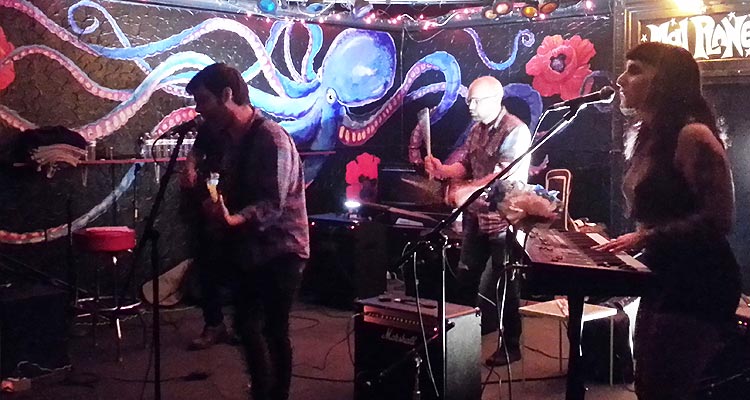 A week after his triumphant headlining slot at Brady Street Fest, Lex Allen came onstage sans-New Age Narcissism (although several members were in attendance), alone except for DJ Fresh Widow (who kept the party rolling between acts all night). As it turned out, his performance, though brief, was no less captivating than the full-band approach. Without an ensemble nor numerous guests joining in, we got the stark power of Allen's voice, which his 2014 release Anonymous Vibes, while good, doesn't quite do justice. It could be that he's developed a more resonant and dynamic quality even since recording that album, but even a relatively lightweight tune like "Puppy Love" came off as intensely emotional, even mature, with Allen alone in the spotlight. Following his set, several audience members (Lorde Fredd33 among them) joined Allen onstage for some quote-unquote dancing as the party got set to rage on 'til bar time, and very few fans headed for the exits. [CR]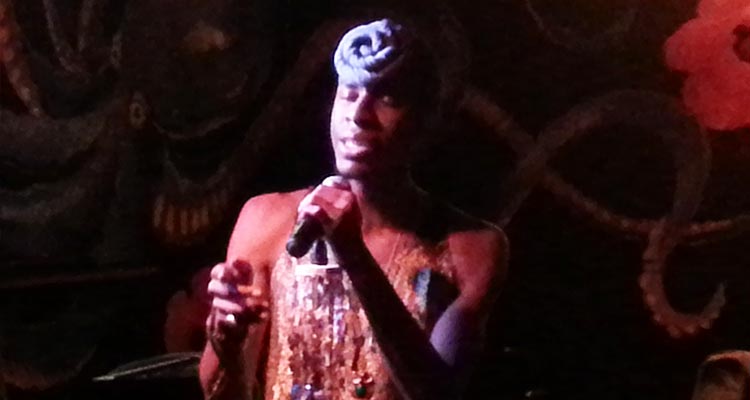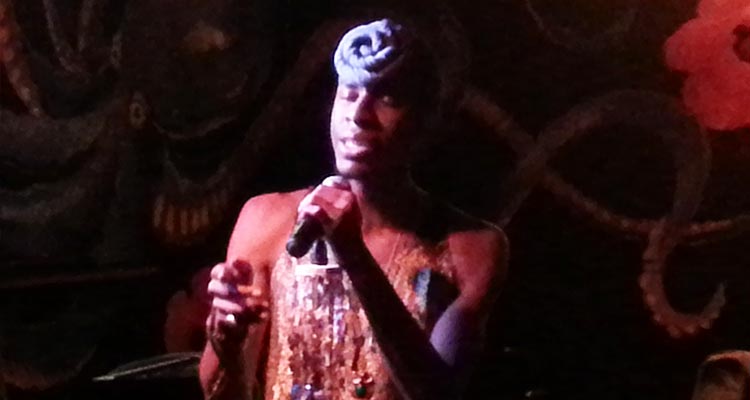 SUNDAY
Even though Breadfest is already affordable as it is, Coyne and company also decided to make a few of the shows absolutely free, including Sunday's early show at Company Brewing. Of course, the already beloved two-month-old restaurant not wanting to turn away potential diners with a cover charge probably played a part in that as well. The 6 p.m. show was a truly mixed crowd that ranged from families there to dine to folk fans gazing at the stage from their barstool while nursing a beer (we highly recommend the Green Gallery IPA), lest they be loitering. During the early portion of opener Jack Tell's set, it seemed like the diners seized control of the show, as their steady chatter overtook much of the fretboard tapping and guitar body percussion of Tell's "My Name Is Jack" and a couple others. Eventually, attention shifted from entrees to the entertainer, as Tell projected during an up-tempo cut from his solo record, "Letting Go In The New Year," and a new song allegedly about the movie Space Jam. The troubadour—who just returned from a lengthy solo tour—brought his set home with stripped-down and well-received renditions of "Hell" and "South Pole Mountain Song" from his shelved Animals In Human Attire project.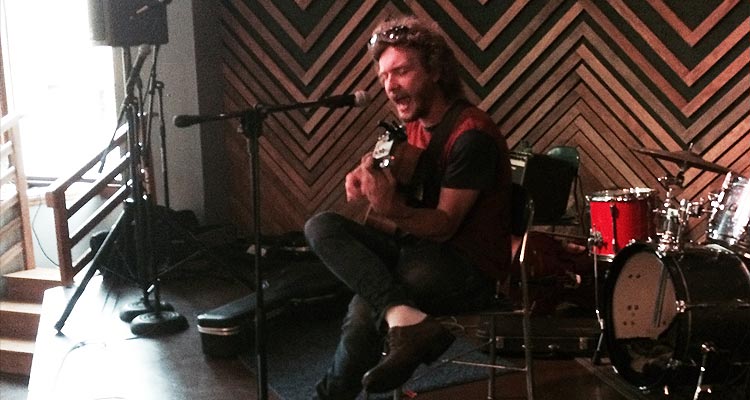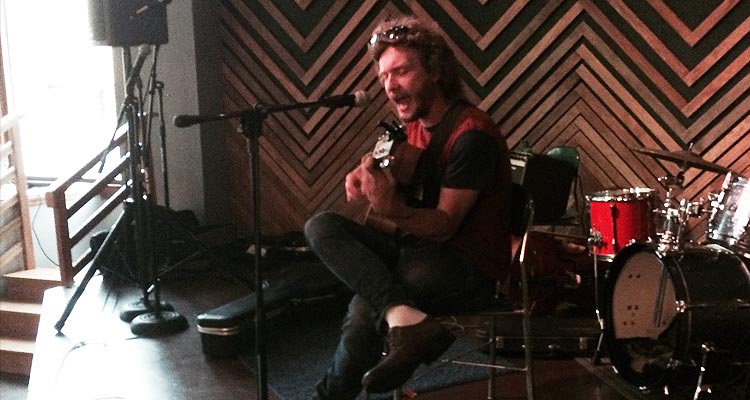 Where Tell needed to win the Company crowd over, Jordin Baas had them eating out of her hand from the opening note. With the early-set assistance of multi-instrumentalist Amanda Langley, Baas captivated the audience with her incredible voice, exposed lyrics, and charming between-song banter that included her reasoning for being happy to be back from her recent cross country trip: "It's nice to, you know, pee whenever you want to." Once Langley departed mid-set, Baas resorted to a couple of covers, including Radiohead's "High And Dry" and Etta James' "Stormy Weather." Almost on cue, the room darkened as black storm clouds blocked the dwindling sunlight. Following a 15-minute period of torrential downpour between sets, Ugly Brothers put a bow on perhaps the most delicate show of Breadfest by playing a set rooted in unreleased material (and the always great "Topeka") while showcasing their beyond-their-years musicianship, switching instruments with one another between songs, and nailing smooth six-part harmonies. [Tyler Maas]