Every summer weekend in Milwaukee is one that's abound with activity and causes to celebrate, usually outside and in close proximity to live music and a beer stand. However, there are a select few days each summer when a cavalcade of events coalesce to essentially take over a sizable portion of the city. Saturday was such a day. Riverwest was in the thick of the Riverwest 24. Meanwhile, the lakefront was—as we discovered over the course of our infuriating hour-long trip down Lincoln Memorial Drive—a clusterfuck on account of Milwaukee Brewfest, German Fest, and thousands upon thousands gathered to watch airplanes flying. Between those two hotbeds of action, the East Side's iconic Brady Street was also abuzz with bands, booze, and foods served on a stick.
Though the Milwaukee Air & Water Show continued its annual tradition of ruining our day/life and parking was predictably terrible, we eventually made it to the always bustling nine-block stretch of the lower East Side action you probably know better as Brady Street Festival. What followed was eight hours worth of eclectic music, tasty treats, unrelenting sunshine, and, yes, even that dude who walks around with a lizard. Beyond those things, here's what Milwaukee Record co-founder/editor Tyler Maas and contributor Cal Roach saw at Brady Street Festival 2015.
1:57 p.m. – Mere steps onto Brady Street, we can already mark "see guy with swastika tattoo" off our festival bingo card. We briskly walk west, into the festivities and far, far away from that dude.
2:06 p.m. – It wouldn't be Brady Street Festival if we didn't witness a BMX demo. We witnessed some of the BMX demo.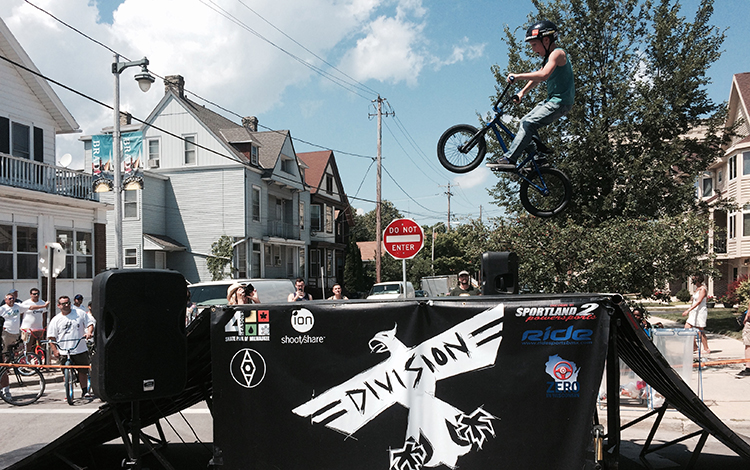 2:13 p.m. – Unfortunately, we seem to have arrived during a between-band lull on the three main stages. Thus, we're watching a beatboxing keyboardist performing a rendition of Damien Rice's "Volcano" outside of MKE Vape.
2:30 p.m. – With The Bang Bang getting off to a late start on the Great Lakes Distillery stage, we grab a quick bite at a Brady Street food fixture, The Dogg Haus. As we wolf down a delicious Veggie Dogg with hot peppers, tomatoes, mustard, and a mountain of sauerkraut, Aaliyah's "Are You That Somebody?" plays in the small shop. All is right in the world.
2:41 p.m. – Full and sipping a lemonade, we take in the early moments of The Bang Bang, one of the various young up-and-coming acts dotting the fest's lineup. A small crowd looks on as singer Katie Rash belts out lyrics into a megaphone. All in all, it was a great way to ease into the afternoon.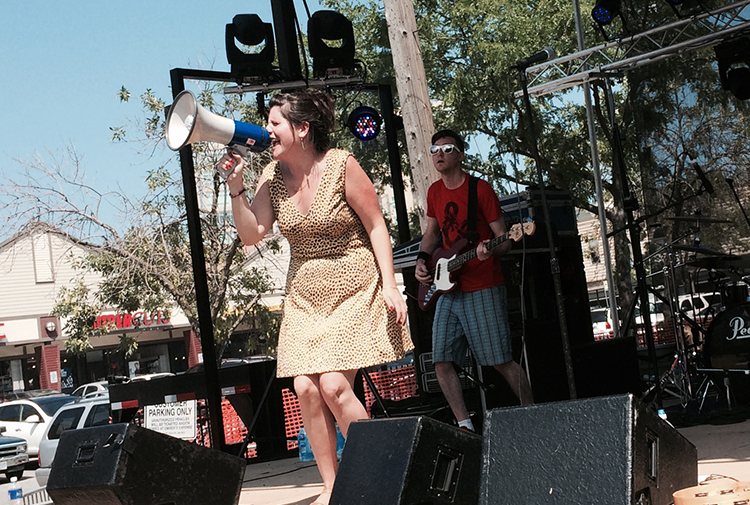 2:52 p.m. – It's damn hot outside. That, coupled with the miles we've already walked up and down the nine-block patch of the East Side, is all the justification we need to splurge on an item from Pete's Pops. We're sure more traditional flavors such as red berry and root beer would've hit the spot, but we try the stand's avocado-flavored ice cream bar. Holy shit! It's great. We forge on a few degrees cooler than before.
2:58 p.m. – The coolness of our avocado ice cream bar is easily matched by the breezy, Jonathan Richman-like sounds of The New Red Moons at the Bud Light Island Main Stage. We stand in the shade and take in a few songs, including "Where Will You Be?" and "Cheating On You," as a saxophone-playing woman standing under a tree near the stage adds her own parts to the mix.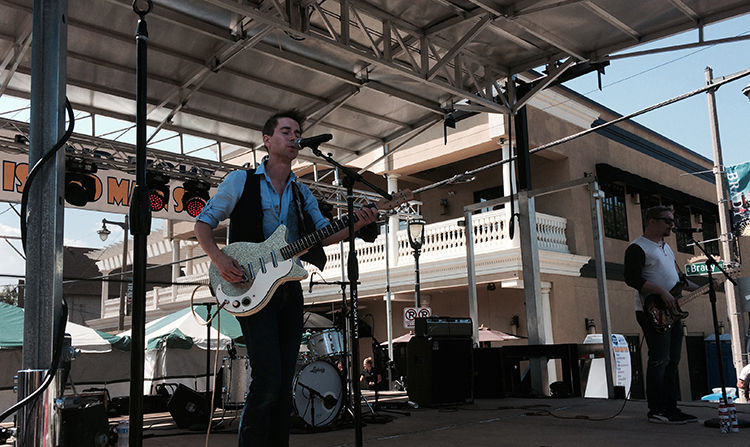 3:19 p.m. – Lizard Guy! It's officially a Milwaukee festival now. Since we last saw him and his reptilian counterpart, he's added a belt-worn bucket for tips to the mix. What's the appropriate "saw a lizard" tip percentage again?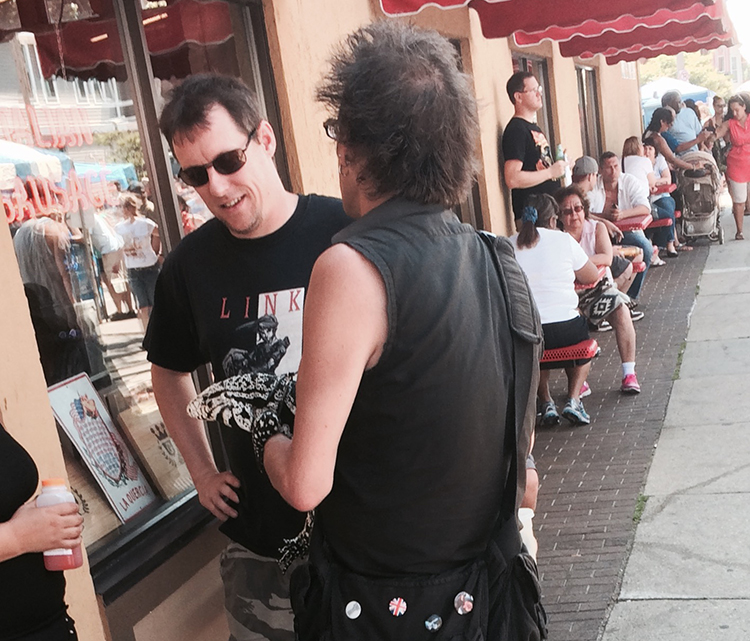 3:25 p.m. – While The Cavewives do their best Midwest Led Zeppelin impression on the Brady Locals Pedal Powered Stage, we notice this beauty on some dude's shoulder. Here's how we imagine it went down: "You know Blink-182's second worst record? Yes, please put its cover on my body permanently, thanks." We don't have the heart to tell him what went down with Tom these past few months.
3:41 p.m. – The rock and/or roll of Various Small Fires explodes off the Great Lakes Distillery Stage like a jet engine. Oh, wait, that was a jet engine. Another one. Is this air show over yet?
4:28 p.m. – Dan Aukofer, the driving force behind Powered By The People, implores bystanders to hop on the stationary bikes parked at the side of the Brady Locals Pedal Powered Stage. It's a little beastly out here at the moment for extended cardio workouts while drinking heavily, but the power never goes out.
4:34 p.m. – The unapologetic '80s rock of Tigernite brings a steady trickle of humanity to the bike-powered stage. Facing directly into the sun, singer Molly Roberts seems unfazed by the heat, and the band plays like it's headlining Lollapalooza or something.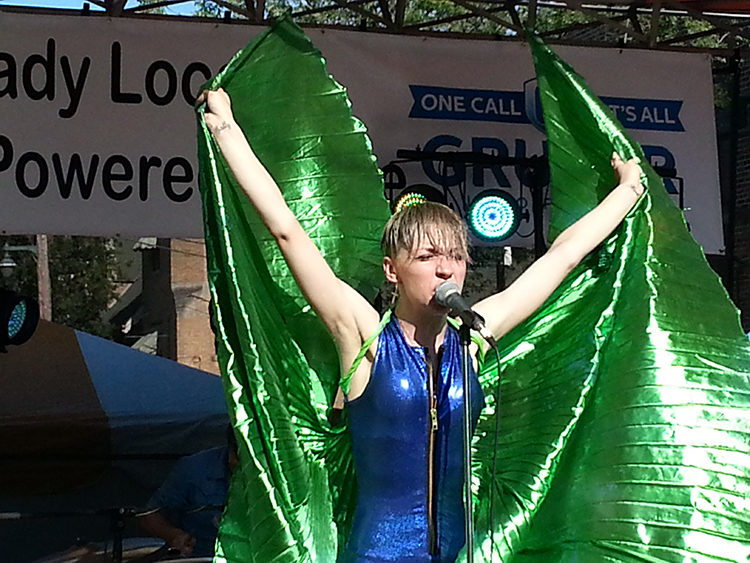 5:03 p.m. – Roberts busts out a huge green cape from…somewhere, transforming into a shiny butterfly. We're not sure if this band is better suited for a small club or a Monsters Of Rock stadium tour, but we do know that the songs from the group's forthcoming album are putting its old songs to shame.
5:34 p.m. – At the New Glarus tent, we are charged five bucks for a tap beer and one dollar for a green paper wristband. We're not sure what the wristband is for, as no one asks to check our ID or anything, but it seems like a ripoff.
5:45 p.m. – Artaska Arquino emerges a little late and suffers some early technical difficulties, but she soldiers on. The set begins with a booming instrumental piece featuring Arquino on electric violin—not exactly what we expected from a reggae/hip-hop act. Despite equipment and sound problems, there's no denying the power of Arquino's voice, which merits some legitimate Billie Holiday comparisons. Her rhythm section is impressive as well, and she's got an engaging presence onstage. She may still be searching for her sound, but we're excited to see what happens once the pieces all fall into place.
6:39 p.m. – An infectious funk groove lures us to the Dryhootch area, an unofficial stage for the festivities. Jeannie Holliday leads a crack soul combo through a seamless medley of classic covers and impromptu embellishments. It's far from original, but it's the kind of feelgood party atmosphere that's otherwise lacking at this festival.
7:21 p.m. – Back at the Bud Light Island Main Stage, some dude who appears to have forgotten that Dave Matthews is playing at Alpine Valley tonight randomly jumps onstage to take a selfie in front of Space Raft's Jordan Davis, who doesn't flinch. This is how low we've sunk, society.
7:38 p.m. – This guy.
7:50 p.m. – Space Raft blows the imaginary roof off Brady Street with a new song called "Red Arrow," a powerful tribute to Dontre Hamilton that doesn't seem to reference outer space or aliens at all. We're baffled by the small crowd here, as this is one of the greatest Space Raft performances we've ever witnessed.
8:36 p.m. – Beach balls bounce off oblivious heads as Klassik serenades a sizable crowd at the east end of the festival. His backing band, local jazz outfit Three. Stacks. Eliot, doesn't quite pull off the Group Of The Altos gravitas of "Fucks With Us," but the group is otherwise well-suited to Klassik's blend of rap, R&B, and the kitchen sink.
8:43 p.m. – Okay, we could use a little more bass for Klassik's banger version of "Boogie" than Three. Stacks. Eliot has the capacity for, but the crowd is moving to its own woozy rhythm. This festival is turning out to be more danceable than we had anticipated.
9:06 p.m. – At the Glorioso's Entertainment Stage (as opposed to the Glorioso's Boredom Stage), Mortgage Freeman plays a trump card we'd witnessed last month during the band's Locust Street Festival set: a cover of Jefferson Starship's only good song, "Jane." This gets the crowd riled, although we think Freeman's original songs are almost all better than "Jane."
9:30 p.m. – New Age Narcissism is in the process of taking Milwaukee by storm. They've amassed by far the most enthusiastic crowd we've seen at this festival, and Lex Allen has them all eating out of his hand.
9:40 p.m. – As expected, Lorde Fredd33 takes the spotlight for "Bango," another song that has everyone onstage participating more as visual accompaniment than instrumental. Half the crowd chants along, enraptured; the other half tries to figure out what everyone is chanting and moans nonsensically.
9:59 p.m. – As it turns out, multi-instrumentalist Chris Gilbert is also a dancer with some impressive animation/contortionist skills, as if this show needed more visual dazzle. Throughout this set, Allen has operated with the cool confidence of an established star. It's almost as if he's promoting his collaborators more than himself. This is the secret of NAN—everything's in service of the whole group, and any one of them might be the current rising star. It was Allen's night, but it was a huge win for the collective, as well as the audience.
We'll see you next year, Brady Street. Hopefully Bibby and the boys stay home.