If the 39th installment of the Locust Street Festival of Music & Art & Sigmund Snopek proved anything—beyond the fact that even dogs are wearing MilwaukeeHome shirts these days—it was that bad weather is no deterrent to a city determined to kick off its cherished street festival season in style. Well, the threat of bad weather, anyway—other than the A.M. rain that poured down on the 1.8-mile beer run/walk, Sunday was a near-flawless day. People showed up in droves. Go figure!
It was also an absolutely awesome day for local music, with a killer lineup that included festival favorites (The Fatty Acids, Rio Turbo), newcomers (New Age Narcissism, NO/NO), and a cover band that played a shit-ton of Led Zeppelin. Here's our slightly damp, slightly buzzed minute-by-minute recap of Locust Street Festival 2015.
1:15 p.m. – Okay, so we're late. Sue us. It was one of those weekends. Anyway, following the morning and early-afternoon rain, the weather is hot, muggy, and overcast. Happily, the crowd and still-soaked beer runners/walkers seem to be in good spirits. One of the first things we notice: Urban Milwaukee's Michael Horne hanging out on someone's second-story porch. We don't know why, but we take this as a good omen for the rest of the afternoon.
1:27 p.m. – Things are already running behind schedule, probably due to the weather or the fact that every Locust Street Festival starts off slow. Either way, we're not complaining. We make our way to the Riverwest Public House stage just in time to see one of our favorite Milwaukee bands, NO/NO. The former Delphines and singer/synth player Cat Ries are set up under a bright yellow circus tent. "Come inside, guys," Ries says. "It's humid and muggy, but I guarantee it'll be like that everywhere today." She is correct.
1:30 p.m. – Man, these guys are so fucking good. "Drag" is dreamy and sweaty, "Red Flag" is chirpy and jittery, and set-closer "Stay Awake" is one of those songs that makes you want to melt and/or make out with everyone in a 10-mile radius. (We choose the first option.)
1:49 p.m. – Did the DJ tent on the roof of Riverwest Healing Arts make a return this year? Yes, the DJ tent on the roof of Riverwest Healing Arts made a return this year. We spot a lone girl getting way into it.
1:56 p.m. – The weather is cooling off and the drum circle on Bremen is heating up!
1:57 p.m. – Sigmund Snopek is throwing bags of Doritos into the crowd, which means six more hours of good Locust Street weather. We love this shit.
2:01 p.m. – With members moving, departing to focus on other projects, and becoming mothers, the iteration of Calamity Janes And The Fratney Street Band we're watching at the Lakefront Brewery stage looks much different than the one we saw packed into People's Books during Breadfest. That noted, the new faces joining Krystal Kuehl (the only Jane present today) and Ernest Brusubardis are doing a great job reprising old material and unveiling new songs.
2:15 p.m. – Aaaaand here's the sun! Did we mention we're toting around a bag with an umbrella, a rain poncho, and a hoodie? And that we're stuck with it for the rest of the day?
2:20 p.m. – The sweltering sounds of Calliope are rolling off Linneman's outdoor stage. Frontman Al Kraemer is wearing a U.S. flag tank top, which is a nice counterpoint to all those Insert Your City Here MilwaukeeHome tank tops. "Feeling the heat, Milwaukee?" Kraemer asks. "So are we. We're sticky."
2:39 p.m. – There's always a ton of decent-to-great food at Locust Street Festival (Funnel cakes! Cheese curds!), but we're partial to the no-nonsense cheeseburger and fries combo at Klinger's East. We wolf down our meal on the curb outside the Thai Chi Center. In the street, some Thai Chi-ers do their Thai Chi-y thing.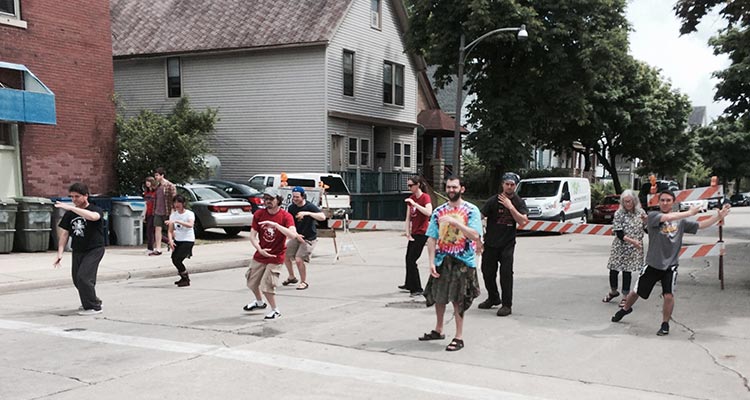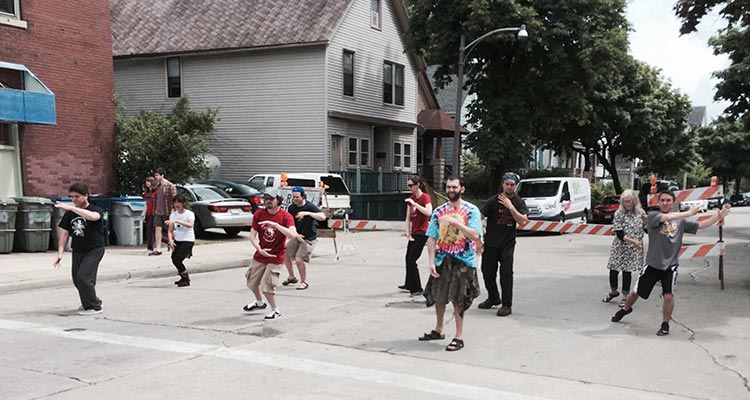 2:57 p.m. – We duck into Riverwest Public House in effort to escape the sun for a few moments, but to also try Sprecher's new WMSE SMASH Ale. The Public House is celebrating the "single malt and single hop" summer brew's recent release. It's fine, but we'll stick with $4.25 cups of Lakefront IPA from henceforth.
3:07 p.m. – Storm clouds have been threatening in the west for a while, and now the moment of truth arrives: rain! Over at Linneman's outdoor stage, Ugly Brothers are dealing with the conditions while sound checking. Friends generously help them though, until the sprinkle subsides after two or three minutes. What is it about this festival that keeps prolonged shitty weather at bay?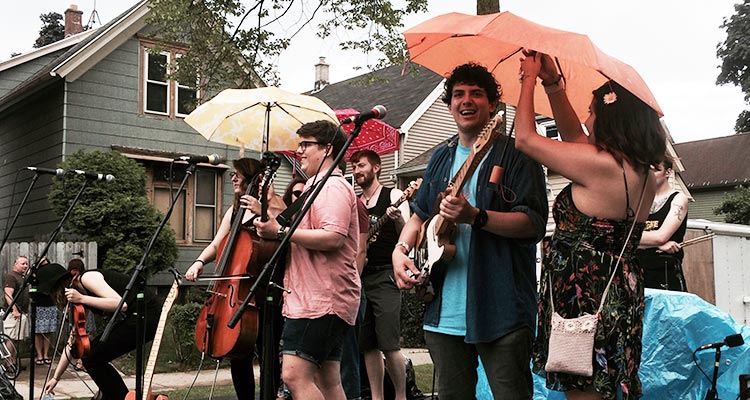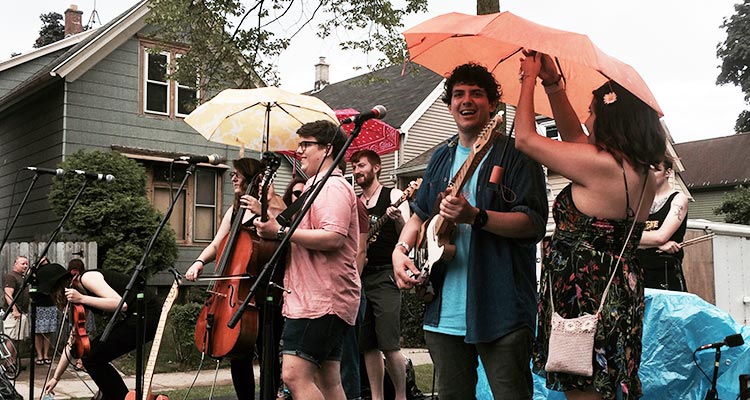 3:15 p.m. – It's important to remember that the full name of today's festival is "Locust Street Festival of Music & Art." Inspired by that last bit, a friend inquires about a sweet painting of the Stay Puft Marshmallow Man. It's $100. "If I happen to find $100 today, I'll buy it," our friend says.
3:31 p.m. – The clouds have parted and Ugly Brothers start their (thankfully dry) set. We quickly notice five of the six members are wearing tank tops with the logo of next-door bodega Sunrise Foods on them. "Thank you. We are 'Sunrise Foods presents: Ugly Brothers,'" Alex Shah says. New name or not, it's the same old Ugly Brothers, with beyond-their-years songwriting, five- or six-part harmonies, members swapping instruments between songs, and a great (albeit brief) set packed with new songs and classics like "Smoking In The Presence Of Cancer" and "Topeka."
4:08 p.m. – We briefly venture to The Tracks stage when we hear BoDeans' "Closer To Free" in the distance. There, Sam Llanas (a former member of BoDeans, which Shepherd Express readers voted to be Milwaukee's best rock band of 2014) is playing his old band's biggest hit as folks and children dance.
4:12 p.m. – Soul Low is playing to roughly 8,000 people at Linneman's outdoor stage. It's a surprisingly rowdy set from one of Milwaukee's most likable bands, and features, at one point, a mic stand falling (getting pulled?) into the crowd. Singer-guitarist Jake Balistrieri suffers the similar fate of falling off the stage, too, but recovers from his spill with poise, as the band turns in one of the more memorable sets of the day.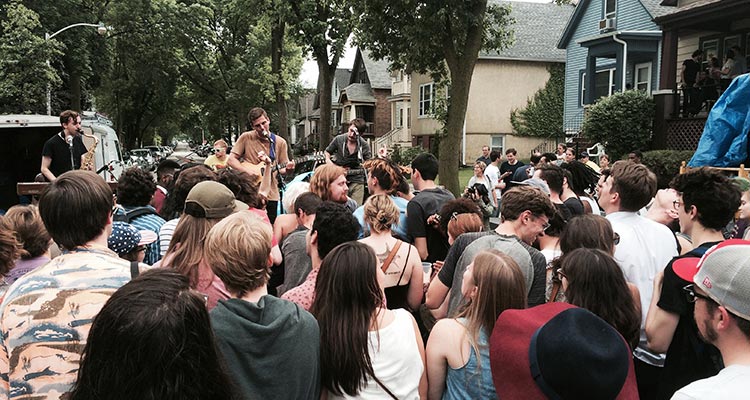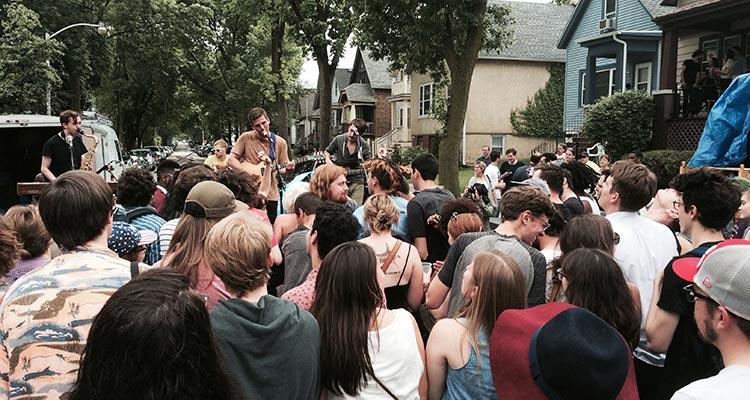 4:28 p.m. – Over the years, we've learned Locust Street Festival is a prime place to see Milwaukeeans of all ages, races, and income levels sporting jerseys. This year is no different, as we happen upon everything from the same Joey Galloway Cowboys jersey we spotted last year to a woman in a Gordie Howe hockey sweater. Maggie Iken from Grasping At Straws even wears a Joe Montana Chiefs jersey while playing inside Linneman's. However, all the jerseys we see become irrelevant during Soul Low's set as we notice a woman in a garment honoring Jesus Shuttlesworth, the fictional high school phenom poorly portrayed by then-Bucks player Ray Allen in Spike Lee's He Got Game.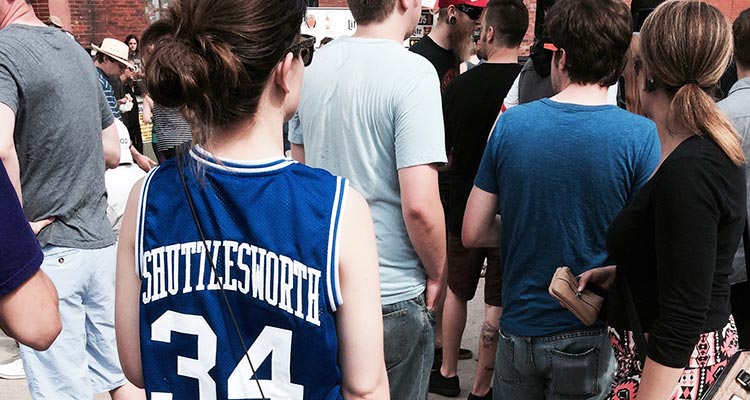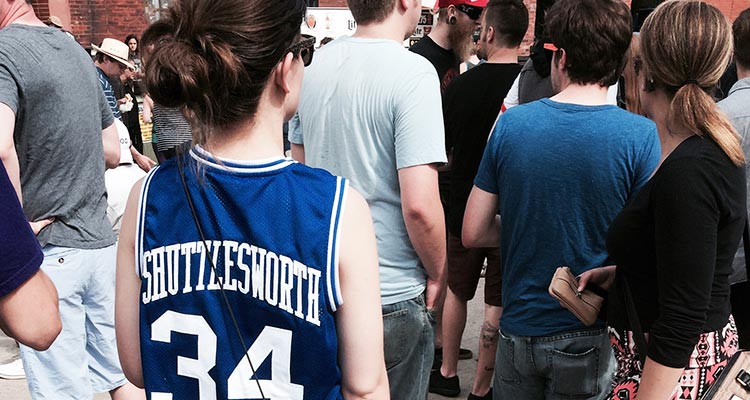 4:43 p.m. – Ooh! Soul is Low playing "Spooky Times"—a.k.a. The Disclaimer song!
4:56 p.m. – We're at the Riverwest Public House outdoor stage a few minutes before Midnight Reruns' set. We're happy that's the case, as singer-guitarist Graham Hunt and bassist Brady Murphy are yelling "Woo!" along with nonsense like "Crab Rangoon!" to soundcheck. Mics checked(ish?), Reruns captivate a growing audience with songs from their great new EP, abrasive and utterly enjoyable cuts from the forthcoming Force Of Nurture, and old songs like "Summer Smoker" before closing things out with a cover of "The Other Man" by The Mistreaters.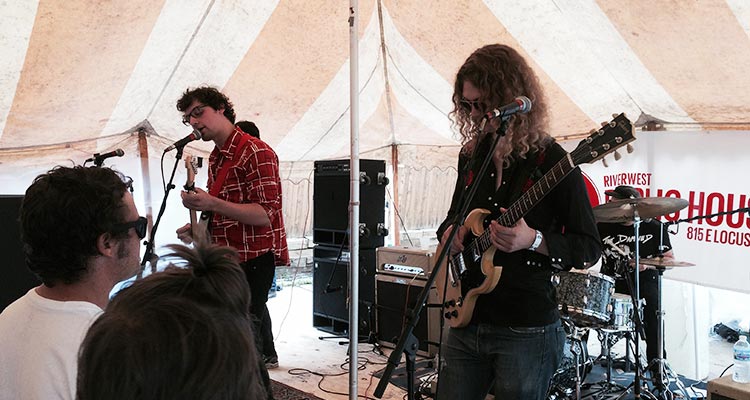 5:25 p.m. – Word on the street is that Fatty Acids and Platinum Boys guitarist Matthew Pappas was out until 6 a.m. for his brother's bachelor party. Our excitement for seeing Pappas' bands play today suddenly quadruples.
5:30 p.m. – Surgeons In Heat take to the Linneman's outdoor stage for a slinky, understated set. Things are back on schedule. We can't get enough of "Disaster."
5:41 p.m. – Surgeons frontman Johnathan Mayer: "The party's at Jo-Cat's!"
5:56 p.m. –  We decide to check out Mortgage Freeman for a bit between Surgeons In Heat and Platinum Boys. We run into Milwaukee comics Sammy Arechar (who is still recovering from the misguided Taco Bell adventure he took with us), Jessie Mahne, and Josh Ballew. Peeking around Ballew's hair as best we can, we're enjoying the band's incomparable blend of classic rock and funk. WC Tank joins in on the fun with a guest verse during one song. Then new member Treccy Marquardt-Thomas absolutely owns a cover of Jefferson Starship's "Jane" with her powerhouse pipes.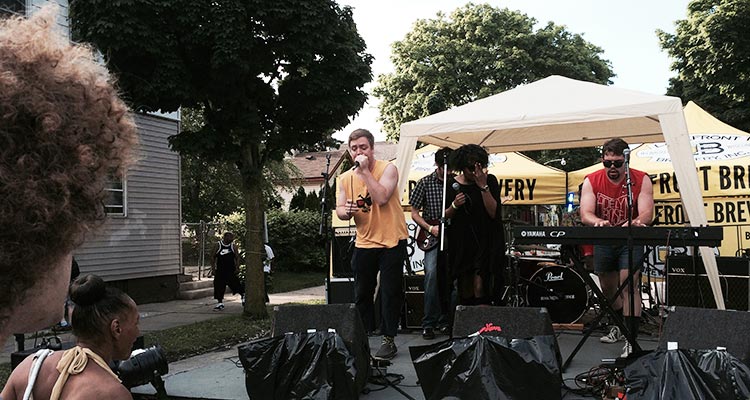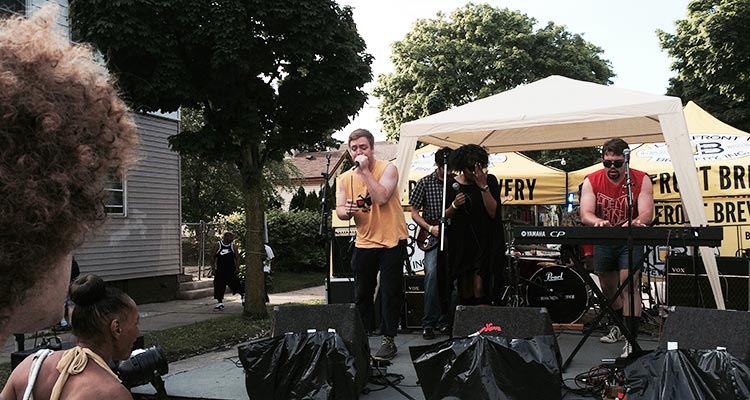 6:11 p.m. – The Platinum Boys set at the Riverwest Public House stage is fucking bonkers. The tent is packed to the gills, people are dancing on the roof of the Coocoon Room, and the band is everything you'd hope they'd be: sleazy, sweaty, ridiculous, great. Pappas is alive and well, and he even gives a shout-out to his bro's bachelor party. "It was a wild night!"
6:20 p.m. – As expected, we've confronted dozens upon dozens of dogs over the course of the afternoon. One of them apparently loves Milwaukee a lot.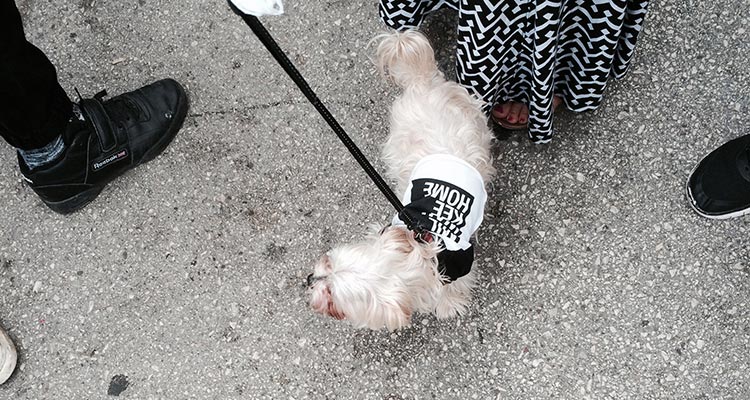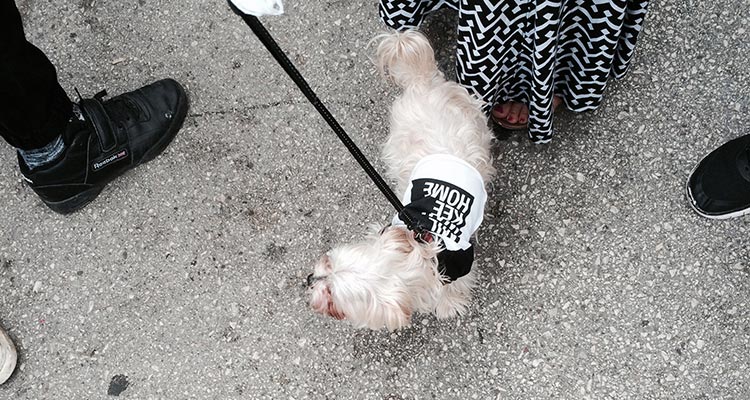 6:32 p.m. – Inside Linneman's, Will Rose (aka Airo Kwil) is delighting a small but lively group of onlookers that aren't watching Platinum Boys or Mortgage Freeman with his impassioned live-band-backed brand of hip-hop. He jumps down the stage and meets this guy, who seems particularly into it.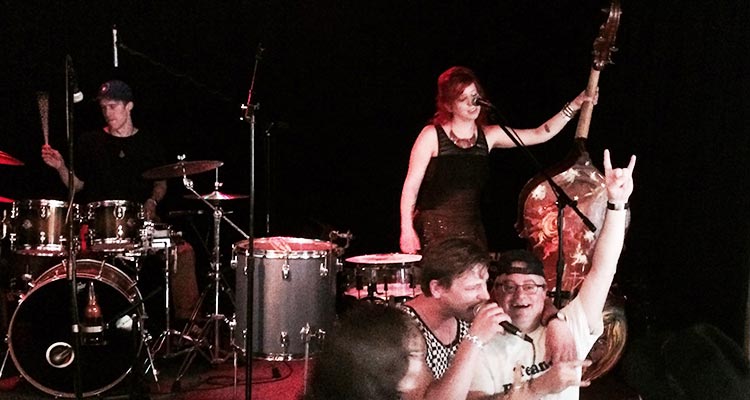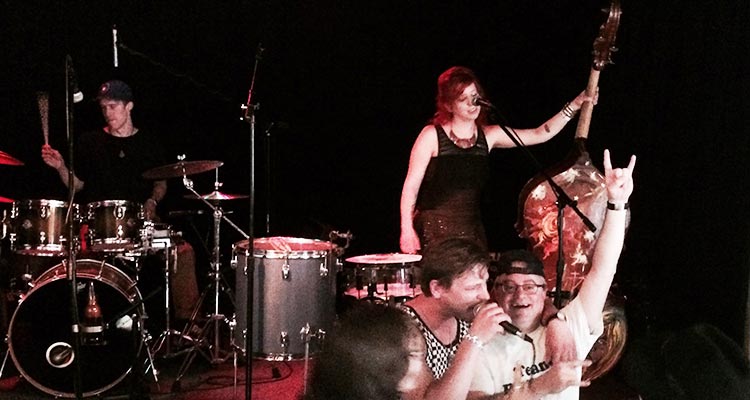 6:49 p.m. – We duck back inside the Public House to use the ATM. The ATM, it turns out, is not working. Oh well, we enjoy the disparity between the festivities outside and WMSE DJ Haven blasting Nitzer Ebb's "Join In The Chant" inside. FIRE! FIRE! FIRE!
7:02 p.m. – One of the most anticipated acts of the day, New Age Narcissism, sets up shop in the Public House tent. The crowd, as expected, is huge. Bassist Bo Triplex takes the mic first and premieres a new solo track, singing it over playback. Next up is Lex Allen, who offers a terrific version of the always-terrific "Puppy Love." WebsterX takes his turn with "Renaissance"—a.k.a. the "Started acting crazy / Now you wanna have my baby" song. Lorde Fredd33 enters to chants of  "I got the lord in me…I got the lord in me." The crowd is losing it.
7:28 p.m. – WebsterX digs into a frantic, unhinged version of "Blue Dream (Trippy Trebby)." It's terrific, and features the rapper climbing on top of speakers, grabbing two mics at once, and engaging in some frantic on-stage dancing.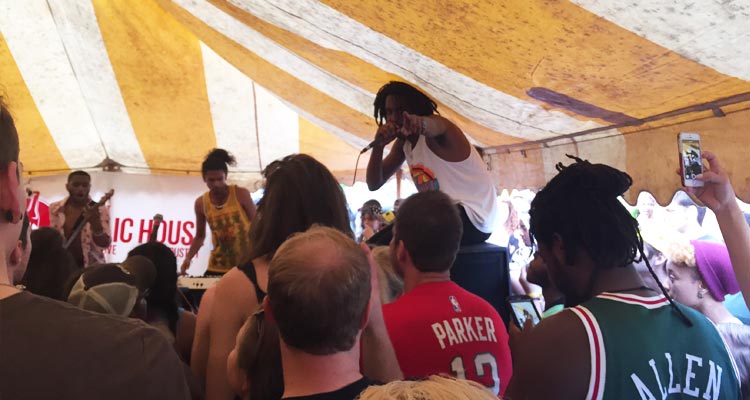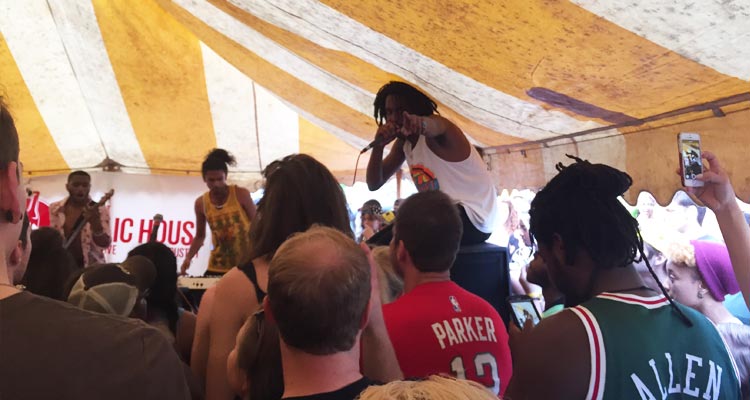 7:40 p.m. – Over at Linneman's outdoor stage, The Fatty Acids are playing "Airsick" to a glowing and dancing crowd. Is there a more Locust Street-y band that the Fattys? Former trumpet player Kurt Raether is back in the fold today (Matthew Pappas, for his part, is still alive), taking us back to past fests spent watching the group perform in the early-summer Riverwest heat. Oh, memories. We take this as a sign to call it a night, happy in the knowledge that while this year's Locust Street Festival may be over, another one will be here next year, likely with the same sights, sounds, and smells. We step past two dogs fighting in the street and a guy who has been walking around all day with a giant stuffed white tiger on his back, and head home.