Though opening day of the 2015 Milwaukee Brewers season is still 39 agonizing days away, the team has now reported to its spring training headquarters in Maryvale, Arizona. Single game tickets go on sale this weekend. Exhibition games will begin next week, which will usher the familiar sight of baseball highlights on the evening news, the always-refreshing tones of Bob Uecker saying crazy shit on the radio, and a stark shift in bar room chatter from the epic Packers NFC Championship bed-shitting to the Brewers' chances in the National League Central.
While the possibility of a new baseball season—not to mention the accompanying visions of summer—is always reason for excitement in Milwaukee, the Brewers offseason to this point has been among the least flashy and most discouraging in recent memory. As the majority of Milwaukee's division rivals made significant moves to improve (Seriously. The Cardinals had a player fucking die and they still got better!) both on the diamond and in the front office, the Brew Crew made a variety of quiet transactions. Save for trading Yovani Gallardo two seasons after his value was at an all-time high, this winter was devoid of any head-turning acquisitions. That said, we can't say the Brewers did nothing this winter. Here are some of the most notable additions, acquisitions, and other organizational changes.
1. Lukewarm body near first base Adam Lind
Ever since Prince Fielder left Milwaukee, the Brewers have had a gaping hole at first base. Honestly, a guy named Sean Halton started a few times. Last year, the makeshift combination of all-or-nothing slugger Mark Reynolds, Lyle Overbay, Jonathan Lucroy, and Matt Clark merged their stats to become one semi-servicable corner infielder. Reynolds is now a Cardinal and Overbay is now "99.9 percent retired," leaving the combined 134 hits, 26 home runs, and 80 RBI to be filled by 31-year-old Adam Lind, who was acquired from the Blue Jays for Marco Estrada. Lind is coming off six homers and 40 RBI in under 100 games last season. Let's hope 2009 Adam Lind (35 homers, 114 RBI, .305 AVG) comes back to life.
2. K-Rod
It just wouldn't be an offseason if the Brewers didn't outbid themselves to sign Francisco Rodriguez. K-Rod's fourth stint with Milwaukee comes after he notched an impressive 44 saves while filling in for the injured Jim Henderson last season. At 33 years old, the occasional closer was able to use Milwaukee's utter lack of a surefire ninth inning option to coax a two-year contract out of the team (with an option for a third). Milwaukee also signed something called Neal Cotts.
3-5. Minors moves
When not brokering his seemingly annual deal with either the Blue Jays or the Texas Rangers (this offseason had both!), Doug Melvin was taking fans down memory lane with some nostalgic signings of non-roster invites. With the addition of 2003 NL Rookie Of The Year Dontrelle Willis, the year could be great. Unfortunately, that year is 2005. In addition to the minor league depth a guy who hasn't pitched in the big leagues since 2011 will provide, Milwaukee inked former Cleveland Indians closer/dude who was arrested for having weed mailed to him Chris Perez and Ron Roenick's nephew Josh Roenicke. Like his uncle, Josh was much better two seasons ago and probably won't be part of this organization by September.
6. Roll out the Barrelman
For some reason, the Brewers decided 2015 would be the year they unveiled the real life costumed adaptation of the team's original Barrelman mascot, which is basically just a cylindrical dude holding a huge bat who takes up a lot of space. Do you think it could play first base?
7. Aw Shuckers
If Dontrelle Willis wasn't enough minor league activity for you, the Brewers organization made two significant changes regarding their affiliates. After serving as Milwaukee's double-A partner since 1999, the Huntsville Stars franchise was bought and moved to Biloxi, Mississippi. Honest to god, an Internet vote led to the team being named Biloxi Shuckers, along with a borderline NSFW mascot. Moreover, the Nashville Sounds (Milwaukee's affiliate at the triple-A level) concluded their agreement with the Brewers immediately after the last out of 2014 at the team's ancient, semi-Brewster's Millions-eqsue Greer Stadium. Thus, the Brewers' low-rated triple-A prospects were forced to move westward to the Colorado Springs Sky Sox.
8. Bud Selig-Mania
Nothing brings baseball fans through the turnstiles like an 80-year-old man whose heroics all occurred in offices and boardrooms. Kids be delighted to receive a figurine of the suit-clad former Brewers owner (and actual savior of professional baseball in Milwaukee) May 31.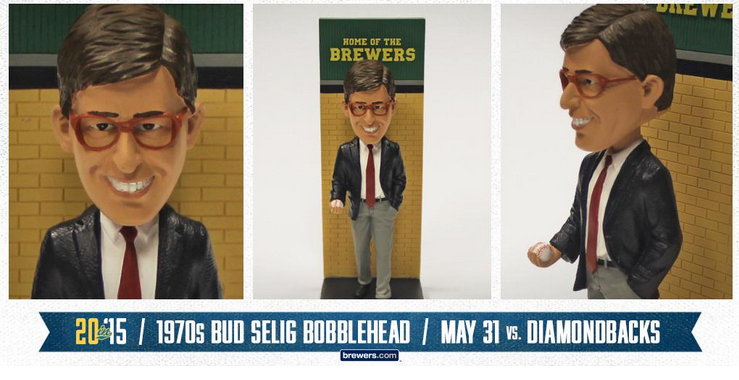 If you're not able to fight off throngs of fans battling tooth and nail for a Bud bobble, you can dry your tears with the knowledge that soon be able to enjoy "The Bud Selig Experience" at Miller Park. No, the experience is not looking the other way on his employees' rampant steroid use thoughout the 1990s or nervously trying to explain away an All-Star Game tie. Instead, there will be a presentation and this not-at-all-weird kicker.
"The signature part of the exhibit: a 3D encounter with Selig himself inside an authentic reproduction of Selig's County Stadium office."
Color us excite-ZZZZZZZZZZZZZZZ!
9. Free stuff
For the small price of paying to attend home games of a team whose number four starter is Mike Fiers, Brewers fans can snag some great giveaways this year. Beyond the Selig bobblehead, the Brewers are issuing such promotional prizes as a Lucroy Star Wars bobblehead, the SECOND Hank bobblehead in less than nine months, a Rob Deer bobble, and retro Brewers Zubaz pants. Hey, if the roster inspires the same bleak organizational outlook as the team did in the '90s, we might as well have the pants to match.
10. Food improvements
The 2015 Milwaukee Brewers have all the makings of a team that will make you want to walk around for a couple innings and maybe get something to eat, even though you're not particularly hungry. If you wash your mid-market disappointment away with enough beer and Secret Stadium Sauce, maybe the food coma will wear off in time for next offseason. While the franchise has absolutely ignored glaring holes on its roster on the field, the concourse's lineup is rife with restaurant options. This year's key free agent food acquisitions are a new stands from the ever-delectable Smoke Shack and douche-drizzled Third Ward artisanal doughnut curator Holey Moley. Additionally, Miller Park is adding things like bacon on a stick, street tacos, Italian rope sausage, and "Bratchos" to concession stands around the park. What are Bratchos, you ask?
"Bratchos is an epic combination of Klement's sausages, kettle chips, cheese, fried sauerkraut, jalapenos and sour cream, all served in a Klement's Racing Sausage bucket."
On second thought, maybe this season won't be so bad after all.