It seems like we're just days removed from celebrating the best albums and EPs Milwaukee managed in 2018. With all the promise a new year brings also comes the promise of new music. In the same way many of us resolve to grow and improve in 2019, local musicians are just as poised to see the volume and the caliber of their catalogs increase by year's end. Though the full scope of what we're to listen to this year is unknown, there have already been a few albums and EPs released this year. Better yet, there's wealth of forthcoming follow-ups, highly anticipated debuts, and other interesting output we know will be on the way between now and December. Here are 50 of the Milwaukee releases you can likely expect to come out in 2019.
1. Abby Jeanne
How does Abby Jeanne follow up a year that included a four-show "Fire In February" residency, a WMSE Record Store Day 7-inch, a flurry of high-profile festival gigs, a well-deserved $20,000 Backline grant, a successful "Cosmic Weekend" in her honor, and an awesome holiday single? Why, with a new album and a release show at Turner Hall! Last weekend, the owner of Milwaukee's (and Wisconsin's) most dynamic voice officially released her tremendous Music Box Dancer.
2. Antler House
Back in late 2017, we showed you a video of a band that definitely isn't Antler House in the video for Antler House's new single, "Thunderbird Country." The folk band's vaguely electronic departure was apparently a signal of what's to come from the trio that cracked our best albums list in 2014 and 2016. Singer Sean Anderson said the third Antler House album, Divider, was expected to be released in early 2018. However, singer Sean Anderson going to recording school (more on that in number 50) brought all the already-completed album's mistakes to the surface, prompting the band to re-record it. If "Thunderbird Country" is any indication, Divider will be unlike anything you've ever heard from Antler House, but with the same level of quality and execution you've come to expect from them. After all, they recorded it twice…so you can be sure the final product will be something special.
3. Ara
Though 2018 ended with another Northless departure, the band's singer-guitarist Erik Stenglein is planning to keep quite busy with releases from two other projects. The first of those we'll feature, Ara, is hoping to have a record called Jurisprudence out by year's end.
4. Bad Wig/Sin Bad
In 2016, Sin Bad and Bad Wig sharing a bill at High Dive lead to us including "Sin Bad Wig" and 21 other punny name mergers on a particularly stupid Tracklist post. Roughly two an a half years later, that word-smash will live on in the form of a Sin Bad and Bad Wig split EP. The eight-song release will feature four songs from each band. The split will be released in February on Madison-based label, Kitschy Spirit. Long live Sin Bad Wig! We're keeping our fingers crossed for a NO/NO No Yeah Okay split in the near future.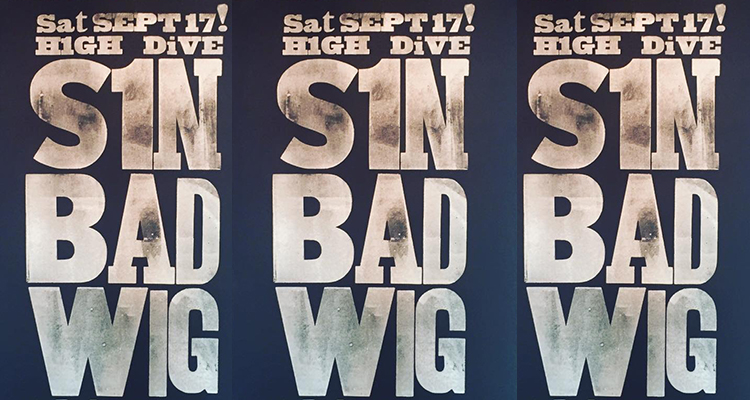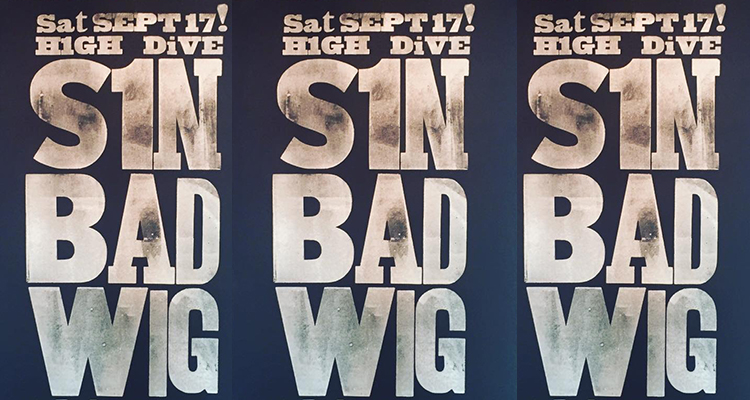 5. Brat Sounds
Just when we finally figured out how the band's name was said (it's not the sausage pronunciation, by the way), Brat Sounds went silent. Fear not, listeners! We're told the garage rockers, whose outstanding Born Loser earned high marks on our best albums of 2015 list, are working on new material that will be out sometime this year.
6. Chicken Wire Empire
Chicken Wire Empire has done a lot in its first five years as a band. Since being formed by a pair of jam band enthusiasts, the contemporary Milwaukee bluegrass outfit has grown to five members. Along the way, the band released its self-titled debut album, was the subject of an hour-long film, shared the stage with the likes of Yonder Mountain String Band and The Big Wu, played a variety of local and national festivals, and has become a fixture at shows in and around Milwaukee.
Though the band—which also has current and former members of Buffalo Gospel and Calamity Janes & The Fratney Street Band in its ranks—has little left to prove, Chicken Wire Empire wasted no time before making good on their new year's resolution for 2019 when they release their long-awaited follow-up, What Moves Mountains, on January 1.
7. Cullah
If you've never heard of Cullah, you're in for a treat. The Milwaukee-born musician, producer, and multi-instrumentalist released his latest album last April 27 (his birthday), and has done so every April 27 since 2006. The genre-bending artist's 12th release, Cullahsus, illustrated Cullah's annual growth with material that blended the multi-faceted musician and producer's instrumental acumen and electronic flare. The birthday tradition will continue for a 13th time this year, as Cullah plans to release Spectacullah this April 27.
8. The Cut-Outs
Formed in 2003, The Cut-Outs have quietly released an impressive amount of just-as-impressive material. The garage rock band's catalog grew by four more songs on New Year's Day when the band put out its Noise In Melody EP.
9. Daydream Retrievers
Last January, ex-Sleepwalkers singer Ian Olvera released a self-titled debut EP under the name Daydream Retrievers. When asked if his new project planned to put something out in 2019, the bandleader said "I suppose yes." Since he certainly has the recording chops and access, we're inclined to believe him.
10. Detenzione
Though Detenzione's latest release technically had enough songs to quality for our best albums of 2018 list, we felt like a six-song, sub-10-minute record simply wasn't long enough to earn a spot there. However, VOL. II (the follow-up to 2017's debut called—you guessed it—VOL. I) was right at home on our collection of standout 2018 EPs. Thankfully, the pattern will continue in 2019, as drummer Eric Apnea tells us Detenzione will have another EP out this year. We're predicting it will be called VOL. III and it will be awesome.
11. Devil Met Contention
Following a relatively silent year that featured just a few shows and the hint of a sonic change with a great single, Devil Met Contention is eager to show Milwaukee what they've been working on lately. Though an album isn't promised, singer Ehson Rad says a 2019 release is a "hard maybe."
12. Devils Teeth
From one Devil-ishly uncertain band to another, Devils Teeth member and Milwaukee Record fish fry expert Caleb Westphal says the group has material recorded that will potentially be out before the end of 2019. If last year's debut, Suki Yaki Hot!, is any indication, we're in for a treat…be it in late 2019 or early 2020.
13. Dramatic Lovers
In 2017, Dramatic Lovers—the Milwaukee supergroup consisting of current or former members of Decibully, The Promise Ring, Temper Temper, and Maritime—spent the year playing out consistently and releasing a debut 7-inch. Since quickly garnering attention, nabbing some high-caliber opening slots, and attracting an audience its first full year in existence, the young band that's made up of seasoned musicians went fairly quiet in 2018.
Outside of a few shows (including a memorable showing at Arte Para Todos' opening night and a trip to play a SXSW showcase), Dramatic Lovers has spent much of the year in the studio, writing new material and meticulously recording tracks for their first record. Singer-guitarist William Seidel says the band tracked 11 songs and most of those will be released on an album they're planning to put out in early 2019. Here's a new song from the forthcoming record.
14. Driveway Thriftdwellers
If you won't be going to our Local Coverage benefit next Friday, make sure to check out Driveway Thriftdwellers at Anodyne. The WAMI-winning folk outfit will release its self-titled sophomore record on January 18. Check back next week to learn more about the record and to hear some new tracks.
15. Faux Fiction
We're almost exactly one year removed from when Faux Fiction put out its wonderful Dark Matter EP. According to singer Gabriella Papale, the rock and roll trio will venture into the studio this spring or summer to record material for a new full-length, which the band hopes to release by fall.
16. Fox Face
Fox Face's latest album, Spoil + Destory, earned high marks on our 2017 best albums list. Just when you thought they couldn't get any better, the politically-charged and punk-tinged garage rock quartet decided to go to Kyle "Urban" Motor's studio in Madison to record another album. If this cover of "There'll Be Some Changes Made"—which will be on the record!—is any indication, we're in for a treat.
17. Future Plans
Soon, Future Plans will have present accomplishments. Yes, the power pop project recorded a full-length with Shane Hochstetler at Howl Street Recordings. The yet-untitled LP will have 11 tracks. Though there are still some uncertainties in regard to its release, we're told the band is aiming to have it out sometime in spring.
18. Gauss
Gauss' math-y, emo-nodding Thalweg was far and away one of the city's best releases of 2016. While the band only emerged for a select few shows in 2018, the band has apparently been hard at work on new material. Singer Eddie Champman tells us Gauss is hoping to release a new full-length in late 2019.
19. G-Gifted
We can't say we know much about G-Gifted, but that will change soon! The rapper will release his debut album at Cactus Club on Saturday.
20. Heavy Hand
We haven't heard from Heavy Hand in a while. Though we quietly feared the worst for the noisy trio, Heavy Hand is evidently still alive and kicking. They'll be heading into the studio in April, and the band intends to have another record out by the end of 2019. Yes!
21. Holy Shit!
Holy shit! After what appears to be a span of more than eight years, it appears Holy Shit! will be putting out a record at some point this year.
22. IfIHadAHiFi
This is the year, baby! IfIHadAHiFi will release its first album since 2012. The veteran band recorded the upcoming full-length, We're Never Going Home, at Howl Street last year. No release date has been set, but drummer DJ Hostettler tells us "the more I listen to it, the more I think some people may consider it one of our best."
23. Joseph Huber
Milwaukee doesn't know how fortunate to count a musician like Joseph Huber among its populace. Approximately every two years, the former .357 String Band member and current roots music force graces us with another album. It appears 2019 will be no different. During a December show at The Cooperage, Huber said he would be putting out a new record this year.
24. and 25. Klassik
We're calling it now…2019 will be Klassik's year. The incomparable singer, instrumentalist, rapper, and producer will put out two albums this year, each with its own drastically different theme. The first, American Klassiks is a live album full of new takes on classic hymns, public domain material, and standards the he recorded at Cactus Club last fall. He expects to put that out in February. The second release is his long-awaited follow-up to 2016's Seasons. The 16-song Quiet (expected to be out this summer) is the product of three years of work.
26. Knaaves
In 2018, Knaaves made the move from relative newcomer to Milwaukee metalcore mainstay. Awareness and appreciation is only going to grow this year with the six-song The Serpent's Root, which the band plans to put out this spring.
27. Large Print
Boasting former members of Blonder, Ugly Brothers, Migo, and more, Large Print turned a few heads last year with its encouraging six-song debut EP. The young group plans to follow Strength VIII with another album in 2019.
28. Lifes
New year, new Lifes! The project with ties to Get Rad and Seven Days Of Samsara will have a new LP out this spring.
29 and 30. Lifetime Achievement Award
On October 13, 2015, Jay Joslyn set out to write a song. The goal was to complete it within a week's time. Once he did that, he set out to do it 51 more times. Joslyn used the time to write and record a song every week for a year under the name Lifetime Achievement Award. October 13, 2016 marked the conclusion of the purposeful project's song-a-week push. Lifetime Achievement Award released those songs in the form of the 52-track Today Hard, Tomorrow Hard.
With Joslyn's other bands, Ugly Brothers and Migo, no longer in the picture, he's kept Lifetime Achievement Award going. Though we're not holding our breath for another 52-track jaunt, the project is planning to put out two EPs between now and the end of 2019.
31. Lauryl Sulfate And Her Ladies Of Leisure
On February 9, Lauryl Sulfate And Her Ladies Of Leisure will celebrate the release of their latest, Dance Music Saves Lives, at Company Brewing.
32. Man Random
Though an exact release date hasn't been pinned down yet, you can expect a new EP from Man Random soon. The band's upcoming EP, Brighten Up, could be out as early as next month.
33. Mark Waldoch
Is Mark Waldoch putting out new music this year? According to the incomparable singer-songwriter, "Sure." Milwaukee music treasure Mark Waldoch released a new song, "Blonde." It's amazing. Expect to hear lots more from Waldoch—and a new Waldoch-fronted band—in 2019.
34. Michael Rossetto
On February 2, Milwaukee-based banjoist Michael Rossetto (of Buffalo Gospel) will "take a a global approach" to the instrument with an instrumental album. The nine-song release will come out on Minneapolis-based Shifting Paradigm Records.
35. The Mighty Deerlick
While it seems like The Mighty Deerlick has been around forever, the band has shockingly not released a full-length to this point. That will probably change this year. The band is wrapping up its 12-song debut, tentatively titled Happy Hour Ever After, and they hope to have pressed and released by year's end.
36. Mini Meltdowns
Last year brought the debut of to Mini Meltdowns, a new Milwaukee-Nashville punk project that features current and former members of The Promise Ring, Limbeck, Dashboard Confessional, Rx Drugs, and The Benjamins in its ranks. After the supergroup released its debut 7-inch last spring, the band consisting of Jon Phillip and Scott Schoenbeck started writing more material. Expect the duo to release another 7-inch this year.
37. The Mod Violets
Here's what we know: The Mod Violets recorded and album that's currently being mastered. It's going to have 13 songs. It will be out sometime this year.
38. Negative/Positive
For artists with a unique backstory, there comes a point when that backstory takes a backseat to the music itself. For Milwaukee's Negative/Positive, that point is now. Yes, Negative/Positive is the guitar-bass-drums trio that formed at the first annual Girls Rock Milwaukee camp in the summer of 2013. Yes, the members of Negative/Positive—Ava Antonie, Ava Gessner, and Lola Flores—were eight, nine, and 10 years old at the time. Yes, Negative/Positive has been playing out ever since, gracing the stages of Summerfest, Pridefest, and just about every other Milwaukee summer festival known to humankind. But Negative/Positive is also the band that just released the excellent new Kick Me In Both Of My Shins At The Same Time, a six-song blast of twisty and nimble indie-punk that stands with the work of any of the city's non-teenaged groups. Finally, Negative/Positive's backstory has become just that.
39. Neidhoefer
Local comedian, podcaster, and gay bar crawl companion Jacob Bach recently stepped away from improv to, instead, focus on music. His new project, Neidhoefer, is features Bach on vocals and guitar, with accompaniment by members of Population Control, Moth Light, Wavy V, and more. We'll have much more on the exciting new folk-leaning project next week. In the meantime, just know that the group debut (Time & Place) will come out in late January.
40. OQ
Though OQ hasn't played a show yet, many Wisconsin music aficionados are likely aware of the group's musical affiliations. The self-described "creative duo" consists of Liam O'Brien (of Holy Sheboygan! and namesake of Liam O'Brien's Faithless Followers) and Cole Quamme (of The Fatty Acids). The project became connected to Justin Vernon's new "PEOPLE" artist collective—which released the group's first single last month—through Mike Noyce while he and Josh Evert (The Fatty Acids, Silver City Studios) were finishing OQ's first EP at Vernon's April Base recording studio.
OQ is officially a duo, but its members called on a wealth of Milwaukee musicians to contribute on the project's forthcoming EP, Paradice 1. The band will make its live debut and release the five-song EP at Company Brewing on Saturday, January 26. Quamme will also screen and release a "visual album" at the show.
41. Pay The Devil
We're told Pay The Devil will release its next album at Walker's Point Music Hall on March 9. Expect more words and a stream right here as the show approaches!
42. Peeper & Le Play
On Friday, February 1, Peeper & Le Play will release Club Frills Vol. 1—the follow-up to their delightful 2015 release, Mandatory Fantasies—at Cactus Club.
43. Phylums
Last week, the reclusive Milwaukee garage rock aficionados in Phylums—who've kept extremely quiet since playing a select few shows in support of 2015's long-awaited debut, Phylum Phyloid—surprised listeners by putting out a full-length. Though the release came with little-to-no notice, the recording wasn't rushed in the slightest. In fact, it took the band parts of two summers in Kyle "Motor" Urban's MotorCo Studio in Madison to complete the sophomore effort. That attention to detail is apparent throughout phylums ii, an altogether satisfying blend of three-chord rock and a sound that ranges from retro-tinged power pop to light psychedelia. Even if we were caught off guard by Phylums' new album, it's no surprise that it's great from front to back. It's a little early to say, but one of the first Milwaukee releases of 2019 might also wind up being one of the year's best.
44. Platinum Boys
Any year that with a Platinum Boys release is a good year in our book. Last year, the fun-loving Milwaukee rock band released an EP. They'll chase that this year with a yet-unnamed 10-song release, which they recorded at Howl Street in 2018. There's no timetable for the album, bu get ready!
45. Rose Of The West
With one great EP, some impressive opening gigs, and a song on Netflix's You, Rose Of The West has accomplished a lot since coming onto the scene in 2017. The band's legend will only grow this spring when the band releases its self-titled debut album on April 5.
46. Ruth B8r Ginsburg
Hell yeah!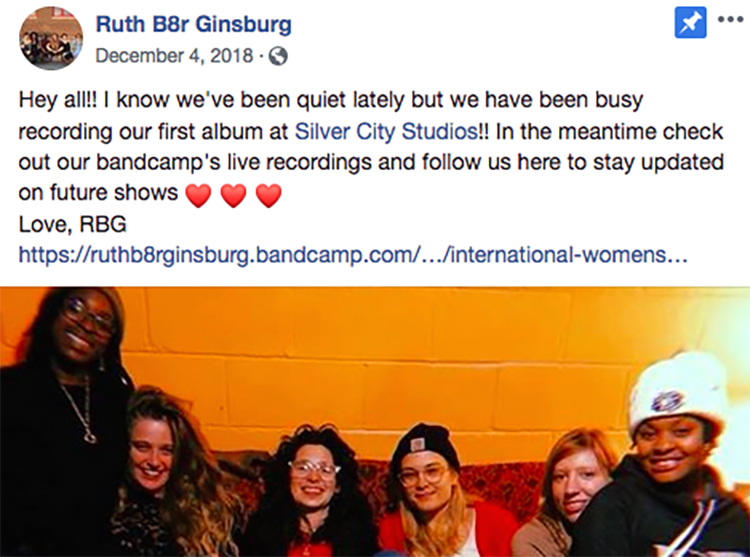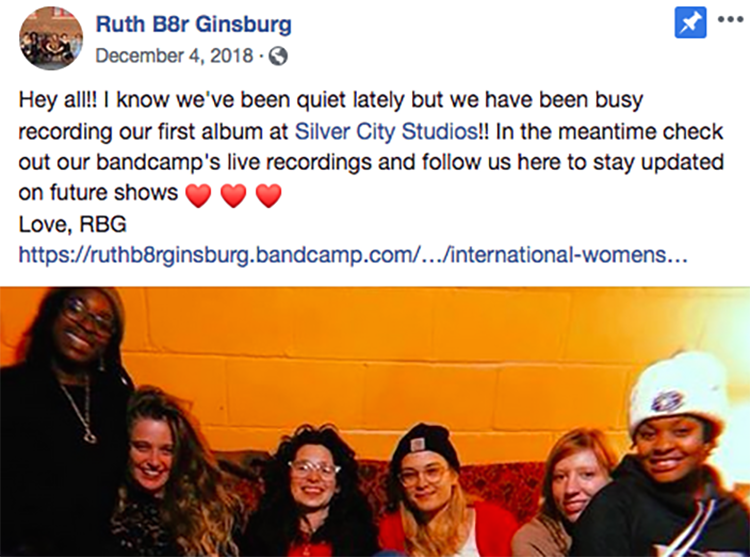 47. Saebra & Carlyle
Much has changed since we first introduced you to the "apocalyptic western" stylings of Saebra & Carlyle last January. After officially starting out in late 2017, the duo consisting of longtime friends and project namesakes—singer Saebra Laken and guitarist Carlyle Nowak—has bolstered its catalog with new and improved material. They've played out significantly more often this year, including memorable sets at festivals like Center Street Daze, Bay View Bash, and Abby Jeanne's Cosmic Weekend. Along the way, the band doubled in size, adding King Eye & The Squirts members Jesse Buskov on drums and Ladders' James Sauer on bass (replacing departed original bassist/King Eye singer Steve Look). Fresh off the release of a digital EP and a performance at Turner Hall last weekend, the up-and-coming outfit plans to put out a full-length this summer.
48. The Slurs
What do you get when you combined three parts Rust Belt Demons and one part 1956? The Slurs. The "loud and sleazy, fast and greasy" new band formed in 2015. They'll release their 10-song album, Shatter Sessions, on February 8.
49. Snag
Following the band's self-titled 2017 release and a pair of split cassettes with Social Caterpillar and Swallows Nest, Snag says they'll be back with a full-length release at some point in 2019.
50. Supertentacles
After amassing a few albums of material with Antler House and starting a new band called Yum Yum Cult, Milwaukee musician Sean Anderson decided to go back to school to hone his recording skills. Anderson quit his job and enrolled in MATC's Audio Production and Engineering program. It's there where he says he had an "aha moment."
Anderson bought some quality microphones and "a decent interface," then applied new recording techniques he'd learned at school to a new project in a home studio setting. Figuring the material didn't fit either of his existing projects, the songwriter decided to create a new landing spot for these songs. Supertentacles was born. At this point, Anderson says he has enough Supertentacles material to populate two albums, so he's promised "at least one album" will come out in 2019, along with sporadic singles every few months.
51. Syrictus
Joining Ara is Erik Stenglein's productive year of music-making is his solo death metal project, Syrictus. The new venture's 10-song debut, Anticosmia, is expect to be ready to be heard for the first time a couple months from now. Given his previous work in Northless and Ara, we're pretty excited to hear it.
52. Testa Rosa
On New Year's Eve, veteran Milwaukee outfit Testa Rosa told listeners to expect a new release from them in 2019. True to form, the album will be called Testa Rosa IV.
53. Tim Schweiger
Folks living anywhere between Green Bay and Milwaukee likely know Tim Schweiger from his work in Yesterday's Kids, The Obsoletes, and The Midwest Beat. However, the longstanding Wisconsin musician also releases music under his own name. On his forthcoming solo album, Schweiger isn't just the bandleader…he's also playing everything. He's working on it right now and he hopes it'll be out by fall.
54. Trapper Schoepp
Milwaukee troubadour Trapper Schoepp made big news in the waning days of 2018 when it was revealed that he had a.) taken some unfinished 1961 Bob Dylan lyrics for a song called "On, Wisconsin" and put them to music, and b.) received the blessing of Dylan himself, leading to an impossible-dream Dylan co-writing credit. Whoa! "On, Wisconsin" will appear on Schoepp's upcoming album, Primetime Illusion, due January 25.
55. Wavy V
On February 15, Milwaukee chamber pop sextet Wavy V will release a 7-inch during a show at Anodyne's Walker's Point Roastery. That release, A, is the follow-up to W. Something tell us the new 45 is also a precursor to something from them called V.
56. The Zach Pietrini Band
Following the release of last year's Holding Onto Ghosts and at a time where the world around him wasn't getting any less confusing, song machine Zach Pietrini quickly amassed a fresh batch of new songs. He admits those demos probably would've remained untouched when it came time to making another album. That is, until he received an especially generous offer from a friend. A listener living in Denver asked Pietrini if he'd like to fly out to lay down some songs as part of a recording project.
A kindhearted engineer named Kevin and Pietrini eventually decided a full-band recording would be best for this material that didn't yet have a home. After a total of about 20 hours spent in a studio, the band was able to knock out seven songs that would finally have a rightful place on Pietrini's Denver Sessions EP. He'll formally release the seven-song effort at Twisted Path Distillery this Friday.
57. Zed Kenzo
Since returning to Milwaukee four years ago, Zed Kenzo has quietly been putting together material for a true-blue full-length project, but only allowing listeners to peek behind the creative curtain in a live show setting (save for occasional singles). While the taxing process of producing all her own beats and her ongoing quest to confirm some featured musicians saw both 2017 and 2018 come and go without a debut album, last year was unquestionably Zed's biggest to date. Between he growing catalog, the building anticipation of an ever-increasing fanbase, and some newfound resources gained as one of 88Nine's Backline grant recipients last year, expect this long-anticipated album to finally touch down sometime this year.
Touchdown // Zed Kenzo from Emry Brisky on Vimeo.