Over the last three-plus years, we've listed seven patios that make you feel like you're not in Milwaukee, 16 quintessential Milwaukee patios, then 13 more goddamn patios. After that, we rounded up another 15 patios. Last spring, we wrote about 18 more patios for some reason. Then, we chased it with 18 additional patios last August because nothing matters. This May, we wrote about 13 more patios because, well, why not? Finally, we tossed another 15 patios your way last month because there was still a lot of summer left.
Now that summer is down to its final 10 days, we're also preparing to say goodbye to patio season. Of course, there's still lots of time to take a load off outdoors. If the other 100-some patios we've featured so far somehow aren't enough to hold you over, we've found 15 more.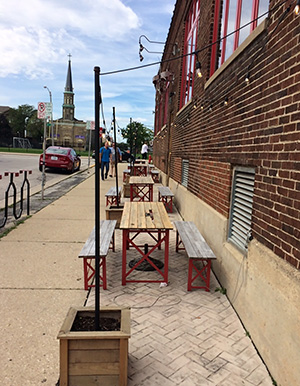 1. Anodyne's Walker's Point Roastery
Though not typically recognized as a traditional bar, Anodyne's Walker's Point Roastery offers an array of beers and wine in addition to its range of caffeinated beverages and other non-alcoholic beverages.
If you're looking to enjoy a drink outside, Anodyne's line of picnic tables along the Bruce Street property is a great spot to catch a coffee or a beer buzz in the heart of bustling Walker's Point. If you're there at night for a concert, a wedding, or another event, the strings of lights against the brick facade will light your way.
It's small-but-efficient and suited for drinkers and sober folks alike.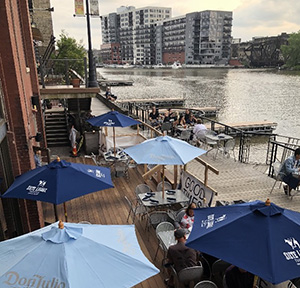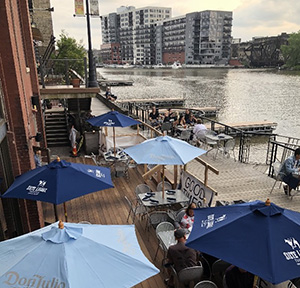 2. Blue Bat Kitchen & Tequilaria
Just a few days after our last patio post, Blue Bat Kitchen & Teuilaria officially opened its patio. We haven't made our way there yet, so let's hear more about it from the press release, shall we?
"The large patio with access from the restaurant's riverfront level provides an ideal environment for dining al fresco. Patrons interested in people-watching will enjoy the lively Riverwalk seating as well. The spaces will continue to see upgrades and improvements throughout the season and into next summer, making this patio one of the best in the Third Ward."
Sounds nice!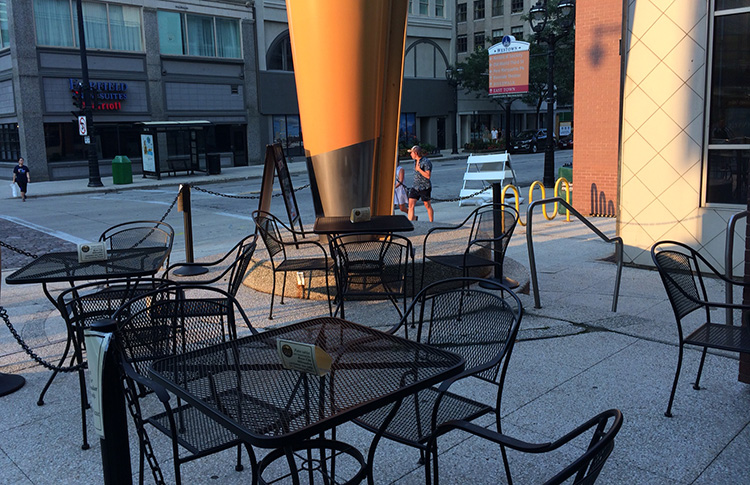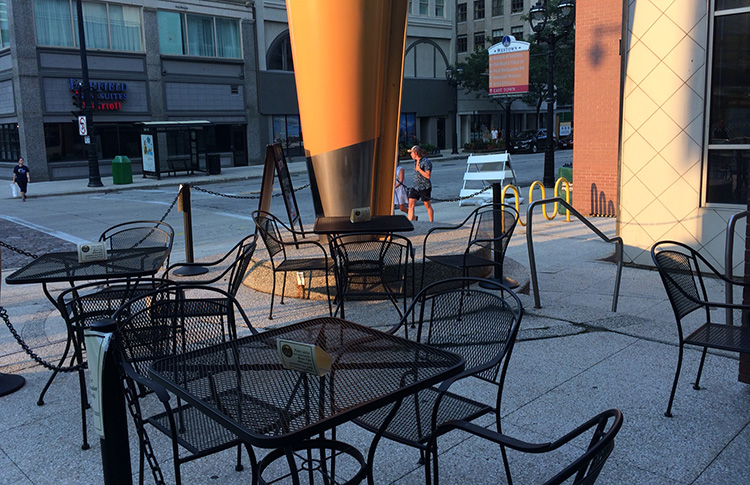 3. Brew City MKE
While we never got the opportunity to say goodbye to the Applebee's in The Shops Of Grand Avenue, its spirit now lives on with Brew City MKE. Last year, Milwaukee County Historical Society took over the space in the mall where people once ate good in the neighborhood, and they've since made the space into a full-fledged beer museum. Brew City MKE features vintage brewery ads and photography, old bottles and other artifacts and—best yet—a beer bar that's stocked with an impressive selection of local beer. But there's more! Brew City MKE also has a nifty little patio that looks out onto Wisconsin Avenue. Not too bad for a museum.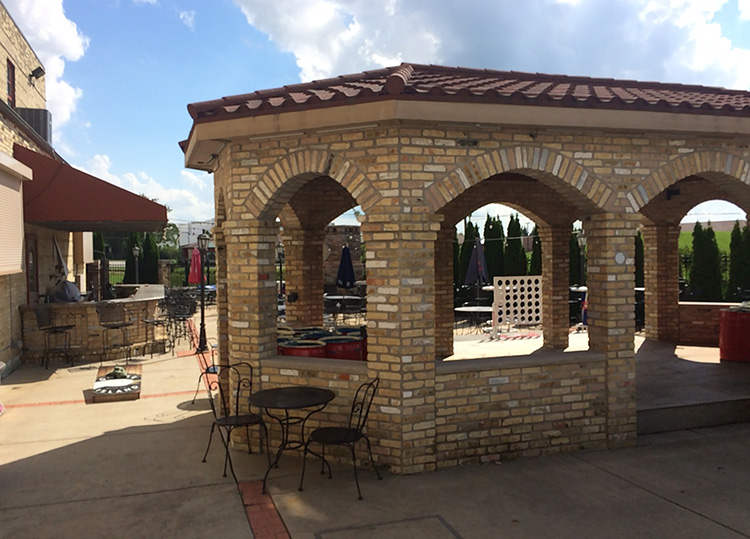 4. City Lounge
When it's not hosting the likes of Bubba Sparxxx, the fenced in patio at Cudahy's City Lounge features a back bar, loads of yard games, and a brick gazebo. It isn't just a nice place for people to hang out…it's also a self-described dog-friendly space.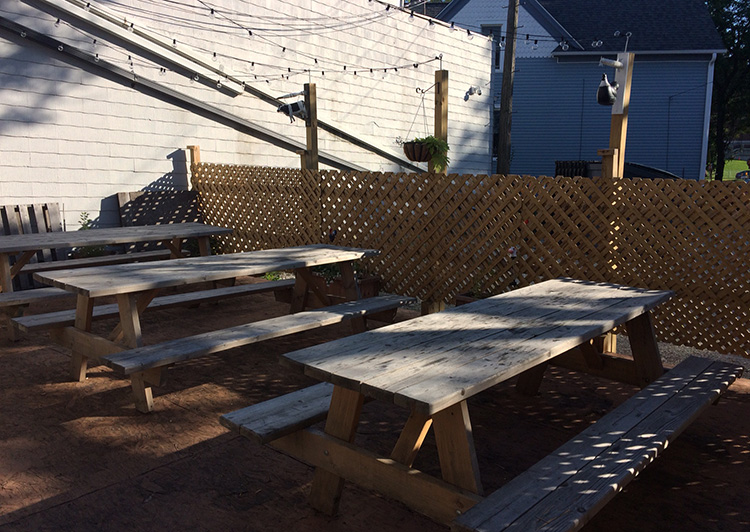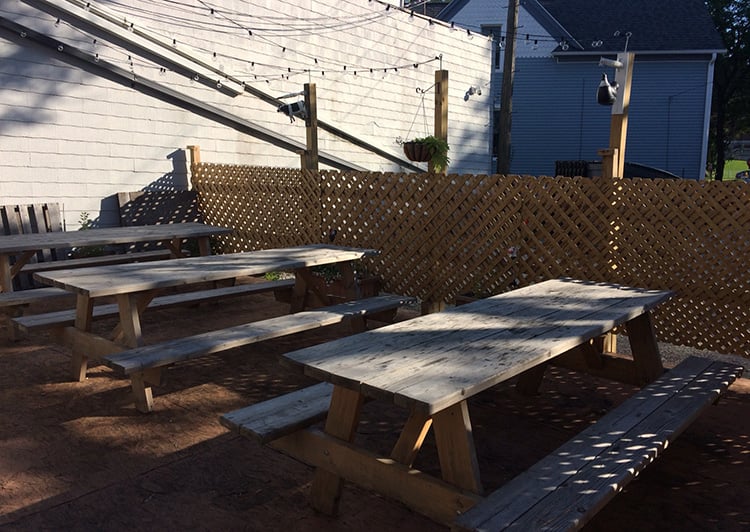 5. Crafty Cow/Hot Head Fried Chicken
Things have come a long way since the days of Bumstead Provisions. Since opening almost exactly two years ago, the Bay View bar, restaurant, deli, and provisional shop cycled in a Crafty Cow in one half of the space, then abandoned the Bumstead concept altogether in favor of implementing an excellent new chicken venture called Hot Head. While the restaurant's interior concepts have changed, its exterior has also undergone some positive modifications. Recently, the hybrid restaurant has added a few picnic tables behind the property.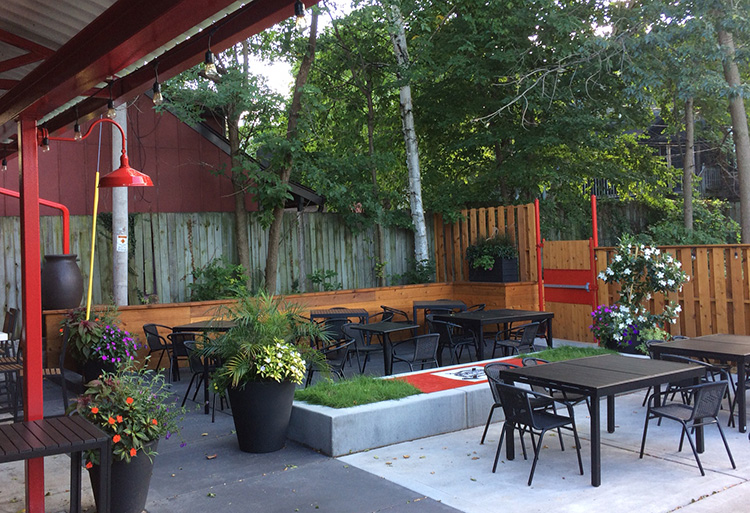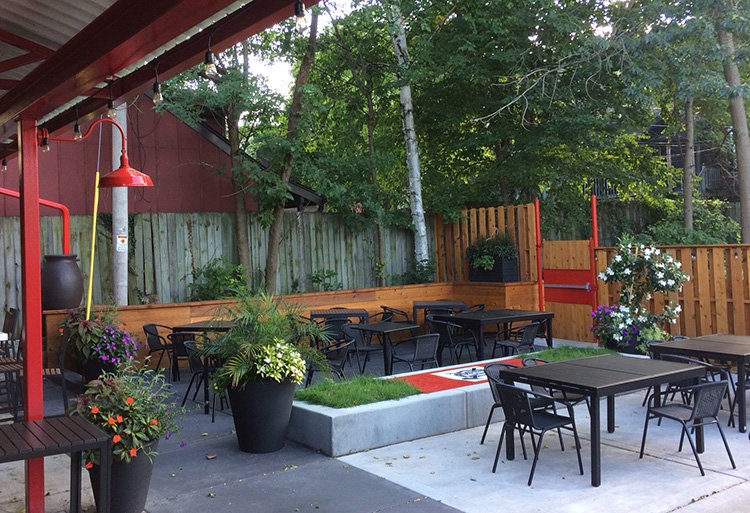 6. Engine Company No. 3
Though Engine Company No. 3 could probably get by on 1. Being an outstanding restaurant, and 2. Being an outstanding restaurant where then-President Obama ate while in Milwaukee, the Walker's Point spot isn't resting on its laurels and skating by on past milestones. Instead, Engine Company No. 3 has both improved its reputation and increased its square footage earlier this summer by building a gorgeous new fenced-in side patio to give diners a chance to eat outside…or to handle overflow in the instance a President drops by or something.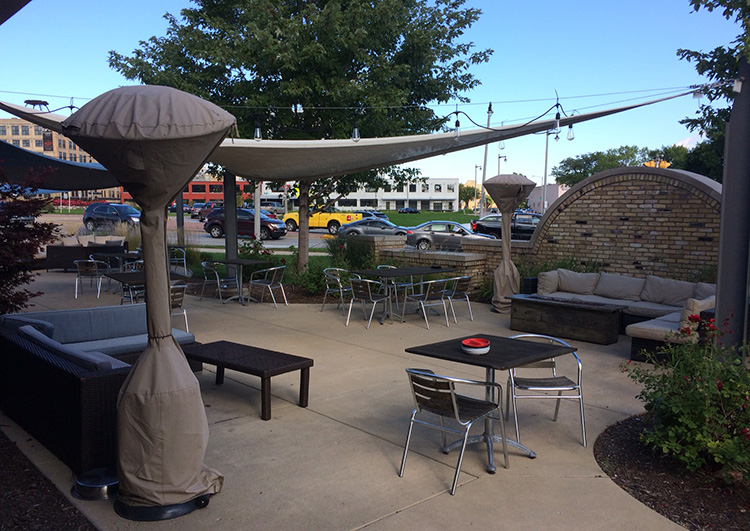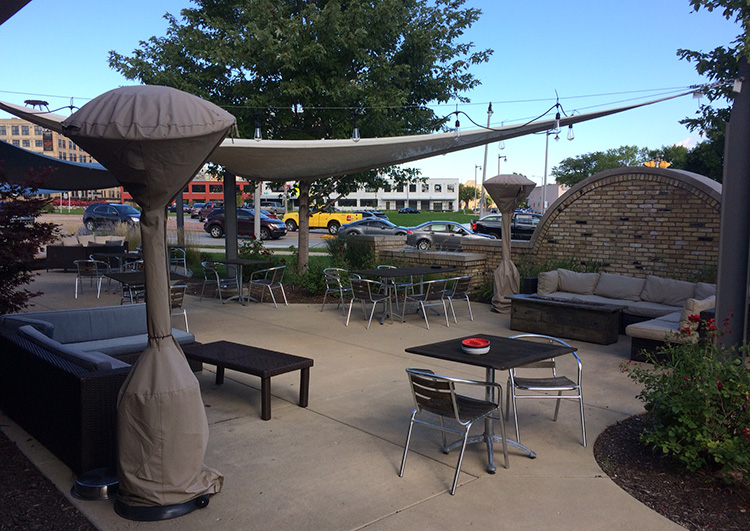 7. Great Lakes Distillery
As if having a strong presence at bars through the city and the state wasn't enough, Great Lakes Distillery also saw fit to create an awesome space for people to imbibe the spirits they craft in-house. Adding to the striking, window-lined lounge inside the Walker's Point property, the distillery's yard is replete with chairs, tables, couches, heaters, masonry, and enough space to host a large group gather or catch a concert.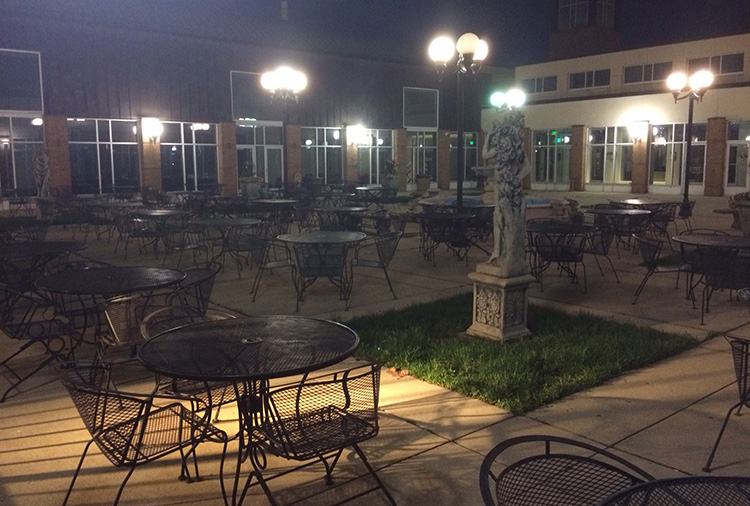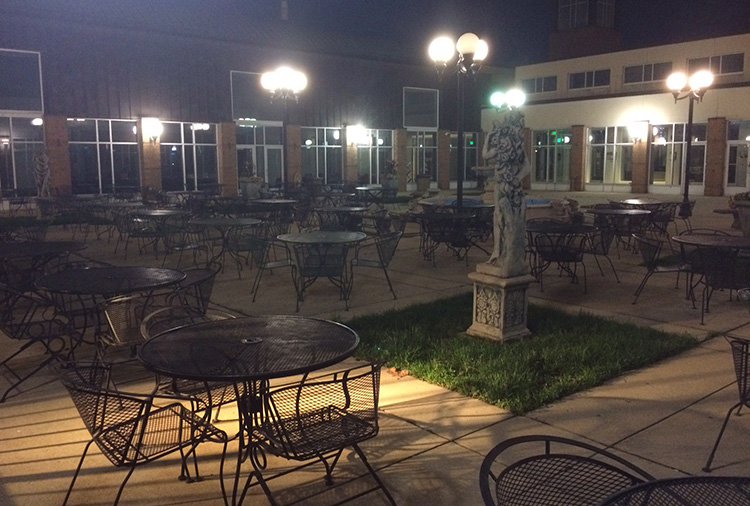 8. Italian Community Center
Who would've thought the Italian Community Center had such an amazing patio? Damn.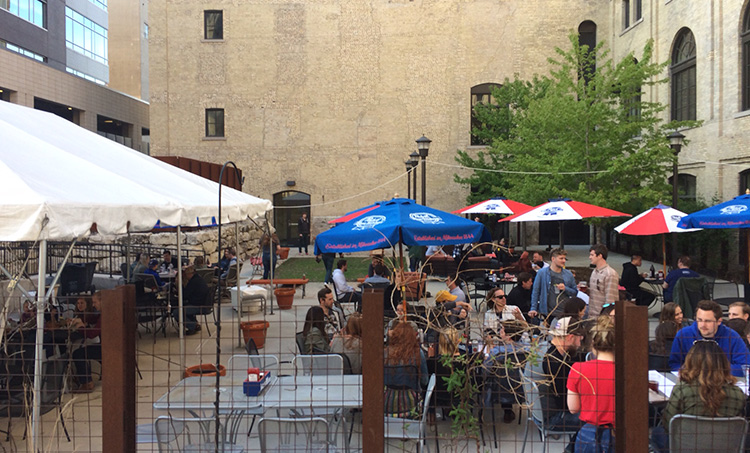 9. Jackson's Blue Ribbon Pub
Things are booming just west of downtown. One of the many places helping to revitalize the semi-Pabst-associated reputation of the region is Jackson's Blue Ribbon. Beyond being a bumping bar with a spacious interior, quality pub fare, and shuttles to games, Jackson's also has one hell of a patio. The massive, table-lined courtyard is flanked by brick buildings and looks out upon the new Pabst Milwaukee Brewery & Taproom.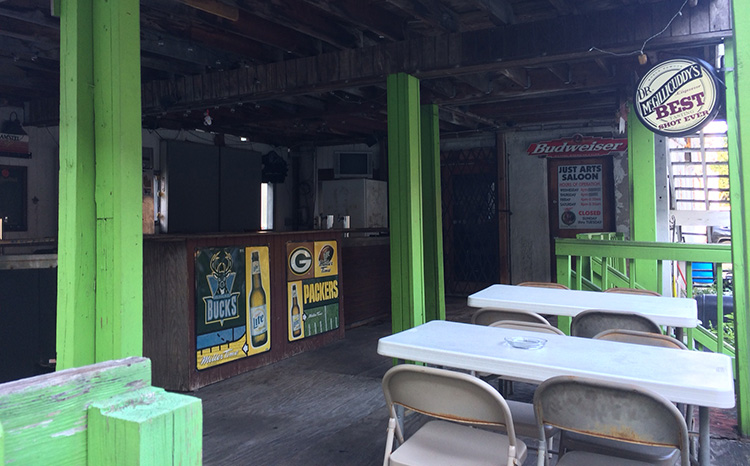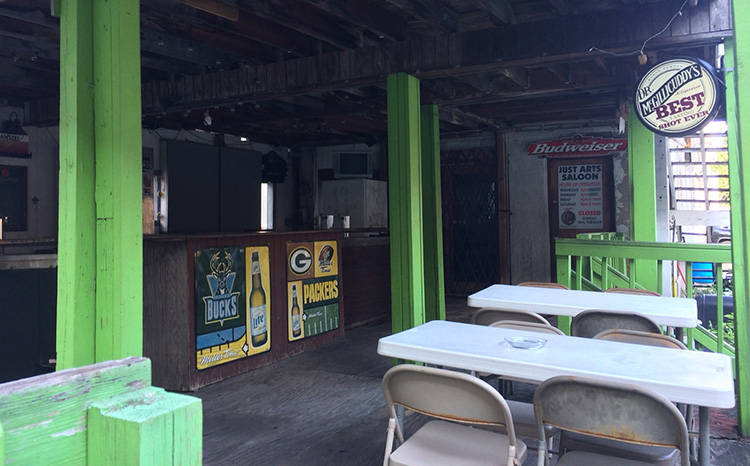 10. Just Art's Saloon
In an ever-changing Walker's Point, Just Art's Saloon remains an endearing dive bar that's relatively untouched by time. That delightful dinginess extends outside to the partially-covered rear patio behind Just Art's. The elevated deck has card tables, metal folding chairs, a rear bar, and a carefree atmosphere all can enjoy.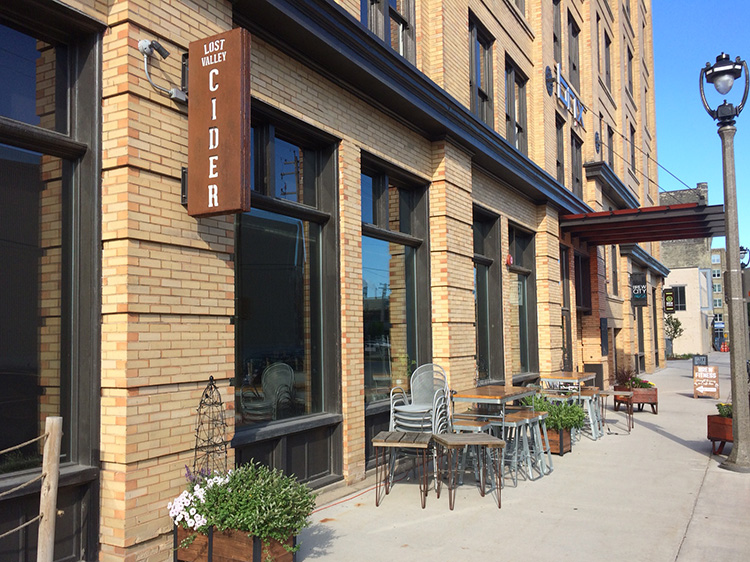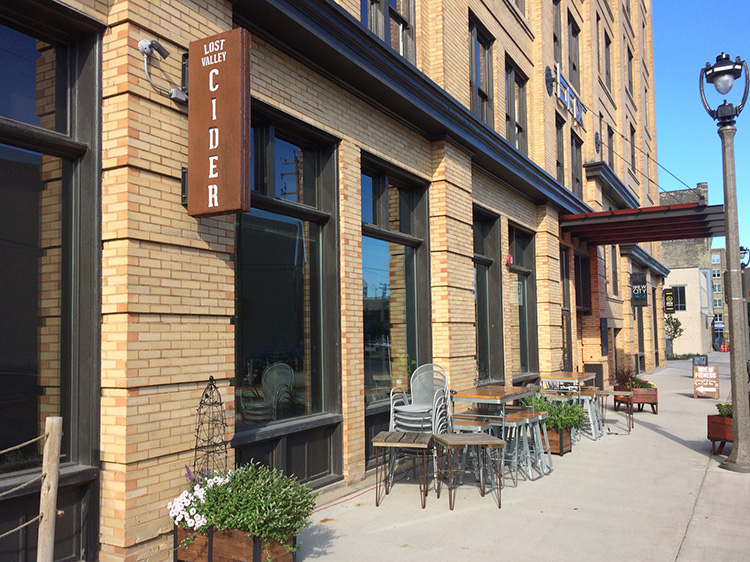 11. Lost Valley Cider Co.
Continuing this Walker's Point-heavy installment of this running patio series is Lost Valley Cider Co. Since opening on Florida Street in early 2016, Lost Valley has quickly and effectively established itself as the first and finest cider-focused bar in Milwaukee (and Wisconsin). Adding to the outstanding selection or cider—including some Lost Valley made themselves—and the swanky-yet-welcoming interior space is a row of tables nestled between the building itself and the sidewalk. Weather permitting, it's a prime place to enjoy some outside cider.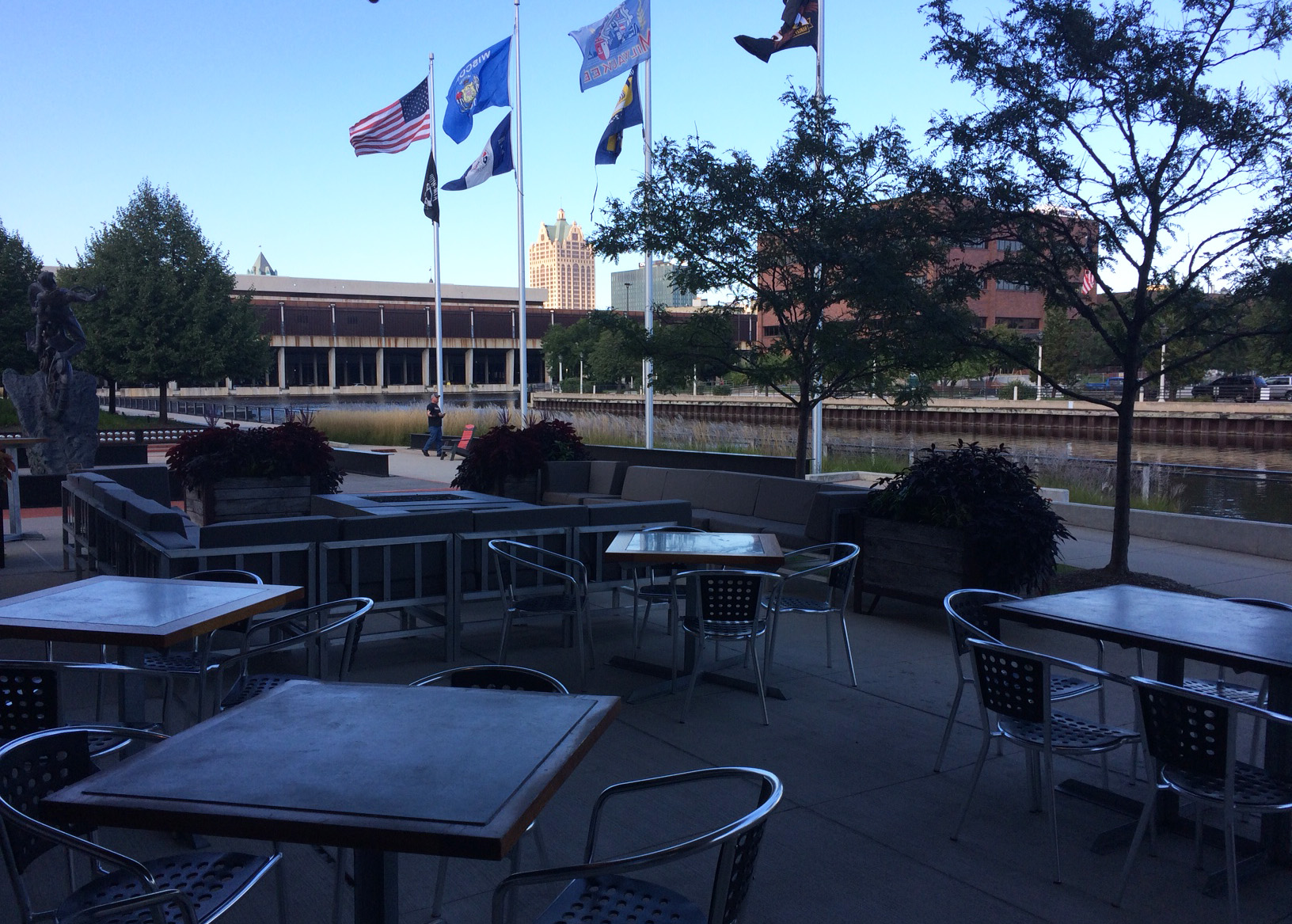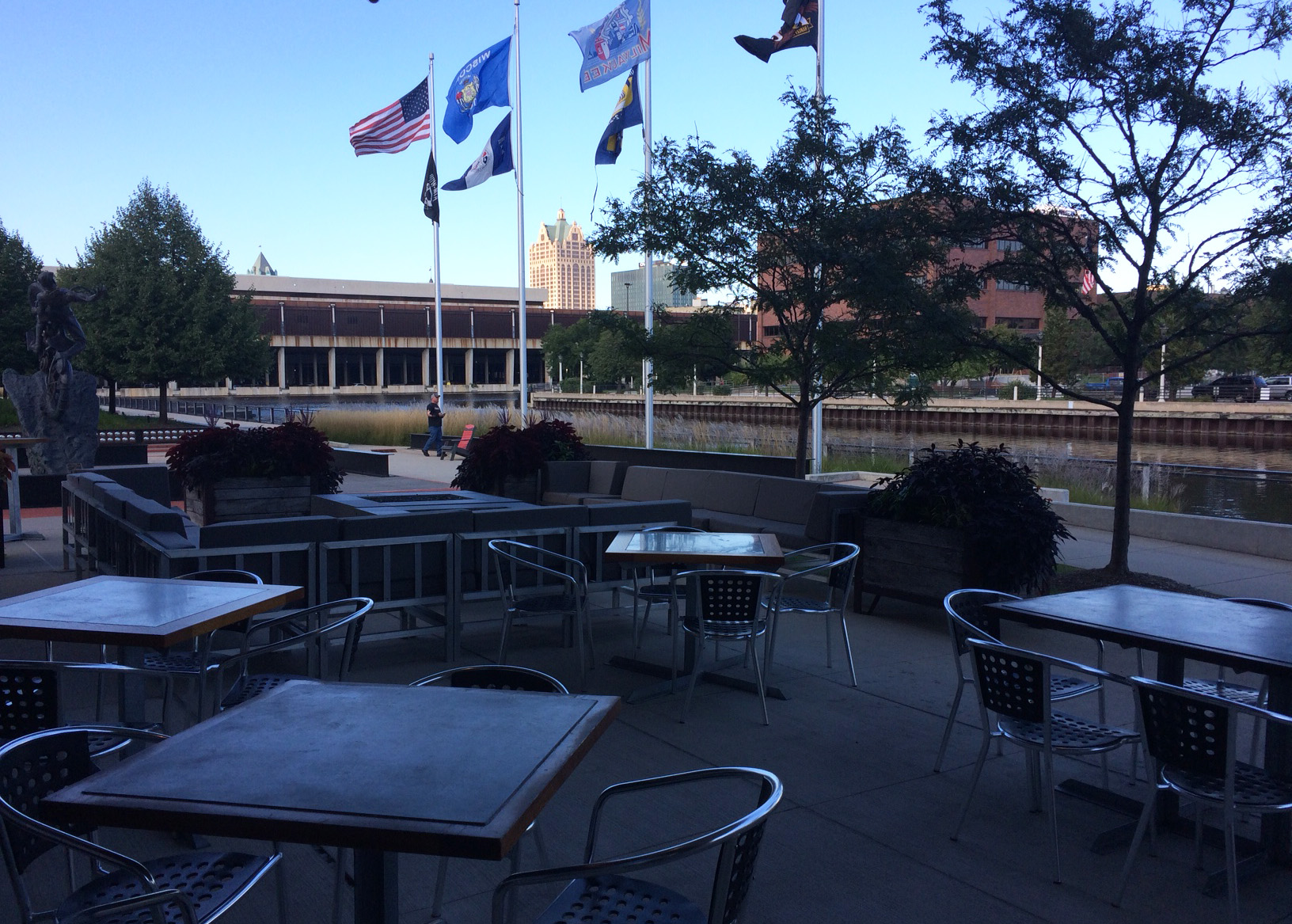 12. Motor
Now that Harley-Davidson's 115th Anniversary is over, Motor has probably cleared out a bit. Behind the bar and restaurant in the Harley-Davidson Museum complex is a sprawling patio space overlooking a river, downtown, and a true Milwaukee's flag. Nice!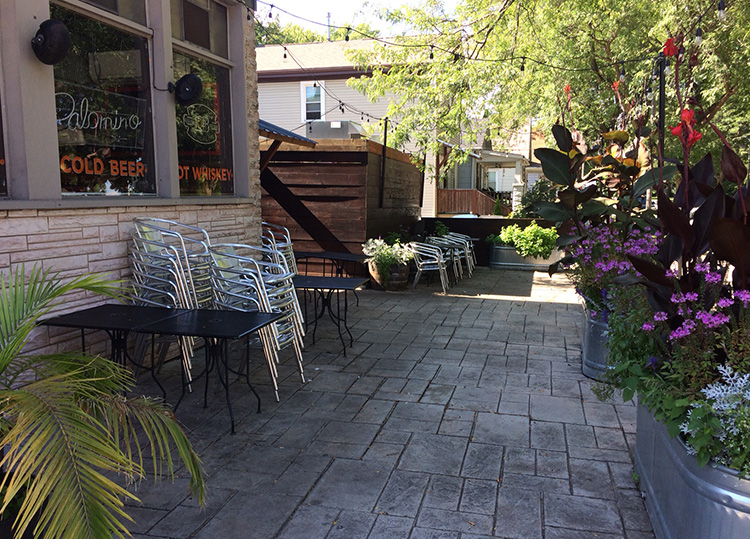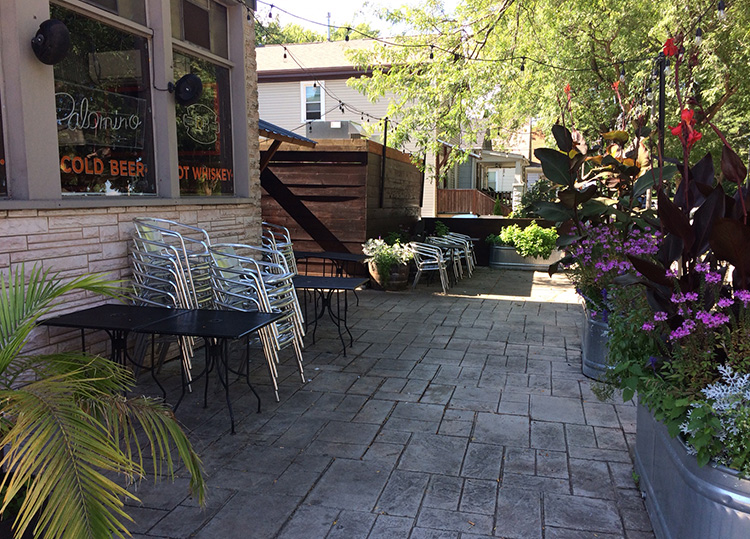 13. Palomino
Locally speaking, Palomino seemed to be an early patio adopter. The Bay View bar, restaurant, and pie empire has long utilized its quaint-yet-cozy parcel of bricks situated near the vibrant intersection of Russell Ave. and Superior St. Add in some planters, oodles of shade, and a great glimpse of a park across the street, and there's a reason Palomino has been utilizing this spot for years.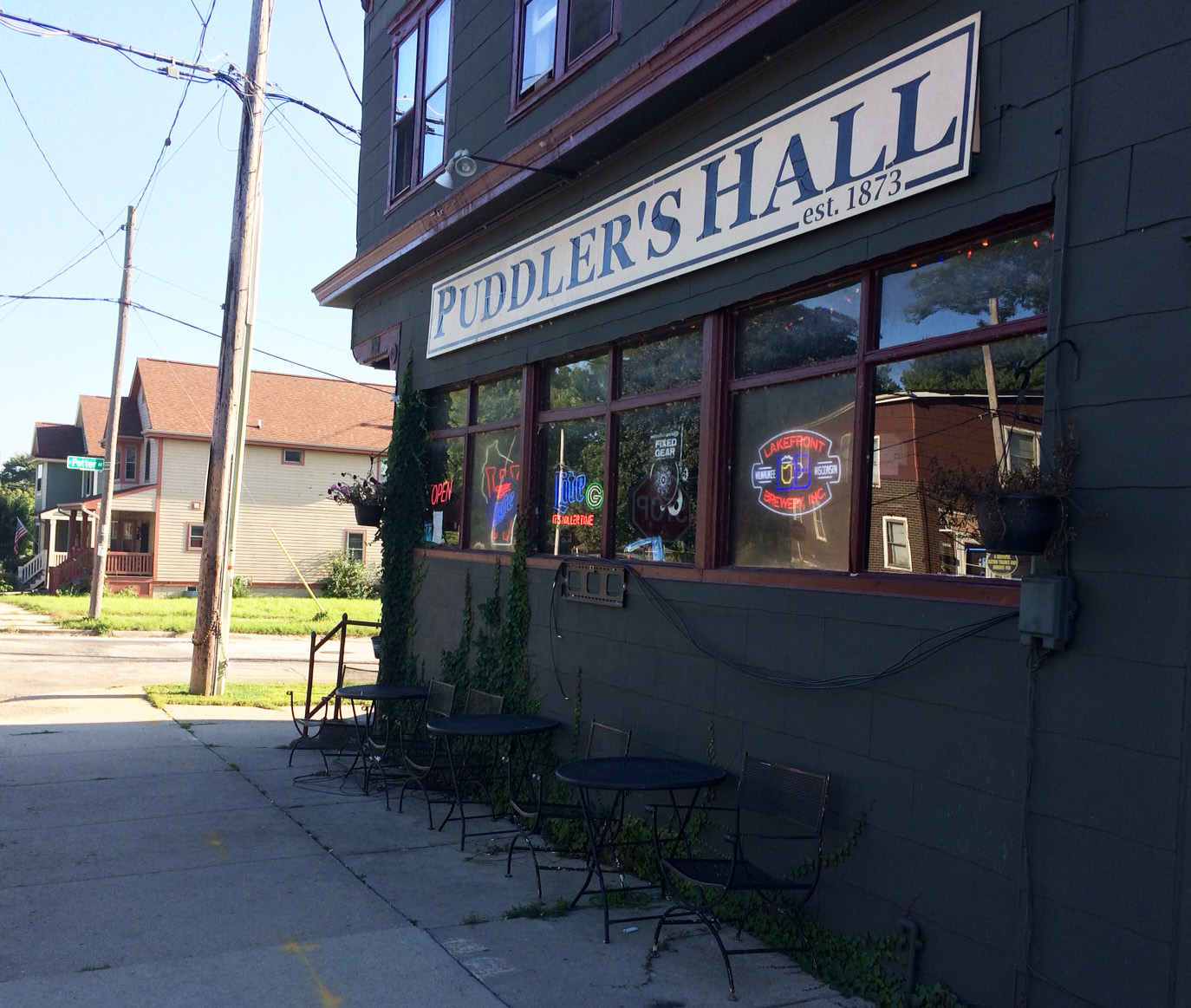 14. Puddler's Hall
It's just three tables and some chairs, but what more do you need? Plus, Puddler's Hall is awesome.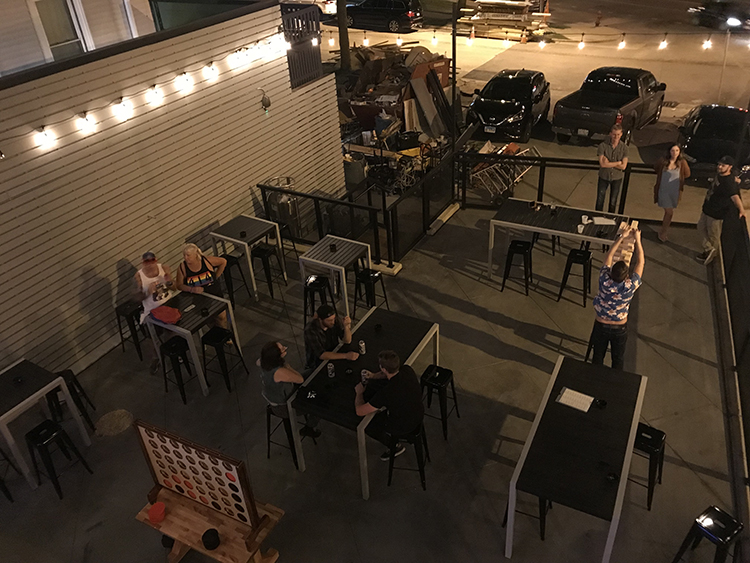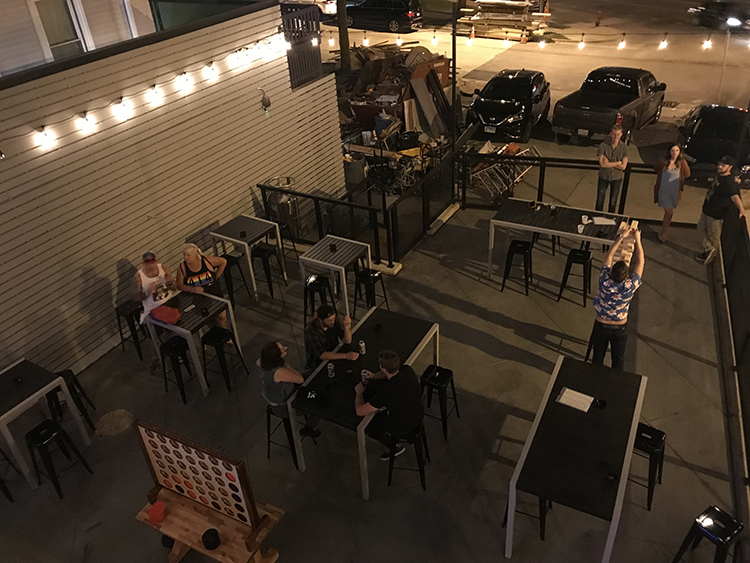 15. Up-Down Milwaukee
The new Up-Down Milwaukee has it all….including TWO patios. The second-level deck overlooks a vast parcel of space that hosts tables, giant Jenga, and a great spot to get some fresh air or enjoy a drink between levels.