Maps! Who doesn't love maps? Old maps, new maps, weird maps, unnervingly accurate maps drawn by Racine talk show hosts in under three minutes! Oh, and cartoon maps of Milwaukee and Southeast Wisconsin that look like they're straight out of a 1973 Schoolhouse Rock! short! Yep, we love those maps, too. And it just so happens we have one of those maps hanging in the posh Milwaukee Record offices! (Note: the Milwaukee Record offices are not posh.) Let's take a look!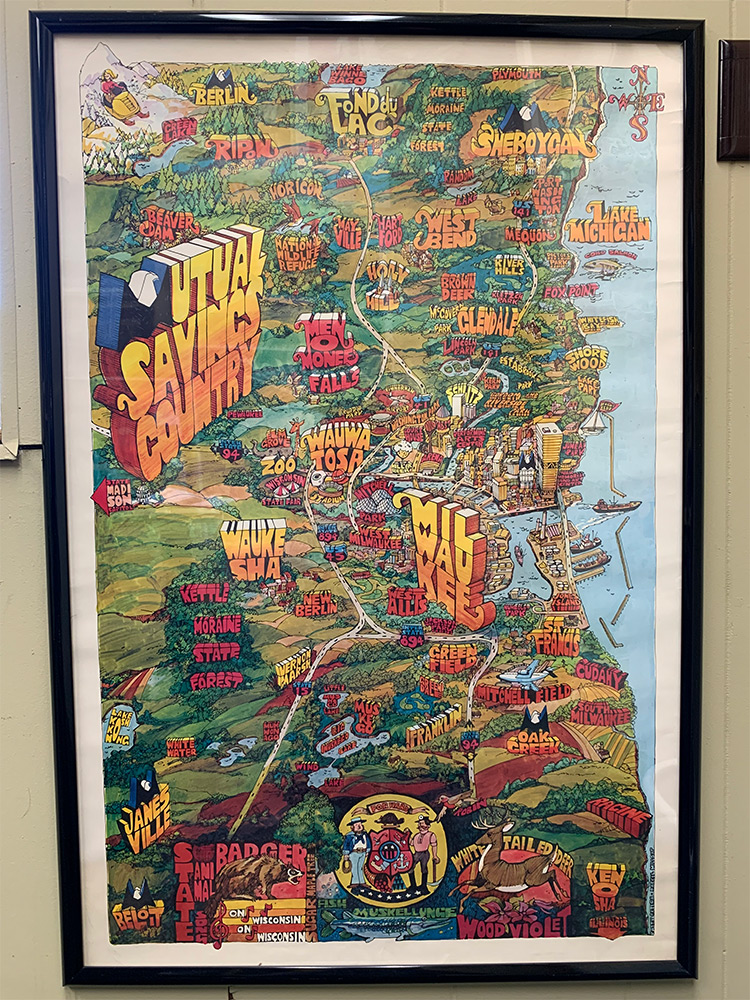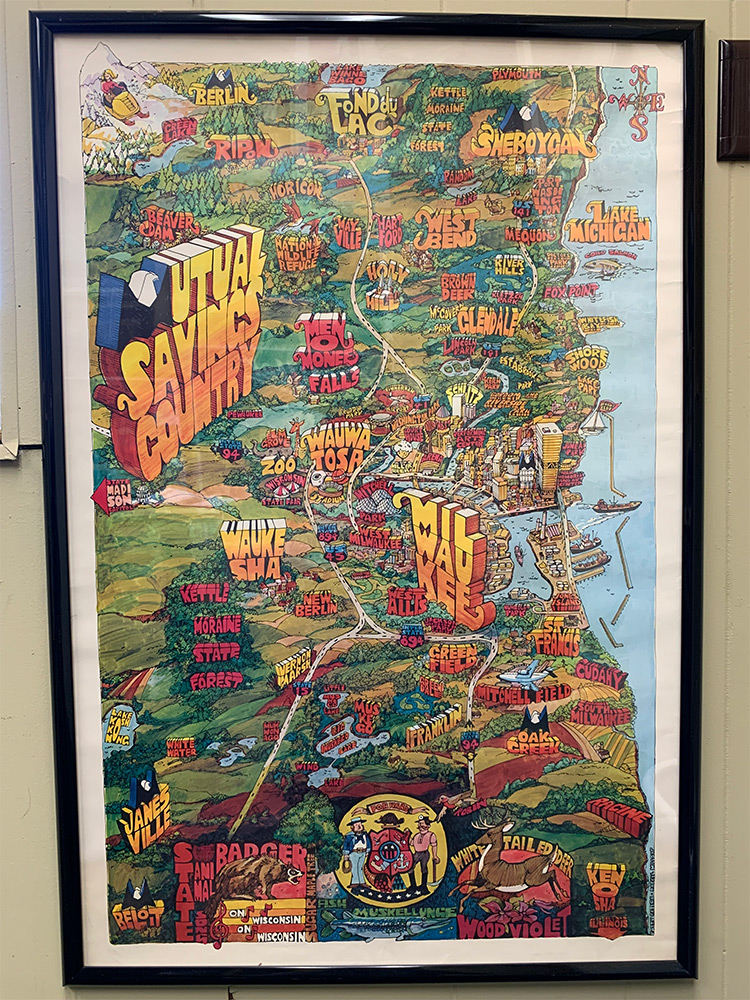 Beautiful. Just beautiful. You can practically feel the shag carpet under your feet, see your reflection in the formica, and hear that song about how a bill becomes a law or whatever. Put away the fondue set and turn off the Pong, kids. We're going to Jones Island!
So what's the deal with this awe-inspiring relic? Here's what we know: The poster was commissioned by Mutual Savings Bank of Wisconsin and depicts "Mutual Savings Country"—a.k.a. Milwaukee, Southeast Wisconsin, and beyond. The artists' names (located in the bottom-right corner) are Patty Ortega and Darrel Millsap. We can't find any information on Ortega, but Millsap was a prolific, California-based, Mad Men-era commercial illustrator who died in 2012. (Read more about Millsap and his work HERE.) There's no year on the Wisconsin poster, but Millsap created a similar California poster for Home Federal Savings Bank in 1973. Based on that and other clues, we can safely place this map sometime in the mid-'70s.
Speaking of other clues, let's take a closer look at some specific areas. Enhance!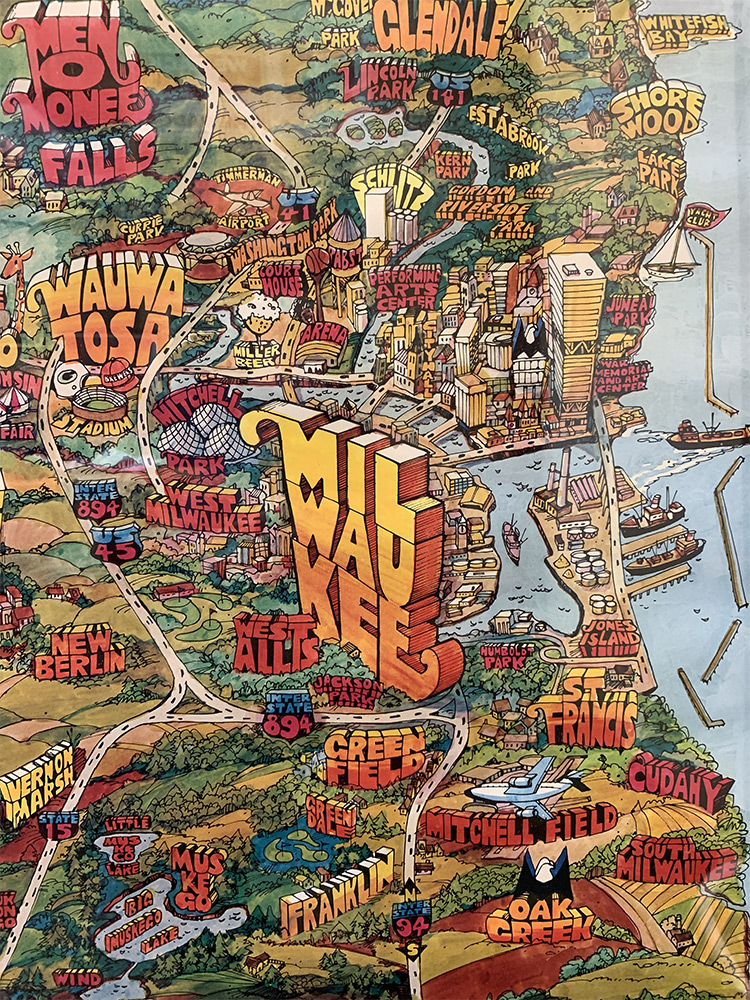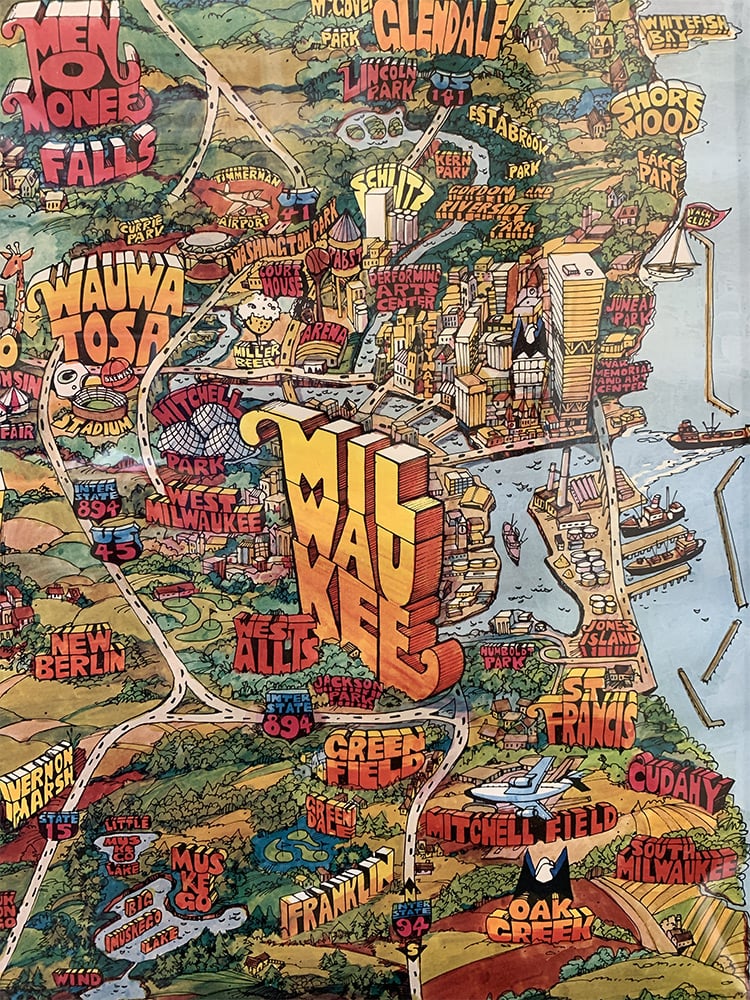 So here we have the metro Milwaukee area (more or less). Please note the Packers helmet over the long-gone County Stadium, the old-school airport name "Mitchell Field" (it changed to "General Mitchell International Airport" in 1986, and "Milwaukee Mitchell International Airport" in 2019), and the lack of the Milwaukee Art Museum or the Summerfest grounds. Also, Menomonee Falls was really high on itself back in the day.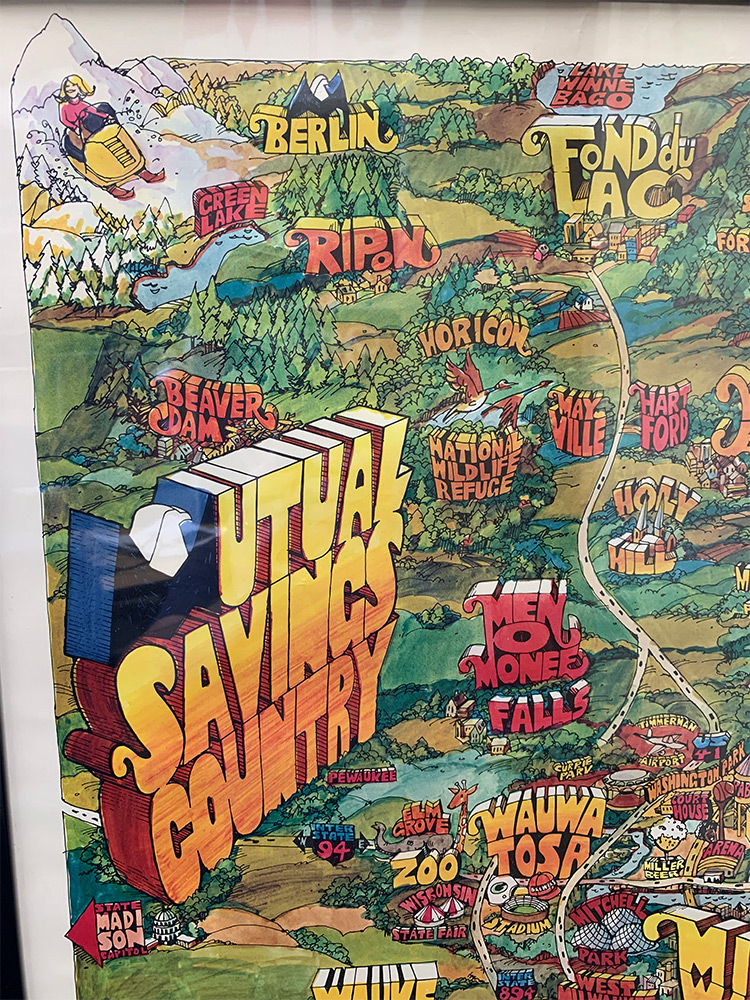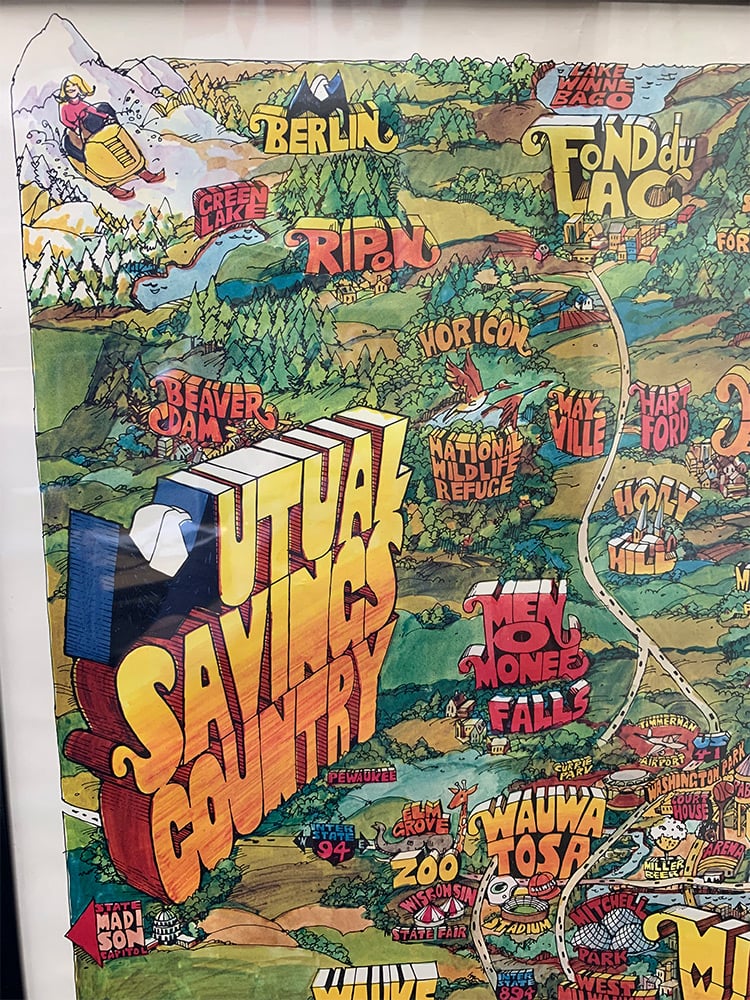 Traveling northwest, we see Ripon (birthplace of the Republican party!), Fond du Lac (birthplace of the Kristmas Kringle Shoppe!), and Mayville (birthplace of me!). Also, the Horicon Marsh was absolutely beautiful in 1973, and it's still beautiful today.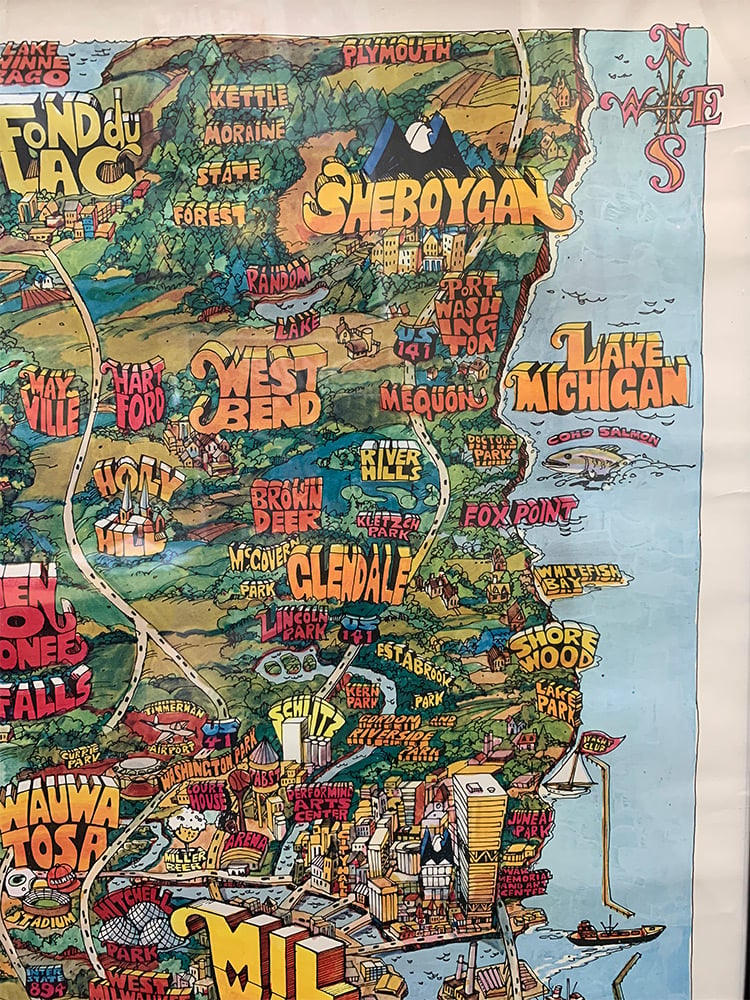 In the northeast corner, we have Sheboygan, Port Washington, and the northern unit of the Kettle Moraine. Why do we always forget there are northern and southern units of the Kettle Moraine? Also, dig that mutant coho salmon terrorizing Doctors Park. This is not the time or the place to perform some kind of a half-assed autopsy on a fish!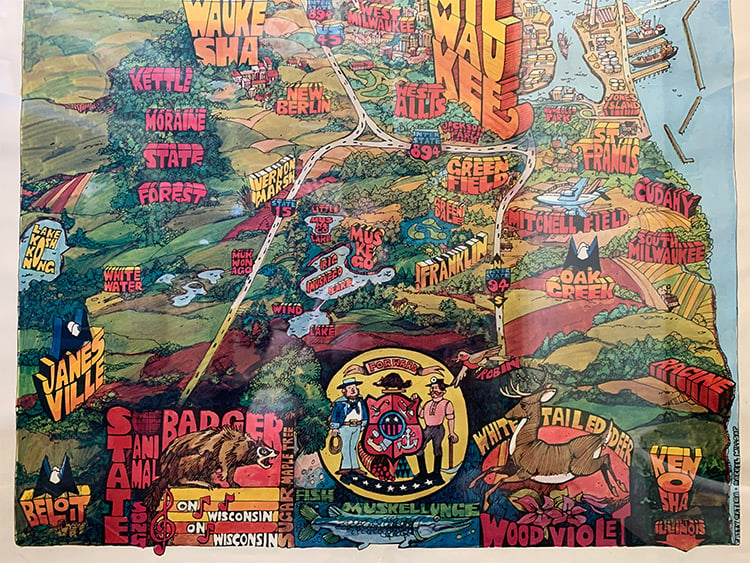 Then there's the bottom of the poster, which is stuffed with all sorts of goodies. The state animal(s)! The state song! A musky! A hesitant arrow pointing to Illinois! Cudahy!
Once again, this map/poster is beautiful. Just beautiful. (We're not sure who to talk to for an official reprint, so hit us up if you do.) It's a charming artifact that takes you back to a time when the Packers played in Milwaukee, when Bay View wasn't cool enough to make the cut (it's just a neighborhood, after all), and when size and scale were thrown out in favor of color and fun. Like the state song says: "On, Mutual Savings Country!"