Summerfest is back! One day is officially in the books, and there are still eight more chances to enjoy loads of live entertainment, heaps of tasty treats, and all sorts of refreshments. As the 54th installment of the "World's Largest Music Festival" launches into its first weekend (June 23-25; June 30 – July 2; July 7-9), we present our thoughts on a few new Summerfest food and drink items.
Korean Corn Dog – Bottle House Forty-Two ($12)
Still in its infancy as a Summerfest vendor, Bottle House Forty-Two has quickly climbed the ladder towards becoming one of our favorite Big Gig eating options—solely by way of its new Korean Corn Dog. This portable Korean riff on a Midwestern festival classic includes an all-beef hot dog and a generous helping of mozzarella cheese that are both coated in a crispy deep-fried rice flour batter (which is gluten-free, for those of you who might want or need to know that) and topped with a chili mayo drizzle. Damn, it's so good! For $12, it kind of has to be.
Esquite Ramen – Toro Tacos & Bowls ($10)
In the mood for something light at Summerfest? Something that won't freeze up your gut for eight hours? Something that should be eaten with chopsticks but, c'mon, this is Summerfest, so all you're getting is a flimsy plastic spork? Then look no further than new Summerfest vendor Toro Tacos & Bowls (located near the Briggs & Stratton Big Backyard) and their super yummy Esquite Ramen. This is ramen noodles done up with serrano sauce, cilantro, and Mexican street corn. How much Mexican street corn? A lot of Mexican street corn. Still, Toro's corn-tastic Esquite Ramen is a fantastic addition to Summerfest's ever-growing food lineup. BYO chopsticks.
German Nachos – Klement's Sausage & Beer Garden ($9)
There are plenty of places to get nachos at Summerfest, and as of yesterday, there's now a place to get so-called "German Nachos." This…interesting take on nachos features house-made potato chips topped with diced tomatoes, green onion, queso blanco, and—you guessed it!—pieces of Klement's bratwurst. While the queso was a little runny and the smattering of dry/tiny brat pieces resulted in very few fully loaded chips, it was a perfectly serviceable snack to accompany a 1 p.m. performance by a pop-punk cover band, for example. That being said, we're just going to get a sausage the next time we swing by the Klement's stand. Why mess with near-perfection?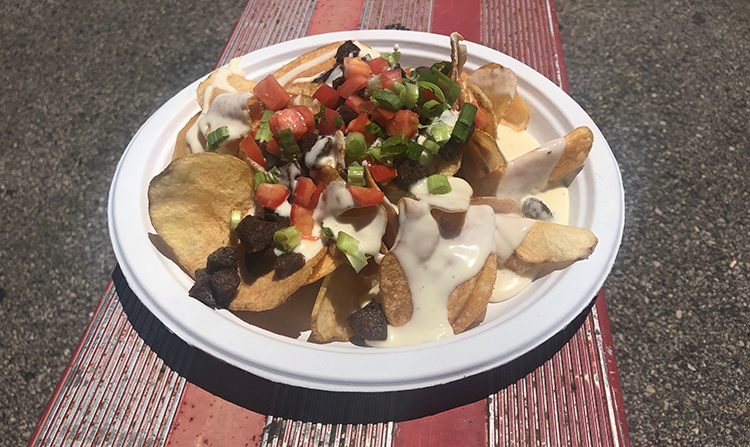 Deep Dish Pizza – Lou Malnati's ($6 slice / $22 whole)
Mr. Chicago himself, Roger Ebert, once said that deep dish Chicago-style pizza "wasn't worth the time of day." Well, Ebert was right about a lot of things (Orson Welles, Martin Scorsese) and wrong about a lot of things (David Lynch, David Lynch), and he may have been off-base on deep dish, too. It's good! Anyway, Chicago deep dish staple Lou Malnati's has been opening a slew of Milwaukee-area locations lately (one is coming to Oak Creek later this summer), including a Summerfest outpost near the North Gate. A single slice may look small, but it packs a satisfying gut punch: the cheese is ridiculously gooey, the 'roni is good, and the crust is crunchy on the outside but soft on the inside. It's no Rocky Rococo (BRING ROCKY TO SUMMERFEST!), but what is?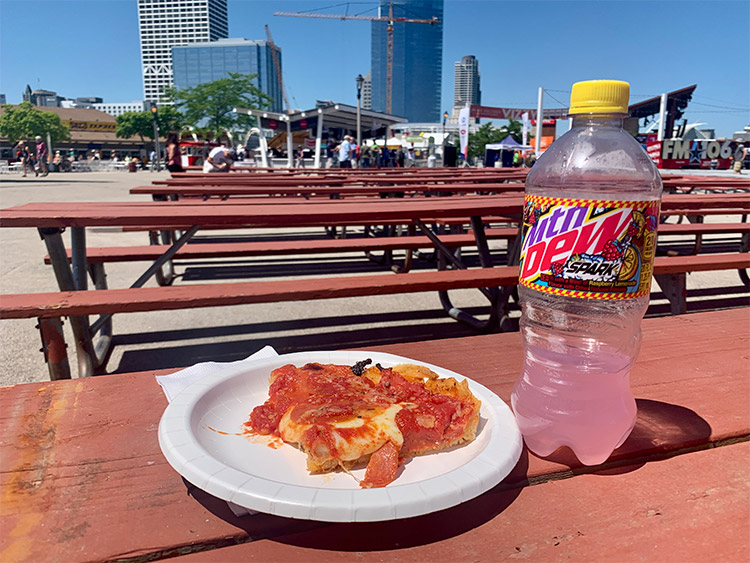 Cheese Curd & Bacon Empanada – La Masa Empanada Bar ($5)
Though it has been a fixture on Brady Street since 2015, La Masa is a newcomer to the Summerfest grounds this year. Beyond its more traditional empanadas, La Masa is also offering a festival-suited variety. The Cheese Curd & Bacon Empanada features melt-y cheese curds and diced bacon pieces that are encased in flaky, oven-baked pastry crust. Though we're more likely to order the Argentine Beef and Chicken Tinga options, the Cheese Curd & Bacon Empanada is a fun change of pace and a Wisconsin-themed introduction for festival-goers who maybe don't usually order empanadas. And make sure to douse them in La Masa's downright delicious signature house Chimichurri.
Fried Thai Chicken Sandwich – Saz's Express ($15)
God bless Saz's, and god bless Saz's Sampler Combo (mozzarella sticks, cheese curds, sour cream and chive fries). Is Saz's Sampler Combo the most beloved Summerfest "food item" of all time? Probably. Could we write 8,000 words about the Sampler Combo alone? Yes we could. Are we purposefully stalling right now because Saz's new Fried Thai Chicken Sandwich (available near the North Gate) is only "okay" and not "excellent and totally worth $15"? Yeah, we are. Oh well, the kimchi is good and the sweet chili sauce is surprisingly spicy. The sandwich also comes with sour cream and chive fries, a.k.a. one-third of the Sampler Combo!
Central Standard Craft Distillery Door County Cherry Vodka Lemonade – Johnson Controls World Sound Stage ($19)
As Central Standard's presence and availability continues to grow in the city (and beyond), the Milwaukee distillery's latest bit of success is earning a spot beside significantly larger and more established non-local spirit brands at Summerfest cocktail stands. With a distinct flavor of Door County cherries intermingling with its craft spirit, Central Standard's cherry vodka lemonade is a refreshing (and potent) option. Whether you're working it in between beers to shake things up, or simply splurging on one or two to hold you over for your entire Summerfest visit, this sizable sipper that comes in a souvenir shaker glass—which you can refill with water from a drinking fountain after your cocktail is gone—is well worth the $19 price tag…at least once you come to terms with the fact that almost all alcoholic options run $10-$20.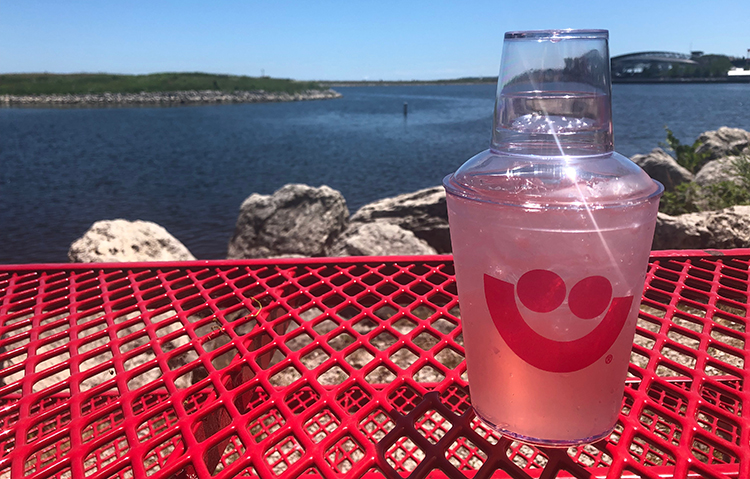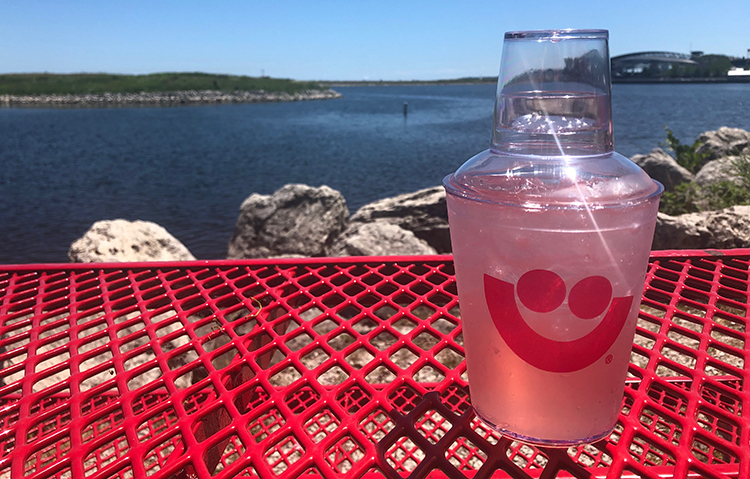 MTN DEW Spark – various locations ($4.75)
Yeah, we're including a new Mountain Dew flavor in this. (Sorry, "MTN DEW.") This is the Dew's "bold and exciting take on the classic Raspberry Lemonade flavor you love"—in other words, pink lemonade. It's good! For a second, we thought Spark was the newly announced flavor that will only be available at participating Casey's convenience stores (we get a lot of strange press releases), but no, that's MTN DEW Overdrive. Spark won't exactly kick your festival-going butt into overdrive, but it will give you a refreshing boost of energy perfect for enjoying, say, Stephen Pearcy (The Voice Of Ratt) on the UScellular Connection Stage at 6:15 p.m. Right after Stryper and right before Slaughter and Great White. Incredible. Do the Dew! Do the Summerfest!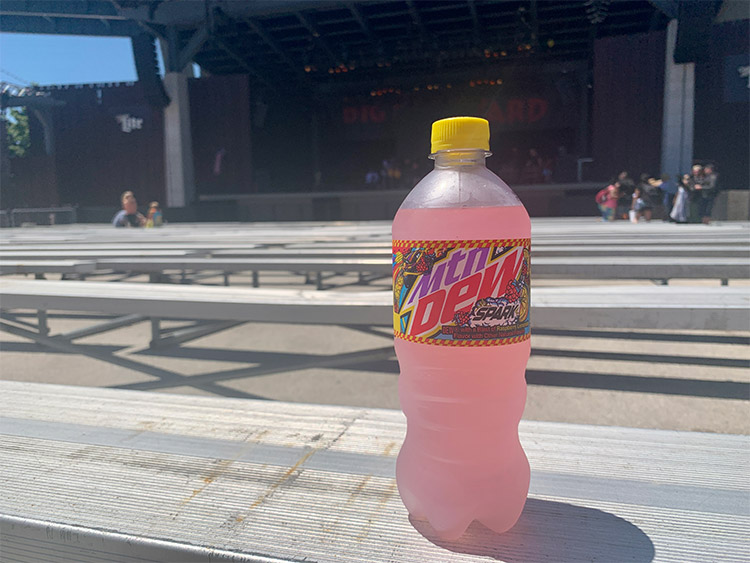 Exclusive articles, podcasts, and more. Support Milwaukee Record on Patreon.
---
RELATED ARTICLES
• Here's the full Summerfest 2022 schedule, with dates, times, and stages