This past Saturday, the Summer Soulstice Music Festival celebrated its 16th year on the East Side. This fall, I'll celebrate my 20th. By all living-in-Milwaukee logic (not to mention all good sense), I should have moved away from the East Side long ago, headed for more "grown-up" neighborhoods where once-heralded activities like getting shitfaced at the Landmark on a Tuesday night have been replaced with farm-to-table dining and responsible home ownership. The East Side, the prevailing Milwaukee wisdom goes, is a starter neighborhood. It's a place to grow up and grow out of.
And yet I'm still in love with the East Side. I'm still fond of its streets and its businesses, still comforted by its convenience and its community. And I'm still down as fuck for Summer Soulstice, a festival that takes over a large chunk of North Ave. every June and transforms it into, well, a slightly livelier version of North Ave., albeit with more live music and dodge ball tournaments. But how does the fest stack up to other street shindigs in other neighborhoods throughout the summer? And might it be time for me to finally decamp to one of those neighborhoods and leave my East Side past behind? Let's find out!
1:26 p.m. — It's 80 degrees and sunny. There's a cool breeze coming off the lake. This is perfect. Ruth B8r Ginsburg are already at it on the Murray Stage when I arrive, crooning their way through the lovely "All Of Everyone At Once." "Open minded but you think so lowly / Of those who smoke cigarettes / And those who aren't democrats," goes the chorus. A song dedicated to Maria Hamilton, mother of Dontre Hamilton, follows.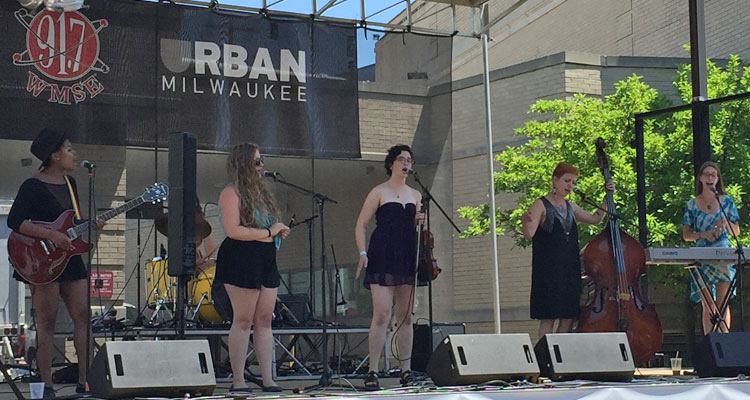 1:33 p.m. — "Oh!" a middle-aged woman exclaims during Ruth B8r Ginsburg's set. "These ladies are amazing!" Yes they are. My daughter listens attentively and drinks some water from a sippy cup shaped like a strawberry.
1:52 p.m. — Oh yeah, did I mention I have my almost-two-year-old daughter in tow for the first few hours of this thing? Yep. Anyway, we bump into photographer Troy Freund over at a giant rock-climbing contraption in the middle of the street. Troy was kind enough to take the super-pro shot for our initial Milwaukee Record announcement back in 2014. Two years later, I repay the favor by inadvertently standing in front of his camera like an idiot while he takes a time-lapse photo.
2:04 p.m. — Shade is at a premium this afternoon, so my daughter and I hug close to the west wall of the East Library and watch the BMX bike stunt show. Feelings of dread and self-loathing accompany the realization that the oldest rider in the show tops out at 19 years old. One of them is 9. "Do you think you could do these tricks?" I ask my daughter. "Yes!" she crows.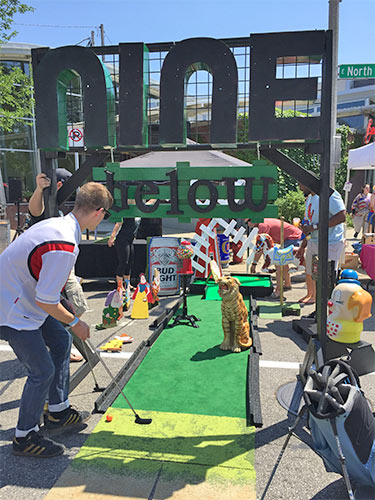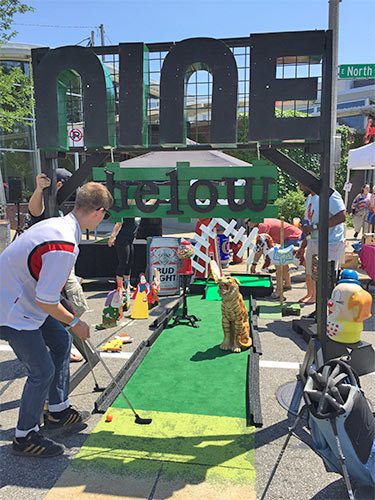 2:16 p.m. — Nine Below, the "mini-golf tavern" coming to the long-vacant space below Beans & Barley, is hosting a free build-your-own mini-golf competition. That line from Spaceballs pops into my head: "Schlotkin! We're done with you. Go back to the golf course and work on your putts."
2:18 p.m. — Grasping At Straws are dishing out their roots-y bluegrass on the Murray Stage. (Is it Grasping At Straws or The Grasping At Straws? A mystery for the ages.) "When are you gonna get your Missouri accent back?" sings Josh Backes in the delightful "The Muse." Later, he introduces "Warm Blanket" as a "dark song for a bright day." (The?) Grasping At Straws are one of those Milwaukee bands that are easy to overlook, but damn if they don't deliver every time they play.
2:22 p.m. — Oh shit. Former Milwaukee-music super-fan Leo Hayashibara (interviewed in these pages by Grasping At Straws' own Maggie Iken) is back, baby, and putting the crowd to shame with his distinctive dance moves and infectious enthusiasm.
2:33 p.m. — I head over to the West Stage and catch the Girls Rock showcase. Negative/Positive are playing a delightfully solid set of three-chord, shout-along punk rock. Seriously, they're pretty great. The junior-high-aged singer informs us that one of the songs was written after a member left the band, and is about "new beginnings and accepting change." (Already with the tumultuous band history!) Another was the first song they wrote after the Girls Rock camp, and is described as "kind of a classic." "Paper Cuts," meanwhile, is about the power of reading and contains multiple Percy Jackson references (or so I'm told). My daughter watches in awe and is suddenly covered in applesauce for some reason.
3:09 p.m. — Here's something weird: while there's the requisite Milwaukee Home booth on North Ave. hawking Milwaukee Home T-shirts and Milwaukee Home can koozies, there isn't much of that swag floating around in the crowd—at least compared to previous years. I actually spy more old-school Atomic Record shirts in my first few hours than, say, neon-green Milwaukee Home tank tops. Huh. (Related: For a split second I think I spot a guy wearing a People's Flag of Milwaukee shirt, but it turns out to be a Tycho shirt. No joke.)
3:10 p.m. — I finally make my way to the east end of the festival and contend with my least favorite thing about Summer Soulstice: that giant dodge ball cage and the throngs of people that surround it. This is definitely the most "East Side-y" this East Side jamboree gets, and yeah, it's not for me. Oh well. My daughter and I pass the time before Airwo Kwil by dancing to "Tainted Love" and "Funky Cold Medina."
3:28 p.m. — Aaaand we have a toddler meltdown. Who can blame her? It's hot, humid, and we still haven't seen that guy who always shows up to this thing with a giant lizard. Seriously, where the fuck is Lizard Guy?
3:41 p.m. — Cree Myles opens her set on the Murray Stage with a cover of Nina Simone's "To Be Young, Gifted And Black." Later, as I hustle my daughter and all her shit to the nearby BP for an emergency mommy pick-up (I feel like a sentient Baby Boom poster), strains of "Crave Me" float through the air.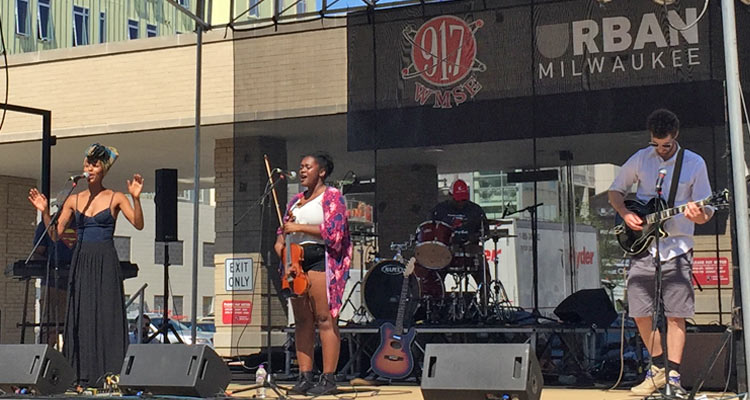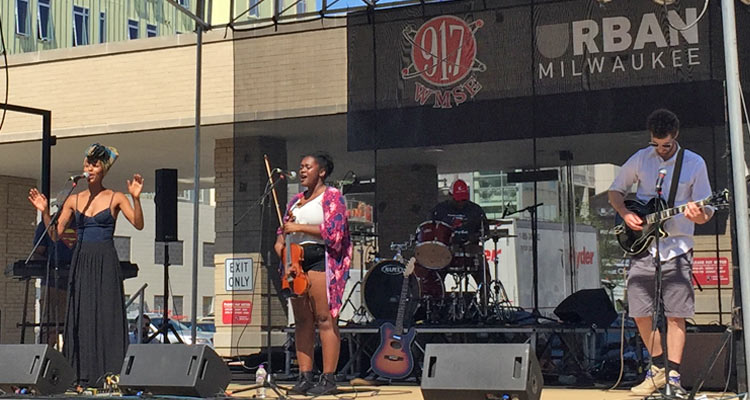 3:54 p.m. — Free! I duck into The Hotel Foster and use the bathroom while Eagle Trace, over at the West Stage, play of cover of David Bowie's brutal farewell song, "Lazarus."
4:24 p.m. — My favorite current Milwaukee band is NO/NO, no questions asked. The group's new Sound And Light is never far from my ears, and the combination of singer-guitarist Harrison Colby and singer-keyboardist Cat Ries is an endlessly tuneful and intriguing one. They open their set on the East Stage with the excellent "Waiting For Something To Happen," and soon reveal the show will be the last for bassist Lucas Riddle.
4:29 p.m. — Ries announces she's giving away used books while onstage, including a collection of H.P. Lovecraft stories and a rhyming dictionary. (Note: More bands should do this.) It isn't long before a random dude approaches the stage and becomes the proud owner of those Lovecraft tales.
4:44 p.m. — No surprise here: NO/NO close their set with the unspeakably perfect "Whatever." If this isn't the biggest, best, most swinging-for-the-fences Milwaukee pop song of the past five years, I don't know what is. Soaring, widescreen, triumphant yet vulnerable. It's the fucking best. There's a baby dancing in the street. Colby is on his knees as the song comes to its climax. Someone next to me mentions she's getting goosebumps. I'm crying. This feels like something is ending. What am I still doing on the East Side? All my friends have moved on, moved away, and grown up. Jesus, I hardly see any of them any more. There's a picture of us, when we were a band, standing in the alley behind the BBC and the then-Globe. It was taken in 1996. 20 years ago. Maybe it is time to go, time to leave this behind. Gah. This song.
4:54 p.m. — Ten minutes later, during Brett Newski's set, this happens. Fuck it. I love this place.
5:10 p.m. — Newski is playing a Gufs cover, because why not, and I'm talking to the forever-awesome Shea Frevele. She's currently "schlepping" Newski's merch and she's one of the best things about Milwaukee's music scene.
6:02 p.m. — "Let me rap for you," says Klassik. He's alone on the vast East Stage, dropping into the acerbic "Go Far" from the best Milwaukee album of 2015. It takes guts to do what Klassik does, and he makes it seem frightfully easy.
6:25 p.m. — Watching a set from Lex Allen—or anyone from the New Age Narcissism collective, for that matter—feels like watching a star. Opening with the familiar "Na, na, na" chant (are NAN members fined if they don't do this?), Allen launches into his just-as-familiar "Puppy Love." Happily, it's a killer song, perfect for festivals and clubs alike, and one that sets the already adoring crowd into a frenzy.
6:30 p.m. — My score in "Spot the Lizard Guy" is still zero, so I devise a worthy diversion: I give myself an imaginary dollar every time I spot Milwaukee artist extraordinaire Reginald Baylor smoking a cig and looking cool as fuck. I'll eventually leave the festival with at least 20 theoretical dollars and a newfound (and clearly futile) mission to be half as cool as Reginald Baylor smoking a cig and looking cool as fuck.
6:34 p.m. — Lex Allen, on his wardrobe: "Is that a fucking crop top? Yes the fuck it is!"
7 p.m. — One of the dudes from No No Yeah Okay always pisses and moans when I don't single out his band for being super rad and totally awesome. So, in order to avoid the great Kane Place Record Club Mooning Incident of 2011 (2012?), I make a point to catch NNYO's set on the East Stage. And hey, they're good! Like the dodge ball thing, however, their electro-indie hip-hop isn't really my bag. Oh well. It goes over like gangbusters with the festival crowd, which currently includes an elderly gentlemen getting freaky with the ladies.
7:15 p.m. — The Cavewives take the Murray Stage. On paper, the band might seem to be today's outlier, but their classic rock sound, shimmying dance moves, and riffs and hair aplenty translate perfectly to the increasingly buzzed and blissed-out crowd. Someone yells out "Sabbath!" which seems appropriate.
7:34 p.m. — Is there anyone in Milwaukee music today as big, brash, and unapologetically entertaining as D'Amato? Probably not. Over on the West Stage, the singer, rapper, guitarist, and—I'll say it again—entertainer is introduced as the "heavyweight champion of our hearts, our minds, and our groins." That's hardly hyperbole. Decked out in his trademark white suit and round glasses, D'Amato leads his 8,000-piece band through a bananas set that finds him channeling the likes of James Brown and Prince—smooth dance moves one second, blistering guitar licks the second. It's a hell of a sight.
7:54 p.m. — The Cavewives are playing "Real Love"—a.k.a. that second "new" Beatles song released on the second Anthology album way back in 1996. Jesus, 1996 again…
8:20 p.m. — Anyway. The Rusty Ps are kicking things off at the East Stage. God bless the Rusty Ps. The Milwaukee hip-hop legends are the crucial bridge between the local rap scene of old and the ongoing explosion of today. SPEAK Easy, who currently resides in Atlanta, appears for a guest spot.
8:34 p.m. — Speaking of that ongoing explosion of today, Bo Triplex And His Beautiful Band are funking it up, freaky-style, on the Murray Stage. Triplex is decked out in a white trench coat, his bass decked out in scarves. Lex Allen, Siren, and more dance in the crowd.
8:48 p.m. — The fine fellows of Soul Low open with a snippet of Weezer's "Undone — The Sweater Song" over on the West Stage. It's a charming nod, albeit one that only hints at the band's wildly unpredictable, nervy indie rock. Two songs later is the group's newest single, "Be Like You," from the upcoming Nosebleeds. It's awesome.
9:31 p.m. — It's getting late and it's almost time to play "Choose Your Headliner." Foreign Goods are on the East Stage, Brothers By Choice on the West, and Space Raft on Murray. I find myself aimlessly walking through the crowd, lapping back and forth. I remember Soulstices of years gone by: my then-girlfriend bartending outside of Vitucci's, a friend wearing a hilariously revealing outfit that inspired my band's song "Nervous." I walk endlessly without talking or seeing anyone I know. I'm a ghost in a place that's moved on. Or maybe it's the other way around.
10:06 p.m. — I choose Brothers By Choice. Their backstory is fascinating: Formed in the late 1960s, the soul-harmony group scored a few local hits back in the day and then promptly went on a 30-year hiatus. Andy Noble (of The Get Down and Kings Go Forth fame) convinced BBC to reform in 2014. They've been playing festival shows and occasional gigs ever since. Their performance for the finale of Summer Soulstice 2016 is perfect: warm, lived-in, accomplished, confident. "Get up and dance!" BBC sing. Damn right.
10:23 p.m. — I make my way through the crowd, past the packed East Stage with Foreign Goods, and head home. Once there, I accidentally step on my cat (ugh, that noise), and pass out to Into The Wild on Netflix for some reason. Such a dumb, beautiful movie, filled with so much dumb, beautiful idealism. So easy to grow out of—necessary, maybe—but still worth remembering and holding onto now and again. I'll let you draw your own tidy parallels.