From August 3-13, the Wisconsin State Fair will once again offer up oodles of entertainment, oodles of animals, stands to buy novelty T-shirts, rides for folks of all ages, and much more. Oh, and food! In addition to the State Fair's annual food-stand staples, this year's fairground festivities also feature eight intriguing indulgences and four baffling beverages that were named 2023 Sporkies and Drinkies finalists. We wasted little time before heading to West Allis with empty stomachs and open minds to try the 12 total finalists during the State Fair's opening day.
SPORKIES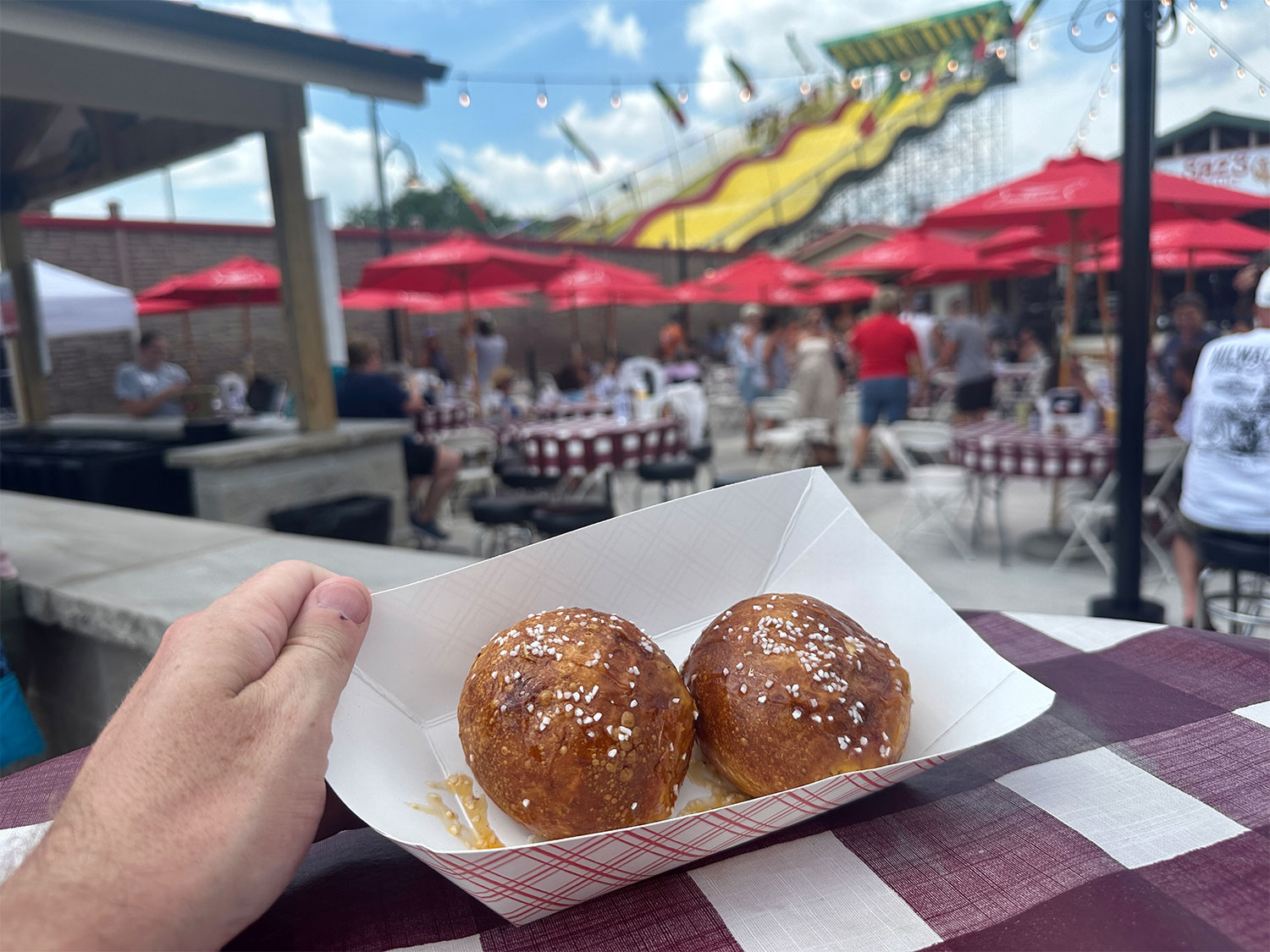 Your 2023 Sporkies winners are these salted Milwaukee Pretzel Company slider buns stuffed with beer cheese soup and drizzled with honey, from new-ish Brady Street bar WürstBar. Yeah, they announce the winner of the Sporkies before the Fair begins, ensuring long lines and high demand for the top foodstuff. And that's just what we encountered on State Fair Day 1: the Beer Cheese Wisconsin Lava Cakes ($11) were twice sold out, and dual lines for them occasionally approached the Giant Slide. But when we finally got our soon-to-be-sticky mitts on the things, they were good! Maybe not the best, but good! The buns were salty, the beer cheese soup was gooey, and the kid hovering near us couldn't stop staring at out Cotton Candy Lemonade. More on that in the "Drinkies" section!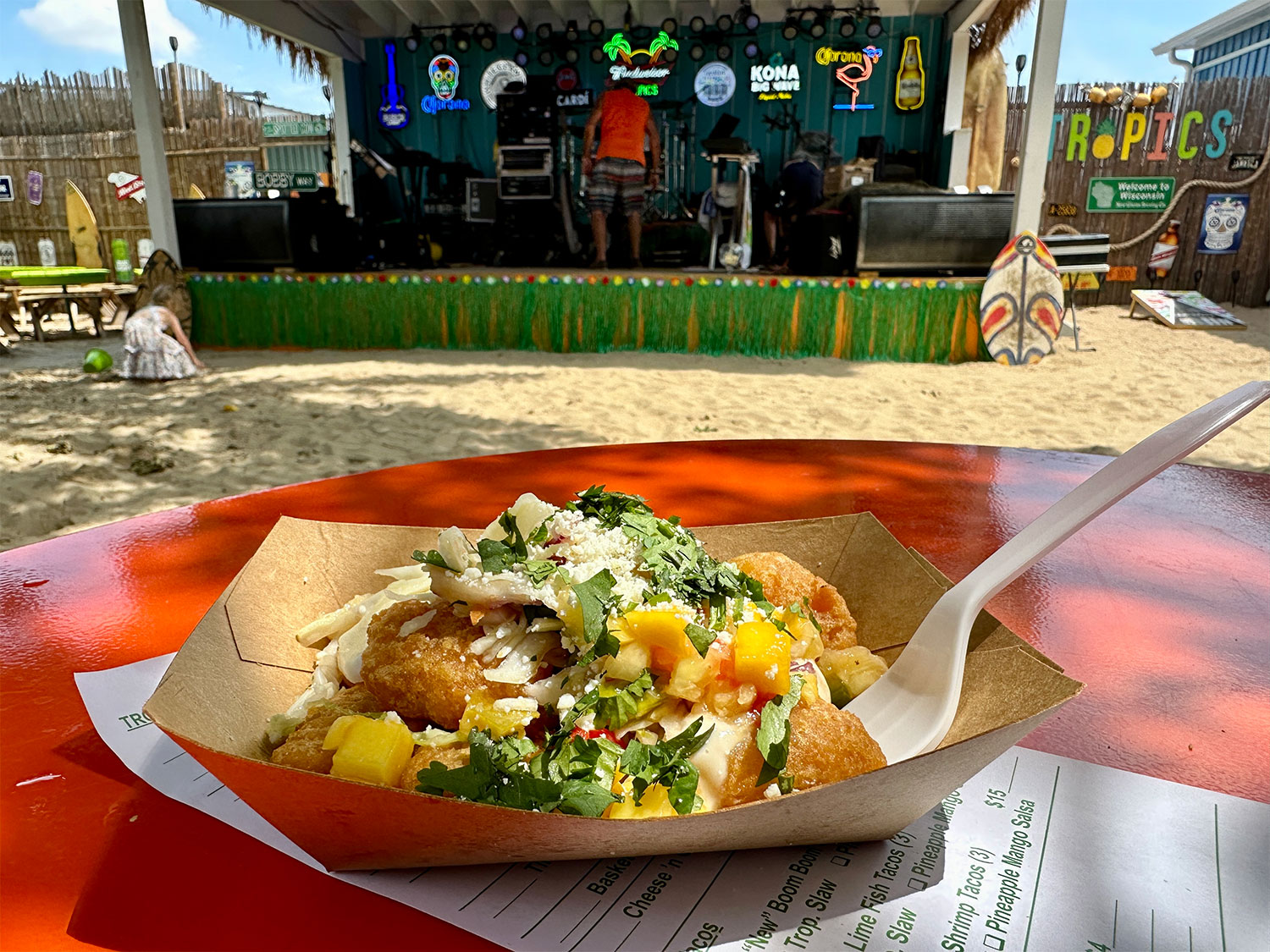 We're big fans of the Tropics area at the State Fair. There's sand, shade, seating, and a charming "We have Margaritaville at home" vibe that stands in stark opposition to the rest of the fairgrounds. Last year we dug Tropics' Surf & Turf Sliders; this year we flipped for their Coastal Corn Nuggets ($12). These "sweet corn nuggets topped with queso, tropical slaw, pineapple mango salsa, and cotija cheese" are simply great. They may look like a snack, but they're hearty enough to fuel a full afternoon of pig racing, livestock inspecting, people watching, and lost-shaker-of-salt searchin'.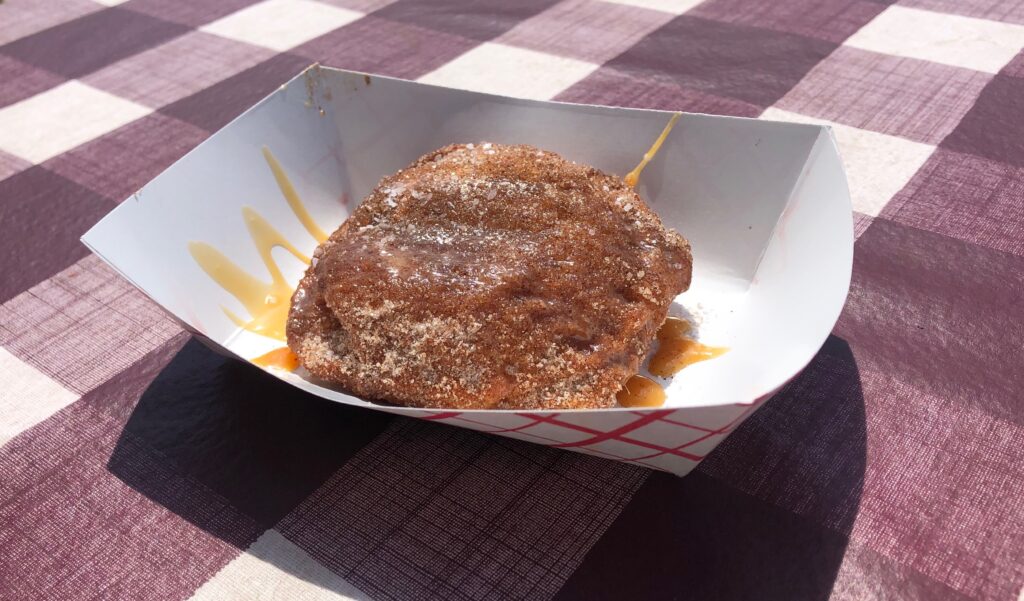 Following a flat-out miss with a new menu item at Summerfest, we were starting to think the beloved Combination Plate might be the only festival fare Saz's really has a handle on. That notion came closer to confirmation when we tried the Deep-Fried Apple Pie this week. This $7.50 slab of seasoning and dough was miraculously both too sweet and too salty all at once. Even without the surprising presence of sodium, we found the innards to be wet, slimy, and doughy. Even the canned apple pie filling couldn't bail this out. Honesty, just get the Combination Plate instead.

When we initially saw this, we took the Dill Pickle Donut to be among the more "out there" new Fair food options. Our tune changed once we bit into it. If anything, this so-called "donut" is miscast as a fluffy, untoasted bagel that has dill, pickles, and cream cheese atop it. The donut's texture is soft and its absence of sweetness allows the other ingredients to shine. And they do! When combined with the soft cake donut, the light layer of cream cheese, the liberal sprinkling of dill, and the quintet of hamburger pickle medallions, this proved to be an unexpectedly good newcomer to the State Fair menu.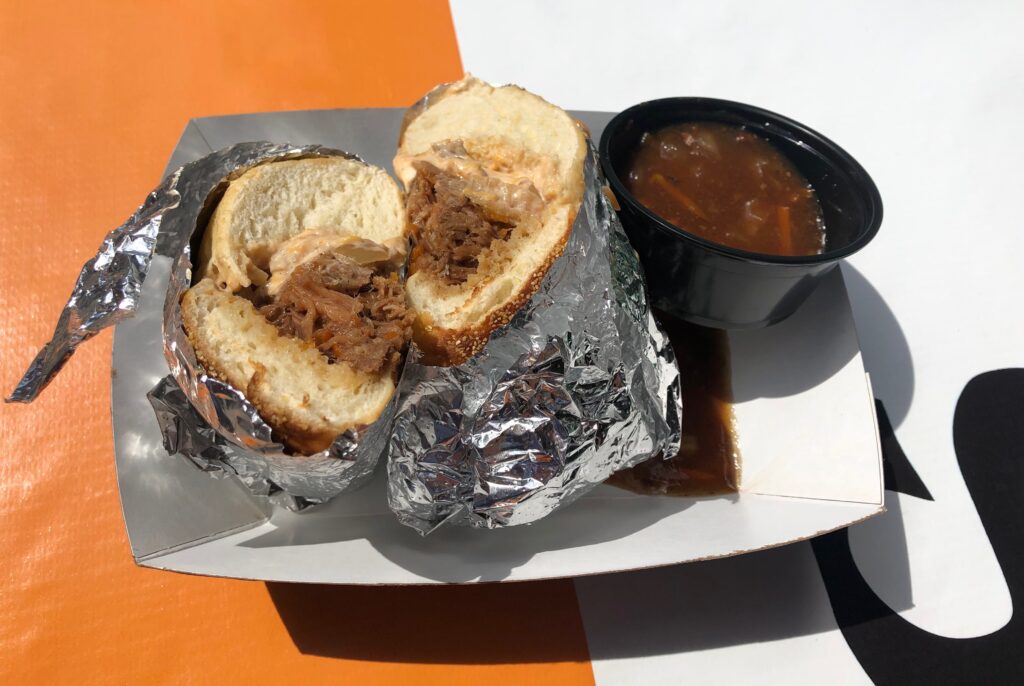 There's "good State Fair food" and there's "good food" in general. Let's be clear: there's no State Fair-related modifier when we say the Irish Dipper sandwich whips absolute ass. The tender shredded beef works in perfect concert with the caramelized onion, cream cheese, and absorbent French bread. The Guinness gravy is a nice accent (especially if you find yourself clutching only bread at the end of your eating experience), but this sandwich is honestly awesome on its own. The brown, umami-packed gravy only helps things…if you dare risk offsetting those well-balanced flavors. Fair-related or not, we'd totally order this again.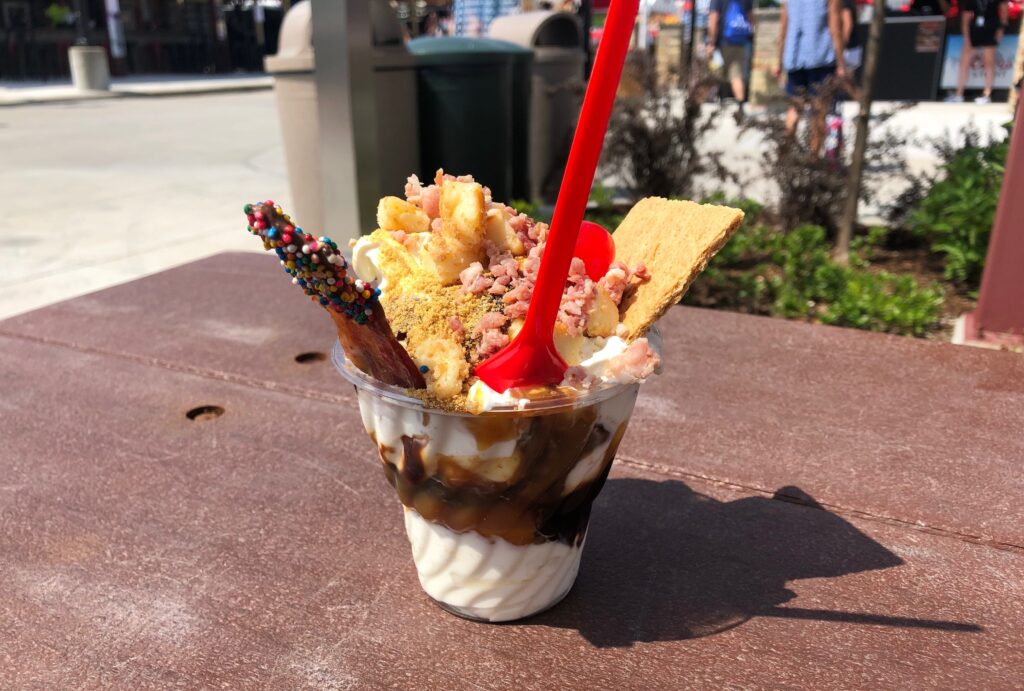 There's a Yiddish term called "Ungapatchka" that basically means "overly ornate, busy, ridiculously over-decorated, kitch, and garnished to the point of distaste." That's the word that came to mind when we started to eat The Porkie. As the name suggests, this ice cream sundae is accented with pork in the form of pieces of crumbled ham and some candied bacon that's been covered in sprinkles. Between the ice cream itself, as well as the caramel and butterscotch toppings, the cheesecake pieces, graham cracker garnish, and a cherry on top, this was one hell of a dessert. Quite honestly, the ham sort of got in the way. That said, the bacon was wonderful and worked well with the dish. Warning: this is $12.50 before tax and tip, so if cost is an issue, you're better off enjoying one of Camp's other tremendous (and less expensive) treats instead.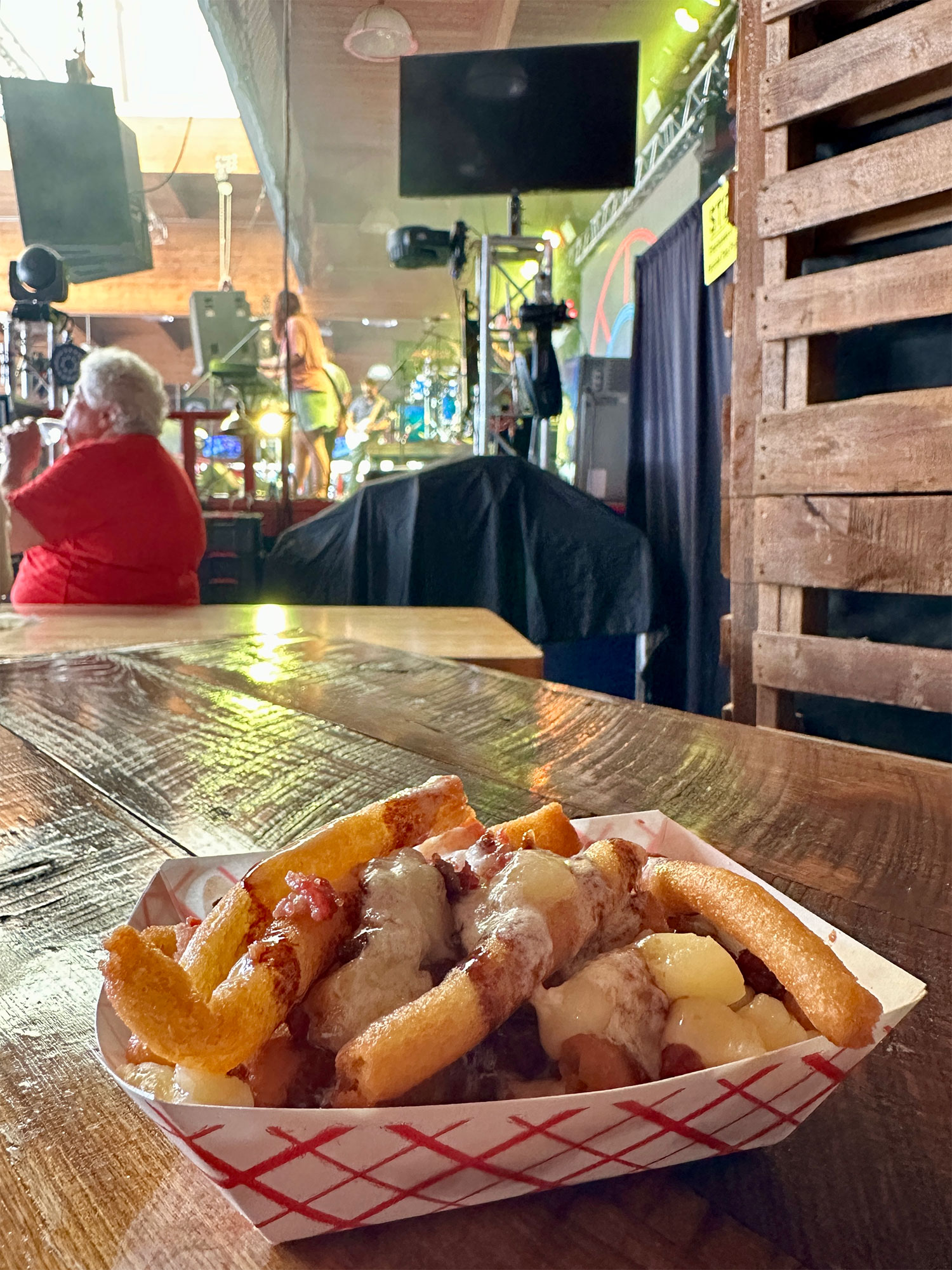 Possibly the richest and most decadent of the 2023 Sporkies, these funnel cake fries "topped with cheese curds, bacon, chocolate drizzle, and cream cheese frosting" may not look like much, but they pack a punch. One bite feels like five, and one small paper container of these wicked little suckers ($12) has the same density as a neutron star. "You wreck me baby / Yeah you break me in two" sang the Bud Pavilion cover band, Throwback Stereo, as we wrestled with these "fries." You said it, Throwback Stereo/Tom Petty!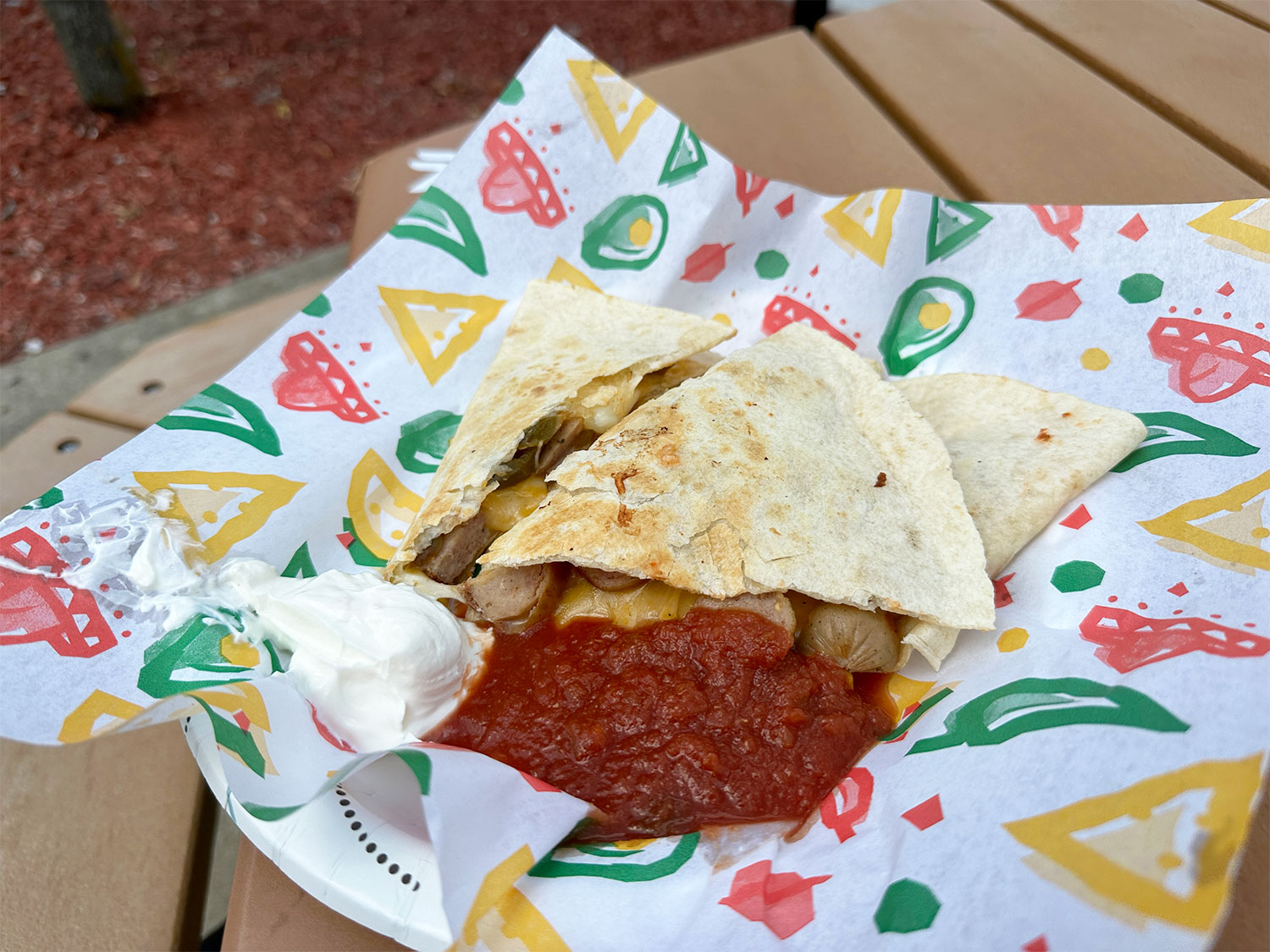 Why is the State Fair always so hot? We know it takes place in the dog days of summer, but has there ever been a random, comfortable and cool 70-degree day at the Fair? Why does it always have to be 90? These were the thoughts broiling in our head as we waited in the blazing sun to procure a Wisconsin Quesadilla ($18) from the Mexican Grill. (You know, one of those stands near those other stands that sell kangaroo and alligator and whatever.) "Huh, Wild," said the friendly guy working the stand as he scanned our credit card. "That's a good last name. My last name is Die." Near death ourselves, we grabbed our quesadilla and hoofed it to the air conditioned expo center. There, we sat on the floor and inhaled the thing. It was great! Oh yeah, it's stuffed with cheese curds and brat coins, thus making it a Wisconsin Quesadilla.
DRINKIES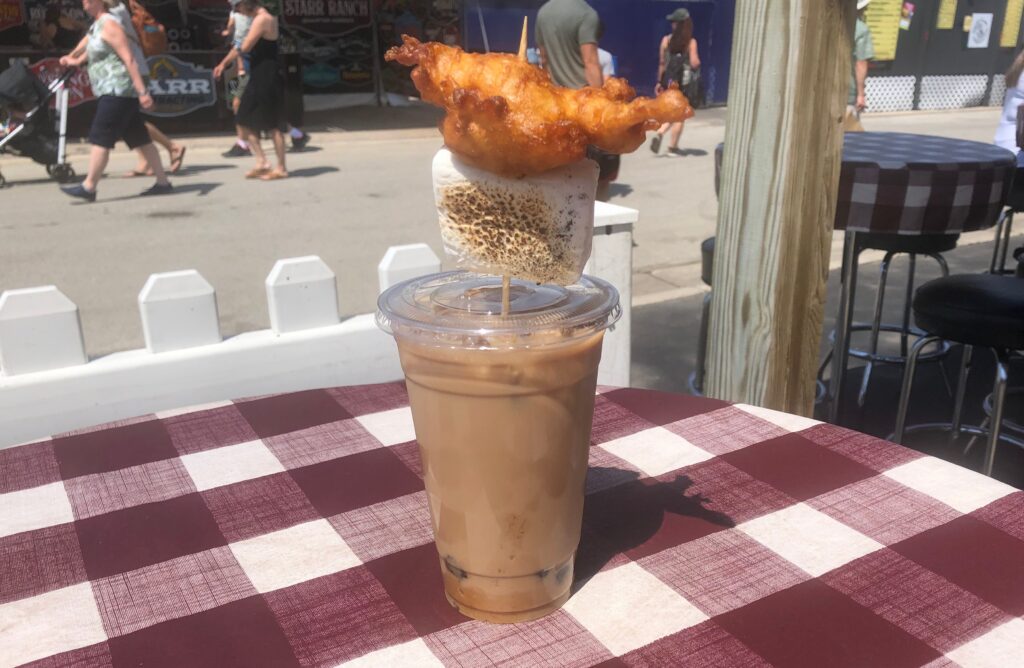 Let's just start with the positives: The Brown Sugar Sweet Potato Iced Latte itself (the liquid alone) was glorious. It's rich, sweet, and somehow works the seemingly off-putting sweet potato presence in an effective way. That's the end of the kind words. This $8 beverage ALSO features a battered and deep fried potato piece, which was fine but unnecessary, and a pre-burnt marshmallow cube that was hard and, frankly, mostly just an obstruction by the time we got to it. All of that is understandable and respectable if that's what you're craving. However, the superfluous and unannounced addition of Boba to the otherwise tasty treat freaked us out. (And we like Boba, but was NOT expecting it here.) Try if you must, but beware the Boba.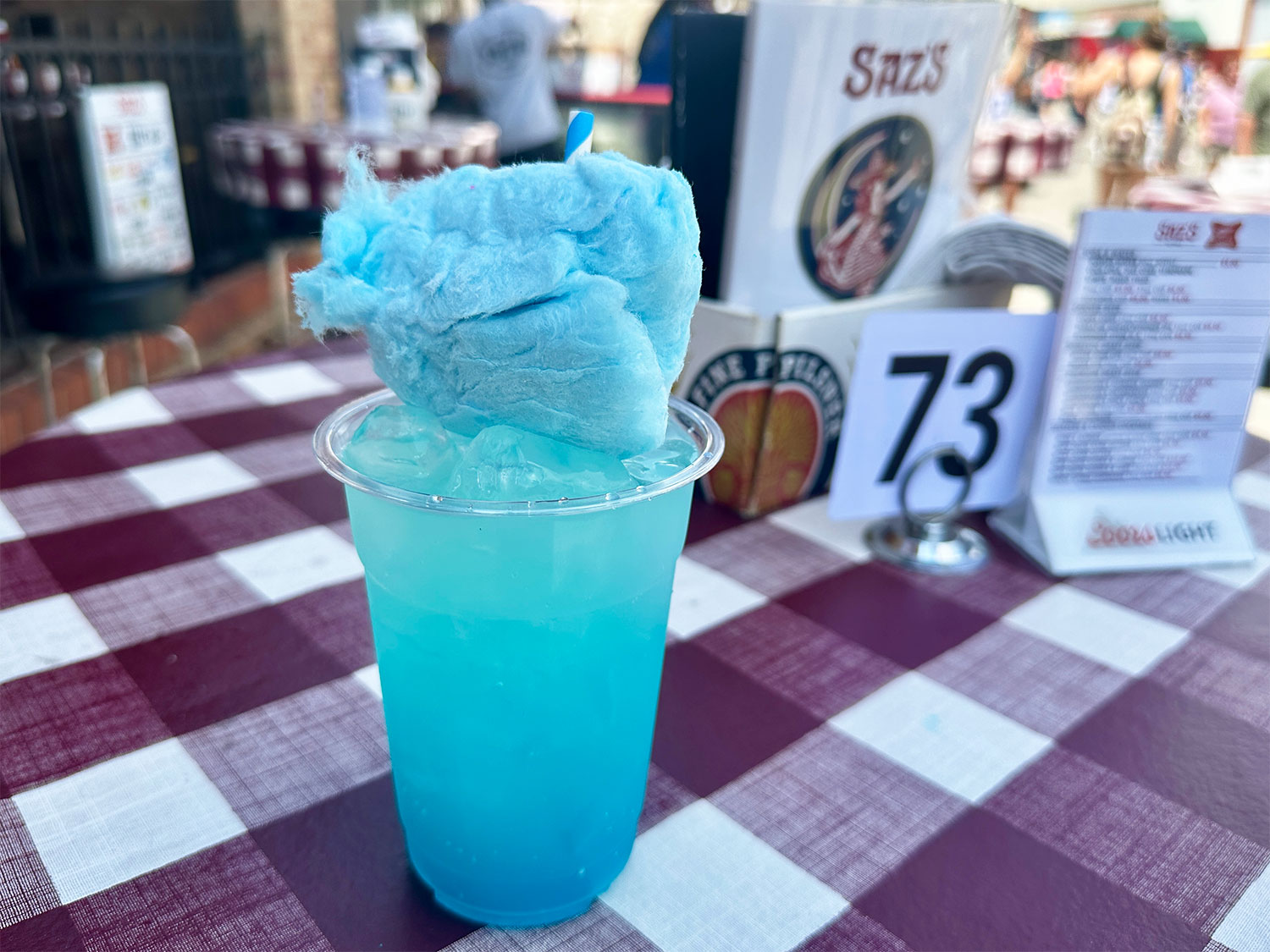 Belly up to the bar at Saz's Miller High Life Pavilion and order a Cotton Candy Lemonade ($7.50), and a helpful bartender will produce a cup of blue lemonade and a small, sealed package of blue cotton candy. Then, that helpful bartender will open the package and plop the cotton candy on top of the drink. That's it! We dunno, we found it funny at the time, and we're always fans of drink "kits." Anyway, this thing is SWEET. The lemonade tastes like liquid cotton candy even without the cotton candy topping, and mixing the two produces something that may or may not be legal in 48 states. We loved it. Prepare your taste buds and check your dental plan.

To paraphrase ourselves from earlier, there are "good State Fair drinks" and there are "good drinks" in general. And yes, the Ferris Mule from Camp Bar's Old Fashioned Sipper Club ($12) is simply a good drink. Ginger beer. Blackberries. Lime juice. Agave nectar. No potatoes or crumbled ham needed! It's simple and tasty. It's refreshing and fantastic, full stop. Enjoy!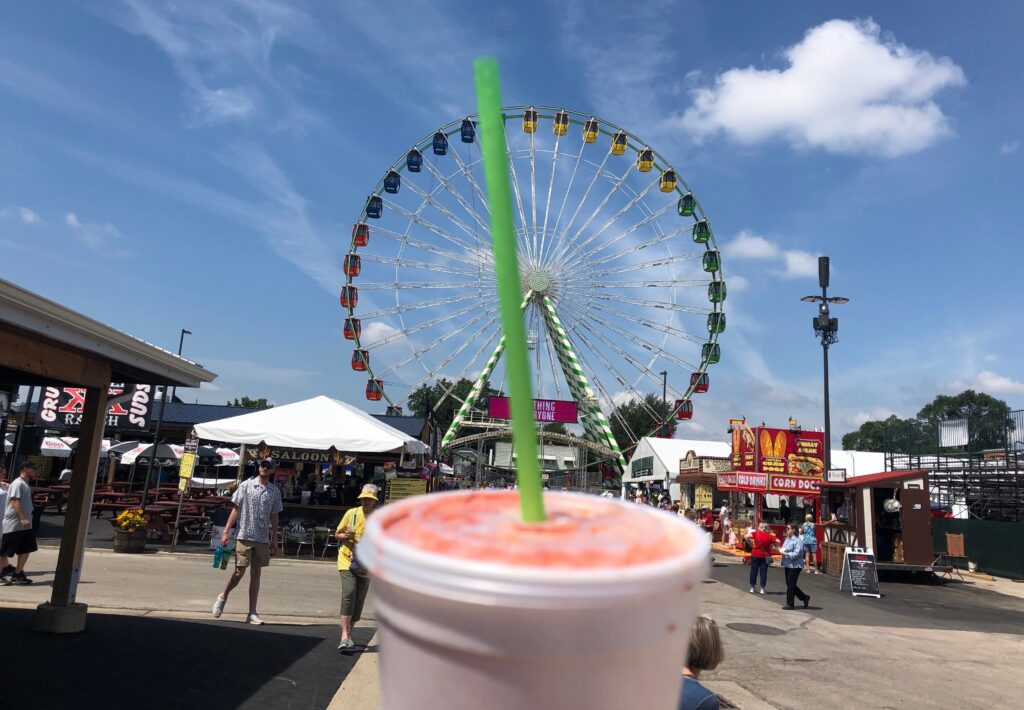 Let's just cut to the chase. This is a regular old Mango Smoothie with some Tajín sprinkled on top of it. It looks nothing like the photo. While it does the job of helping to cool off a sweaty, out-of-shape person who spent a hot afternoon at the Fair, it's really nothing special. Well, unless you've never had Tajín before. If that's the case, we're super jealous of you right now because you still get to experience Tajín for the first time.

Exclusive articles, podcasts, and more. Support Milwaukee Record on Patreon.
---
RELATED ARTICLES
• The Drunk Uncle in West Allis is selling $1 pints of Spotted Cow during the State Fair
• Dill Pickle Donuts and Alligator Ribs: 100 new foods coming to 2023 Wisconsin State Fair
• Celebrate the first day of the 2023 Wisconsin State Fair with 10 years of ride-inspection news stories