Even though America is still in the midst of dealing with a deadly, still-raging pandemic—a disease the country has indisputably handled far worse than any other nation on the planet—and there are far more important things to worry about at the moment, it appears there's actually going to be a 2020 baseball season. After all, there's money to be made, right? Plus people want a fun distraction (which society as a whole in no way deserves right now) and a false sense of comfort and normalcy as the world continues its rapid social and economic collapse all around us. Play ball!
Despite the still-fairly-high likelihood that unnecessarily sending players and team personnel to other cities to play a game won't work out, we figured we'd get you ready for this unprecedented baseball season. Who knows…teams might even play all 60 of their games. Fingers crossed! Anyway, here are some things to get you ready for the 2020 Milwaukee Brewers season, which evidently starts this Friday.
New rules
In order to actually pull this off, roster sizes have increased to 30 players at the big league level. The Brewers will also have a 30-man "Player Pool" stationed in nearby Appleton, as well as a "Taxi Squad" following the team on road trips if—wait, let's be honest, when—players test positive for COVID. Since it's already a free-for-all, MLB also made the designated hitter a league-wide practice this season, which sucks. There's also a new rule where teams start extra innings with a runner on second base. Cool? That'll bring the young viewers in for sure!
New faces
For Brewers fans, the changes don't stop with the new rules and league policies. There will also be a ton of new names (at least new to Milwaukee) on the roster this season, as well as the return of some familiar faces who weren't with the club last year. Some of those include pitchers Josh Lindblom, who spent the past few years in the Korean Baseball Organization, and journeyman Justin Grimm. Yasmani Grandal, who departed in free agency, will be replaced behind the plate by Omar Navarez (who clubbed 22 homers with the Mariners last season). Veteran slugger Justin Smoak looks to split time with Ryan Braun at DH and first base.
Established infielders including Brock Holt, Logan Morrison, Jedd Gyorko, and the return of fan favorite Eric Sogard will help fill some gaps left by the departure of Mike Moustakas and Eric Thames. Luis Urías, who came in the Zach Davies trade made in the "before times," will also bring a boost to the bench. Avisaíl García will also look to be a regular contributor in the outfield. Oh, Keon Broxton and former All-Star closer Corey Knebel (who missed all of last season) are back in the fold and might be factors down the stretch as well. Speaking of players returning from injuries, Christian Yelich is back, baby!
Strange schedule
In what passes as a safety precaution by Major League Baseball standards, every team will play the entirety of its 60-game regular season schedule against teams in nearby markets. In Milwaukee's case, this means games against National League Central and American League Central foes. Of those, a total of 40 games will be against division rivals. Milwaukee will play 10 games apiece against the Cubs, Cardinals, Pirates, and Reds. The remaining 20 games on the schedule will be interleague matchups against the Twins, White Sox, Cleveland, Tigers, and Royals.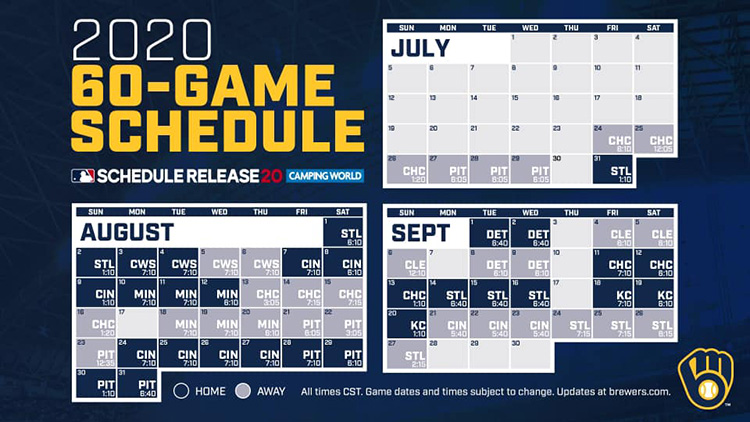 In order to get the abbreviated season back on track for an October postseason, Milwaukee will only have one day off in July (a travel day from Pittsburgh to Milwaukee), one day off in August, and four days off in September—which will offer the Crew some weather-related padding for the team's only scheduled games in Detroit, Cleveland, and Kansas City (all outdoor stadiums). While the season has been significantly shortened, fans will see a lot of familiar opponents and, with so many divisional games on the abbreviated schedule, each individual game will mean more than ever before.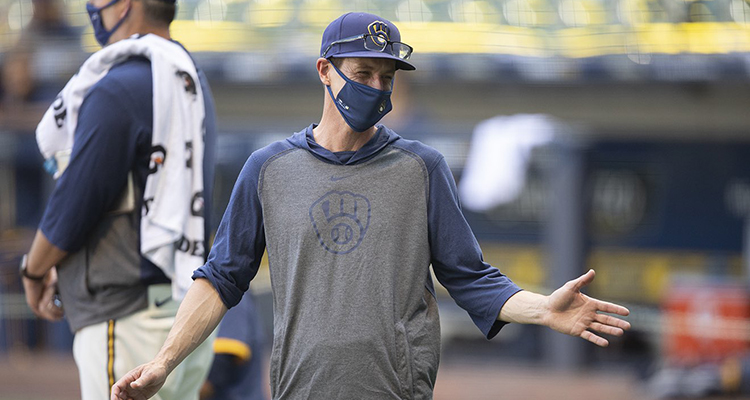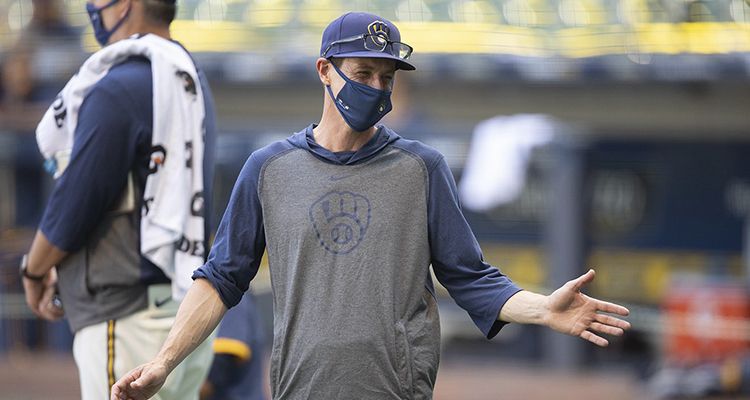 Craig Counsell could be the difference-maker
Believe it or not, Brewers manager Craig Counsell could be the biggest factor behind the team's success. No skipper in all of baseball is better suited for this 60-game scenario than Counsell. Over the past three seasons, the Brewers have the best record in September (when rosters expand), with an astounding 56-26 mark. Since 2017, Milwaukee has only played one meaningless game (the last game of the 2017 season), which suggests Counsell's squad performs well when the stakes are high. He also used 159 different starting lineups last season, meaning he's able to mix things up routinely and remain competitive. With extra arms at his disposal in 2020, Counsell has reportedly also considered getting two starting pitchers ready for every game to keep opponents guessing. This season will be unlike any other before it, and Milwaukee's unconventional manager will have a huge advantage over his counterparts.
Nothing matters
Recent events have shown people—at least anyone who cares to recognize it—that baseball matters less than it possibly ever has. Admittedly, it will be fun to be able to talk about sports and keep up with the Brewers. That said, if the Brew Crew doesn't win it all during this clusterfuck of a season that was haphazardly whipped together while the world went to hell, who really cares? If they get hot, stay hot, and win it all this year, that'll be awesome. And since everyone else will be playing under the same strange conditions (except the Blue Jays, who are wisely prohibited from playing home games in Canada), the team's first World Series wouldn't require any sort of asterisk or modifier as far as we're concerned. Like it or not, agree or disagree, baseball is happening this year. Let's hope everyone stays safe and it's not a complete disaster.