Out in the small western Wisconsin town of Sparta, an industrial company's back yard has quietly turned into something of a low-key tourist attraction. FAST Corporation—a manufacturer of large-scale fiberglass pieces—sits unassumingly on a plot of land a few miles beyond the well-guarded walls of Fort McCoy on Highway Q. With minimal signage and an uninviting, partially-obscured gravel lot behind the sheet metal structure, FAST has the makings of a place you'd drive past without a second thought if you weren't aware of what makes it such a special place.
Beside the three-decade-old business that's responsible for the massive muskie outside the Freshwater Fishing Hall Of Fame in Hayward and the 200-foot sea monster that adds to the odd allure of House On The Rock, visitors with prior awareness of this attraction (or the good fortunate to have stumbled upon it by happenstance) are invited to take a walk through FAST's mold yard to look at the weathered remnants of past projects.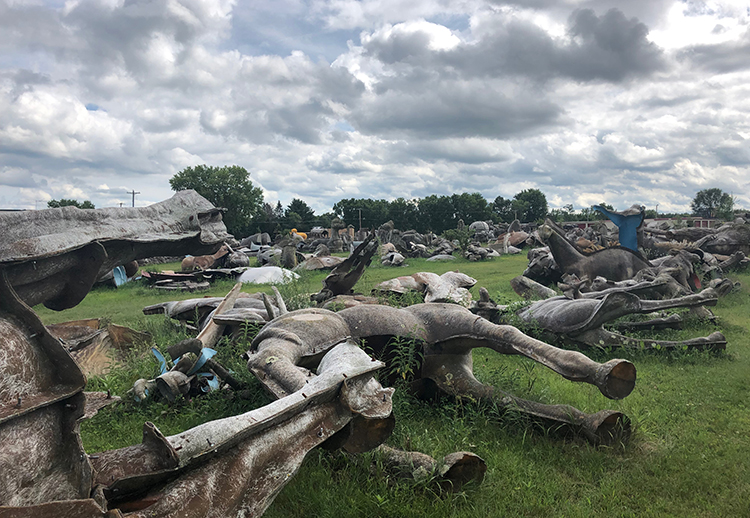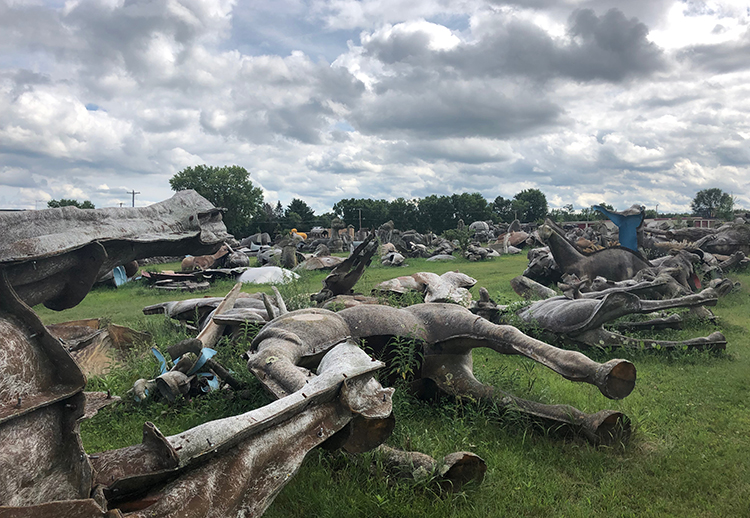 While the term "mold yard" doesn't seem all that enticing on name alone, this parcel of rural Wisconsin grass is like a post-apocalyptic sculpture garden that transports onlookers into a whimsical realm that's populated by massive mice, a formidable flock of fiberglass birds, composite cars and canoes, immense ice cream cones and corn on the cob, both Satan and Santa Claus, behemoth bears and bugs, humongous past presidents, a certain iconic burger chain mascot, and literally hundreds of other time-tested pieces.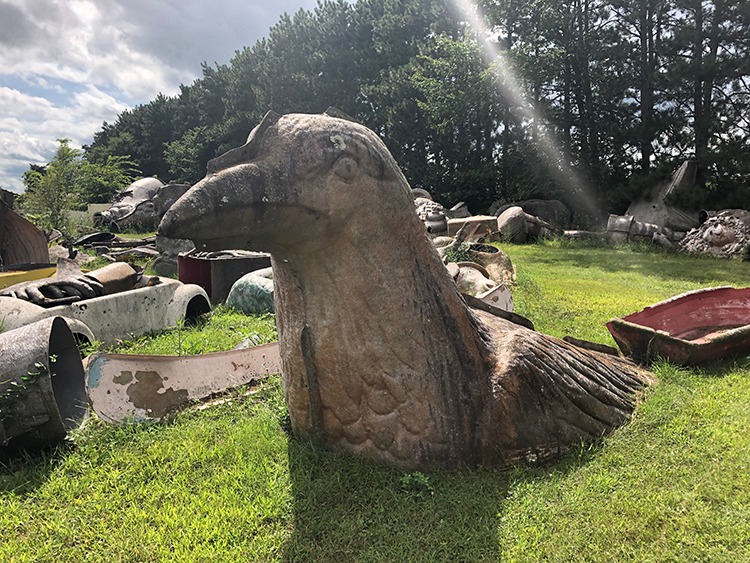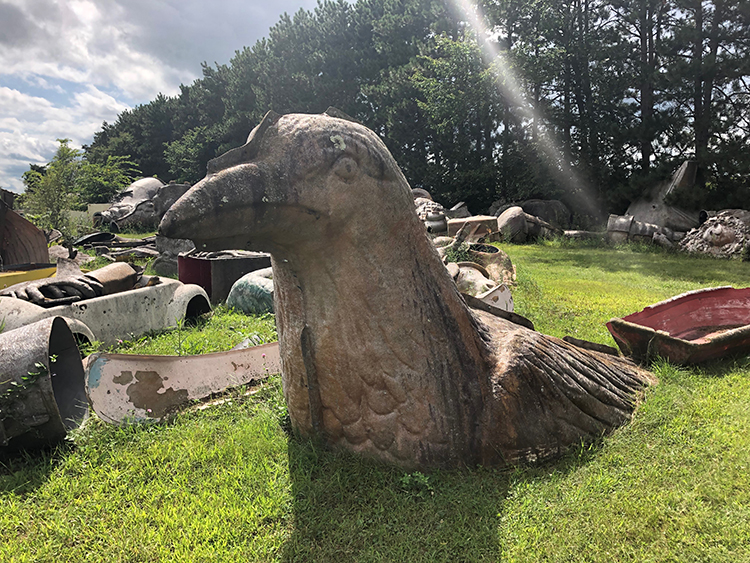 We recently took a day trip to Sparta to enjoy a stroll among the menagerie of non-biodegradable manufacturing waste that's been granted new life as an offbeat art installation. After some struggle figuring out where to park—eventually feeling semi-confident about a gravel driveway between the FAST plant and a barn—and stretching our legs after a three-hour and 200-mile drive to the strange locale, we walked the grounds alone on an overcast summer afternoon.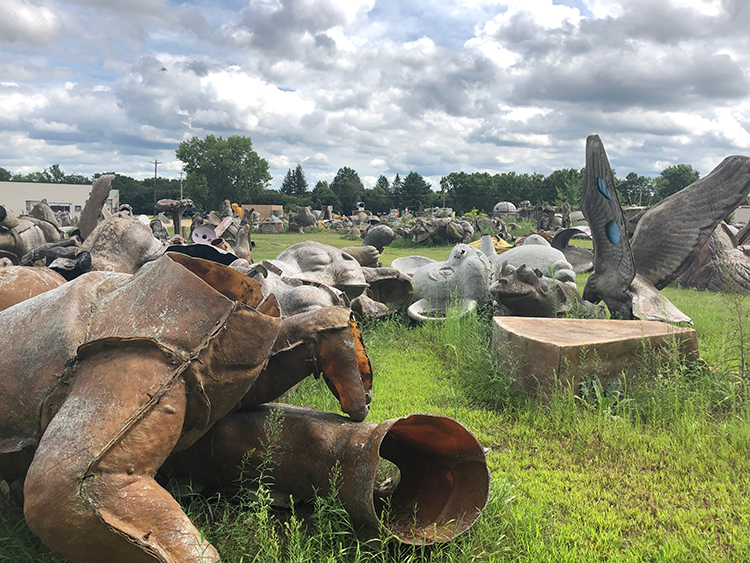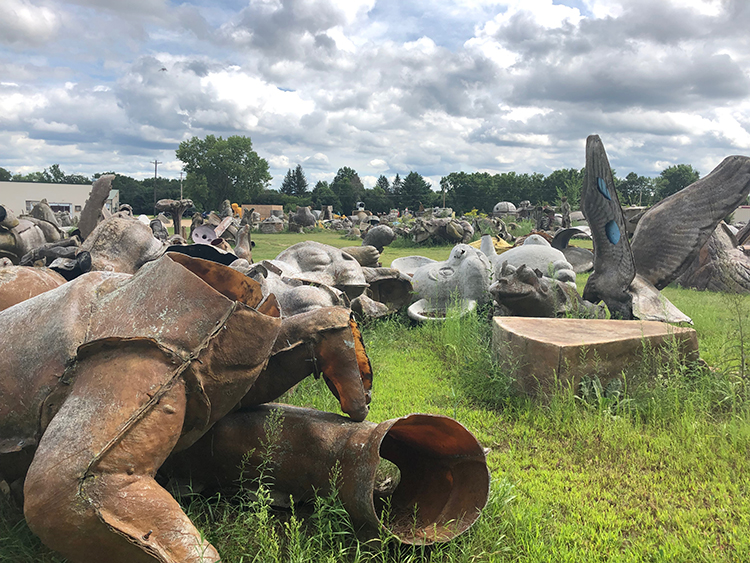 With no sound outside of the steady chirping of crickets, the gentle wind blowing through the tall grass, and the distant motors of drivers that were likely unaware of this place's existence, we walked to the furthermost row of molds and started weaving our way through this football field-sized space of materials used to forge statues and signage that's seen throughout the Midwest…and beyond.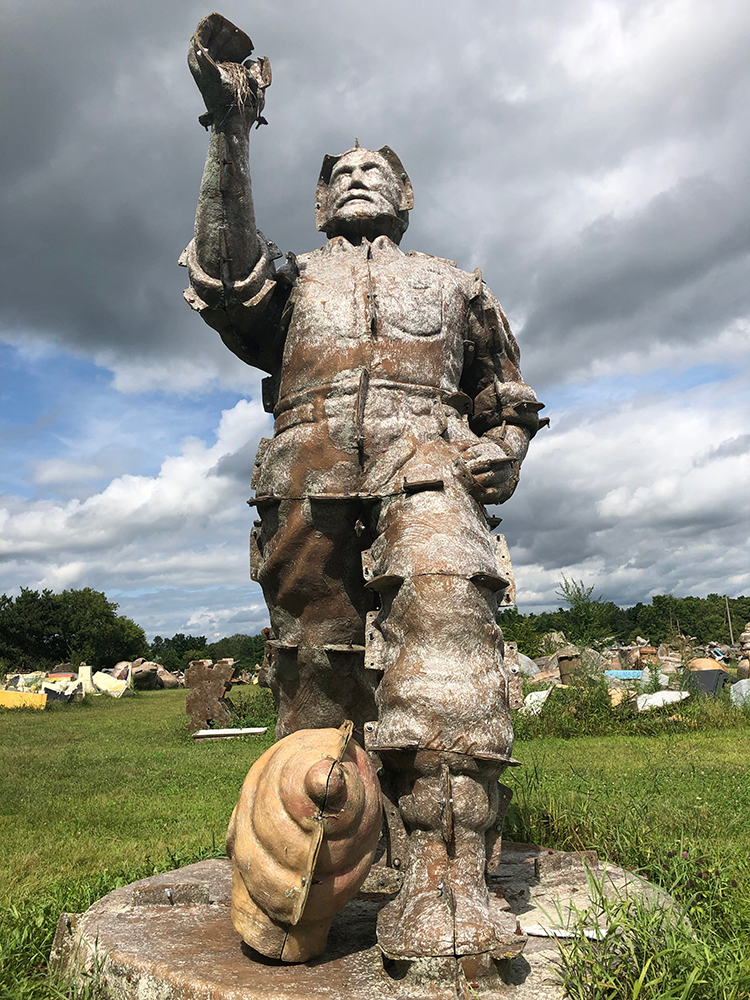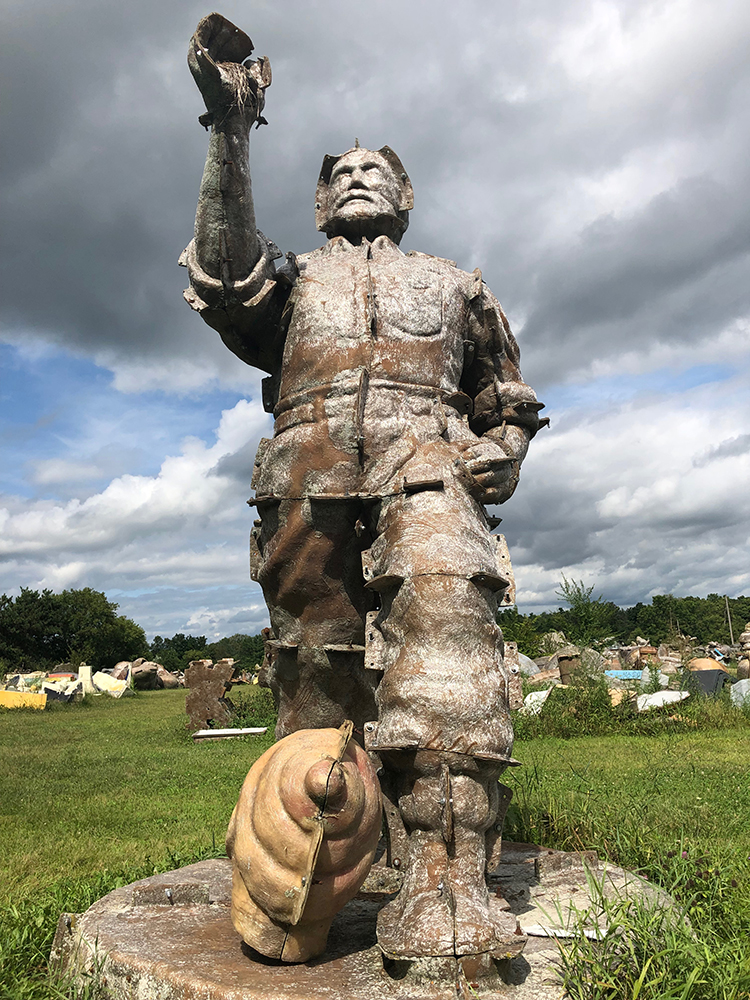 Some fiberglass molds are rotted out and covered in weeds or standing water. Others were in relatively pristine standing and seemed ready to be reused. In fact, this so-called "Fiberglass Graveyard" holds scraps from one-time jobs, but it also functions as an outdoor storage facility in the instance a previous customer expands or needs something to be replaced.
The next time you strike pose in front of a gigantic block of cheese, gawk at a life-sized dinosaur, or point out the fiberglass visage of Paul Bunyan, take a moment to think about where it came from. Chances are, the roadside attraction or unorthodox marketing tool was made in the little town of Sparta, and its inverse is on display for anyone who cares to visit and pay their respects in the kitschy fiberglass graveyard. It's a place you could pass a hundred times without noticing. But once you see it in person, you'll never forget you were there.