Three words: Wisconsin State Fair. Starting yesterday and running through August 14, the annual celebration of all things Wisconsin is offering up oodles of entertainment, a variety of animals, stands to buy novelty T-shirts, rides for folks of all ages, and much more. Oh, and there's food! Yes, a dizzying and/or worrying cornucopia of bizarre foods is once again available for purchase, satisfying even the most exotic on-a-stick taste buds.
In addition to the State Fair's annual food-stand staples, this year's fairground festivities also feature eight intriguing indulgences that were named 2022 Sporkies finalists. We wasted little time before heading to West Allis with empty stomachs and open minds to try all eight finalists during the State Fair's opening day.

What's this…a vegetarian option at Wisconsin State Fair? It's true! Lakefront Brewery Beer Garden's Black Bean Burrito Balls make good on their name with a quartet of chip- and cheese curl-covered orbs that are stuffed full of black beans. There are also pieces of sweet corn and cheese inside. While they're surely not healthy, this $8 appetizer is a good way to get your veggies while you enjoy a Lakefront beverage and watch Ester Flonaze run a round of Drag Queen Bingo. Admittedly, the flavor of the breading is somewhat muted compared to the abundance of beans and corn present in the so-called "Burrito Balls," but the creamy chili lime dipping sauce more than makes up for it.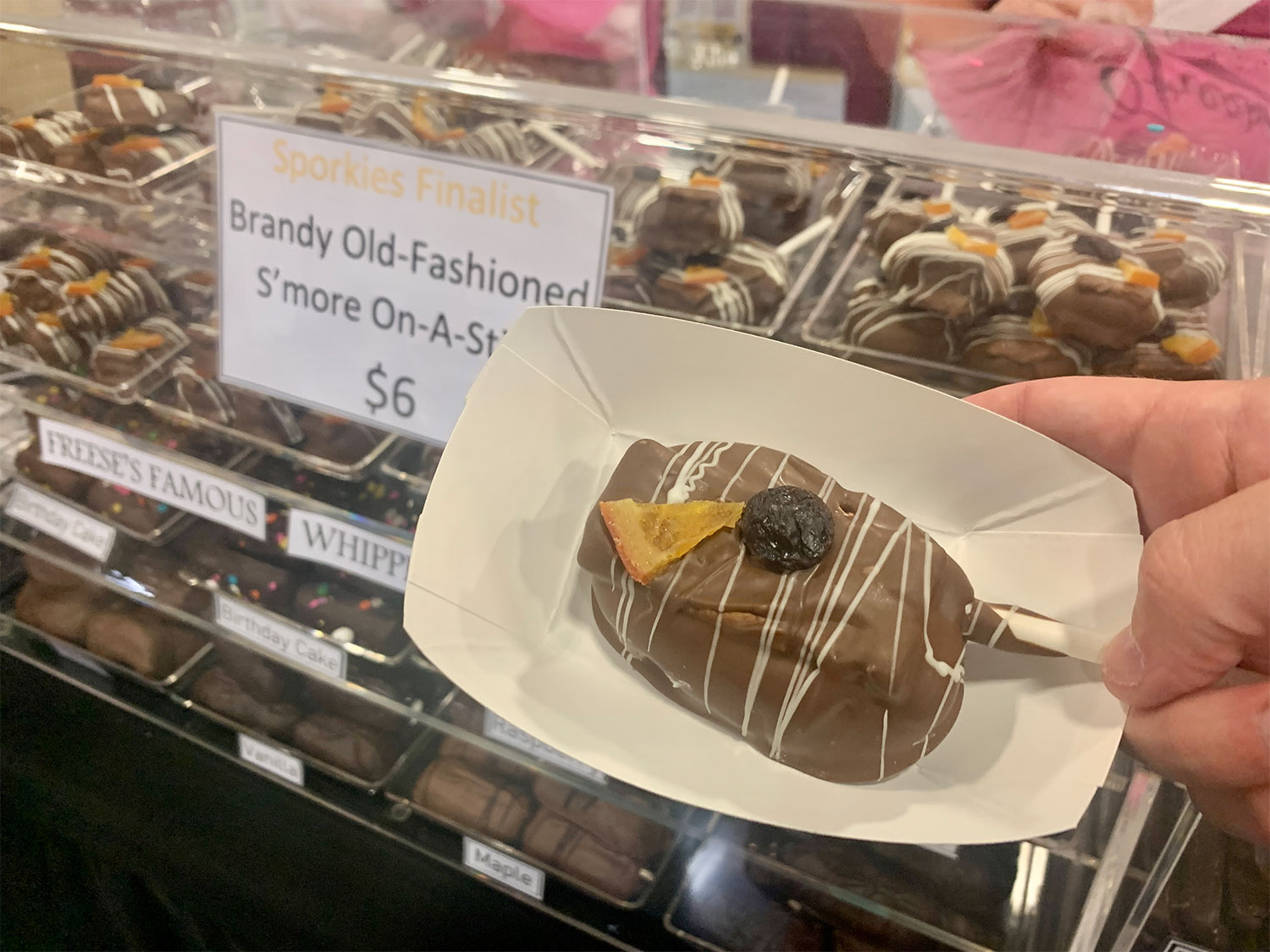 Easily the most adorable of the 2022 Sporkies finalists, the lollipop-sized Brandy Old Fashioned S'more On-a-Stick combines Wisconsin's favorite supper club drink with a time-honored campfire treat. Fluffy cream is encased in graham crackers and milk chocolate, and the whole thing is topped with a dried orange and a dried cherry. The result? A perfectly fine if somewhat underwhelming snack. Seriously, this thing practically begs to be deep-fried. It's still plenty tasty, though (it came in third this year), and you can find one at Freese's Candy Shoppe in the Exposition Center—mere rows away from the hot tubs and the magic dish rags and the water-powered massage tables and the stands selling MANdles, the candles for men.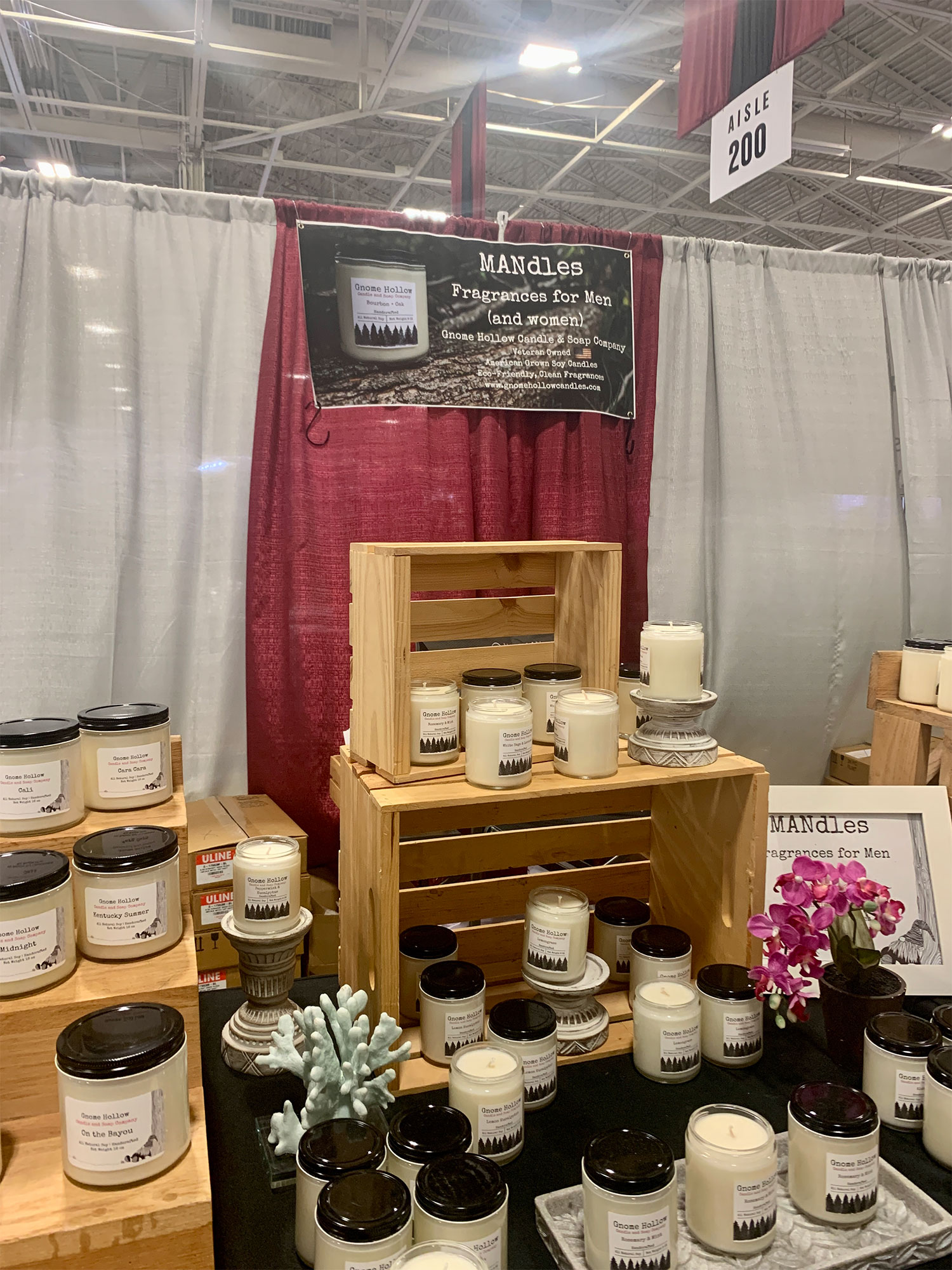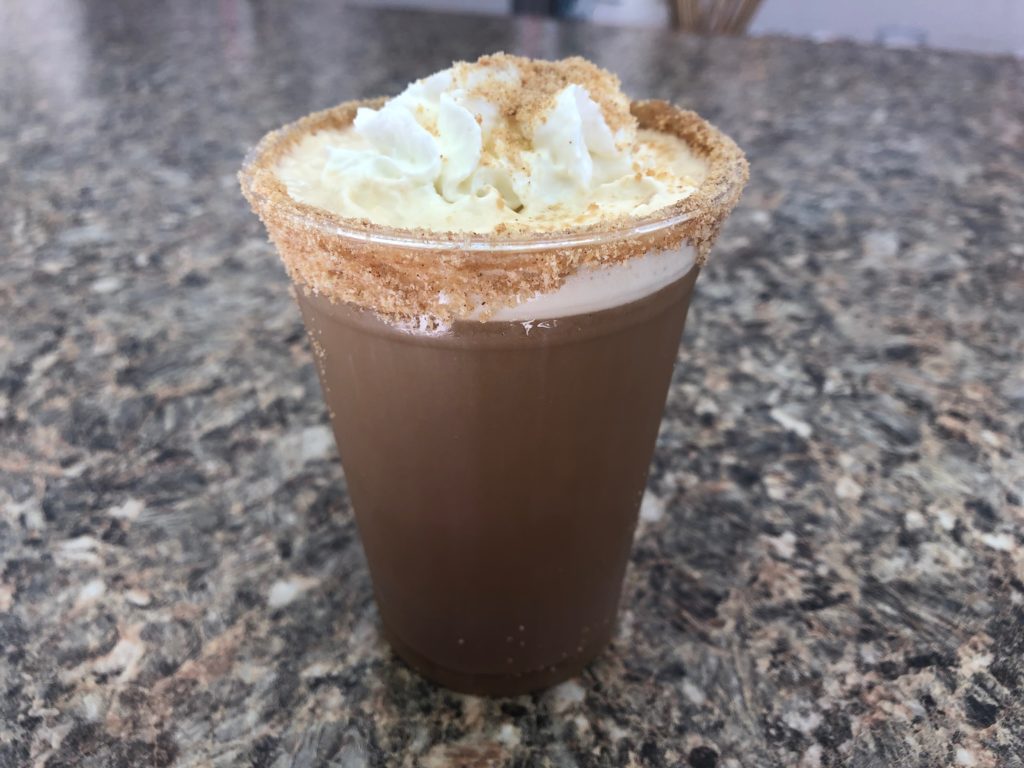 Whether you're looking for a pick-me-up early in the day, you're in search of a late-night boost, or you foolishly decided not to drink the entire month of August for reasons you don't fully remember at the moment, you'll be glad to know there are some quality coffee-related options at Wisconsin State Fair. The newest among them is the Cinnamon Toast Crunch Latte from Slim McGinn's Irish Pub. This $8.50 caffeinated concoction blends nitro coffee with cereal milk and a whipped cream topping in a plastic cup with a Cinnamon Toast Crunch-dusted rim. We're not sure if this was just unique to us (ours was noticeably darker than the one in the sample photo), but we didn't taste much in the way of cereal milk, so this "latte" came off more like a nitro coffee with some whipped cream and crushed cereal pieces on top. However, we prefer black coffee, and this was like our go-to order with a slightly sweet accent on top.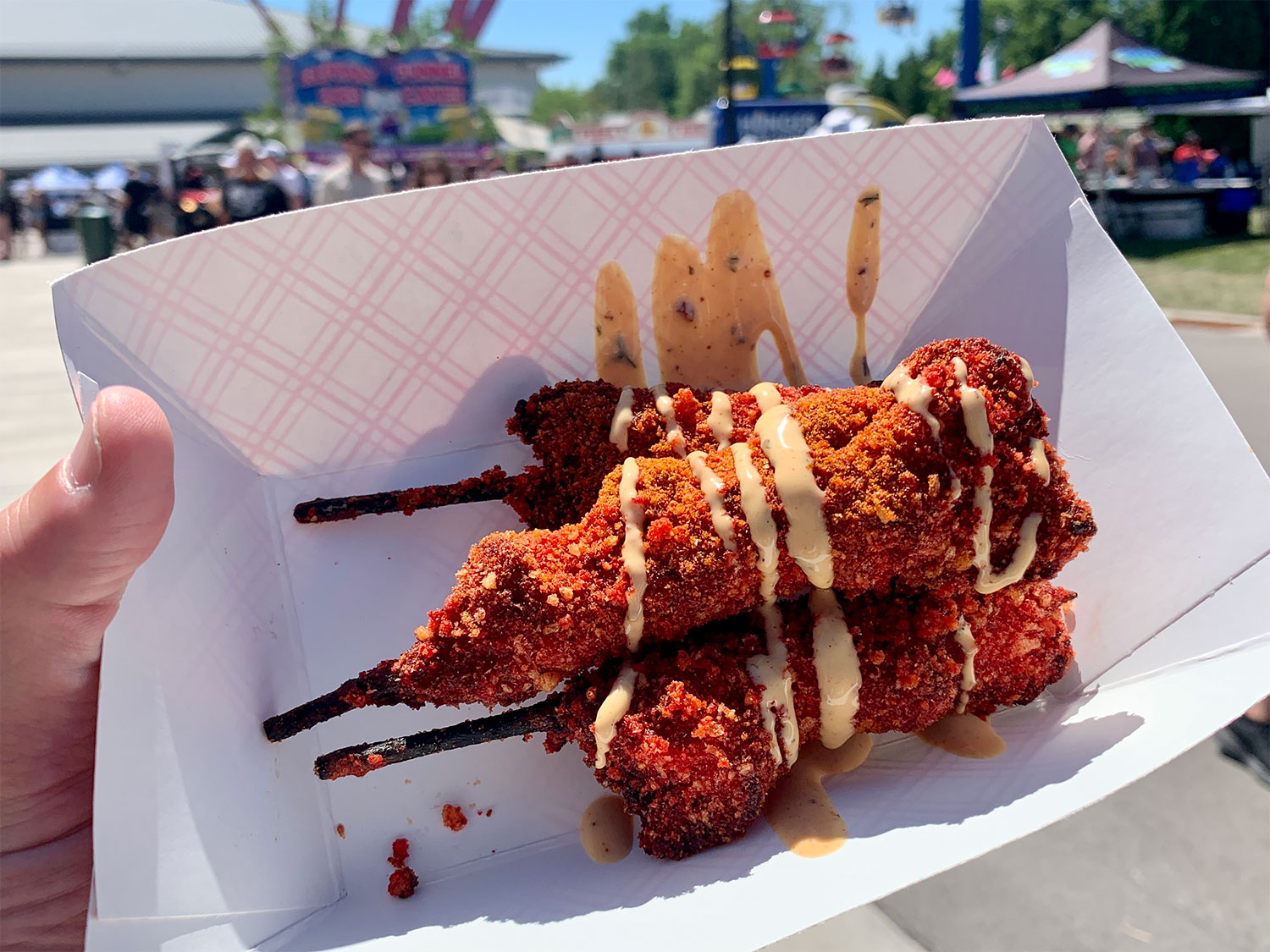 Sometimes the State Fair stars align: you procure a $15 parking spot on someone's lawn, you stroll up to a gate with nary a line, and within moments you're sitting in the Bud Pavilion eating some Flamin' Hot Cheetos Chicken On-a-Stick and listening to a cover band (Road Crew Acoustic) play "Wagon Wheel." Iconic. Even better: these deep-fried chicken skewers breaded in Flamin' Hot Cheetos dust and drizzled with chipotle ranch are GREAT. The dust isn't too overpowering or "flamin'," and the chicken is practically worth the price tag alone. A winner through and through! For best results, skip the beer and pair with a Mountain Dew. Heeeeey, mama rock me.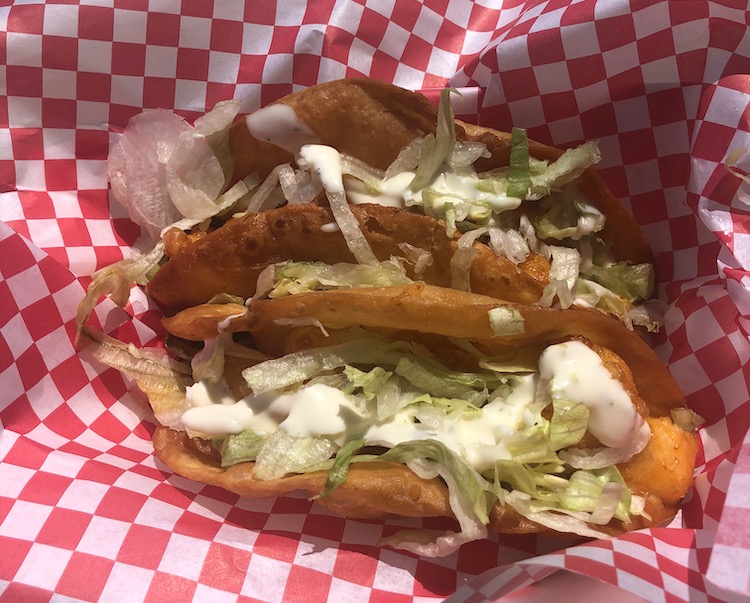 The Wisconsin State Fair—especially in the case of its Sporkies finalists most years—is known for bringing together seemingly disparate foods to create something unexpectedly incredible. This was not one of those instances. On paper, Fried Pickle Cheese Curd Tacos from the Richie's Cheese Curd Tacos stand had definite promise, but this unholy amalgam of deep-fried cheese curds, molten slices of fried pickles and fried taco shells topped with cream cheese, warm lettuce, and a choice of either ranch dressing or a raspberry chipotle sauce proved to be a chore to eat. They were extremely greasy, overtly dense and salty, and neither worth the mess nor the steep $12 cost for two "tacos." The other Curd Taco options looked great, but we feel the Fried Pickle Cheese Curd Tacos were a miss. Sorry, Richie.

This year's Sporkies winner is the Peño Pretzel Popper Brat, and the honor is well-deserved. Initially, we questioned with $15 price Gertrude's Pretzels was asking for this monster, but it's worth every cent. The honkin' 10-inch jalapeño cheddar bratwurst is a meal on its own, and the layers of salted pretzel breading, pepper medallions, and queso drizzle all serve to elevate it to the distinction of decadent delight. The accompanying container of jalapeño cream cheese dipping sauce might be overkill, but we happily used some—okay, a lot—of it as we quickly ate this entire thing despite still needing to consume many more items. Honestly, this could be a one-and-done indulgence to hold most fairgoers over all day long, or it could be cut in half and shared. Note: make sure to have lots of napkins nearby because the deluge of cheese and the ever-peeling pretzel render the Peño Pretzel Popper Brat far messier than your average corn dog. It's worth it.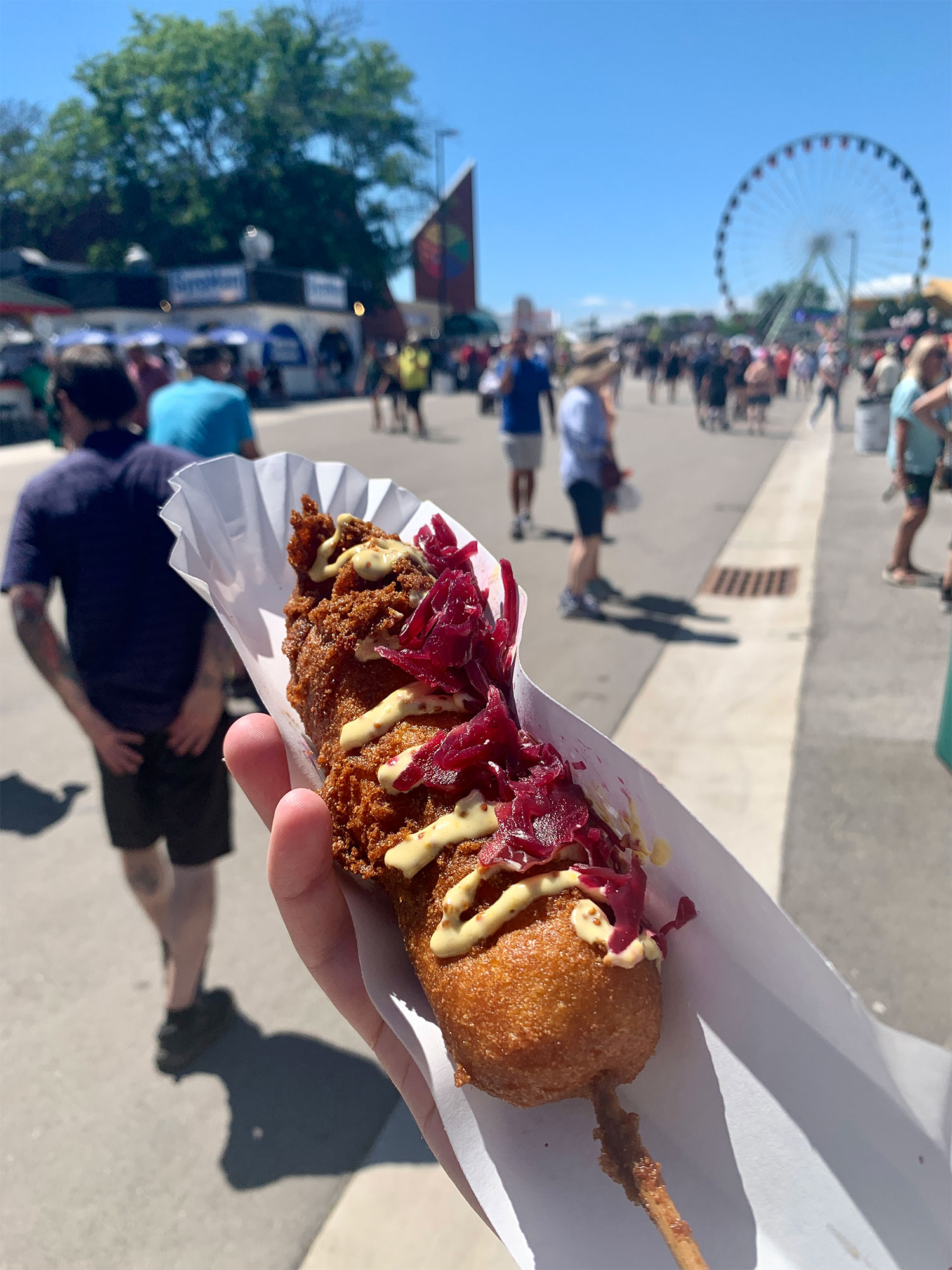 Is it possible to improve on perfection? Or, to be more specific, is it possible to improve on a corn dog? The mad chefs at the Miller Lite Sports Bar & Grill seem to think so. Their Sconnie Slugger (this year's second-place winner) is an alternating row of brat coins and gooey cheese curds on a stick, all deep fried in cruller cornmeal batter and covered in "dijonaise" and German sweet and sour cabbage. It's a hefty log of goodness, though it never really transcends its individual parts. The brat coins are good, the cheese curds are good, and even the cabbage is good. But do they create culinary magic when combined? The fact that we used a fork and knife to dissect this thing should tell you all you need to know.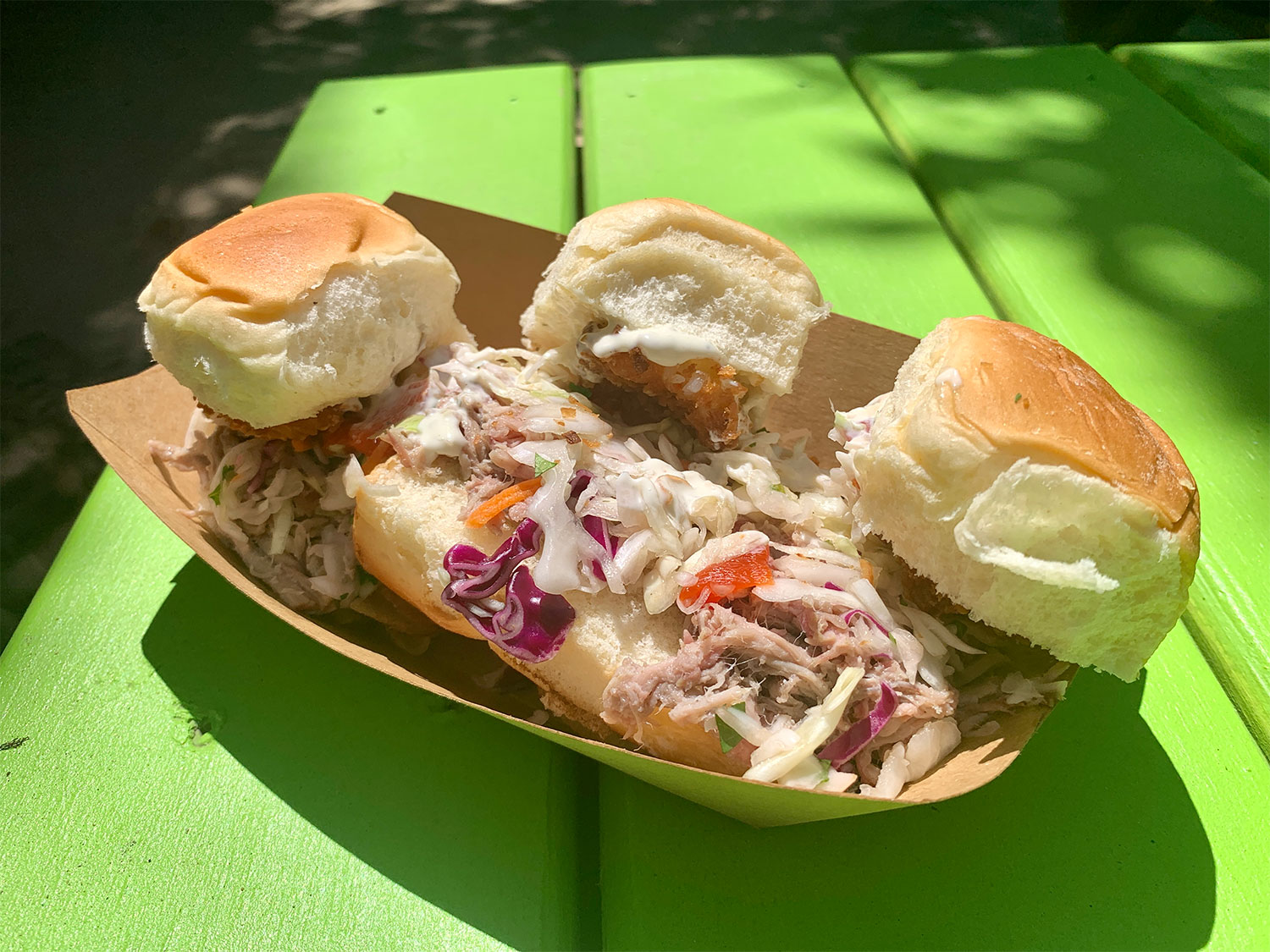 Walking through the fairgrounds on a hot August day can feel like frying to death on an endless bed of concrete and humanity and cream puffs. Enter Tropics, a sand-covered oasis where the drinks are fun and fruity and the music is strictly Buffett. How had we never kicked back in this beach-themed paradise before? We're glad we finally did, and we're glad we did it while scarfing down these delicious Surf & Turf Sliders. Marinated pulled pork! Tropical slaw! Hawaiian sweet roll buns! More! These hearty handfuls are absolutely worth their $15 price tag. Are you in West Allis or Jamaica? You won't be sure when you're chilling at Tropics! (Okay, the nearby tents with "Let's Go Brandon!" and "Fuck Your Feelings!" gear reminds you that you're indeed in West Allis.)
Thanks, Sporkies finalists, and thanks, Wisconsin State Fair! Here's a bonus picture of Governor Tony Evers. We spotted him at the Expo Center!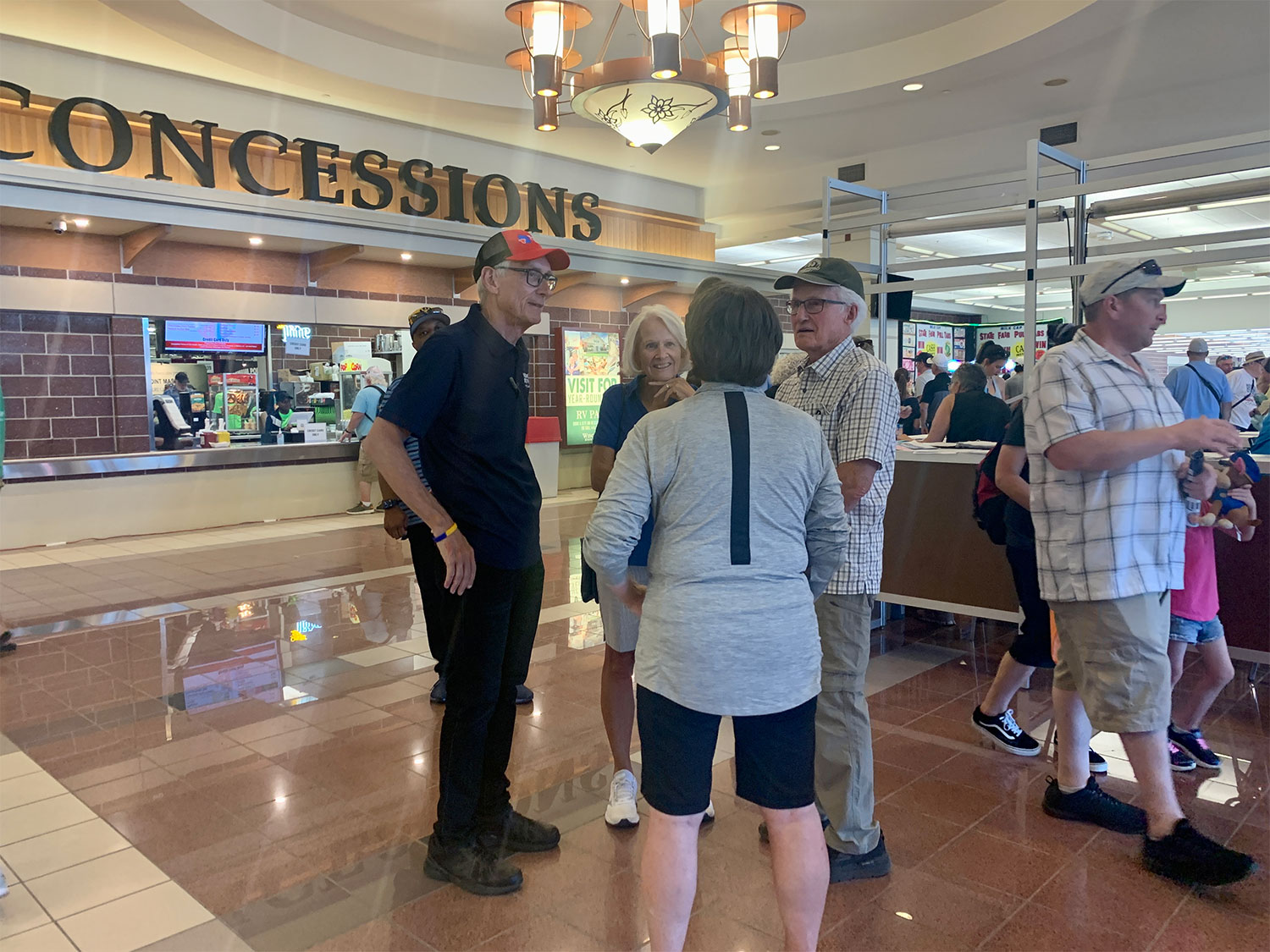 Exclusive articles, podcasts, and more. Support Milwaukee Record on Patreon.
---
RELATED ARTICLES
• State Fair's 2022 Sporkies: Fried Pickle Cheese Curd Tacos, Flamin' Hot Cheetos Chicken On-a-Stick, more
• Here's the local lineup for the Lakefront Brewery Beer Garden at the 2022 Wisconsin State Fair
• Celebrate the first day of the 2022 Wisconsin State Fair with 9 years of ride-inspection videos
• We ate all 8 of Wisconsin State Fair's 2021 Sporkies finalists