Every local food trend begins somewhere. Before small plates had their heyday, the rise and fall of phở, the regrettable dynasty of elaborate $10 cupcakes, and the inexplicable and still-building ramen expansion across the city, a select few Milwaukee purveyors had to go out on a limb and trust their instincts that there was a market for a type of food locals had rarely (or never) experienced before. The latest such food trend to rear its head in Milwaukee is Thai rolled ice cream.
After no results came up when he Googled Thai rolled ice cream in Milwaukee, Mike Kaid trusted both his gut and the guts of greater Milwaukee when he joined forces with partner Ahsan Sikander Gondal to open Milwaukee's first and, at the moment, only rolled ice cream establishment. On June 3, Fro Zone (1320 E. Brady St., 414-881-5895) rolled into the East Side with plans to introduce the city to so-called "gourmet ice cream" made in front of customers on a frozen metallic surface. A couple weeks after the Brady Street ice cream innovator opened, we threw on a male romper, picked out our best fidget spinner, and went to see if Fro Zone's take on Thai rolled ice cream was a flavor of the week or if it had the makings of a trendsetter.
The space: Located in what was the dining room portion of Pepi's Pizza's short-lived Brady Street experiment (and in the exact same spot where Berry Me once served up frozen yogurt), Fro Zone's interior is very much a work in progress. The walls were repainted teal and are presently devoid of decoration. Outside of the small cluster of tables, the ice cream station is the only thing in the quaint corner business. The consistent clacking of metal spatulas (think paint scrapers) on the -15 degree piece of stainless steel and club music bumping on two small speakers provided the aural accompaniment to the sweet smell and bright interior, along with the chatter between workers and customers crowded around the ice cream area as orders were placed and made on the spot.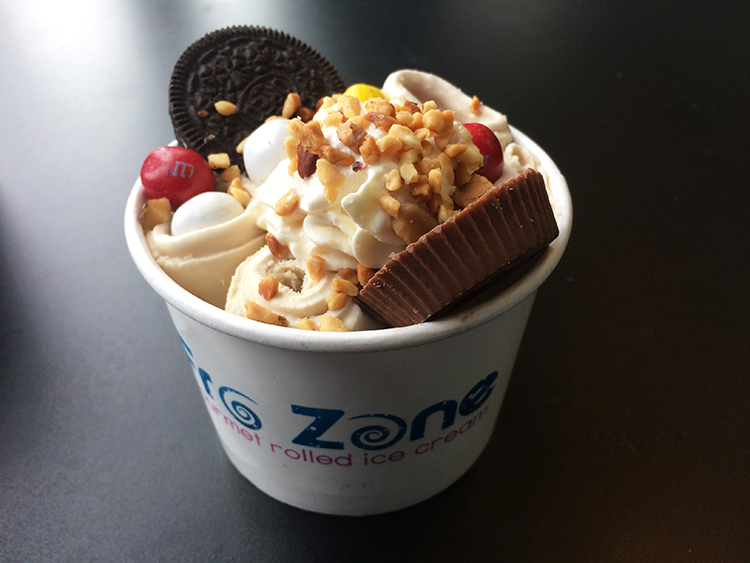 Milwaukee Record's food: For those unfamiliar with rolled ice cream, the sweet treat is essentially the product of a dairy base that's been poured atop the aforementioned piece of frigid metal before having flavoring mixed in and, finally, being rolled into six creamy curls. Fro Zone has six regular flavors: Strawberry Dreamroll (strawberry shortcake), The Campfire (s'mores), Machada Green Machine (green tea), Roll O'Joe (coffee), Cookies 'n Cream (Oreo cookie), and Peanut Butta Collussus (peanut butter and chocolate). Each costs $6.95, and there's just one size. However, every variety can be customized with unlimited toppings from Fro Zone's arsenal of approximately 15 extras that include goodies like peanut butter cups, peanut M&M's, marshmallows, gummy worms, pretzels, peanuts, and Oreo cookies.
Though the green tea was tempting, we went for the slightly safer coffee blend. The white base was mixed with lines of dark, coffee-colored flavoring that ultimately left the rolls with a mocha hue and a taste to match. We accented the rich, creamy, six-pack of rolls in our medium-sized dish with a Reese's cup, an Oreo, a small handful of M&M's, and some crushed peanuts. While the shape and the personal, made-to-order creation differed from any ice cream we'd ever had, it was still just ice cream to us.
The verdict: Fro Zone isn't reinventing ice cream. Rather, Milwaukee's first rolled ice cream place is simply adding another way the city can enjoy a time-tested, cross-generational, recession-proof, trend-immune treat. And there's nothing wrong with that. There's really not much difference between the general consumer's enjoyment of a $1 McDonald's cone (which, true story, is called "cone" because it can not legally be called ice cream) and a $6.95 bowl of creamy "gourmet" rolls with some toppings.
Still, whether it's a cheap cone from a chain, custard from a mom and pop shop, whiskey and old-fashioned specialties from Purple Door, frozen yogurt from one of Milwaukee's 200 pun-based fro-yo purveyors, or trendy rolls at Fro Zone, variety is never a bad thing—especially when it comes to dessert.