Caleb Westphal hasn't missed a Friday fish fry since 2013. Follow along with his never-ending adventures here.
It was 5:55 p.m. when I received a call and heard the words that everyone dreads having to hear one day, especially on a Friday night: "They said there is going to be a three-hour wait." The voice was from my cousin, who had just put in a request for a table for six people at Mint Mark (1929 Winnebago St., Madison, 608-285-5096) and was now headed to One Barrel Brewing Company with my brother to grab a beer. I had two friends in my car and was on my way to pick up a third. My phone's GPS barked directions at me while I held the phone up to my head for conversation, and my brain began to spin every which way as I thought about what I should do next.
Mint Mark was celebrating their 100th consecutive Friday of serving Hamm's-battered bluegill. I had driven to Madison for the occasion, and I had every intention of attending—waiting hours for fish doesn't bother me. I had two main concerns. First, I didn't want to force five people who were likely already hungry to sit around for three hours waiting to eat. Second, the thought that Mint Mark might run out of fish crossed my mind. I figured it was unlikely, since they probably did some extra-careful planning for such an important event, but my mind tends to always think about worst-case scenarios. A vision of myself running through the aisles of a grocery store at 11 p.m. trying to find fish to fry raced through my head.
We met up at One Barrel and decided we'd have a beer or two and then find a place that served some sort of food, to help those out who were getting hungry or who didn't want to wait for fish. Another friend joined us. I was a damn ball of nerves. My cousin's phone rang at 6:41 p.m. and he ran outside to answer it, exclaiming, "It might be them!" As I sat and waited for him to return, the driving bass and drum rhythm of The Temptations' "Papa Was a Rollin' Stone" cut through the bar noise, providing a soundtrack and raising the suspense even more. I looked at my hands. They were shaking.
My cousin came back in and said they told him it would be about another hour and 15 minutes—about an hour less of a wait than what had been anticipated. He never specifically told the restaurant that most of us would be ordering fish, but while we were at One Barrel another friend asked Mint Mark on Instagram if they thought they would run out, and it was around this time that they commented back saying they didn't think they would. Both of these occurrences allowed me to finally relax. We wouldn't have to stop at another restaurant so others could eat, we wouldn't have to wait until 9 p.m. for fish, and we wouldn't have to find another restaurant that served fish. I wouldn't have to run through a grocery store at 11 p.m., trying to find some fish to fry. We walked into Mint Mark at 7:27 p.m.
Mint Mark is located in a small, one-story, dark-teal-painted brick building in Madison's Marquette-Atwood neighborhood. Their focus is on small plates and cocktails, and their prices reflect the quality of what they offer and the culinary knowledge of those making it—it's on the more expensive side, but not exorbitantly so for what they provide. On one hand it feels moderately upscale inside, but on the other hand it feels accessible to all. Their menu changes daily and can be found by watching a story on their Instagram page. On Fridays their menu is augmented by a Friday Martini Luncheon from 11 a.m. to 3 p.m. and a Hamm's-battered bluegill fish fry from 5 until 10 p.m. I later realized that on the Friday I was there they were serving the fish fry until midnight.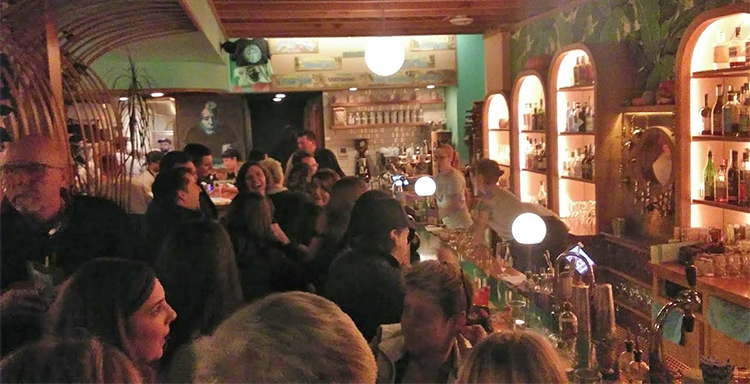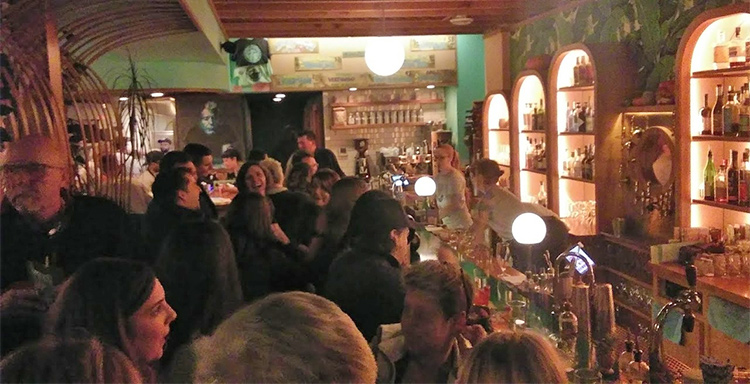 We had a little bit of time to grab a drink while they finished getting our table ready. Being that cocktails are a specialty at Mint Mark, there are many choices for Old Fashioneds, including the option to get them on draft. To me, there is something more authentic in getting one hand muddled, so that's the route I took. They asked me if I wanted a specific type of brandy—a question I almost never receive—and told me that their house brandy was Christian Brothers. I said that sounded fine. They poured the brandy as well as liquid from two other larger bottles, and also some syrup from a smaller plastic bottle. The most notable characteristic of the drink was its lemon and citrus flavor. It was a little too overpowering for my liking. I ended up trying a draft Old Fashioned from one of my friends, which to my surprise, suited me better. At $6, it was 50 cents cheaper than the hand-muddled drink as well. After exactly 10 minutes, we were brought to our seats.
There is just one type of fish on the menu: Hamm's-battered bluegill ($17). The only choice that needs to be made with it is for either french fries or a baked potato. Like hands moving around a seven-digit clock, our server went around our table asking for our orders. Each hour rang in with fish and french fries except one. Someone ordered a sausage and french fries. I tried not to judge them too much. Our server came out with six buttons that said "VOTE FOR FISH FRY." On this special evening, anyone who ordered a fish fry was given one.
The meal came with five fillets of high-quality bluegill of small to medium size. The beer batter was light and thin, adhering well to the fish, and providing it with a well-balanced texture that was neither too crunchy nor too soft. It was a little on the salty side, however, and that is the one thing I would have tweaked on it. The tartar came in a small container—the size that is hard to figure out how to dip fish into. Whereas the previous week's tartar was loaded with relish, I don't think there was any in this week's at all. Instead, fresh herbs—dill and parsley, from what I could tell—were evident. The herbs weren't overbearing, and the tartar was pretty mild overall.
The french fries were homemade, with skin still on some of their edges. Like the fish, they were a bit on the salty side, although the saltiness seemed better suited to them. The rye bread seemed fresh, like it had come from a local bakery. Somehow I ended up with a small piece when almost everyone else had thick, larger pieces. The creamy coleslaw was juicy—juicy enough that it ran a bit on the plate, but not so juicy that you had to question why it was directly on the plate and not in a bowl. It was made with finely cut green cabbage and carrot, and was mellow in flavor.
Every type of Wisconsin restaurant should have a fish fry, including small-plate restaurants like Mint Mark—a place that retains a casual atmosphere but feels closer to a fine-dining establishment than a corner bar and grill. Their fish fry is light, not heavy, and its presentation is clean, not messy. At $17 it is not cheap, but Hamm's-battered bluegill isn't something you'll find everywhere. I wasn't blown away by the fry, and I don't think it is beyond reproach, but they definitely know what they are doing at Mint Mark, and I have no regrets with driving all the way to Madison for their fish fry. Plus, just in time for the 2020 election cycle, I now have a button that says "VOTE FOR FISH FRY." Who would think of voting for someone else?
Takeaways: It was maybe going to be a three-hour wait but it turned out to be about half that; Mint Mark has served a Hamm's-battered fish fry for 100 weeks straight—who the heck would keep track of how many weeks in a row they have fish?; Hamm's beer is from the land of sky blue waters; I got a button that says "VOTE FOR FISH FRY"; you don't get a button if you order sausage; you can get a draft Old Fashioned or order one by hand, and I surprised myself by liking the draft one better; the fish had a favorable flavor and texture but seemed a little too salty; herbs in the tartar; the fries were homemade; mellow and juicy coleslaw; other people got bigger pieces of rye bread; Mint Mark knows the importance of fish frys and celebrates things like golden birthdays for them.