Back in November, we alerted you to news that the recently-closed All Purpose would be replaced by an exciting new venture called Snack Boys. The restaurant—spearheaded by Boone & Crockett owner John Revord, Gypsy Taco owner/chef Mitch Ciohon, and Vanguard chef Shay Linkus—aspires to bring playful small plate dining, island cocktails, and fun to the heart of Walker's Point.
Since getting the keys to the property at 814 S. 2nd Street on November 1, Snack Boys owners have already experienced a break-in, dealt with a busted water pipe, and endured other delays that forced the snack bar's projected mid-December opening to pass. While clearing those obstacles, Revord, Ciohon, and Linkus have been hard at work preparing the building and developing the menu for their lighthearted and unconventional new concept.
On Friday, January 19, Snack Boys will finally be open to the public. Before the bar and restaurant's highly-anticipated opening, Milwaukee Record was allowed inside to take a look and get a glimpse of Snack Boys' food and cocktail menus. Here's what to expect.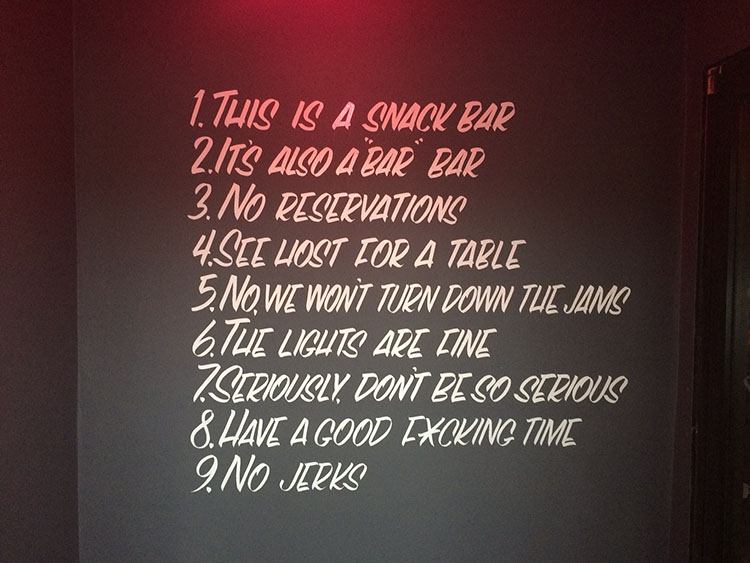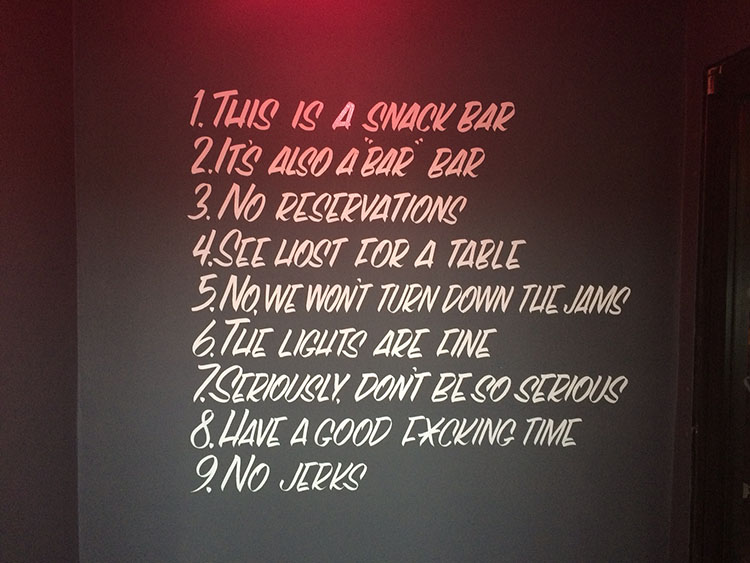 "This is not going to be a quiet sit-down restaurant," Revord told us in November. "It's going to be fun, it's going to be loud, it's going to be in your face."
That message comes through the moment patrons walk through the door and are greeted with Snack Boys' nine simple rules.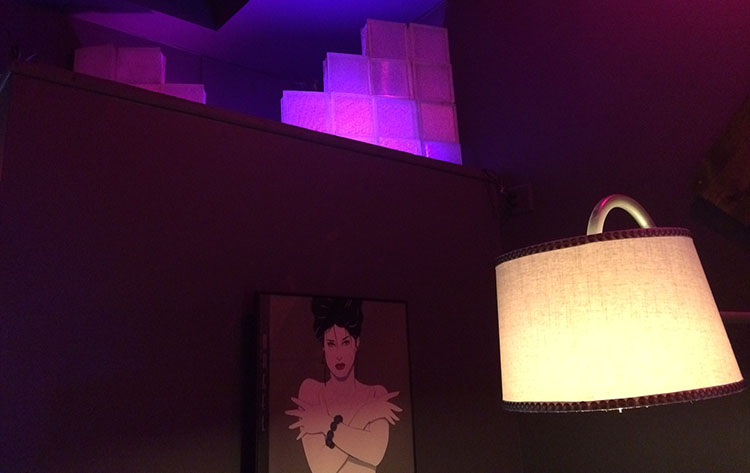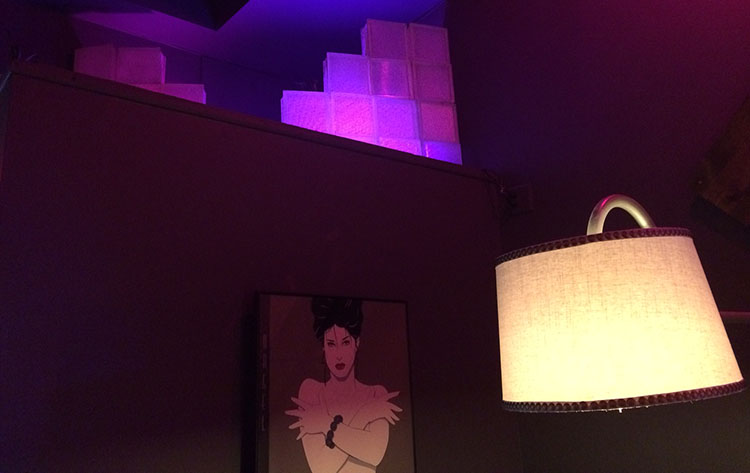 To quote Rule No. 6, "The lights are fine." The dark gray interior walls are covered in '80s-influenced artwork, mirrors, and velvet paintings. That decor, as well as the occasional potted plant and piece of lounge furniture are all basked in pink neon light.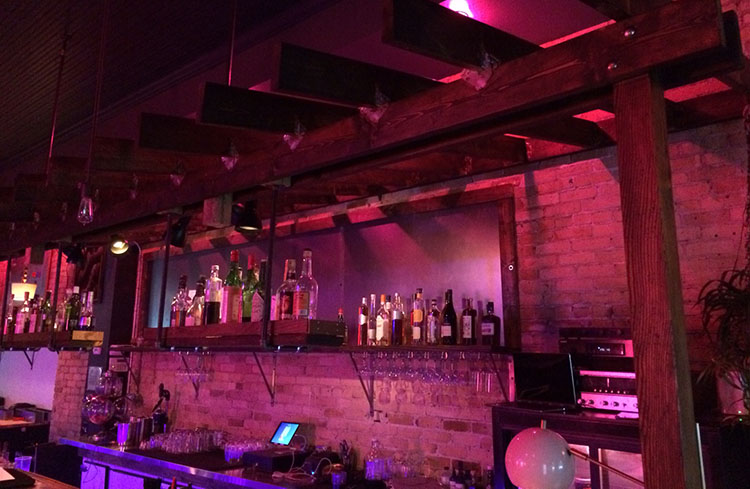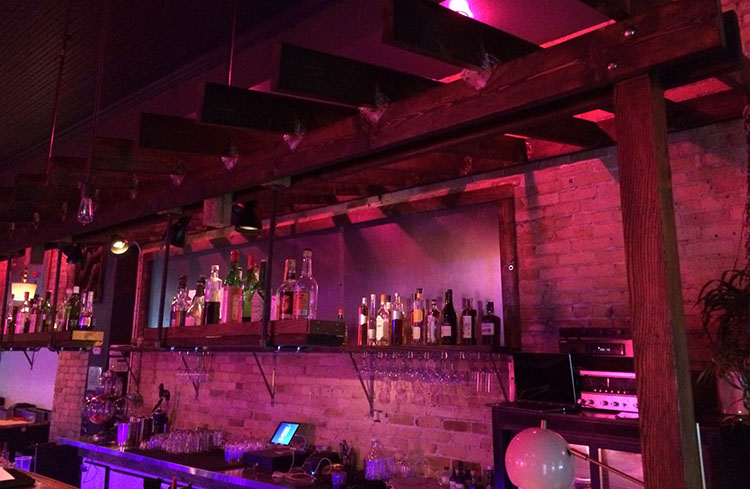 The south side of the long, thin corridor features an expansive bar that's stocked with 20-25 beers (cans and 40s only), a robust selection of wine—with a focus on bottles of rosé and sparkling priced as low as $22, or "a little above retail"—and close to 20 house cocktails that are takes on '70s and '80s classics with whimsical twists. Among the cocktails, there's the color-changing tiki-inspired "Sybaris…The Drink", the "#Banana-Conda", a choose your own adventure "La Croix Boy", and an "Alpine Hippie Juice" that's served in a jar with a plume of pine smoke inside.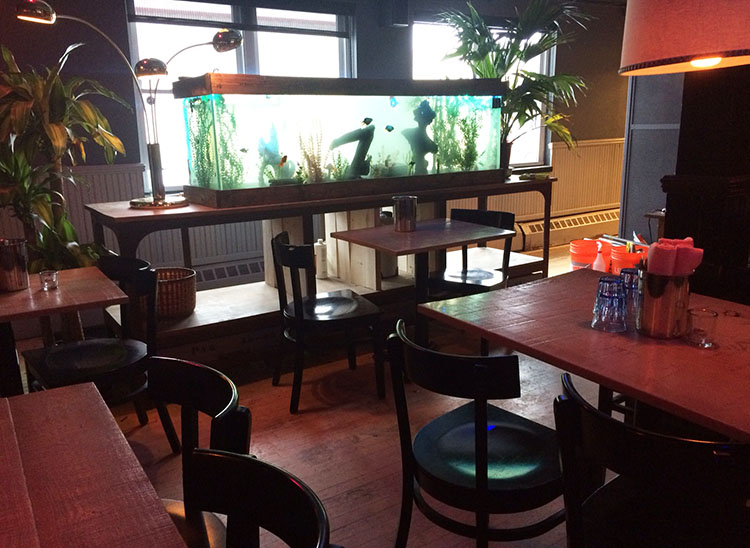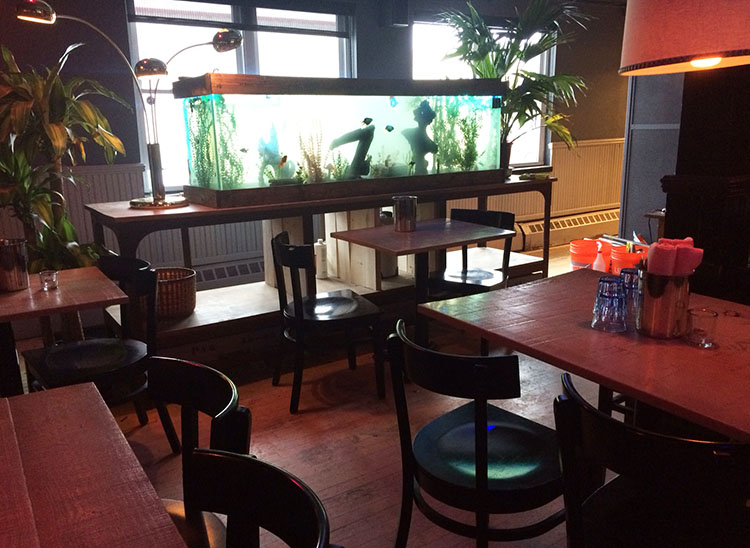 The projected capacity is 99 people, most of whom can be accommodated by 25 seats at the bar and Snack Boys' 15 tables. Tables are primarily two- and four-tops, with room for six to eight patrons at tables in the restaurant's rear dining room.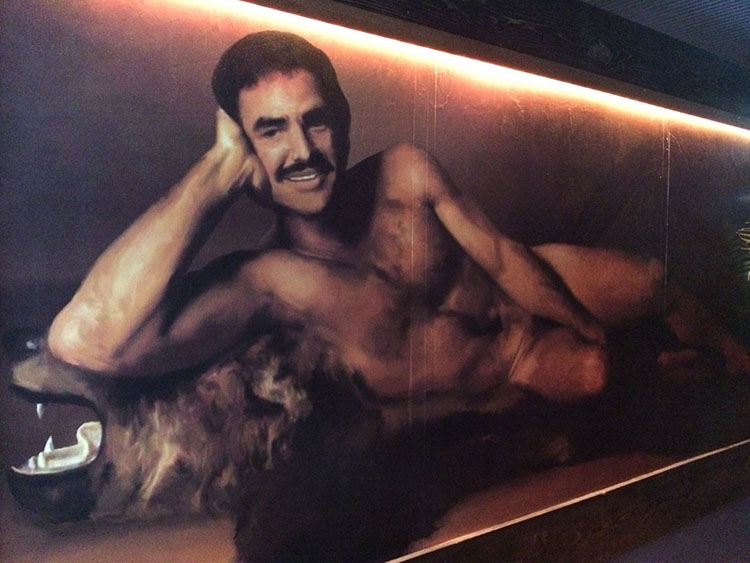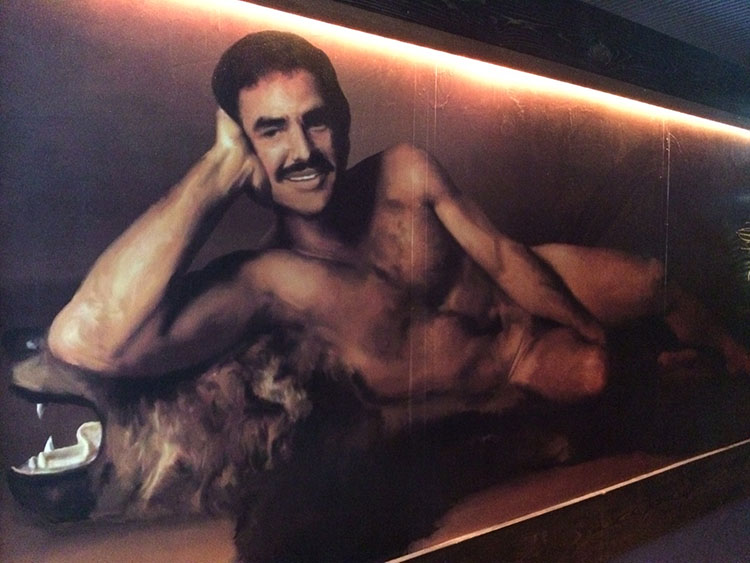 Customers will also find a fish tank in the rear dining area, as well as a gigantic print of a nude Burt Reynolds on a bearskin rug that stretches the entirety of the restaurant's back wall. The men's room will eventually become a pink-painted shrine to Dolly Parton, but there have been some unexpected complications in that plan.
"Dolly Parton memorabilia is harder to come across than you think," Linkus says. "A lot of it is really tacky—but not in a good way."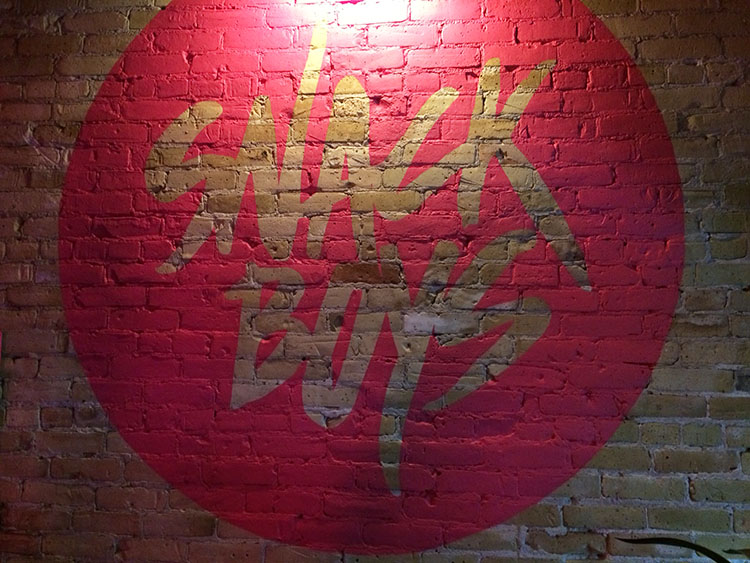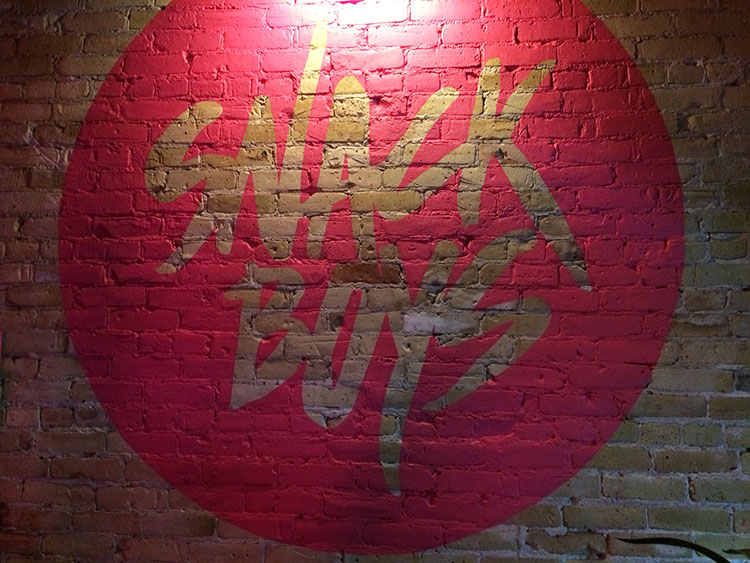 As they scour eBay for bathroom treasures, Linkus and Ciohon are putting the final touches on a menu with a loose theme Linkus refers to as "anxiety-free fine dining." He likens Snack Boys to a "heavily à la carte" sushi bar feel, where single-portion seafood is available at a raw bar, or with a variety of small plate meat, fish, and vegetable dishes that are prepared in the kitchen. Prices range from $2-$3 for oysters and $3 pork skewers, all the way to $12 for select seafood items. Food will be served from 4:21 p.m. to 11 p.m., and late night snack service and an expanded menu will be added in the coming months.
Snack Boys will be open from 4:21 p.m. to bar time from Wednesday through Sunday. This Saturday (January 20), WhyB and DJ Thor will spin during a "Snack Attack" opening party. Snack Boys is coming, Milwaukee! Prepare yourself by looking at the food and cocktail list below.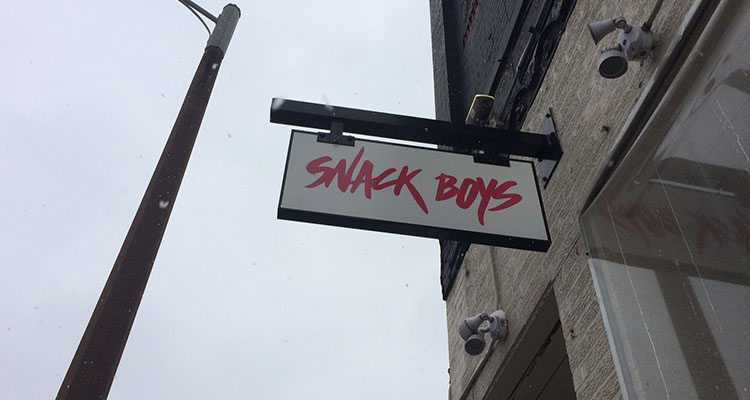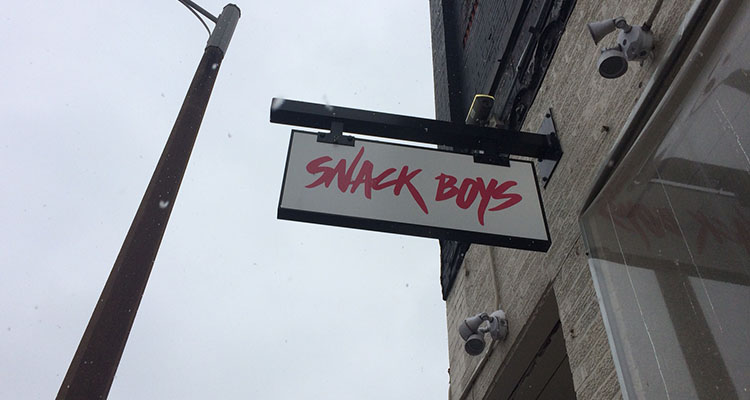 COCKTAILS
Shay Breeze Slushy — Riff on a Malibu Bay Breeze in slushy form with edible glitter
Ummm, You Might Want to Get That Looked At — Blended take on classic penicillin
Sybaris…The Drink — Spin on the Chi Chi tiki drink with butterfly pea powder that makes drink change color when it touches acid
Cocaine And Tequilla Sunrise — Punch bowl variant of the tequila sunrise and classic margarita, named after Rolling Stones tour sponsored by Jose Cuervo
La Croix Boy — "Choose your own adventure." Pick you own spirit and La Croix flavors
Ecto Wine Cooler — Take on a hot wine cooler and a Midori sour
The Devil's Lettuce — Riff on a stinger cocktail
I <3 Black Metal — A "loose" Manhattan rendition and a Boone & Crockett original
Just Follow Your Nose — Harvey Wallbanger and Fuzzy Navel hybrid
Gamma Ray — Variation of Electric Iced Tea, which is Long Island Iced Tea and Blue Lagoon
Ferrari Boy — Akin to a Negroni, a Boone & Crockett original
Captain Baker — Pineapple rum, ancho reyes, corazón bitters
Alpine Hippie Juice — Served with plume of burning pine smoke
#Banana-Conda — Rum, banana, hibiscus bubbles
Max's Kansas City — Navy gin, sloe gin, cherry herring, benedictine, sumac alpine poppy seed, grenadine
Rod The Bod — Mescal, crème de menthe, crème de cacao, Snack Boys Cream, coffee syrup
DESIGNATED DRIVERS (non-alcoholic cocktails)

Shirley
Temple
Arnold Palmer — Date honey, Snack Boys Cream, hazlenut
FOOD
Raw Bar
Kumamoto Oysters — Served with soy bubbles, mignonette, gypsy jam, lemon
Old 1871
Crab legs
Peel and eat prawn
Poke
Uni and chips
Meat
What's Up Turky Butt? — BBQ vinaigrette, aged cheddar, crispy potato, greens
Lil Snack Slider — Beef, chicken, or vegetarian with lettuce, tomato, onion, aioli, pickle
Confit And Fried Chicken Thigh
Bone Marrow — Toast, bacon, honey, roasted pepper
Pork Skewer — With Kalamansi Gel and soy
Duck Nuggets & FoieBq
French Onion
Veggie
Brussels — Salad of fried, raw, and steamed green leafs with buttermilk, onions, mushroom
Radskis — Buttered and raw radish with whipped butter
Pickle Jar — Assorted house pickles, vegetables, egg with chips
Crispy Carrot — Tempura-fried pickled baby carrot served in buttermilk sauce
Fries — Tossed in Gypsy Dust, served with Snack Sauce
Chips Todaloooo — Fresh chips with "Snacks Onion Dip"
Corn — Tempura, kewpie, togarashi, soy, fresh horseradish
Fish

Tater Tots And Caviar — Seasoned creme fraiche micros
Crab Thermidor Popover
Sweets
Cookies & Milk — Vanilla, tamarin, and a "flanish" cinnamon custard
Ice Cream Sandwich — Toasted Bun, house ice cream, "crunchy stuff"