Summerfest is back! One day is officially in the books, and there are still eight more chances to enjoy loads of live entertainment, heaps of tasty treats, and all sorts of refreshments. As the 55th installment of the "World's Largest Music Festival" launches into its first weekend (June 22-24; June 29 – July 1; July 6-8), we present our thoughts on a few new Summerfest food items.
Cheetos Flamin' Hot Cheese Steak – Cousins Subs ($15)
Flamin' Hot Cheetos are having a moment. There's the Eva Longoria-directed film about the guy who invented them. There's the cottage industry of 8 billion articles reminding you that ACTUALLY the guy who said he invented them didn't invent them. And there's Cousins Subs' Cheetos Flamin' Hot Cheese Steak, a Summerfest-exclusive menu item perfect for those who like their subs big and sloppy and bursting at the seams. Oh, and hot, of course.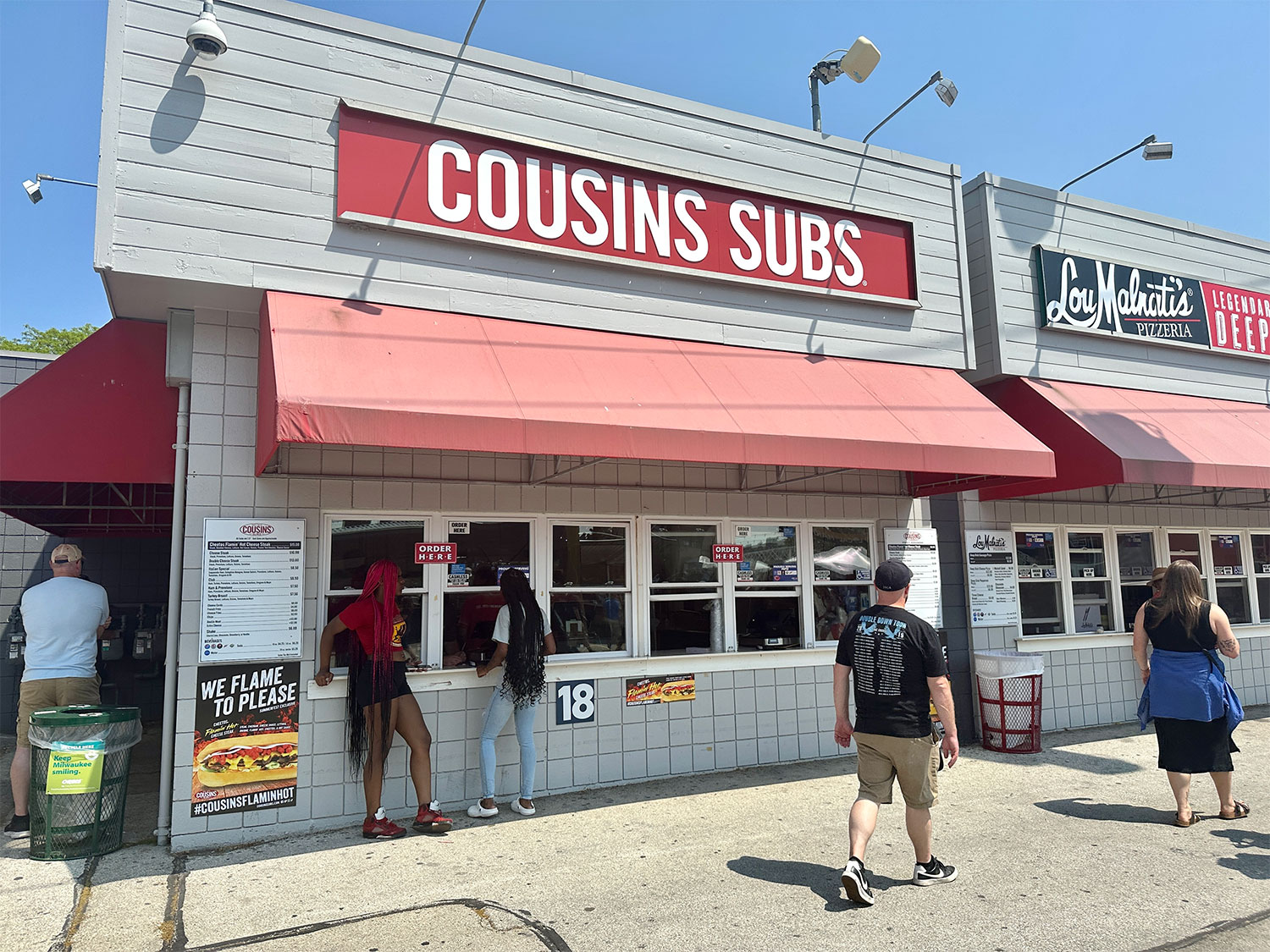 "We Flame To Please!" Cousins says on their #CousinsFlaminHot ads. But is that eternal flame worth a hefty $15? Well, the stars of the show—the Flamin' Hot Cheetos, natch—kind of get lost in the steak, cheddar cheese, lettuce, onions, cheese sauce, and hot sauce mix. They're crunchy, but they really don't register as particularly hot—much less flamin' hot. Happily, the sub is made by Cousins, and Cousins rules. Better bread, better subs. ENJOY THIS AWARD-WINNING PHOTO WITH ONE OF THOSE BIG ASS CRUISE SHIPS IN THE BACKGROUND.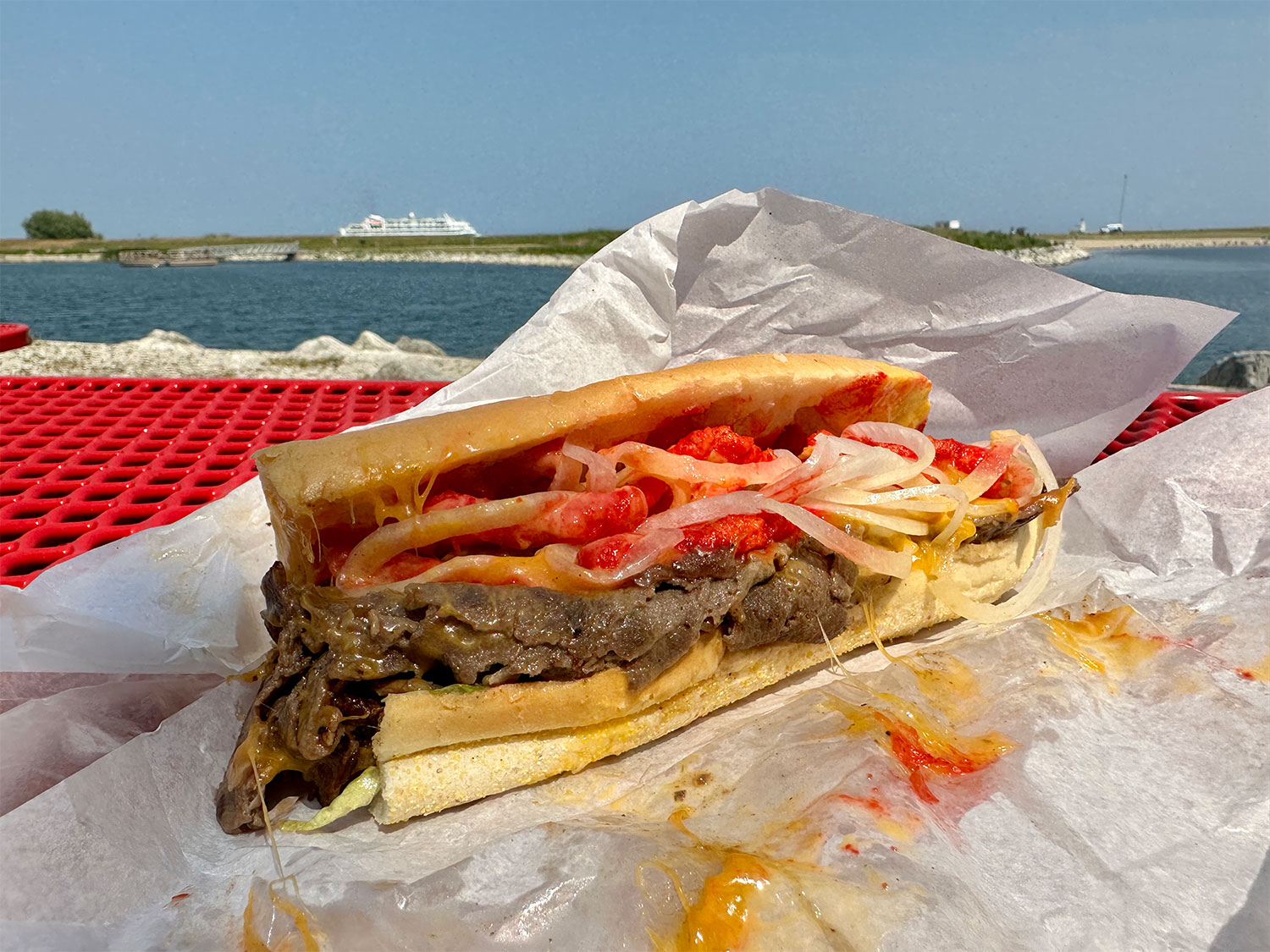 Nashville Hot Chicken Sandwich – Nashville North ($12)

After opening last year, Nashville North—a Brady Street bar, venue, and restaurant—decided to try its hand as a Summerfest food vendor. Figuring it was in the business' name (and because it was highlighted as a standout selection on the menu board), we opted for the Nashville Hot Chicken Sandwich. We're hopeful this Big Gig newcomer will find its footing and it's quite possible other menu items are up to snuff, but we must admit we were less than impressed with Nashville North's take on the the Nashville Hot Chicken. The sauce was more tangy and buffalo-like than "hot," and the bun was both dry and plain. The pickles were good (and abundant!), but couldn't make up for the lack of mayo or other vegetables on the so-so sandwich. Most notably, the chicken was borderline rubbery. There's definitely room to build on this sandwich, but in its current form, there are better things to spend $12 on at Summerfest.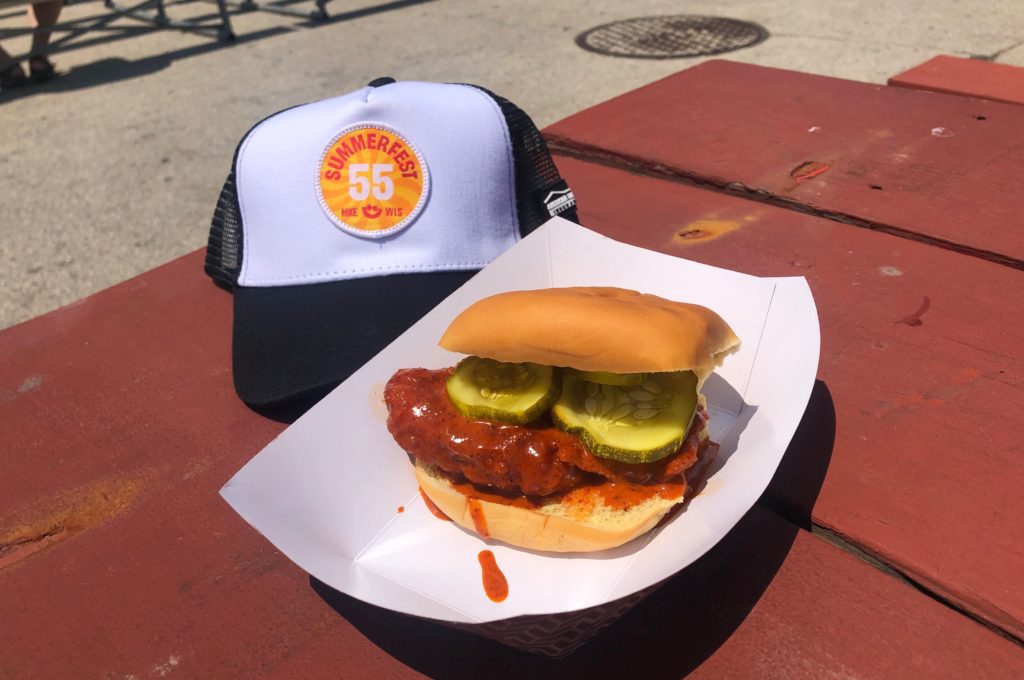 Smokey The Bandit Pizza Slice – Ian's Pizza ($10)
If you like Ian's Pizza in Milwaukee or Madison…well, you're gonna like Ian's Pizza at Summerfest. The regional staple is new to the Big Gig this year, joining other pizza purveyors like Angelo's, Lou Malnati's, and Pizza Man. For $10 bucks you can get a generous 1/4 slice of sausage or pepperoni, baked penne, mac & cheese, and so on. (A plain cheese slice will put you back $9.) But for our money, nothing beats the heavenly Smokey The Bandit Pizza Slice. The BBQ sauce and chicken-tastic slice forgoes bootlegging 400 cases of Coors across state lines in favor of delivering a tangy, tasty, crispy punch. It's a perfect meal to enjoy before, during, or after country headliners like Zac Brown Band (June 23) and Zach Bryan (July 7), and/or Smokey Robinson (July 8 at the Uline Warehouse Stage).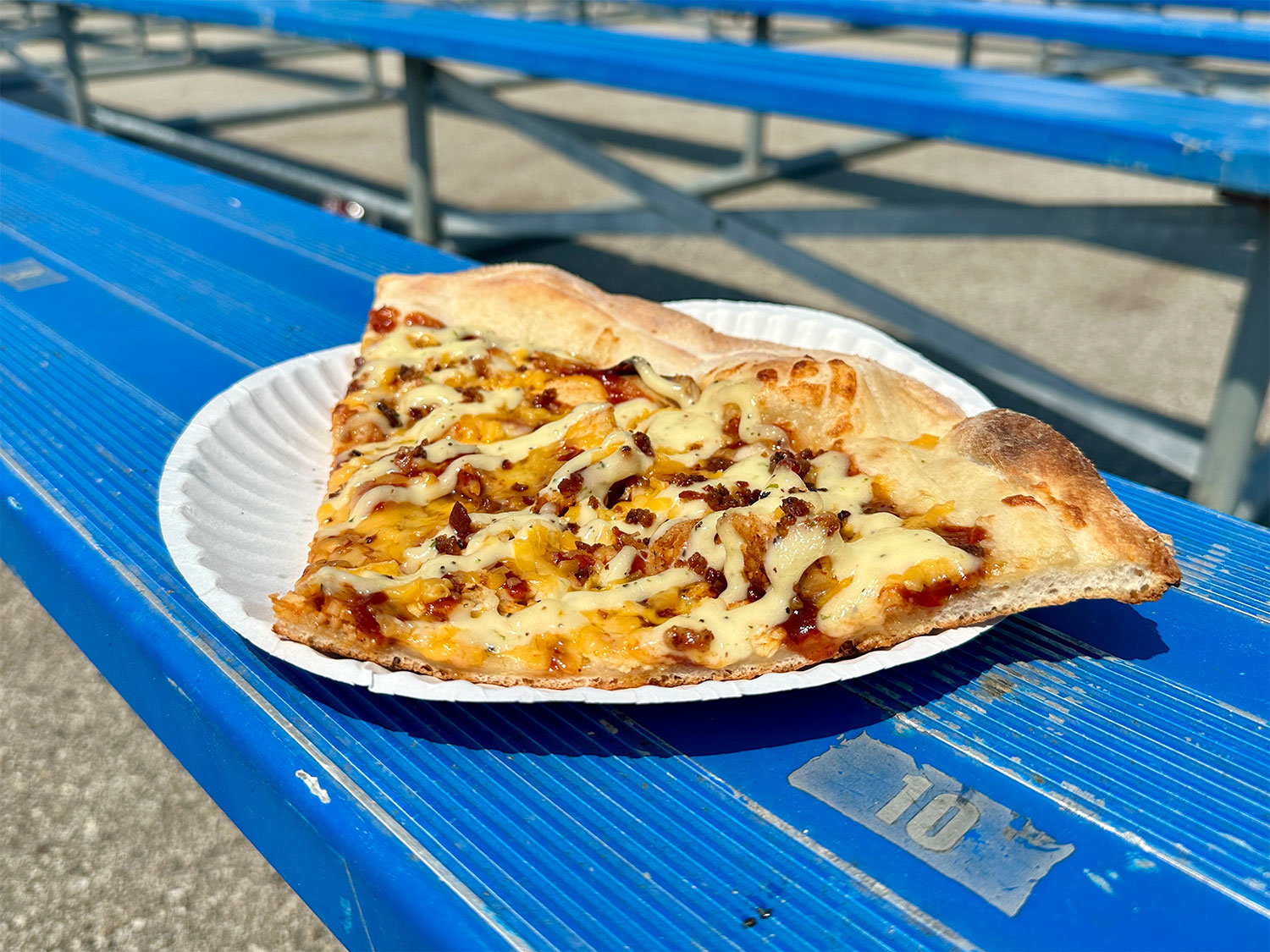 Behind The Scenes: As we were taking a picture of our Smokey slice, a dude walked by and laughed. "I do the same thing!" he said. "That way when I get sick I know where it came from!" Love ya, Summerfest.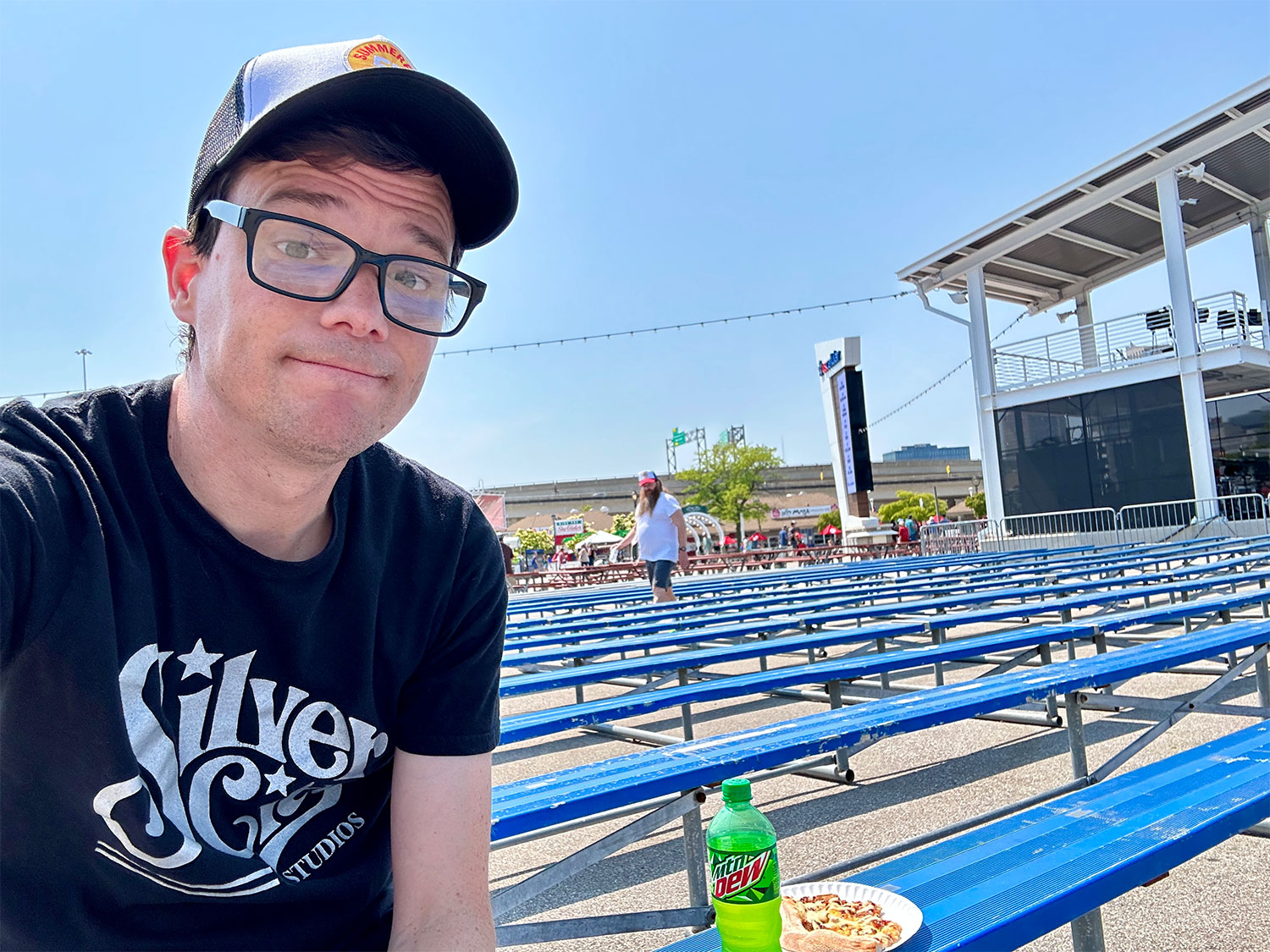 Italian Beef & Giardiniera Stuffed Bites – Saz's ($6)

God bless Saz's, and god bless Saz's Sampler Combo (mozzarella sticks, cheese curds, sour cream and chive fries). Is Saz's Sampler Combo the most beloved Summerfest "food item" of all time? Quite possibly. Could we write 8,000 words about the Sampler Combo alone? Yes we could. Are we purposefully stalling right now because Saz's new Italian Beef & Giardiniera Stuffed Bites (available near the Miller Lite Oasis Stage) aren't very good? Yeah, we are. This $6 duo of rice balls are stuffed with Italian beef and "hot" giardiniera (it seemed more like the mild version) and doused with marinara for some inexplicable reason.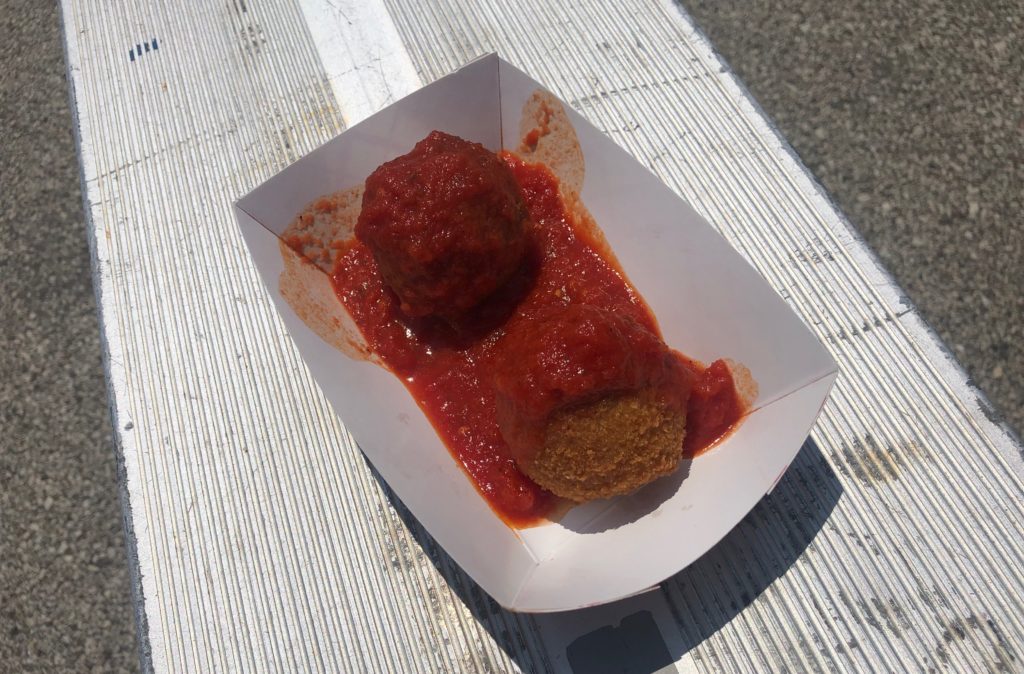 The outsides of the balls were hard as a rock, the insides were soggy, and the marinara that typically shines as part of mozzarella stick orders was more of a sloppy distraction than an asset here. The beef and giardiniera were predictably good, but still couldn't bail out this rare miss from the King of Summerfest Food Vendors.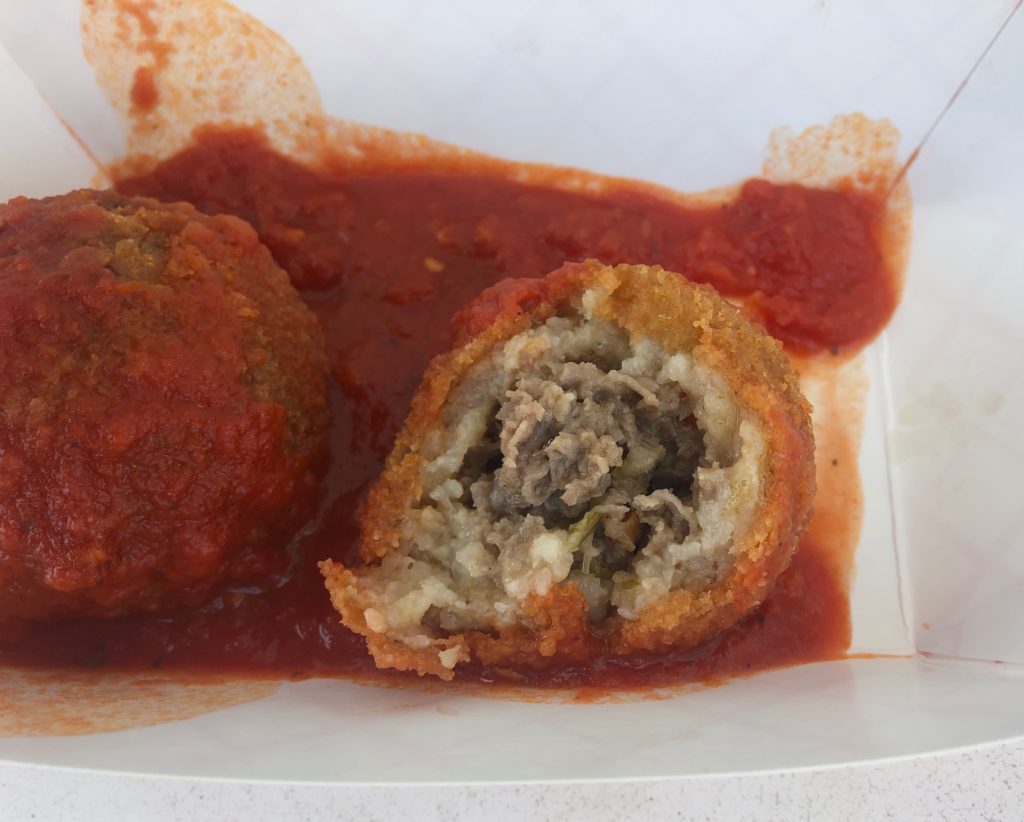 Swine Mac – Mac-A-Do's ($13.50)
Anyone know anything about Mac-A-Do's? It's a new vendor at Summerfest and for the life of us we can't find anything about it online. Anyone? Well, whatever, we'll just imagine it came straight from heaven, because its hefty pile of mac & cheese, BBQ pulled pork, and pickles—dubbed the Swine Mac—is a gut-bomb winner. Do the various ingredients seamlessly blend together to create a unique and delectable taste sensation? Not really—it just feels like you're eating some mac & cheese covered in BBQ sauce, and then some pulled pork covered in BBQ sauce, and then some pickles. AND IT'S GREAT.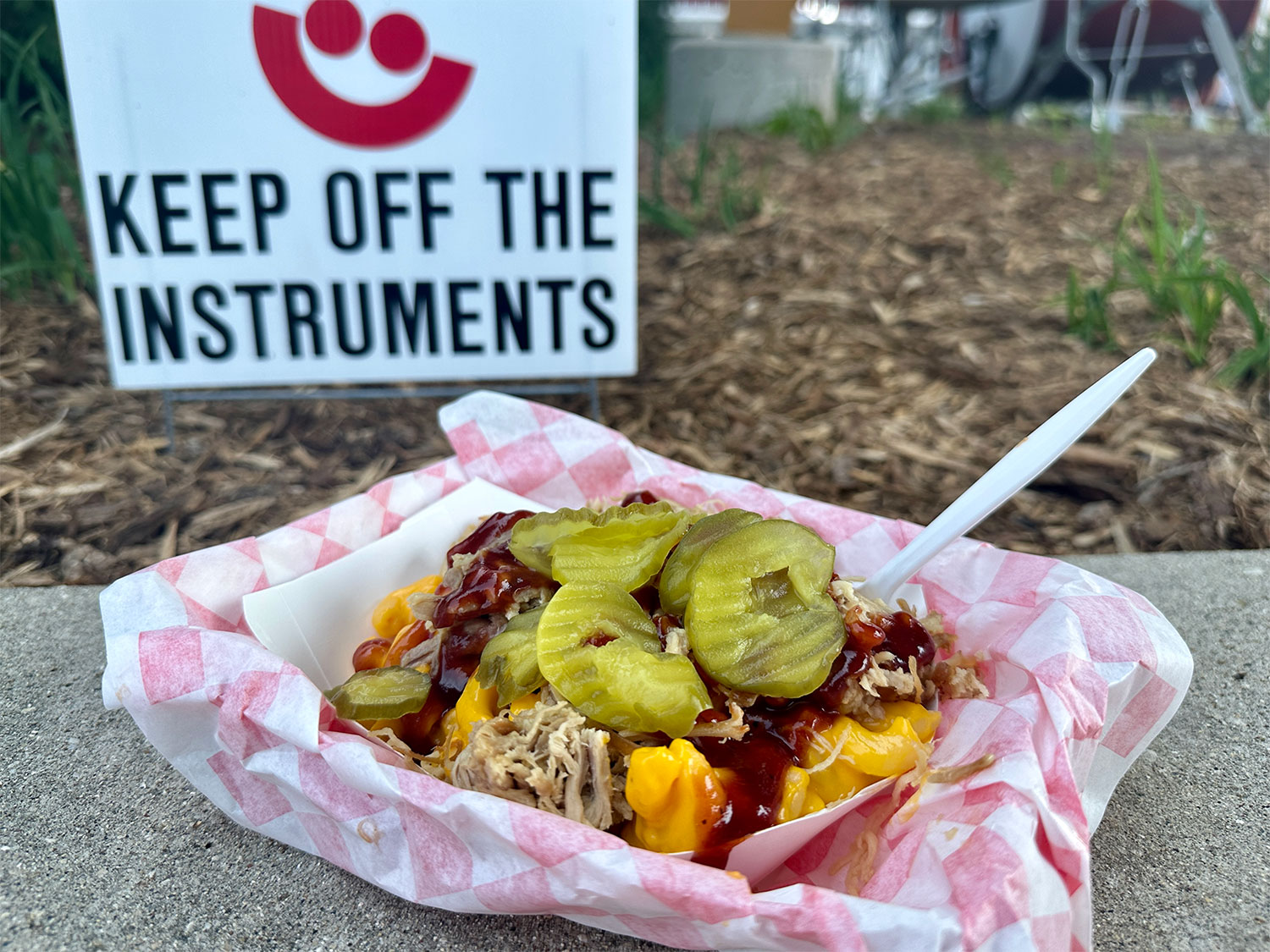 Hell, it's so great that we didn't mind that the crushed Fritos promised on the menu didn't appear to be present here. Perhaps all the Fritos were being used at the nearby Fritos Legacy Diner, an inexplicable-but-delightful '50s-style diner that serves tiny free samples of Fritos stuff for some reason.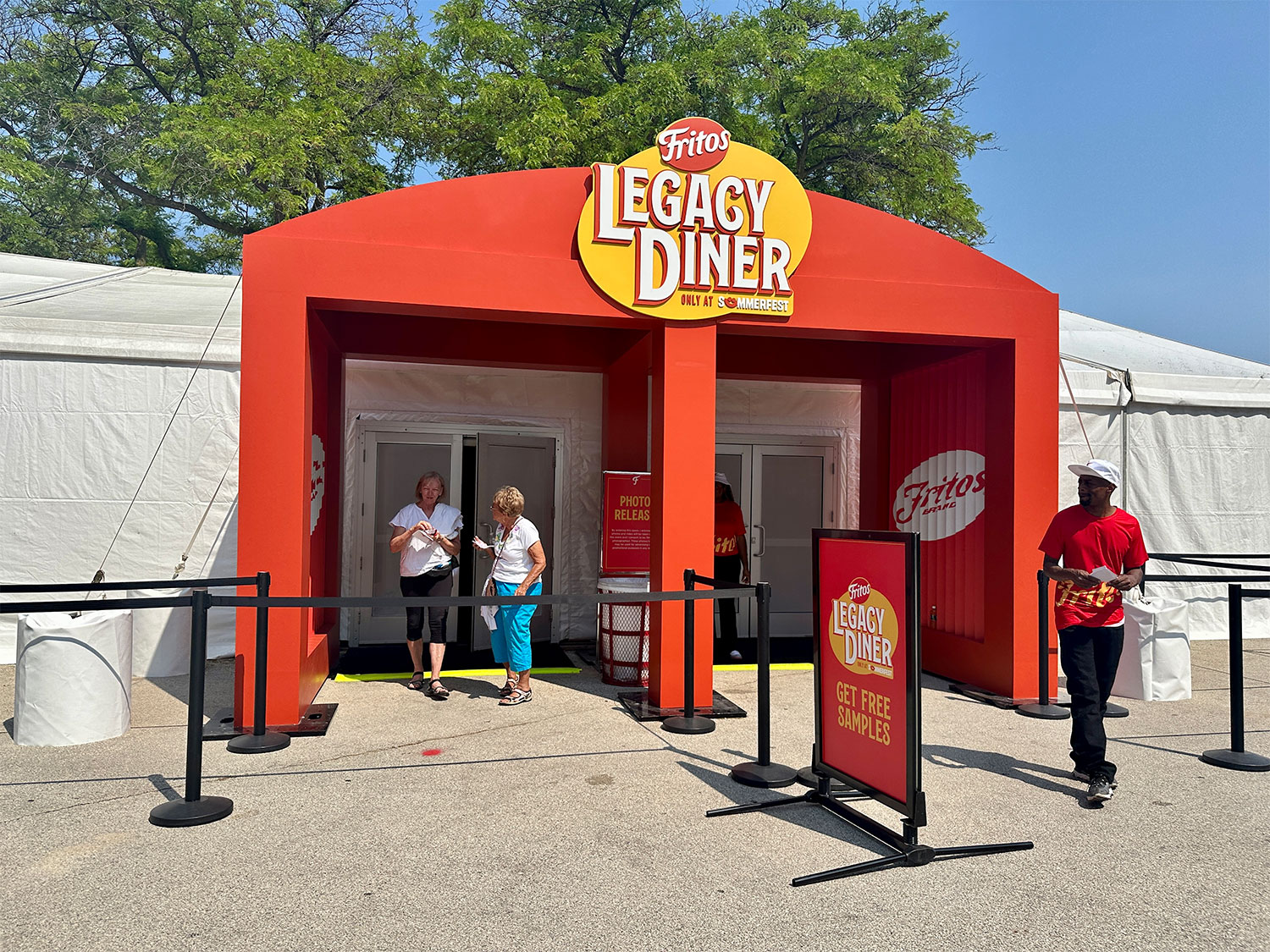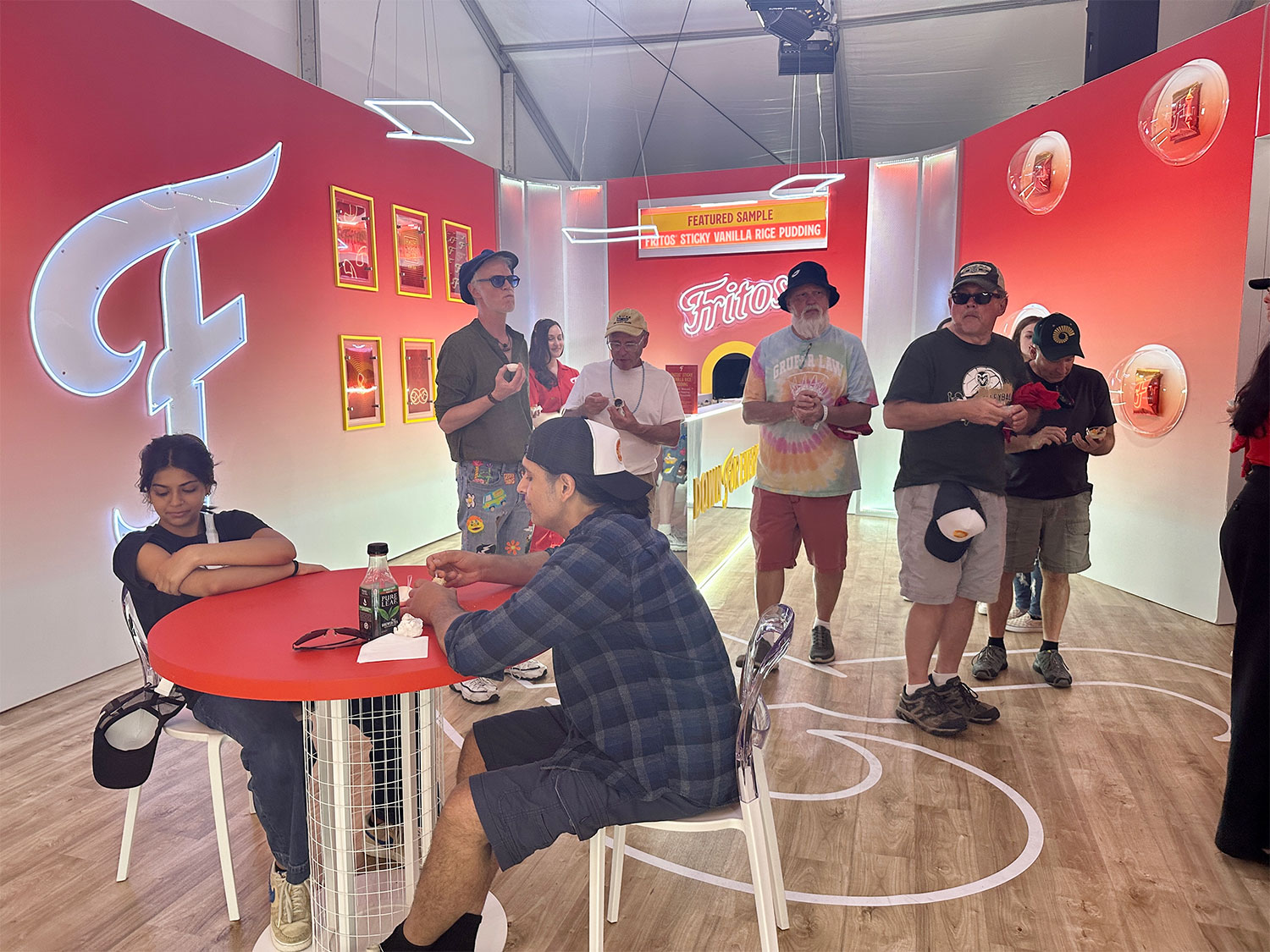 Walking Nachos – El Hefe Mexican Grill ($10)

Following what seemed by all accounts to be a successful first year as a Summerfest food vendor last year, El Hefe Mexican Grill is back on the festival grounds in 2023. Its only new offering is Walking Nachos, which is a Nacho Cheese Doritos-based take on the iconic Walking Taco. The baseline version is topped with sour cream, guacamole, two types of shredded cheese, and pico de gallo. Select proteins including grilled chicken, ground beef, or carnitas can be added for a $4 upcharge. Impossible protein can be added for an extra $6.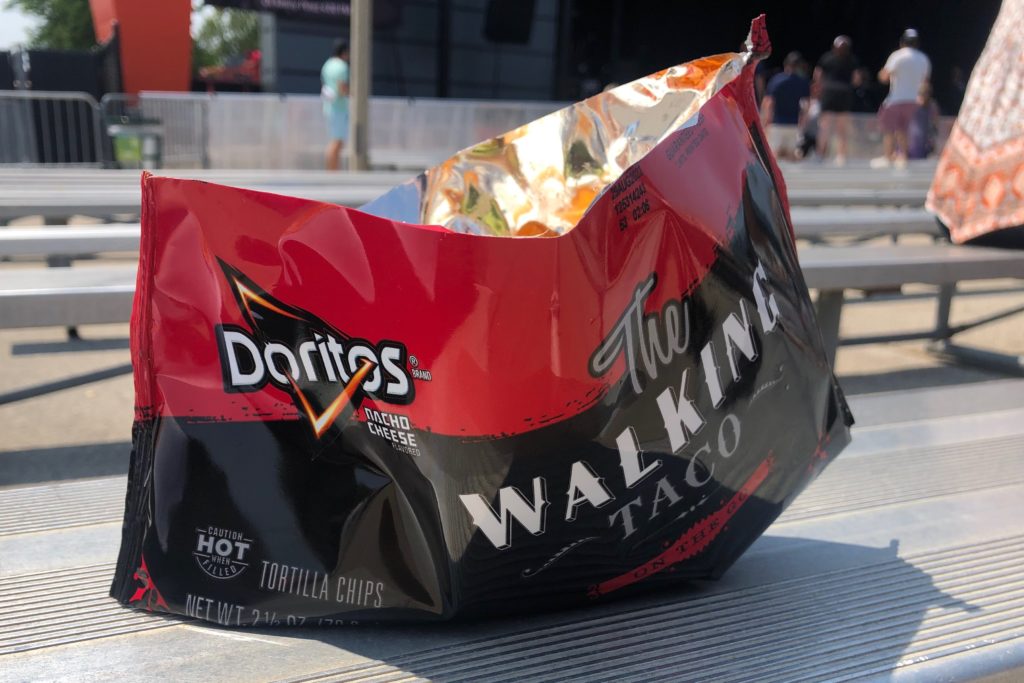 We went with the original $10 meatless version and found no shortage of Doritos, guac, and sour cream in the bag. Sure, Walking Nachos are far from being an innovative new item, but as the name would suggest, they're relatively easy to eat with a fork while strolling the grounds. Plus they're filling and they're pretty darn good for what they are. If you're relying on El Hefe's Walking Nachos to be your one and only Big Gig indulgence, we'd recommend adding some type of meat or Impossible protein to help tie everything together.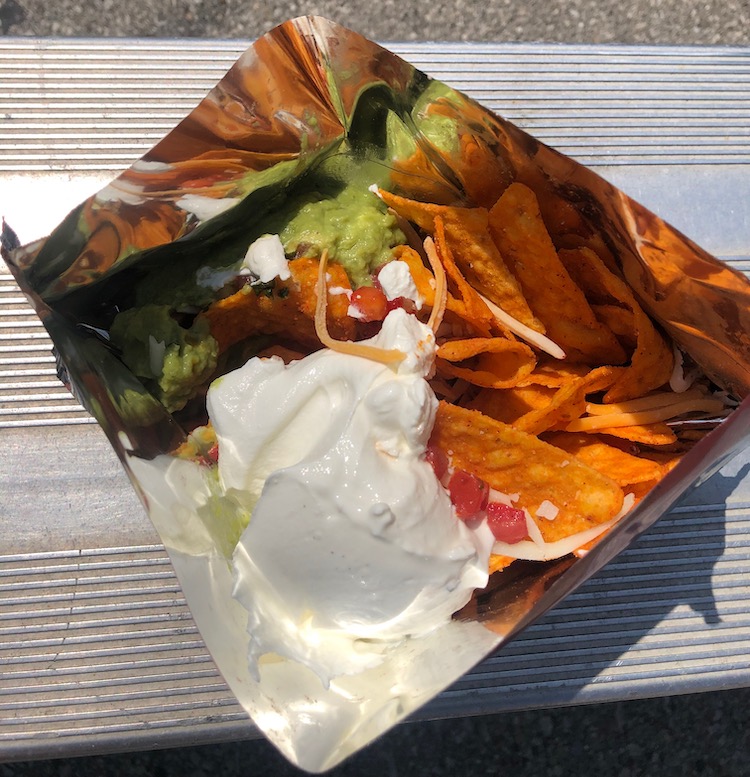 Ice Cream Flight – Cedar Crest Ice Cream ($14)
Cedar Crest Ice Cream is a trusted and long-running part of the Summerfest experience. They don't need bells and whistles or trendy new menu items to be a crowd pleaser at Henry Maier Festival Park every summer. However, in learning Cedar Crest was releasing a "new item" this year, we knew we had to try it. That item, the Ice Cream Flight, isn't actually a new product as much as it's just a different way to enjoy massive amounts of existing flavors. For $14, customers get their choice of four Cedar Crest Ice Creams that are doled out in massive scoops into a plastic container with four separate ice cream compartments.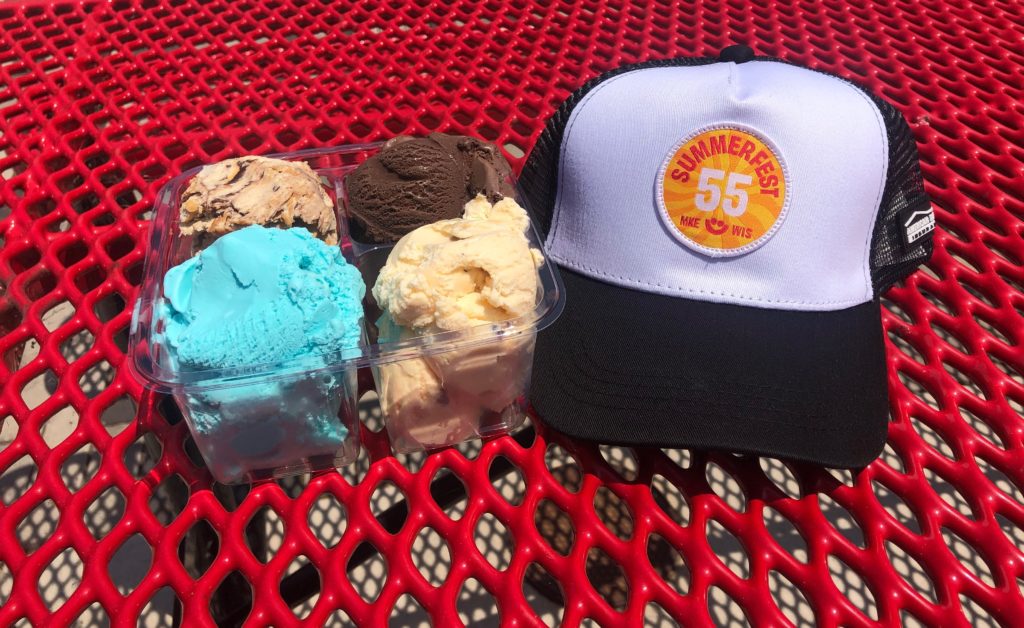 Of course the ice cream we ordered (blue moon, peanut butter cup, dark chocolate, and chocolate chip cookie dough—listed in order of how much we like them) was amazing. However, it's just so much ice cream. Unless you're part of a couple that's crazy for dairy or you're splitting a flight between the whole family, we'd recommend sticking to getting your Cedar Crest in the traditional dish or cone format instead.
Frozen Chocolate Covered Cheesecake – Ultimate Confections ($8.75)
K.I.S.S. Keep it simple, Summerfest. This chocolate cheesecake from Ultimate Confections (we got the Turtle version, a.k.a. the "house favorite") is no muss, no fuss. It's tasty. It's refreshing. It's not-too-big but not-too-small. It's served in a small cardboard container. It's our new go-to Summerfest dessert. Enjoy!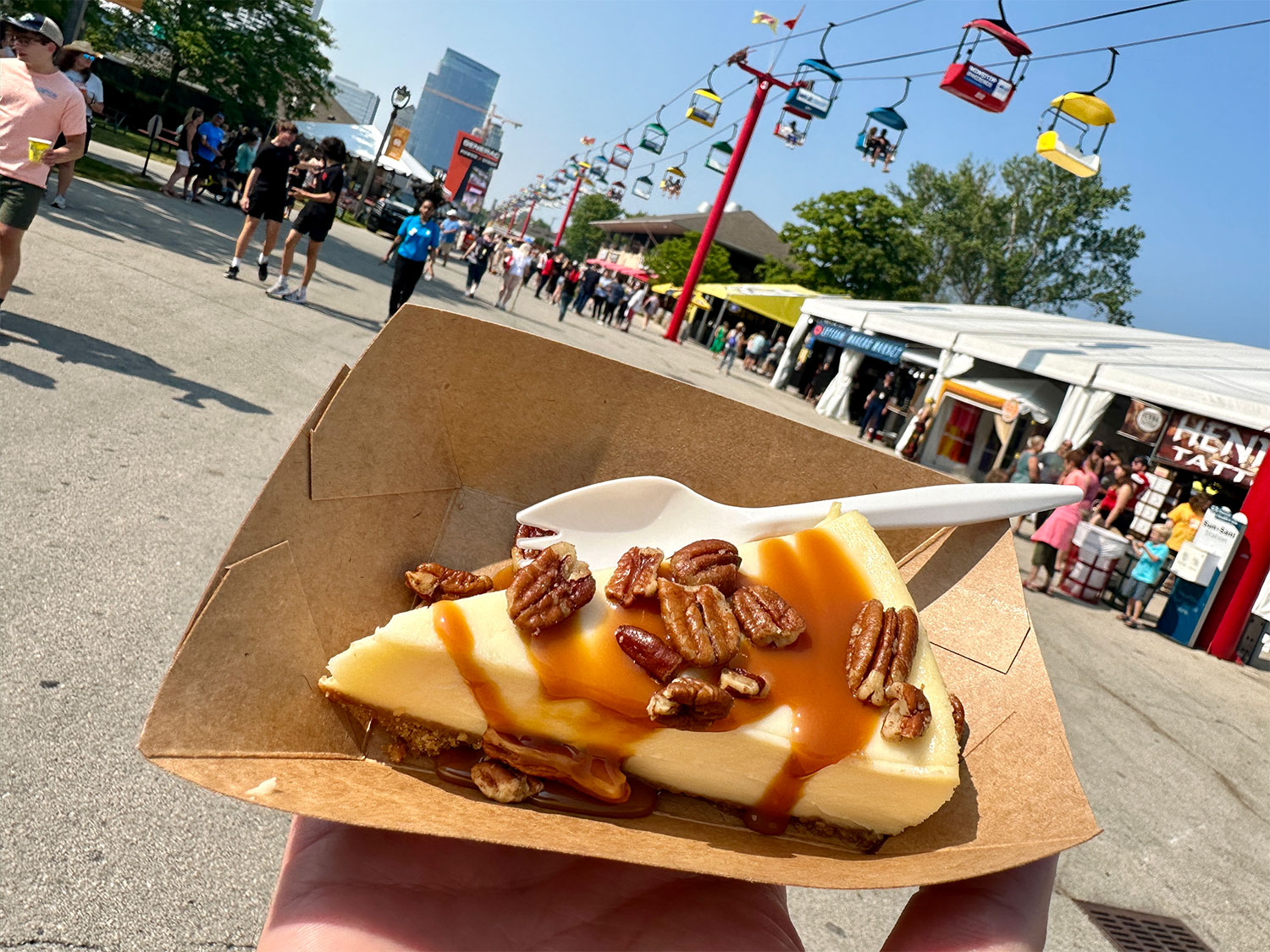 Exclusive articles, podcasts, and more. Support Milwaukee Record on Patreon.
---
RELATED ARTICLES
• Hey! Here's the 2023 Summerfest lineup!
• Record Recommended: Summerfest Weekend 1
• A guide to Milwaukee acts playing Summerfest
• Summerfest's "smallest stage" will feature acoustic sets from Jenny Lewis, Digable Planets, more
• Hey! Here are the Summerfest 2023 admission promotions!
• Take me back to Summerfest 1995: Hootie & The Blowfish at Marcus Amphitheater