Beginning this Wednesday, Cactus Club will be under new ownership. Longtime owner Eric Uecke has agreed to sell the Bay View bar and music venue to manager Kelsey Kaufmann, who will officially take over pending final approval from the Common Council during a general meeting Tuesday, February 11.
Kaufmann, 30, has worked at Cactus Club since 2011 and has run the business in a booking and management capacity since January 2016. Prior to managing the bar, Kaufmann co-organized the long-running East Side Green Market for three years and was one of the founders of the Riverwest Fest all-ages music festival. In recent years, she has also been an instrumental figure in amending the city's policies regarding all-ages entertainment.
On January 28, Cactus Club became the first Milwaukee venue to take advantage of an updated license that makes it easier to host all-ages shows. The updated "Center for Visual and Performing Arts" license allows small clubs to host shows open to folks both under 21 and over 21, and serve alcohol to those over 21. Kaufmann, along with many others, helped change the requirements of that license back in October 2019.
"I met my best friends and mentors through DIY, self-organized music and found a home in it," Kaufmann says. "All-ages music shows was the vehicle for a lot of heavy education in a positive way."
Kaufmann tells Milwaukee Record "Sunday through Tuesdays will almost definitively always be all-ages shows" at Cactus Club, and there's the possibility of hosting "matinee" shows on Saturdays. There's also the potential to have other Cactus Club shows be all-ages events if performers agree to be done playing by 10 p.m. (which is the plan for Sheer Mag's show at Cactus Club on May 7). All other events will be 18+, with every customer being required to show their ID at the door. Those who are 21 or older will receive one type of wristband, and those who are under 21 years of age will be given another type of wristband to help ensure nobody underage is served alcohol. All non-event days will be 21+. Kaufmann also says Cactus Club's all-ages events will have extra staff to monitor indoor and outdoor activity and to make sure everyone receives the proper wristband.
"We're still going to be doing some of the best shows in the city and the most shows," Kaufmann says. "Music will still be a central component."
In addition to live music, Kaufmann also aims to bring more community-focused and multimedia events to the venue that's hosted well over 200 shows annually in both 2018 and 2019. Some ideas she's mentioned beyond traditional concert programming include local film screenings, a monthly poetry happy hour, community lectures and workshops, local markets, restaurant pop-ups, drag shows, dance parties, a monthly yoga class, and weekly DJ nights. Kaufmann says she also intends to bring Beet Street Harvest Festival back for another installment in 2020.
"Realistically, I'd love to have some semblance of programming every day," Kaufmann says. "How do we utilize this space during hours that we've historically not been open to appeal to more folks and different folks?"
While the scope of events and its customer base will be growing and changing, Cactus Club itself won't be changing much—at least not initially.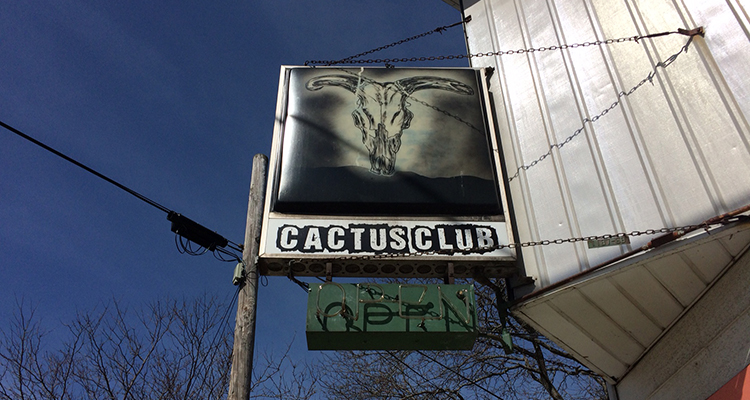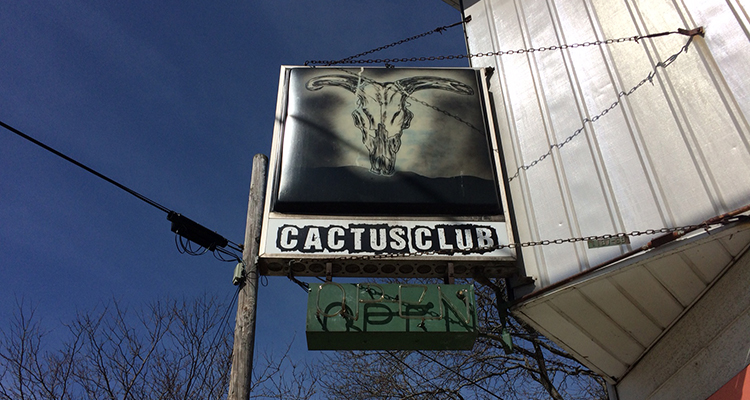 "We'll just be warming up the aesthetic," Kaufmann says. "Nothing is going to radically change. Posters are going to come down. Some are going to get put up. We're going to get a lot more plants and hopefully better lighting."
Other immediate changes include a new cocktail menu, more mocktails, nitro coffee and two lines of Kombucha available on draft, and the introduction of various other non-alcoholic beverages, including some options from local businesses like Top Note and Rishi Tea. Kaufmann also stresses her desire to have more food truck partnerships.
"I want to be more intentional about making a space that people can come to and not feel like they have to sit at the bar," Kaufmann says. "They can come and bring their computer and drink a coffee or drink a beer and work without feeling an obligation to engage."
In time, Kaufmann says she's looking into adding solar panels, improving wheelchair accessibility, and replacing the bar top (and moving it closer to the wall in order to increase space for customers). Hours of operation will stay the same at first, but might potentially be expanded to reflect events happening in the business.
Though the venerable Bay View bar and venue is now under new ownership, it appears as if it's going to be the same Cactus Club that Milwaukee knows and loves, just with more events that can be enjoyed by a wider audience.
"There are a thousand bars in town," Kaufmann says. "All of them are wonderful, but we might as well utilize our space. If it's available, let's use it."