Between beloved and well-established local staples and a steady wave of new bars and restaurants popping up in and around Milwaukee almost every week, worthwhile dining and drinking gems can occasionally get lost in the shuffle. With Tucked Away, Milwaukee Record digs deep in hopes of unearthing some of these gems.
Past entries in our Tucked Away series have qualified for that title in only the loosest sense. These are simply places off the Milwaukee culinary map—exceptional restaurants hidden in strip malls, far-flung suburbs, or neighborhoods not normally known for great food. But they're still, you know, on a map. Not so much with East End Cafe (161 W. Wisconsin Ave.), where "tucked away" is an understatement. Nestled deep in the bowels of the 7th floor of downtown's Plankinton Building, East End couldn't be more tucked away and hard to find if it tried. Oh, and it's a plastic tray cafeteria straight out of your Salisbury steak-haunted high school dreams, and it's great.
The space: East End Cafe is part of the University of Wisconsin-Milwaukee School of Continuing Education, but it's open to anyone studious enough to take the elevator to the 7th floor of the Shops of Grand Avenue's Plankinton Building, awkwardly pass an imposing reception desk, hang a right, hang another right past a spacious conference center that appears to be East End Cafe but isn't, and navigate a series of empty and sparsely marked hallways. Your long walk will look something like this: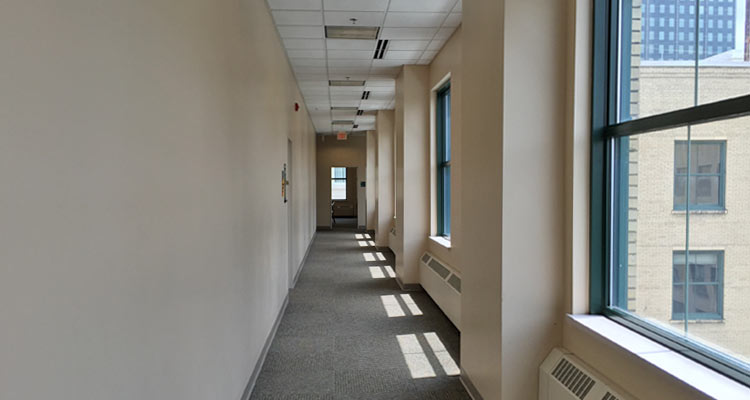 The cafeteria itself is just as unassuming: small-ish, hot, heavy on the stainless steel, one-hundred-percent high school. It's the kind of place that always seems to be run by someone named "Barb." Speaking of which, our server, Barb, was helpful in pointing out the location of the trays, the silverware, and the soda machine.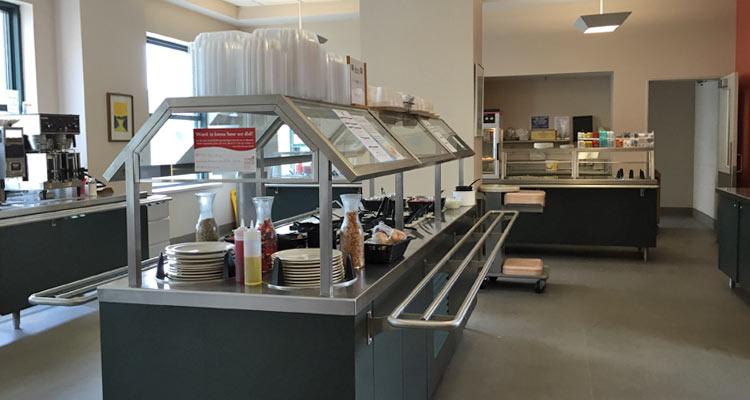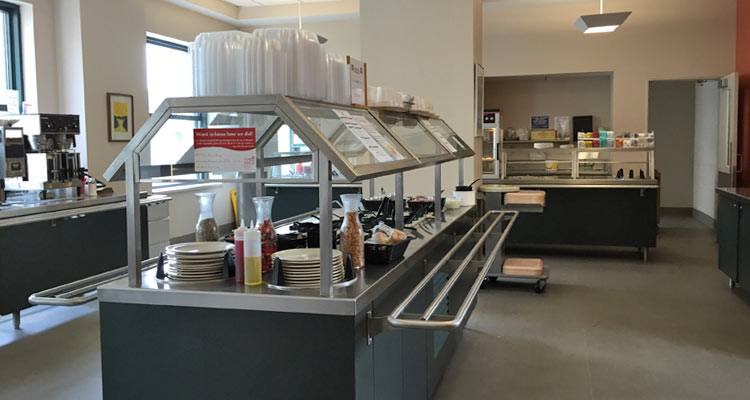 The dining area is pleasant in a "yeah, this feels like eating in a school of continuing education" kind of way: brightly-lit, carpeted, stocked with plenty of tables and chairs. On our recent Wednesday afternoon visit, the East End dining area was roped off from the adjoining conference center dining area, which was hosting a fancy UWM luncheon. The separation of college professionals and working stiffs didn't seem to bother the East Enders—a handful of downtown office employees and the large family playing with a newborn baby—nor did it bother us. A nifty view of the new Riverside Theater sign made up for any potential class conflicts.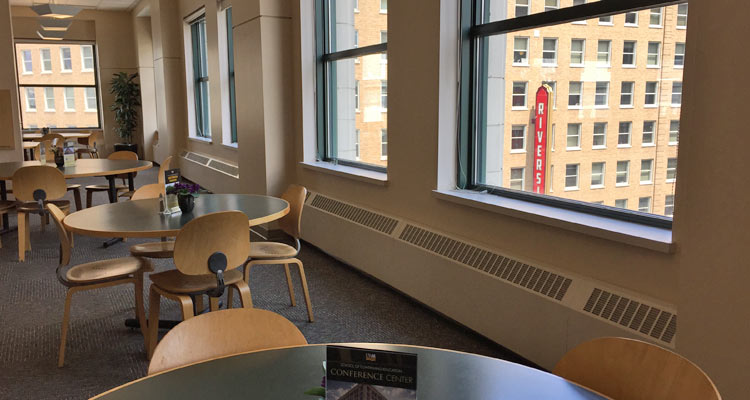 Milwaukee Record's food: So what's the big fuss over a random downtown cafeteria? Didn't we already do a thing on random downtown cafeterias? Why East End? (Oh, before we forget, a tip o' the hat to reader D.D. Driver for hipping us to the place back in 2014.)
Let's start with the "Blue Plate Special," a.k.a. East End's raison d'être. "Four scrumptious loaded potato skins served with cole slaw" was the plate of the day during our visit, and it did not disappoint. We loaded up our crispy potato skins with the first toppings that came to mind: chicken, cheese, and giant dollops of sour cream. They were tasty, if a little cold (we arrived after the lunch-hour rush), but the cole slaw was perfectly tangy and Friday-night-fish-fry-worthy. Other main dishes spied on that week's menu included peach chicken salad with a breadstick, chicken shawarma with gyro sauce, and shrimp scampi with pasta and garlic bread. A meatloaf and cube steak cafeteria this ain't.
Along with soup, coffee, and various snacks, East End also has a solid salad bar. Our salad was so loaded (for us, anyway) that we were a little nervous when it came time to weigh it on checkout. Happily, our worries were unfounded: the gussied-up potato skins, coleslaw, generous salad, and a large Sprite put us back a mere $6.49. Like Mad magazine used to say: Cheap!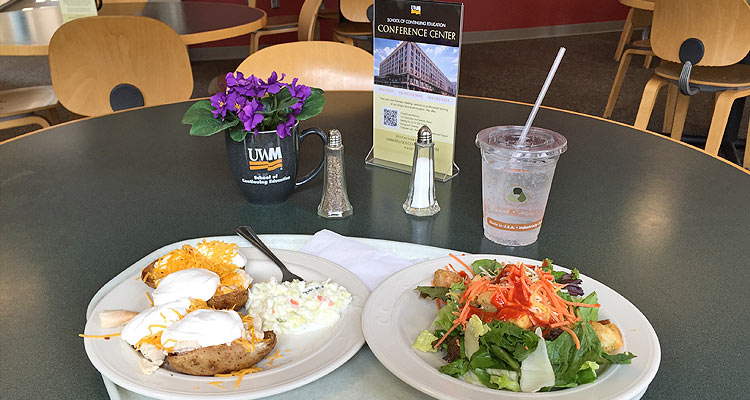 The verdict: East End Cafe claims to be "one of downtown's best kept secrets." It definitely lives up to the secretive hype. Make no mistake, though: it is a cafeteria, and its food, while good, isn't on the same level as the food found in other top-flight downtown restaurants. Still, there's something comforting about East End's no-fuss existence, something familiar and delightful about its institutional charms. Plus, it's dirt cheap. If you're in the mood for good downtown food at a reasonable price, head up to the 7th floor of the Plankinton Building, look for East End Cafe, and keep looking until you find it.