When people talk about Milwaukee's "downtown dining" scene, they're usually talking about upscale restaurants that wouldn't feel out of place in a tourism video scored by Peaches' "Downtown." Millioke, Carnevor, Indulge, Zarletti, Capital Grille, and Café at The Pfister all fall into this category. On the other end of the spectrum, places like The Dogg Haus, Cousins, Potbelly, the Milwaukee Public Market, and countless food trucks offer relatively cheap eats while still giving diners the full downtown experience. There's no shortage of places to eat downtown, and no shortage of folks making it a bustling, go-to dining destination.
But there exists a third, less-heralded option: downtown cafeterias. These oft-anonymous repositories of chicken wraps and turkey sandwiches typically cater to the khaki-and-tie employees of their respective buildings, and are perfect for pre-shift breakfasts or noontime lunch breaks. But there's nothing keeping the general public from enjoying these decidedly un-trendy spots, either. In honor of Downtown Dining Week, Milwaukee Record—plastic tray in hand—took an east-to-west walking tour of Wisconsin Avenue and dropped in at some of downtown's finest cafeterias.
Lake View Market (U.S. Bank Center)
If the decidedly below-the-radar downtown cafeteria scene has a single "crown jewel," Lake View Market on the second floor of the U.S. Bank Center would be it. A diverse selection of fresh and prepackaged food, reasonable prices, a huge dining area, and a nice view of the lake (and the not-long-for-this-world Downtown Transit Center) are just a few of the highlights. The cafeteria itself is dominated by a large, circular deli and salad bar straight out of Whole Foods; separate stations selling burgers, onion rings, jalapeno poppers, gooey slices of pizza, and plenty of chips and soda line the perimeter. The sunny and spacious dining area is large enough to accommodate table upon table of co-workers, as well as those who'd rather eat alone and run down the clock.
Additional perks: Hallmark, Stein Ltd., and Laura's Gourmet Popcorn all have booths in the lobby. And because a ten-block radius without a Colectivo would be unthinkable in Milwaukee (and rightfully so), there's one attached to the market, too.
Davians (411 East Wisconsin Center)
The 411 East Wisconsin Center is home to some high-powered law firms (Quarles & Brady claimed the building for its own with a rooftop sign a few years back), which may explain the attorney-level prices of the cafeteria/restaurant in the lobby. Burgers, melts, and even salads tend to hover in the mid-$7 range at Davians. Breakfast items are a bit more reasonable ($4-$5), but things like brats and hot dogs probably shouldn't cost $4.25 and $3.99 outside of a ballpark. In addition to Davians' high prices, the service is on the slow side, which makes it a tough sell for harried clerks and mailroom employees hoping to quickly chow down on the cheap.
Additional perks: Davians' indoor dining area is a little dingy, but 411's outdoor garden patio is lovely. Trees, water, and a sense of seclusion make it downtown's best secret spot to eat lunch or quietly blow off some steam.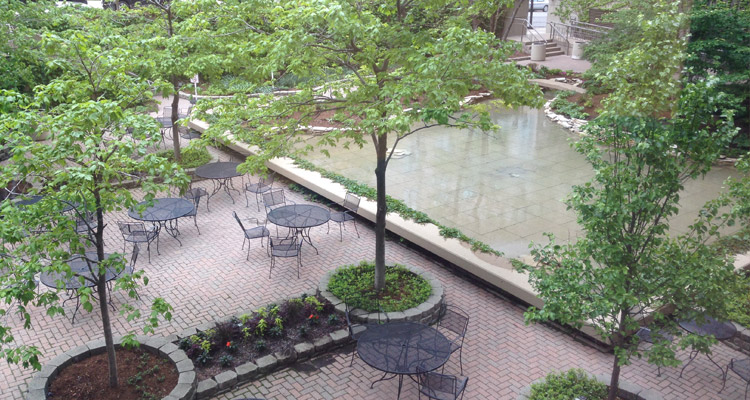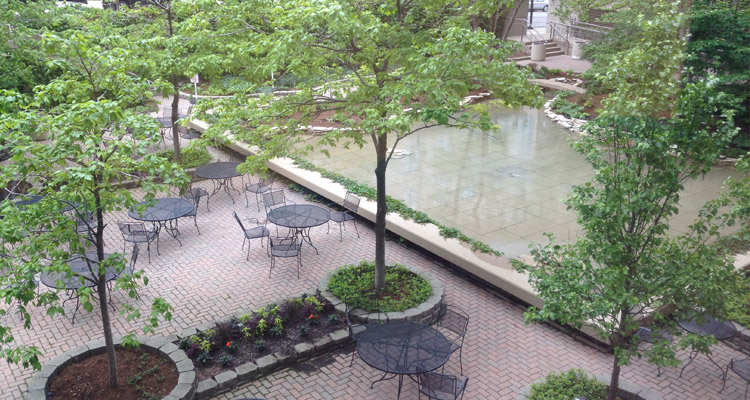 Café Dulce (Chase Tower)
Tucked in the southwest corner of the Chase Tower lobby is Café Dulce, a smallish food stand with a smallish dining area attached. There's nothing smallish about the menu, however, which includes "Door County" sandwiches, plenty of wraps, a selection of paninis, pasta, salads, burritos, quesadillas, tacos, and all-day breakfast. Oh, and smoothies! Prices are fair (typically in the $5 range) and the dining area, while on the tiny side and a bit isolated, at least attempts to capture a "real" restaurant vibe with fancy tablecloths. The Milwaukee River view is nice, too, even if the outdoor walkway is typically filled with smokers diligently working on a butt.
Additional perks: Dunkin' Donuts recently opened a much-needed lobby-level outpost in the Chase Tower, and the adjoining Capriotti's Sandwich Shop is always a nice option for downtown diners sick of a #1 at Jimmy John's.
Food court (The Shops of Grand Avenue)
What can be said about the Grand Ave. that hasn't already been said—most likely this week? Nothing, that's what. So say what you will about the beleaguered mall's lack of retail or it's weekly plans for reinvention, but its still-lively food court remains a serious noontime draw for downtown workers and disappointed shoppers alike. Here's what you can eat at the Grand Ave., in order of awesomeness: Culver's and Rocky Rococo (tie), Jake's Deli, Qdoba, Panda Express, Grecian Garden, Cajun Grill, Tomato, and Subway. The wrap-around dining area is always sunny and clean, and almost always filled with downtown characters. (Is that guy who draws pictures of cars still hanging around?) Just make sure to get there early, because if a school field trip or an anime convention shows up with 8,000 people, you're fucked.
Additional perks: GameStop? The walkways?
R Café (Milwaukee Public Library – Central)
The hulking Central Library serves as HQ for the Milwaukee Public Library System, and houses plenty of computer stations, a massive selection of CDs and DVDs, and some books. It's also home to the charming R Café, which doubles as a used bookstore. While there's not much to say about the food—coffee, some breakfast sandwiches, and snacks are the order of the day—there's something great about settling down inside the tiny R with a latte and browsing its book selection. Hardcovers are $1, softcovers $.50, and kids' books $.25.
Additional perks: The interior of the Central Library is breathtaking, and the recently installed "green roof" is pretty neat. Plus, there's some great art hanging on the walls, including that one painting Scott Walker removed from the Governor's mansion. Oh, and books!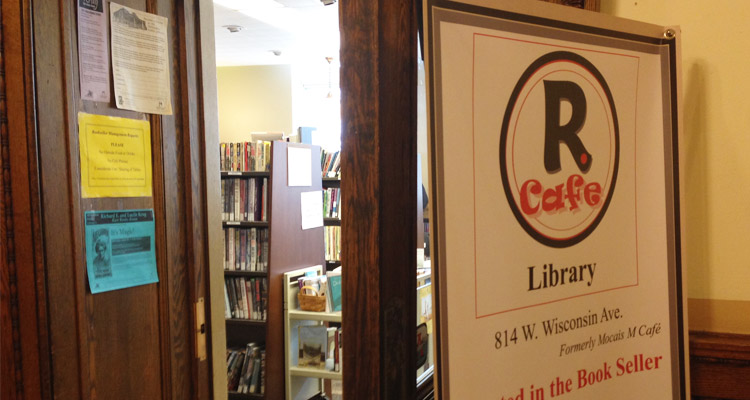 Honorable mention: Milwaukee County Courthouse cafeteria
The Milwaukee County Courthouse isn't technically on Wisconsin Avenue, but its in-house cafeteria is worth a visit if you're appearing in court, getting married, or both. Just be sure to remove and lock up your keys, loose change, cigarette lighters, belts, boot buckles, cell phones, laptops, tablets, wallet chains, staple removers, scissors, nail files, and chains over six inches before entering.