March 8 is International Women's Day. Given the state of the country and the world at the moment, it's incredibly important to acknowledge that women still deal with inequality in virtually every avenue of society. In fact, since last year's International Women's Day, women have been stripped of even more rights. This annual event—which takes place during Women's History Month—aims to confront gender inequality, celebrate women, and bring the world closer to parity among all people through activism, advocacy, and awareness.
The worldwide undertaking will show itself in Milwaukee today, as countless participants will put their time, money, talents, and energy into a variety of events. From female-focused brewery events, roundtable discussions, celebrations of women chefs and entrepreneurs, and an upcoming march, here are some ways people in and around Milwaukee can take part in International Women's Day this year.
We recognize this is list is probably far from complete, so if there's anything we missed, please feel free to add it/them in the Facebook comments or Twitter replies for this article. All descriptions were sourced from the event listings.
Empower Women. Embrace Equity: The International Women's Day Roundtable @ Marcus Performing Arts Center
"Join us for a roundtable experience featuring Milwaukee's top women's organizations who are committed to empowering women and embracing equality. Women's History Month is a celebration of women's contributions to history, culture, and society. Our panel will tell their stories and share their visions for women, uplift issues that matter the most, and leave attendees with a call to action. This event consists of an 11. a.m. networking lunch, a 12 p.m. roundtable discussion, and a Q&A from 1-1:30 p.m."
Like A Girl Release Party @ Third Space Brewing
"Support women in the brewing industry and try the delicious Like A Girl IPA, which was brewed exclusively by women brewers from Third Space along with help from the Wisconsin chapter of the Pink Boots Society. At 6 p.m., hear about this awesome collaboration beer directly from the women brewers of Third Space, Sam Danen and Amy Rohrschneider, followed by a live music performance by TAE. Plus, food from businesses owned and operated by women, Tots on the Street and BB Cakes, will be available all evening! A portion of proceeds for Like A Girl IPA will go to the Wisconsin Chapter of the Pink Boots Society, helping provide scholarships, educational opportunities, and other services to the amazing women who call Wisconsin's beer industry home."
Lakefront Brewery Sahti Release Party @ The Romain Coin
Join us at Regano's Roman Coin for the release of our Sahti Farmhouse-Style Ale with Juniper Berries, brewed for the 2023 Pink Boots Collaboration Brew Day! Over fifteen women and non-binary individuals joined to participate in every aspect of the brewing process. The brew day is always a great opportunity for folks from all corners of the industry to come together, learn and inspire each other, and build skills from the unique hands-on experience. Not gonna lie, it was a lot of fun, too!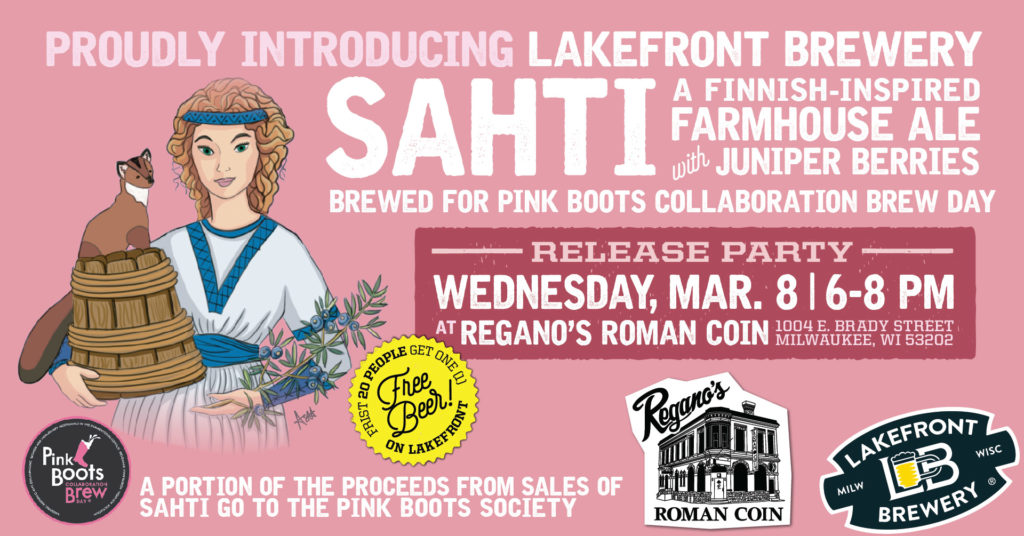 This one-off batch will be served on draft at Lakefront Brewery Beer Hall and a few other spots in the market following the debut at Roman Coin. To incentivize your early appearance, we are offering a free pour of Lakefront Sahti to the first 20 attendees!
Women's Month Taproom [email protected] Station No. 6
"We are honored to team up with nine breweries for a Women's Month Beer Benefit! Join us starting at 5 p.m. for a tap takeover and beer raffle, benefiting the Milwaukee Sojourner House! Breweries & Beers include:
3 Sheeps — 2023 Cuvee Barrel Aged Ale
Revolution — Freedom of S'Peach
Surly — Axe Man
New Belgium — Fat Tire
Indeed — Coconut Macaroon Cream Ale
Great Lakes — Conway's Irish Red Ale
Eagle Park — Let's Go Girls IPA
Bell's — Two Hearted Ale
New Baron's — Witch's Bit
Each beer purchased will get you a raffle ticket for tons of great brewery prizes, and a portion of all beer sold will be donated to Sojourner House."
JoCasta's Birthday and International Women's Day Celebration with Special Guests Ald. Milele A. Coggs and Marina Dimitrijevic @ Great Lakes Distillery
"Join Alderwoman JoCasta Zamarripa and the Women of the Milwaukee Common Council for International Women's Day Celebration! On March 8th, we celebrate International Women's Day, which so happens to fall on JoCasta's birthday! We hope you can join us!"
Let's Talk Womxn Gourmet Bash @ The Starling
"Come out and Celebrate International Women's Day and Let's Talk Womxn Milwaukee for another amazing evening of food, fun presented by over 20 female chefs and restauranteurs."
International Women's Day @ NorthSouth Club
"Celebrate all of the amazing women in your life with us! Reservations include 90 minutes of Axe Throwing, house-made appetizers, cocktails from the Fords Gin & Tonic Lab, Raffles & Prizes, and more. A portion of the proceeds go to support WGIRLS!"
International Women's Day March @ Red Arrow Park (Saturday, March 11 event)
"Show out strong on Saturday 3/11 for women's liberation! Our demands are centered around reproductive justice, trans liberation, workers rights, and justice for victims of police violence. Come to 1001 E. Keefe Ave on Friday 3/10 from 5-8 p.m. to meet some of the coalition organizers and get your sign ready for Saturday's march!"