It may not feel like it, but nice times are ahead, Milwaukee.
Nice Times, a new plant-based restaurant and bar, is set to open in the old Snack Boys/Hotel Foster space at 2028 E. North Ave. on the city's east side. The fast-casual concept boasts a menu inspired by fast food, a cafeteria-style dining setup, a bar with plenty of non-alcoholic options, a retail element with art and housewares from local makers, and a revamped interior.
Following a week of soft-opening events, Nice Times plans to open to the public on Tuesday, December 28.
"It's all plant-based, but it's more like fast food" says co-owner Mark Goldstein. "It's burgers, fries, cheesesteak, stuff like that. Things that are more comfort-based, things that we all know and love and have some general experience with, but with plants."
Goldstein, who splits his time between Milwaukee and New York, is opening Nice Times with Snack Boys/Hotel Foster alum Steve Landish. Goldstein says Landish will serve as the day-to-day operator, and credits him with being "the genius behind the food and drink."
"The cocktails will be on draft," Goldstein says. "There'll be a healthy, fifty-fifty split between craft cocktails and N/A drinks, with more wellness-style options that don't contain alcohol."
Nice Times plans to be open from 10 a.m.-10 p.m. on weekdays, and 10 a.m.-2 a.m. on weekends. Mornings will strive for a more low-key coffeehouse vibe, complete with light breakfast items.
"You can just get a coffee and a pastry and hang out," Goldstein says. "It'll be a comfortable and chill space where you can take one of your ten Zoom calls."
The revamped bar/restaurant certainly fits the comfortable-and-chill bill, with retro couches and chairs, shag carpeting, and neon accents. The indoor second-floor balcony remains, and outdoor seating on the street and balcony will be open during warm-weather months. Walls of local goods round out the funky interior. (Dibs on Snack Boys' old "Don't Kill My Vibe" neon sign.)
The Hotel Foster occupied the East Side space for more than five years. Snack Boys relocated there from Walker's Point in the fall of 2019, but struggled to find its footing after the COVID-19 pandemic landed in early 2020. Despite a plant-shop pivot, Snack Boys quietly closed its doors in 2021.
Before all that, of course (and before the whole Live/Lava thing), the space was home to the beloved Globe East. Goldstein acknowledges the space's storied past while still looking to the future.
"The space itself is super historic," he says. "I think from all of our standpoints—internally, on the team, friends and family, the community in general—we've all had some sort of love for that space and it's many different iterations going all the way back to The Globe. We're hoping to take the spirit from all those places and add something positive to the community."
Oh, and the story behind the name? It's simple.
"It's nice food, nice drinks, and nice goods," Goldstein explains.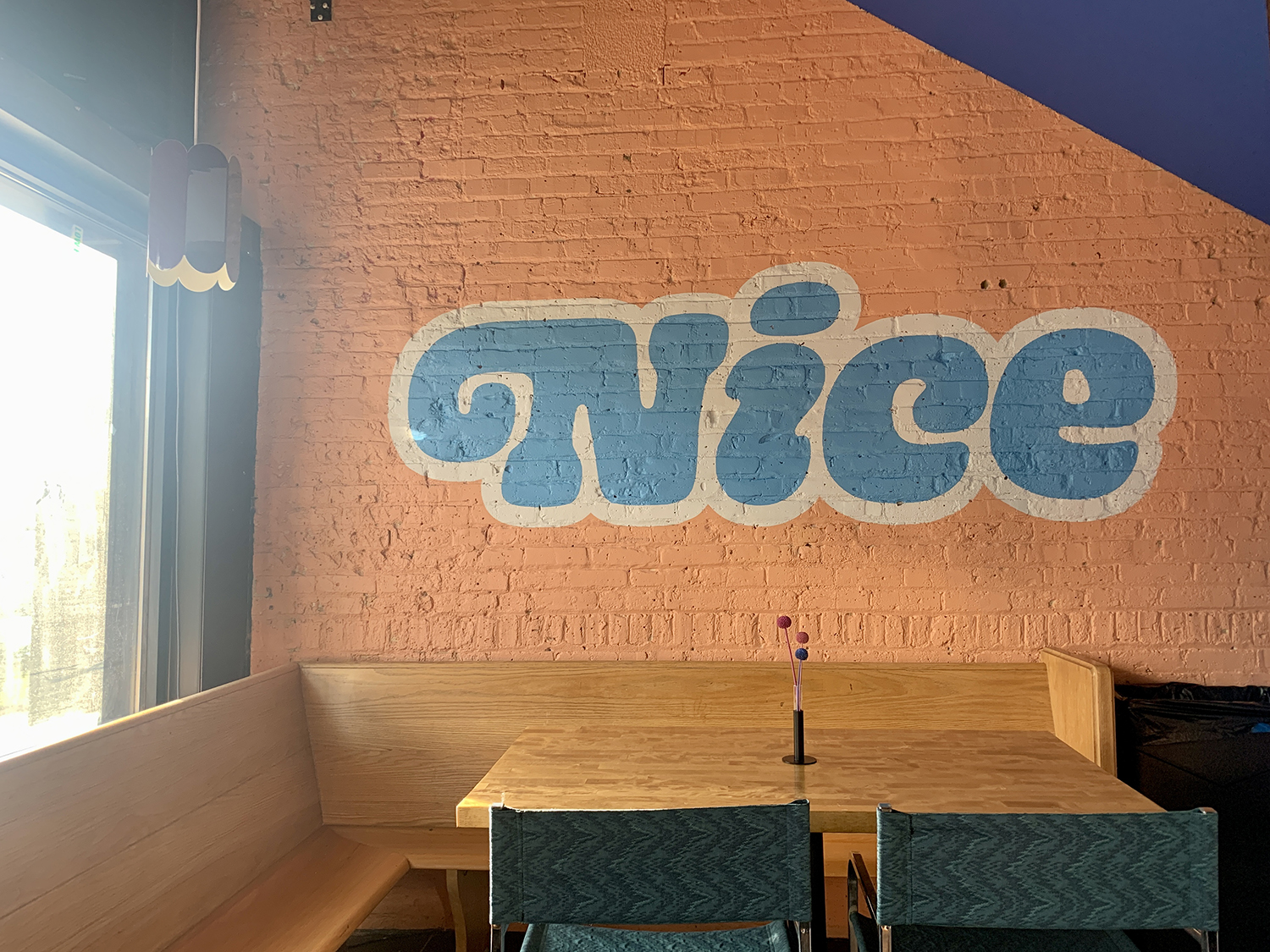 Exclusive articles, podcasts, and more. Support Milwaukee Record on Patreon.
---
RELATED ARTICLES
• Snack Boys makes pandemic pivot to "Plant Boys"
• Snack Boys will move into former Hotel Foster space this fall
• The time we showed 'The Human Centipede' at Hotel Foster during the Milwaukee Film Festival: An oral history