"… Babylon is nothing else than an infinite game of chance." –Jorge Luis Borges
The entire sports world stared at Milwaukee, for a while, through a camera's funnel cartography on Sunday afternoon. It felt right enough, though they couldn't show the full, deep happenings of our city.
As in: up our main street as the Milwaukee Bucks lost Game One of Round Two, Brother Ron was getting towed.
There were many images to catch, enjoy, and consider outside Fiserv Forum on Sunday before and during the Bucks home game versus the Boston Celtics. National TV showed the stellar open air area around the arena downtown, cameras walking behind party dudes as they gleefully strutted the tunnel up to the "Fear The Deer" heroic heads facing east. Shared civic energy, in light coats with Miller Lites. New arena, cranes, ongoing investment, starkly next to the rubble of old stadiums. On the walkways, in the beer gardens, actual glimpses of families and some diversity and strangers clapping, together. Milwaukee sunny. Only beneath the sky, signage with stern athletes projecting outward, everyone cheering in return.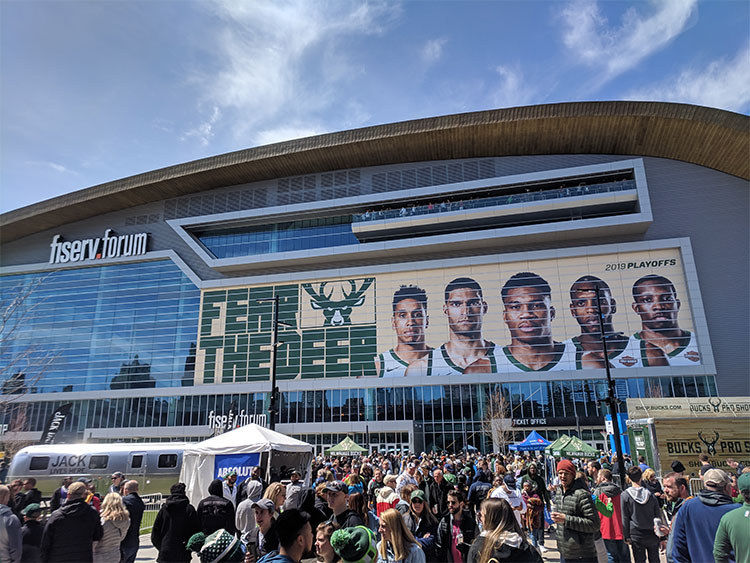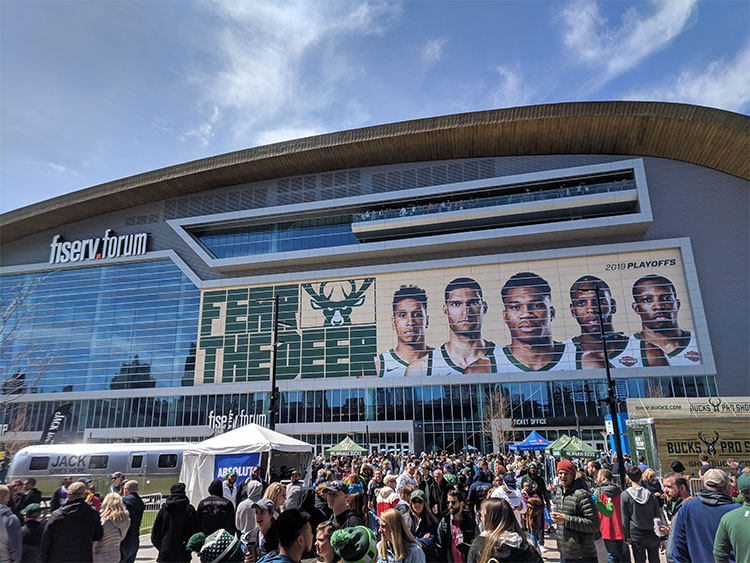 When outside eyes are forced to focus on our mid-30s-range media market, they'll get the expected views. It's the same as the familiar flash of riverboats in Cincinnati, naval yards in San Diego, wings tossed in Buffalo. The same known-ness. The dull reflective yelp at confirmation. On Sunday, in Milwaukee, though, there was a volume boost of something cool with our team elbowing against the chin of a legendary, big-city basketball rivalry. Segues and bumper spots couldn't avoid lively youth, smiling kids, partiers, regardless if this was milk-logy Wisconsin, the cornfed Midwest. The snowstorm had passed and the president was already out of town, not a battle over flags or transnational business tax deals to be seen. In Milwaukee on this day, it was your neighbors and the Bucks, against whomever.
Meanwhile, a local perpetual zealot who regularly laps the city in a vehicle detailed with crude proclamations and affixed with speakers spouting the same had his latest spitewagon hauled off to the mechanic.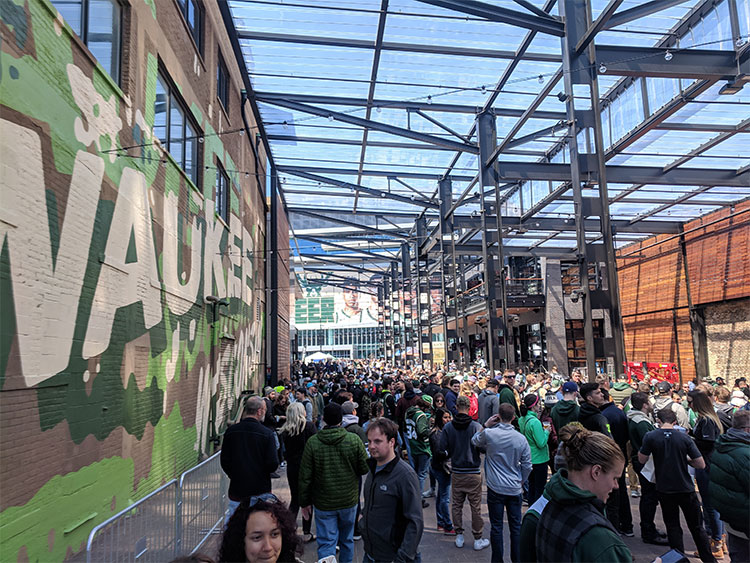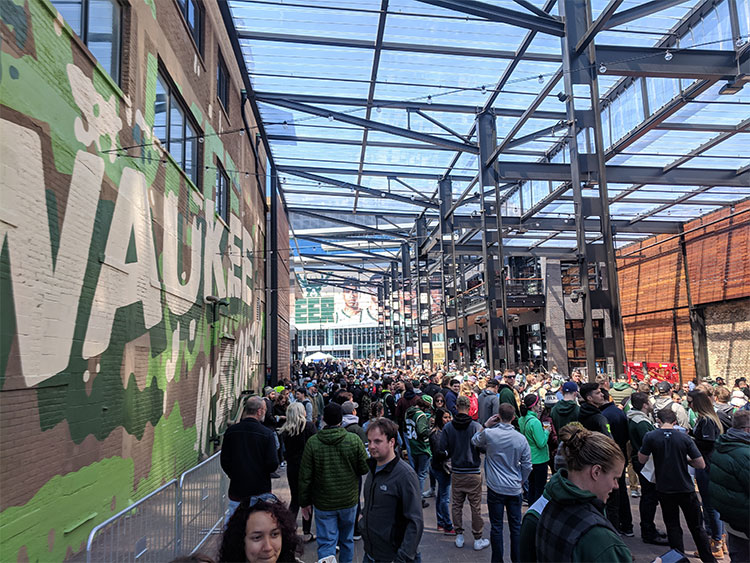 At 11:15 a.m. Sunday, I was on the couch in Bay View. Online, on my phone, I saw a lively something-or-other not-too-far away. People, without tickets and desperately itching for outside, deciding they could just be somewhere, unified over something, many while drinking. Downright steeped in Milwaukee lately, it felt a fun, easy obligation to turn my free time into time well spent amid our living city. I pulled my damned self together, hopped on the bus and ended up at a much larger TV than the one at my house, with a much more vibrant crowd than my three disinterested cats. By the noon tipoff, I was amid a welcoming view of our city, rallied, random interactions that we were in it—this, an afternoon, and sure, sports—side by side. Along with sports and civic pride, I saw a belt and pants tossed in a bathroom trashcan; later, I stood in line between two early-20-somethings who barely stopped taking selfies long enough to ask what they were in line for and then, hopefully joking, each others' names.
From here, no one could hear, could see the tow truck dragging off the frantic sedan of a lone local, angry character. Not yet.
I spent the second half with a friend, coincidentally seen in passing and then connected with, in a blade of sun overlooking the whimpering second half outdoor TV action. Later, we finished beers, laughing, in the face of the battlefield of Bradley Center demolition—down to "BRAD" in blue letters on one side, "BRA," dismissively on another—as kids and couples posed near the staunch "BUCKS" letters for the new stadium behind us.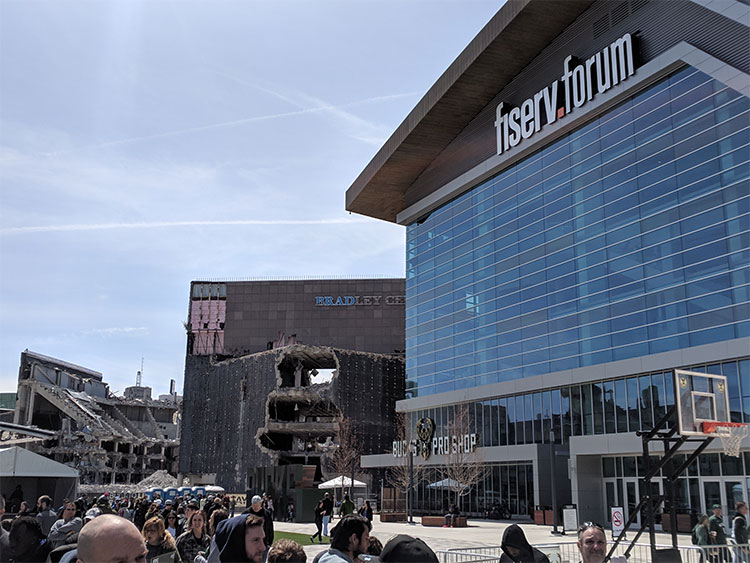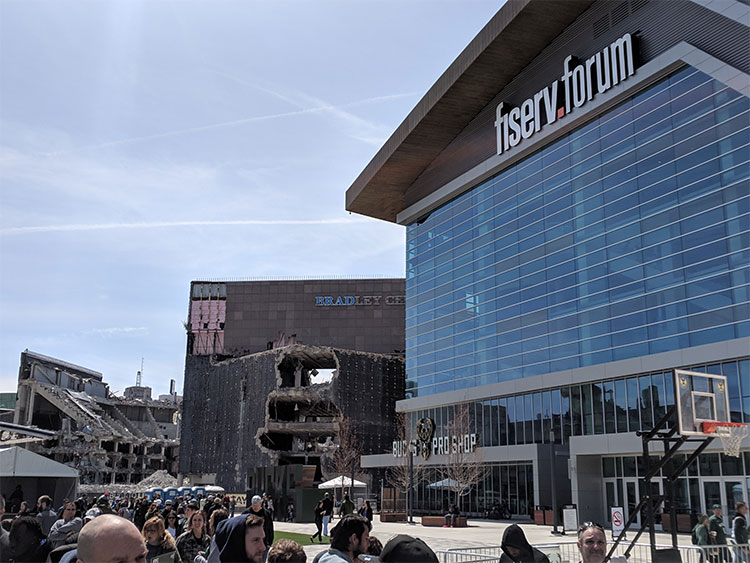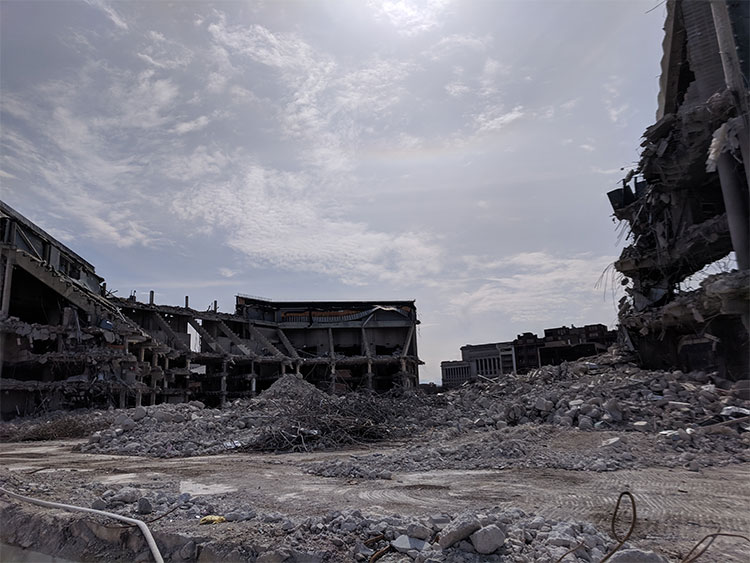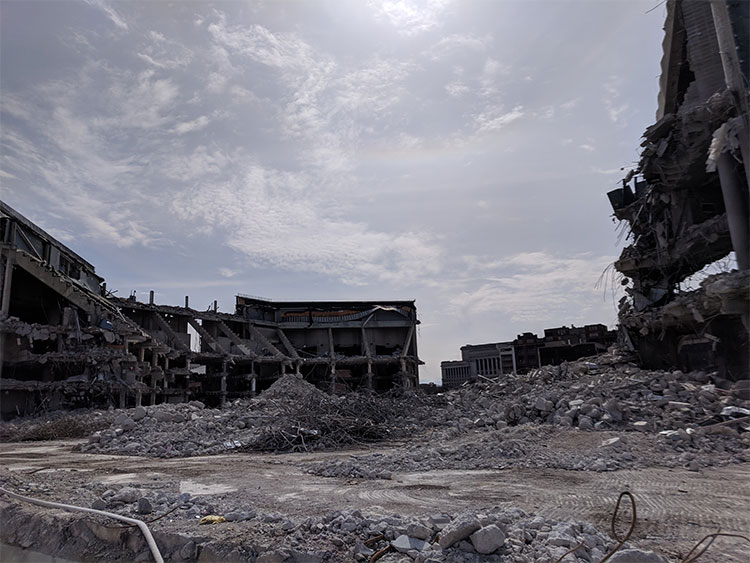 So I leave, we all left, to trek up Water Street, where there's time to kill before the next bus. Stop into the busy downtown market—a cucumber and tomato will erase all cheap beer damage, yes?—amid busy aisles of wherever people. Remember they also sell beer. Then remember to pile on the vegetables and nightshades with tonight's dinner. Pay and step back out the sidewalk, where, vaingloriously, there is Brother Ron's puritanical itasha whip on the back of a tow truck, stopped at Water Street and St. Paul.
I yell to the tow truck passenger—Brother Ron, as I recognize from the courthouse, during my bored, unemployed days, years back—if he was the victim of "parking tickets?" "No," he responded, with a subsequent tiny psalm of car malfunction gobbledygook. Then he asked, laughing, for "50 percent" of my picture, taken from the public street corner. So sure, here's more than half a street view of your vehicle hauled off during the culmination of another weekend marred by mayhem from righteous people, weird weather and, occasionally, sports.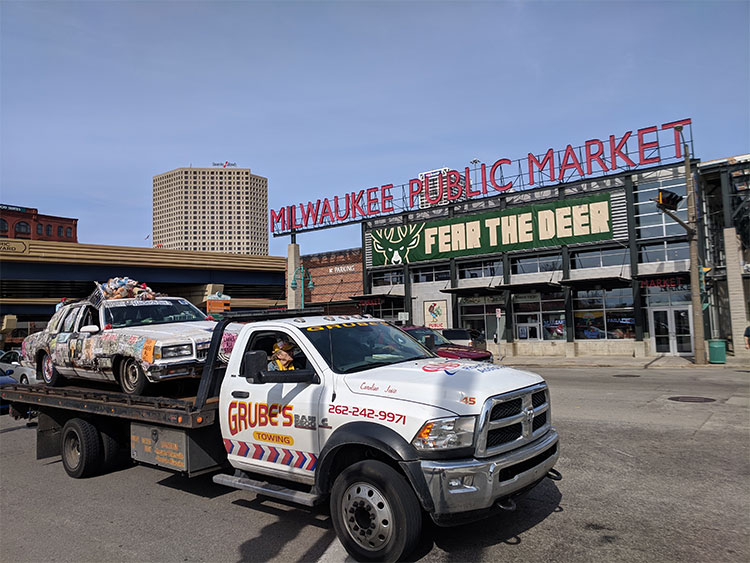 I appreciate the lottery of odds in putting 900 words behind this picture of our city. It was a funny sight, on a lucky day, for most of us, so it felt. There were flashes of cohesion, even compassion, in defeat, while a true believer cartoon lost his way. It'll all change again soon. Put on that new Zed Kenzo EP, ask strangers about the game, the snow, then their neighborhood. Believed demons be damned, go see what you can see for yourself, downtown or somewhere unexpected, as eyes continue to turn toward us in the year to come.