Depending on which news sources you follow, Milwaukee is going through either a "renaissance" or a "reinvention." Or maybe it's a "reboot" or a "reimagining," like that crappy Tim Burton version of Planet Of The Apes. However you want to define it, it's safe to say that Milwaukee is currently building a lot of new and wonderful things.
• In case you forgot about that plan to turn the long-vacant Humboldt Gardens building at 2249 N. Humboldt Blvd. into an indoor and outdoor food truck park, well, it's still a thing! First proposed in 2021, the plan received approval this week from the Historic Preservation Commission. Developer Clarence Morse is planning to spend roughly $700,000 to renovate the 132-year-old building, which previously housed a Schlitz tied house, and, more "recently," Zak's Tavern.
According to the Milwaukee Journal Sentinel:
The food trucks would use the property's vacant lot, which would include an outdoor seating and a stage for live music.

The building's ground level would feature a bar, indoor seating and restrooms for food truck patrons, according to plans filed with the commission.

The second floor would be used for event space rental, educational presentations, artist pop-up galleries and health/wellness classes such as yoga and dance. Morse's company, Dark Horse Development, would move its offices to the third floor.
Also: remember when there was a neon sign in the third-floor window that said "Please Be Kind" or something? Huh. [Milwaukee Journal Sentinel]
• Speaking of the Historic Preservation Commission, the group denied developer Zuwena Cotton's plan to demolish a two-story, 47,000-square-foot building at 1101-1113 W. Historic Mitchell St. and replace it with a five-story, 55-unit mixed-use apartment. The full Common Council could override the commission's denial, however, something Urban Milwaukee says appears "likely." [Urban Milwaukee]
• Construction could begin in spring on that four-story, 91-unit affordable apartment building and accompanying Riverwest Food Accelerator. The complex will be located on the north side of North Avenue, kind of near the intersection of North and Humboldt, and kind of across the street from Adventure Rock. [Milwaukee Journal Sentinel]



• Real estate firm Team Management, which has offices at 3816 W. Wisconsin Ave., wants to rehab a next-door apartment building and construct a new next-door apartment building (on the site of an existing parking lot) with 54 units in its upper floors. [Milwaukee Business Journal]
• The Milwaukee Repertory Theater's big $75 million plan to build a new downtown theater (the Associated Bank Theater Center) and renovate its existing downtown theater complex (the Powerhouse Theater) now has renderings to go along with it. Behold! [OnMilwaukee]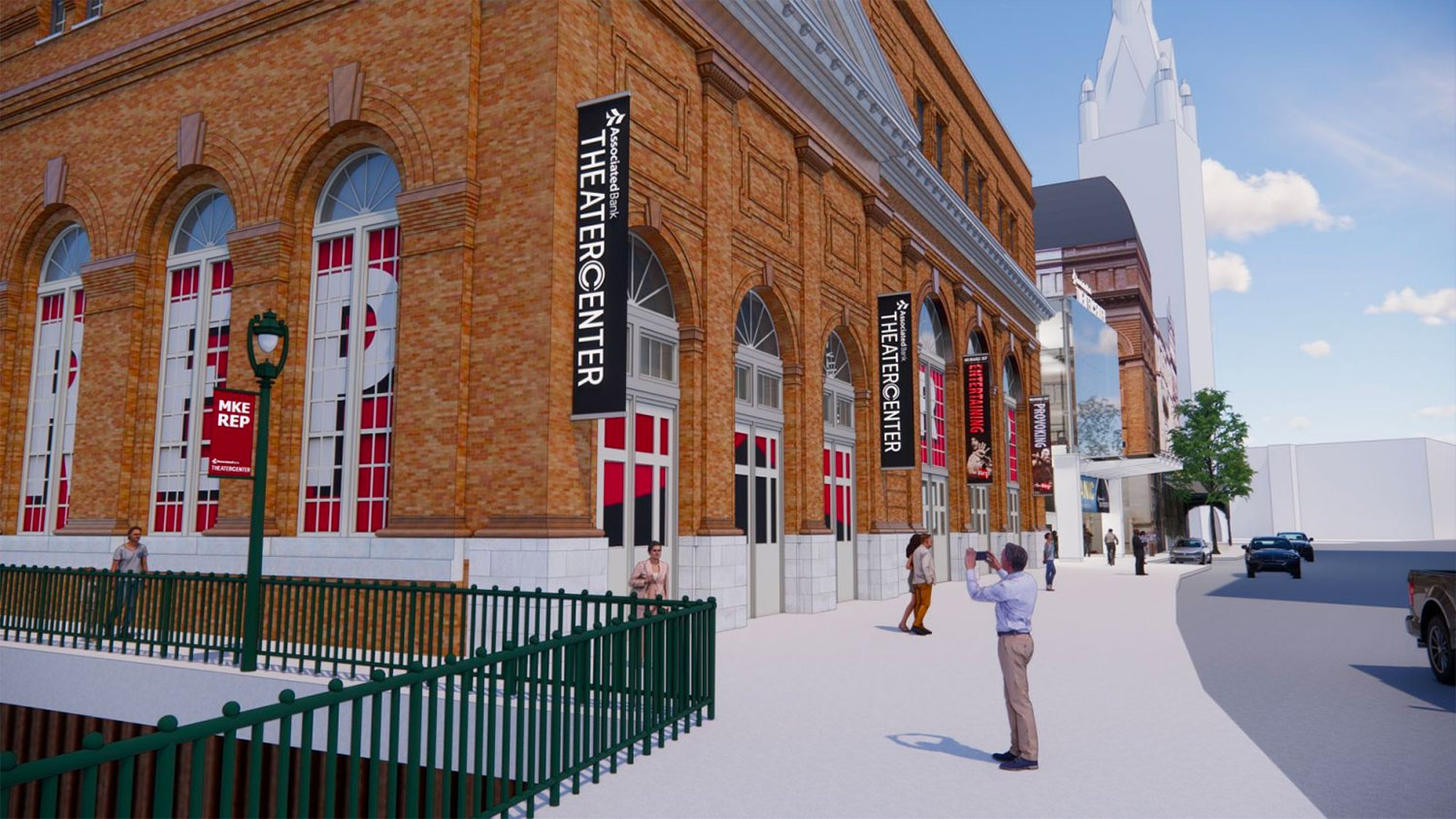 • December 1 headline: "Should Tent Encampment At MacArthur Square Have Bathrooms?" [Urban Milwaukee]
• December 8 headline: "Portable toilets placed at MacArthur Square for people living in tents but long-term issues remain unresolved." [Milwaukee Journal Sentinel]
• That long-in-the-works apartment tower at 1550 N. Prospect Ave. that was once going to be 27 stories tall but is now going to be 25 stories tall (and a little narrower) got a thumbs-up from the City Plan Commission. [Milwaukee Business Journal]
• Want some more renderings? The Department of City Development and Milwaukee Downtown BID#21 have some big ideas about making Downtown Milwaukee more bike- and pedestrian-friendly, as well as just a nicer place to hang out. The groups released a bunch of conceptual, "let's get the conversation started" renderings at a meeting on Wednesday. Here are just a few of them! [OnMilwaukee]
• A former Shops of Grand Avenue retail space next to the current 3rd St. Market Hall is going to be converted into a private events space. [Milwaukee Journal Sentinel]
• It's official: after nearly a decade of talking about how to save the Domes, Milwaukee County is finally gearing up to…talk about how to save the Domes. [Urban Milwaukee]
Exclusive articles, podcasts, and more. Support Milwaukee Record on Patreon.
---
RELATED ARTICLES
• Full "New And Wonderful Things" (formerly called "New Sh*t") archives