When one thinks of movies made in Milwaukee, the usual suspects come to mind: Major League, American Movie, maybe that one with Bernie Mac. There are others, of course, but none more Milwaukee-tastic and obscure than the 1995 TV movie Family Of Cops. Written by Milwaukee native Joel Blasberg, the film stars a weathered and wooden Charles Bronson as the patriarch of the titular cop-filled family. Daniel Baldwin plays the oldest son, and Jerry's maid from that one episode of Seinfeld plays the youngest daughter. A 70-something Bronson kicking ass, lots of Jewish and Italian friction, and some low-level intrigue surrounding a murdered businessman (spoiler: his wife did it) ensue. So did two sequels.
But never mind the plot: how about the many, many gratuitous shout-outs to Milwaukee (and Wisconsin)? Yes, not only was Family Of Cops shot in Milwaukee, it takes place in Milwaukee. That means for every "Hey, it's Wisconsin Avenue!" moment, there are at least two "Hey, I'll meet you on Wisconsin Avenue!" lines of dialogue. Here are 18 examples.
:20: Milwaukee skyline!
What's the best way to indicate your perfectly serviceable (if instantly forgettable) TV movie takes place in Milwaukee? Dazzle viewers with helicopter shots of the Milwaukee skyline! Oh, and don't forget the Hoan Bridge and a nice full moon over downtown. The Milwaukee skyline of 22 years ago looks markedly different than it does today (no Northwestern Mutual tower, obviously), but damn if it still doesn't look nice.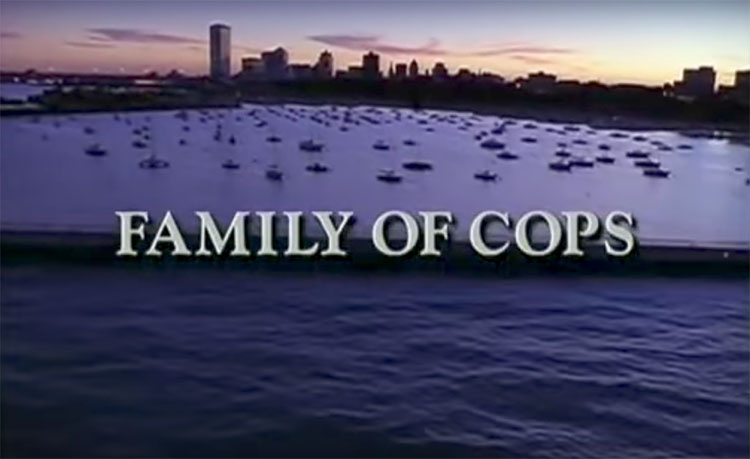 6:50: "Gee, daddy. For the last 20 years I've been asking you if we can make you a birthday party, and you say, well, maybe when the Brewers win the pennant. So, what, did I miss a parade down Wisconsin Avenue?"
Bronson plays Milwaukee Police Department Inspector Paul Fein. He's the widowed father of two cops, one public defender, and one black sheep daughter who repeatedly insists that no one really gets her, man. The above bit of "THIS TAKES PLACE IN MILWAUKEE, WISCONSIN" dialogue comes courtesy of public defender daughter Kate, who is puzzled why Bronson is calling her up in the middle of the night and asking for a birthday party. It goes without saying that this innocent b-day request eventually leads to several deaths and plenty of overacting from Daniel Baldwin. Anyway, here's a really weird family photo: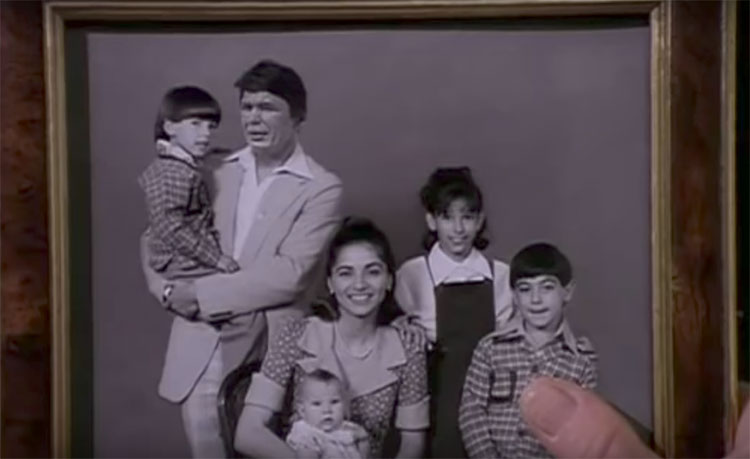 9:12: "Damn, I hate Milwaukee."
That's youngest daughter Jackie, the Gen-X badass living in California and positively oozing grunge and anti-Milwaukee attitude. You can tell she's a card-carrying member of Alternative Nation because she drinks vodka from the bottle and lounges around in her underwear a lot. She's unamused when her brother convinces her to fly home to the shitty Brew City for her old man's birthday party.
9:50: General Mitchell International Airport!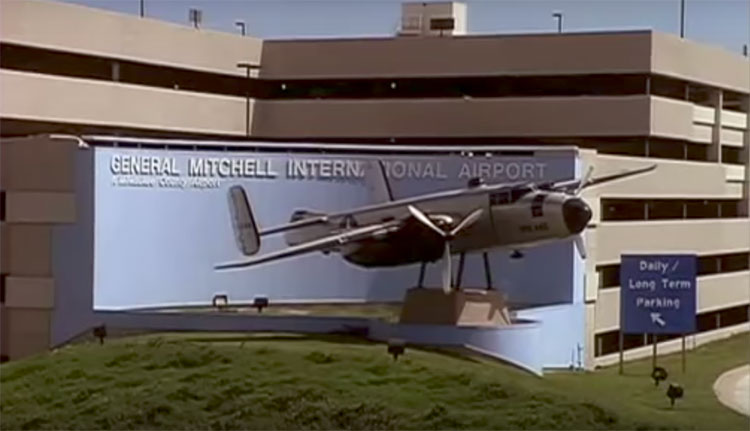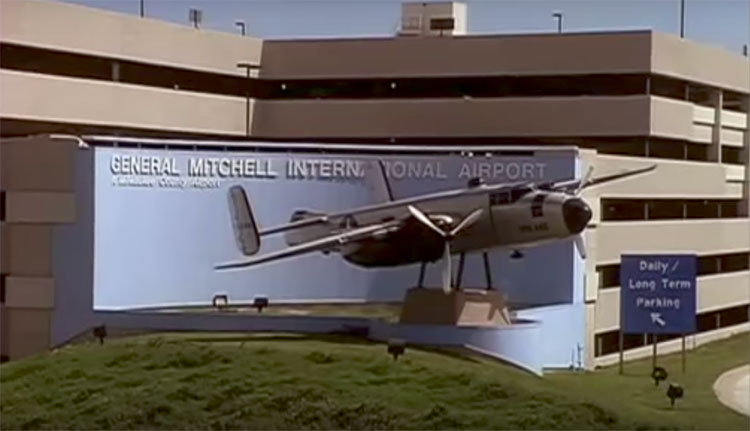 10:30: "Milwaukee. They should bottle it and sell it as Valium."
Jackie again, driving from the airport and into town via the Hoan Bridge.
11:00: "When did you move to the Third Ward?"
Middle son Eddie is also a cop. He lives in the Third Ward.
12:25: "C'mon, tell the truth. You don't miss Milwaukee, even a little?"
"Oh sure, I miss beer, bowling, bratwurst, sweating in summer, slipping on my ass in winter, shoveling snow in 12 degrees with wind chill factor of minus 30. I miss being so cold that I have to wear two bras."
Jackie is visiting her old friend Marci, who has totally sold out and works at a hotel. It's here that Jackie (literally) bumps into wealthy businessman Adam Novacek, whom she eventually sleeps with and possibly murders.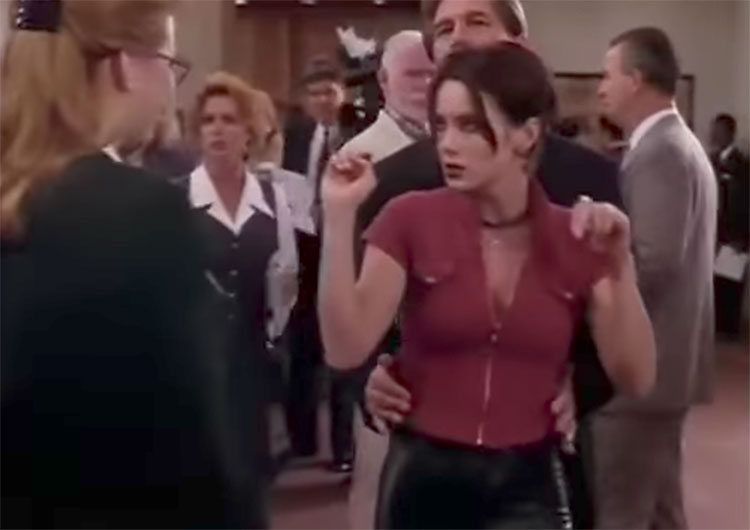 15:35: "You slept with everyone in Milwaukee, now you're sleeping your way through California."
Jackie says she quit her graphic design job in California after breaking off an affair with her married boss. Public defender sister Kate is not amused.
18:20: Milwaukee Police Department birthday cake!
22:50: "C'mon, Eddie's on the phone. And if this is about work, you're not going today. You've already caught your quota of murderers for this month."
"Three more and we get that weekend in the Wisconsin Dells!"
If you've ever wanted to see Daniel Baldwin lounging around in his underwear and name-dropping the Dells, here's your chance.
26:20: "We gotta get her out of here!"
"That's a great idea. Then maybe we can go to Summerfest!"
So Jackie ends up in bed with Novacek, and Novacek ends up shot in the head the next morning. Shit happens. Paul and his cop sons show up at the scene and proceed to bicker. Paul and Eddie want to kinda sorta cover it up. Baldwin's character, Ben, does not. If you've ever wanted to see Daniel Baldwin chewing scenery and name-dropping Summerfest, here's your chance.
31:10: A Milwaukee Police station (or as it's known in the film, the "The Brewery")!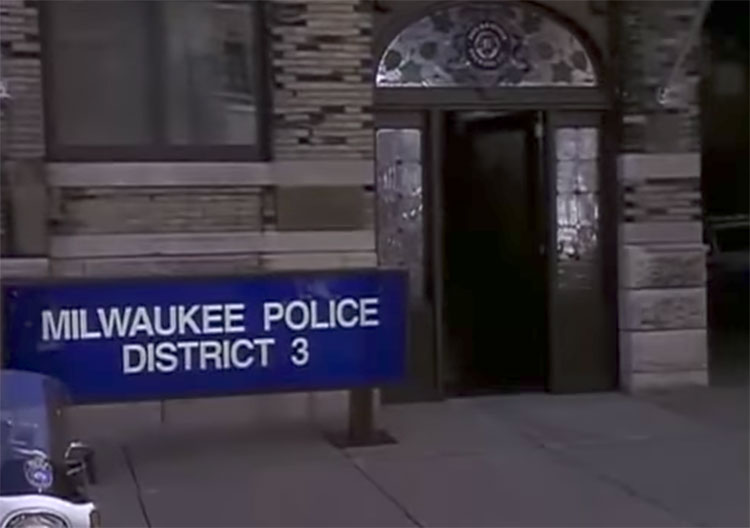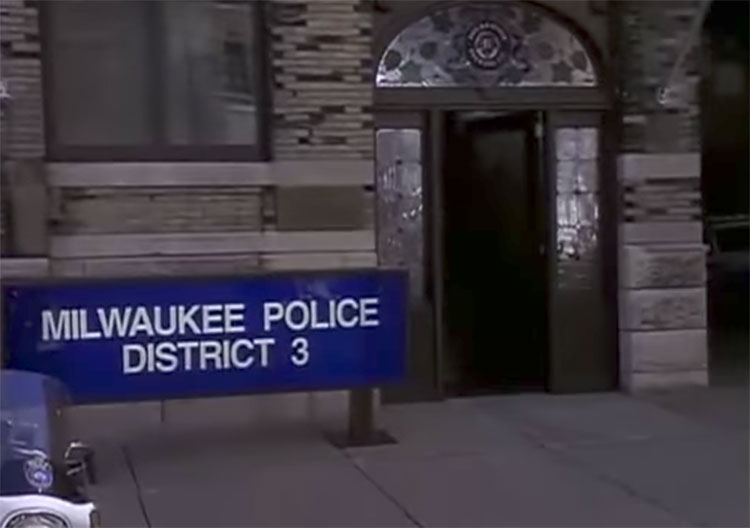 35:00: "Hey, didn't, uh, Avrum Weiss represent Jeffrey Dahmer?"
The family is arguing about who will represent Jackie. And no, the fictional Weiss did not represent the real-life Dahmer—that was Gerald Boyle, who last made news in 2015 when he was suspended for ethics violations.
38:30: "There was a murder, the other night, on Wisconsin Avenue."
That would be the Novacek murder. A scuzzy informant, Lenny, has some info that may point to the Italian mob (long story) and clear Jackie.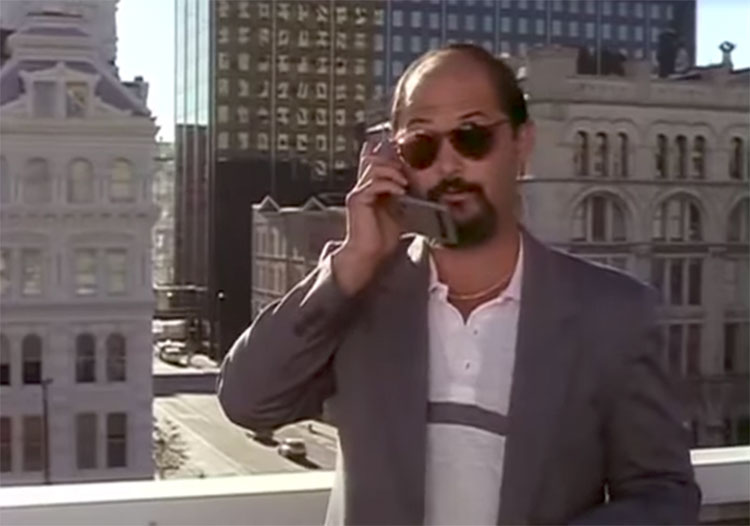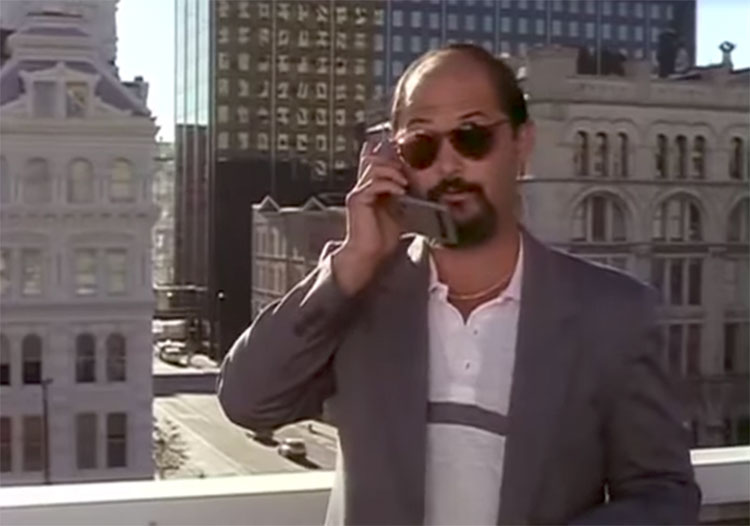 51:30: A bartender wearing a Comedy Sportz shirt! Eddie wearing a '90s-era Brewers jean jacket!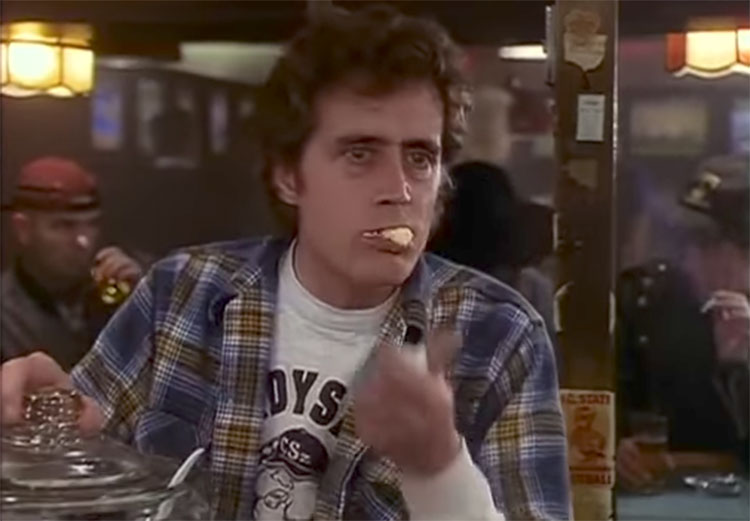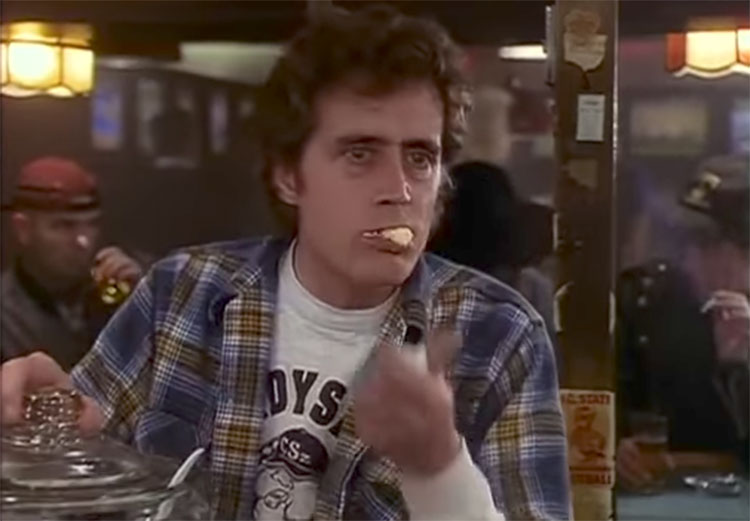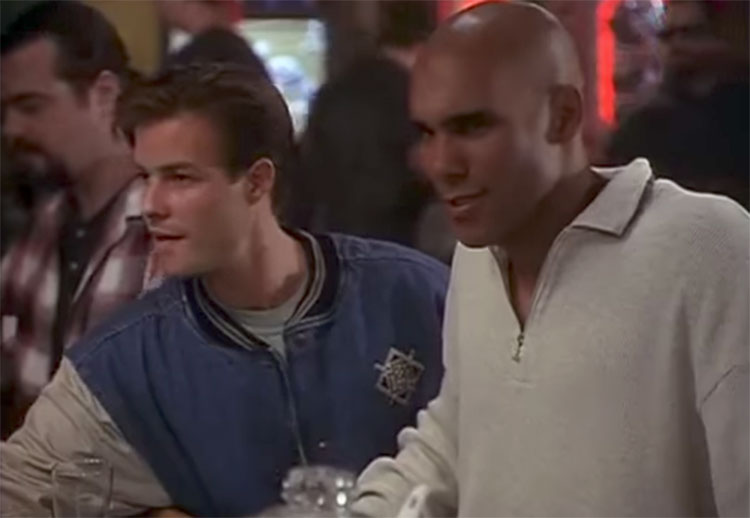 53:10: "Lenny's a degenerate lice bucket who's been outside Milwaukee twice in his life!"
Bronson's character isn't a fan of Lenny. Lenny soon ends up dead.
1:03:50: "Hey, who do you think you are hanging out in the bathroom? The Fonz?"
Did the Fonz hang out in the bathroom a lot? We can't remember. Anyway, the Bronze Fonz didn't become a thing until 13 years after this film. Simpler times.
1:17:10: One of the cops wearing a Reggie White jersey!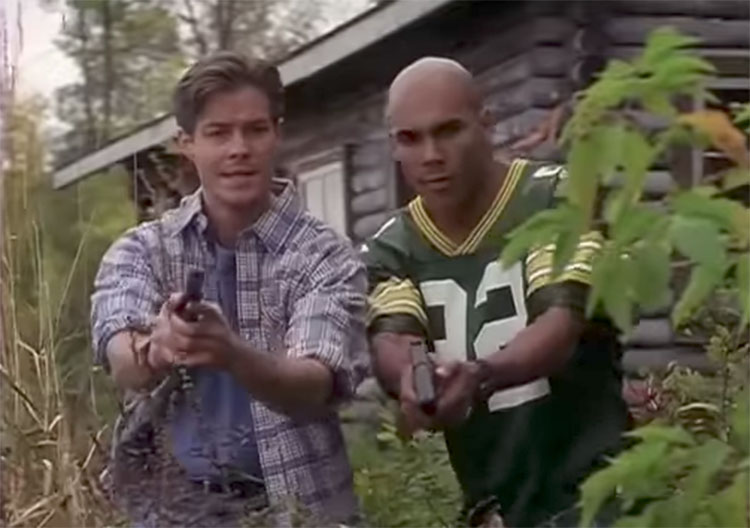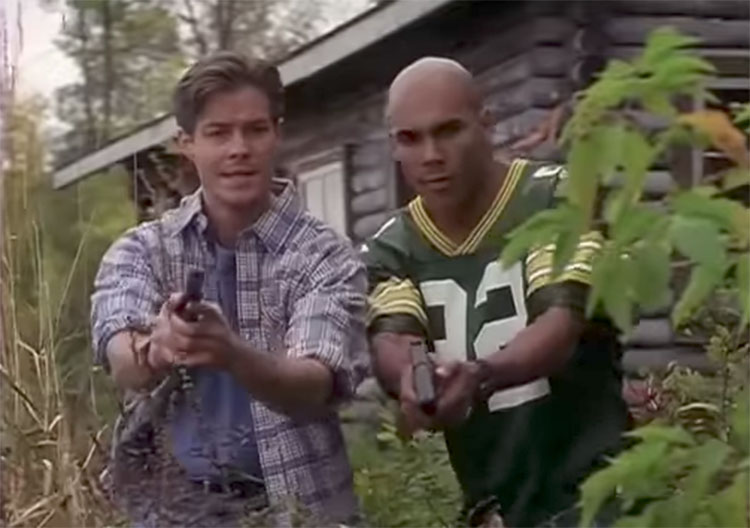 Anyway, Baldwin's character gets shot but ultimately recovers, Bronson's character sniffs out Novacek's wife before she shoots herself, Jackie is vindicated and stops talking shit about Milwaukee, and everyone enjoys a nice Thanksgiving dinner. MPD gets a thank you. The end.