According to the nation's top scientists, 2013 occurred approximately five years ago. The Seattle Seahawks won the Super Bowl, Linda Ronstadt was inducted into the Rock & Roll Hall of Fame, and the Milwaukee Film Festival turned five years old. The Onion/A.V. Club Milwaukee was honored to sponsor the festival's Cinema Hooligante program, which included classics like 2001: A Space Odyssey and Enter The Dragon, along with newcomers like Sightseers and We Are What We Are. Plus, umm, another movie screening.
On the morning of Sunday, September 29, some of the beautiful geniuses of Milwaukee Film joined forces with the unkempt youngsters of The Onion/A.V. Club Milwaukee (including Milwaukee Record's Matt Wild and Josh Hoppert) at Hotel Foster for the first ever "Bloody Sunday" event. This open-to-the-public party promised Bloody Marys, cold pizza, and non-stop classic horror movies on HoFo's big screen. Things didn't go quite as planned.
Without further ado, here's the story of The Human Centipede screening at Hotel Foster, as told by some of the brave and nauseous souls who were there. We're sorry.
CHAPTER ONE: THE SETUP (FIRST SEQUENCE)
Matt Wild (formerly of The Onion/A.V. Club Milwaukee): Back in the days before The Onion and A.V. Club Milwaukee were sent off to live on a nice farm somewhere, the Milwaukee Film Festival approached us about sponsoring an event. It was called "Bloody Sunday."
Josh Hoppert (formerly of The Onion/A.V. Club Milwaukee): We were already sponsoring the Cinema Hooligante program during the festival, so being a part of this event seemed appropriate and fun.
Milan Zori (formerly of Milwaukee Film): This idea was born out of Blyth [Meier] and I wanting to give Angela [Catalano]'s Cinema Hooligante program a bit of a lift. It was too fun a program to not have its own party. There were a few late night screenings of some wonderfully weird shit. I kept asking myself, "If we blow people's minds late at night, what can we do to right the ship in the morning? Like, how do you remedy a Hooligante hangover? And, with next to no budget?" My immediate response to myself was, "Cold pizza and Bloody Marys."
Matt: I was all for it. Who doesn't love Bloody Marys, cold pizza, and cheesy horror movies?
Milan: So, it was decided. We'd serve cold pizza, Hotel Foster would sell the Bloodys, and we'd screen some Hooligante-esque films on their projector. We'd do it in the morning, like brunch but with murder and monsters instead of mimosas. And it would be free.
Matt: What could possibly go wrong?
Milan: Before I ended my festival shift late Saturday night, I walked over to Ian's Pizza, bought a few XL pies, and stashed them in the Hotel Foster cooler to guarantee this pizza would be cold as hell for the morning.
Jordan Baumhardt (formerly of The Onion/A.V. Club Milwaukee): I volunteered to help Andrew run The Onion/A.V. Club table. My understanding of the event was we were gonna watch classic horror movies like Frankenstein, Dracula, and The Mummy, while enjoying Bloody Marys and cold pizza.
Blyth Meier (formerly of Milwaukee Film): I remember that Angela had a bunch of DVDs lined up, programming that shit like a boss.
Angela Catalano (formerly of Milwaukee Film): I distinctly remember taking Bloody Sunday a bit too seriously; I curated a stack of horror films that I thought I would choose from once I read the room at Hotel Foster. My stack of discs included Lucio Fulci's Zombie, The Texas Chainsaw Massacre, Suspiria, The Thing, Shivers (a bootlegged copy that I was so proud of), and for good measure, Cannibal Holocaust.
Everyone (in unison): What could possibly go wrong?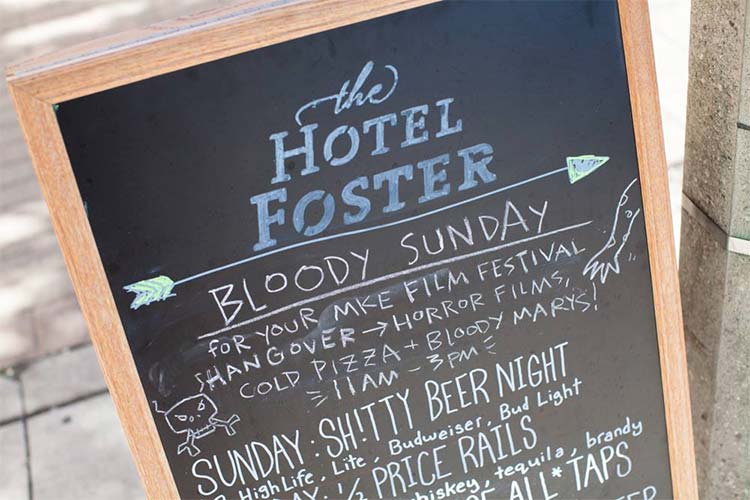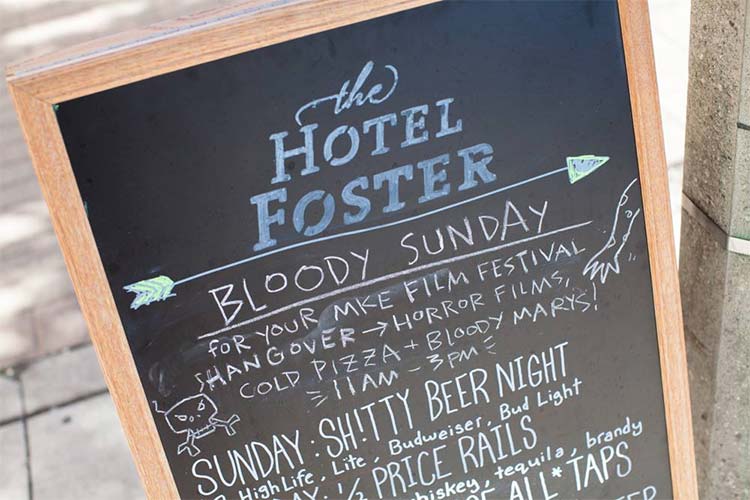 CHAPTER TWO: THE EVENT (FULL SEQUENCE)
Milan: When we got to Hotel Foster, something was wrong with their equipment.
Angela: Johnny [Revord] said the DVD player was out of commission, and my options were limited to Netflix.
Milan: I don't remember who decided to start with The Human Centipede.
Josh: Revord.
Blyth: Johnny.
Angela: Johnny.
Mike Wisniewski (friend in attendance): John.
John Revord (formerly of Hotel Foster): One of the shining moments of my professional career.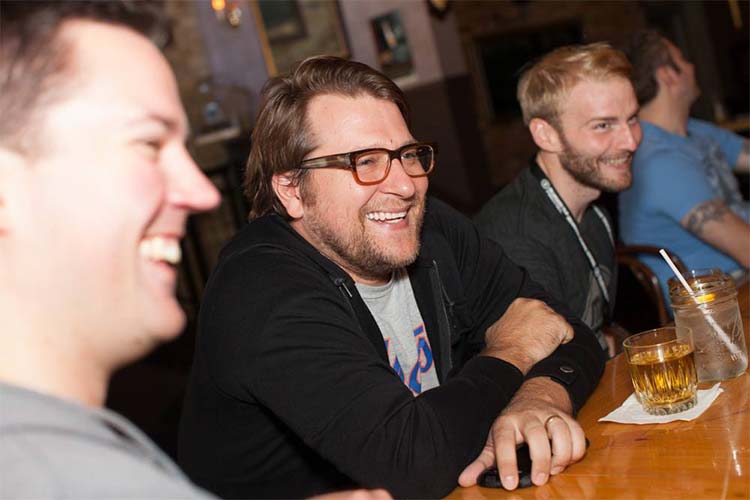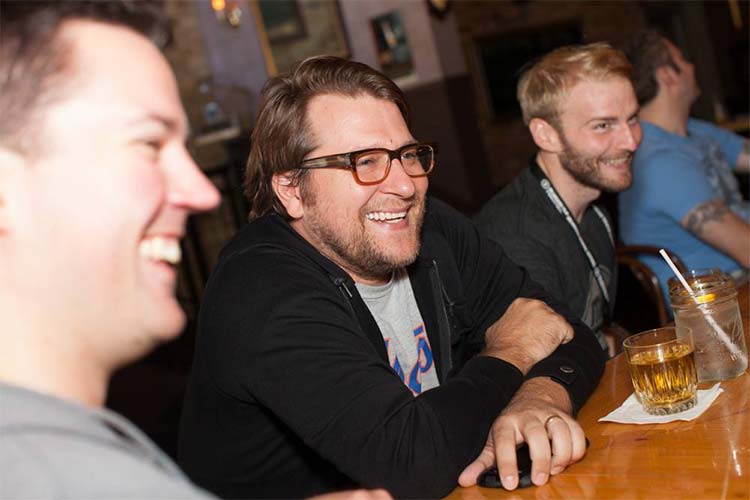 Matt: The Human Centipede was one of those early "meme movies," like Snakes On A Plane, where the title and concept alone were instantly notorious. I had seen it and had actually liked it, though. Showing it on a Sunday morning for a hung over crowd of fest-goers didn't seem beyond the pale.
Blyth: It was the worst way possible to start a Sunday morning during the film festival.
Jordan: I came walking up to Hotel Foster and I could hear things already started. I headed over to our table and sat down. For a couple minutes I watched what was on screen and slowly realized this was not a classic Hollywood horror film. I asked Andrew if this was The Human Centipede, and he started laughing.
Andrew Hartzell (formerly of The Onion/A.V. Club Milwaukee): All I remember is the noise. So much noise. I tried to hide in our booth in the corner but, wouldn't you know it, that was right by a speaker.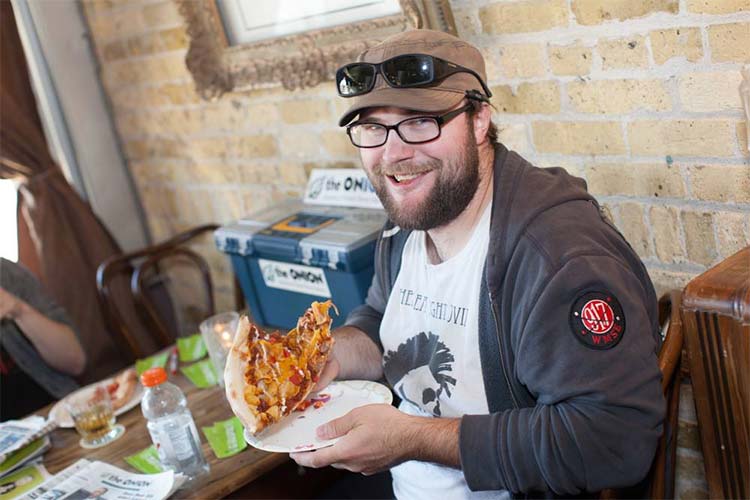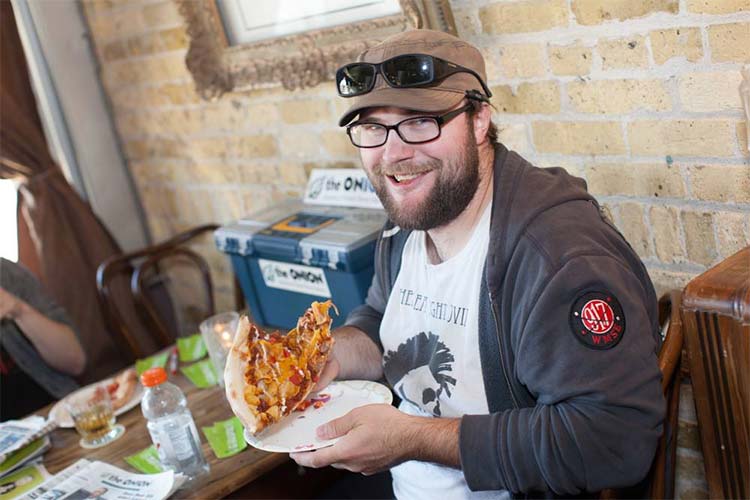 Angela: My memory after that point focuses solely on Blyth Meier and the gagging noises that followed.
Erin Frank (formerly of The Onion/A.V. Club): My most vibrant memories are not of the movie but of Blyth's face.
Blyth: I remember sweating profusely. I remember having to walk outside. I remember Milan just sitting there, laughing uncontrollably at me.
Mike: The faces Blyth was making were priceless—as if she took a shot of Malort.
Matt: There's a picture where Blyth looks like she's ready to puke, and I have this shit-eating grin on my face. I kind of feel bad about that picture. I kind of feel bad about the whole thing.
Angela: Poor Blyth.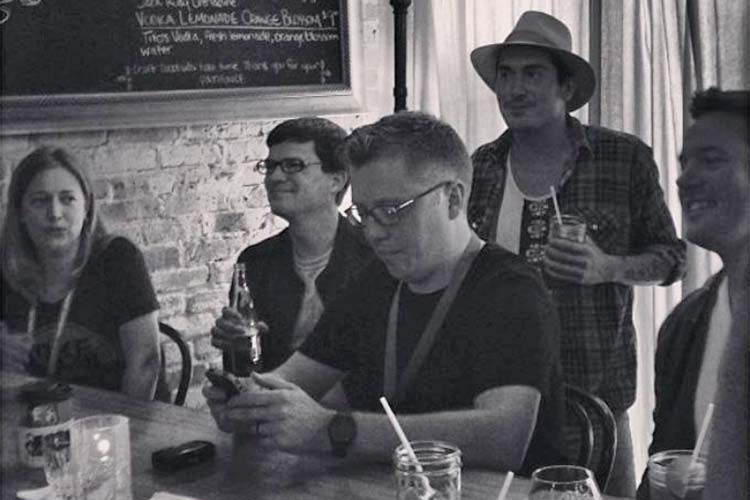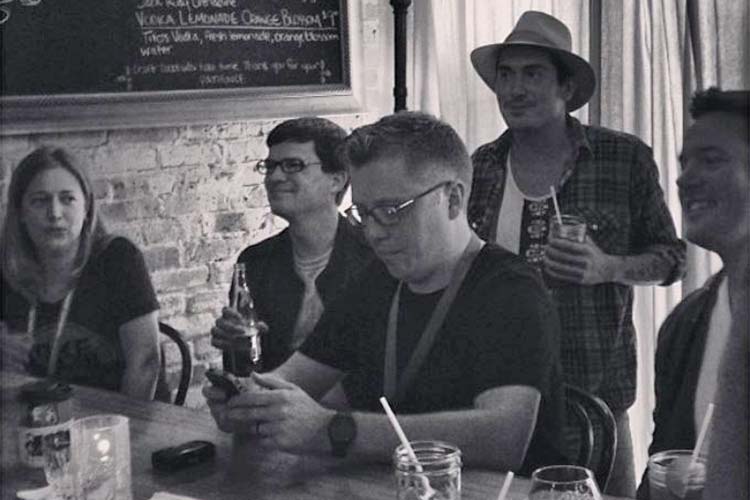 Colleen Wisniewski (friend in attendance): I blocked most of the day out. Horror films are horrifying to me, so all I can remember is trying to forget everything I was seeing, immediately.
Milan: I just want to point out that at no point did we decide to stop it.
Mike: For some reason, I found it funny. It felt like our own Mystery Science Theater 3000.
Josh: As gross as it was, I feel like we all laughed through most of the movie.
Milan: I remember laughing a lot. Once you get past that first [EDITED FOR SPOILERS AND EWWW] scene, it's way easier to handle.
Angela: Midway through the film is when the crowd thinned.
John: Maaaaaybe 10 in and outs. Mostly outs.
Milan: I feel like at our most crowded, we had 20 people in that room. And even that seems generous.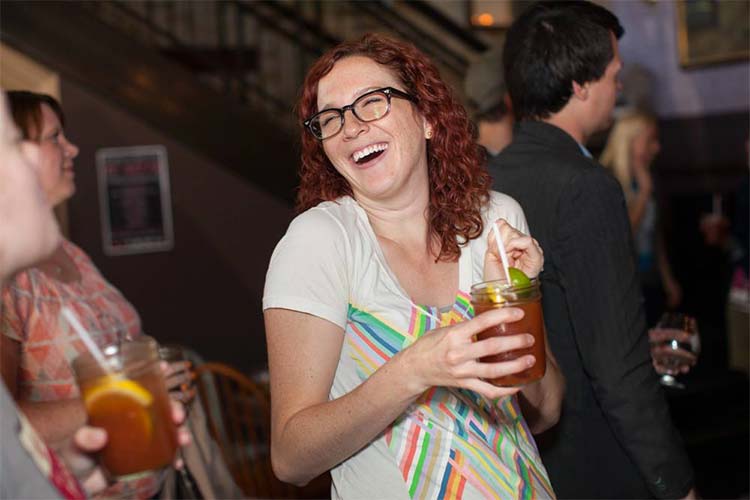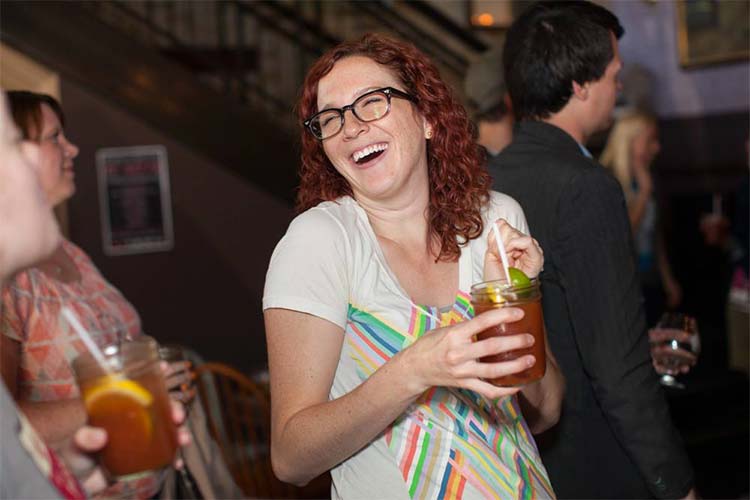 Blyth: It was more like a smattering of curiosity seekers. Also, I think I ate pizza that day? How is that possible?
Milan: People ATE during that movie.
Angela: The Bloody Marys and pizza were delicious. I definitely ate during that screening.
Colleen: I DO remember the pizza. I ate pizza.
Milan: What should not go unspoken is that we followed The Human Centipede up with Rubber.
John: OMG, I forgot about Rubber.
Milan: What's great about all of this is that most of the people there just remember it as a really gross experience, but I always think about how frickin' beautiful a day it was. We probably should have taken advantage of the weather and watched it outside.
John: Let's not even get into the poor folks that happened to stumble in for Happy Hour.
Mike: Also, I think there might have been pizza.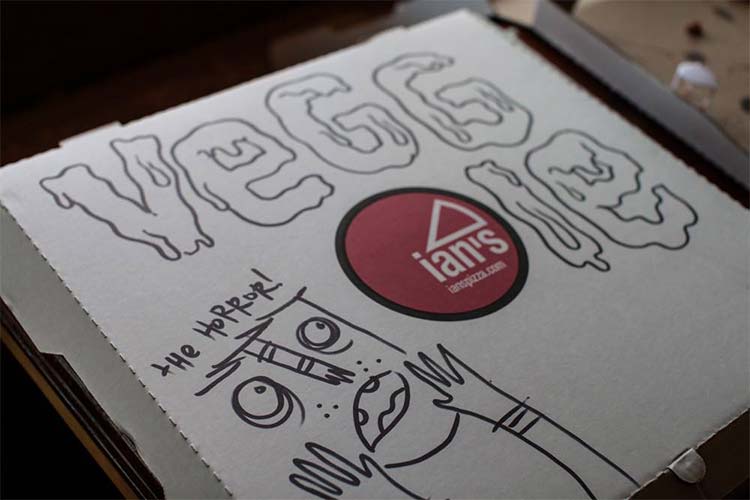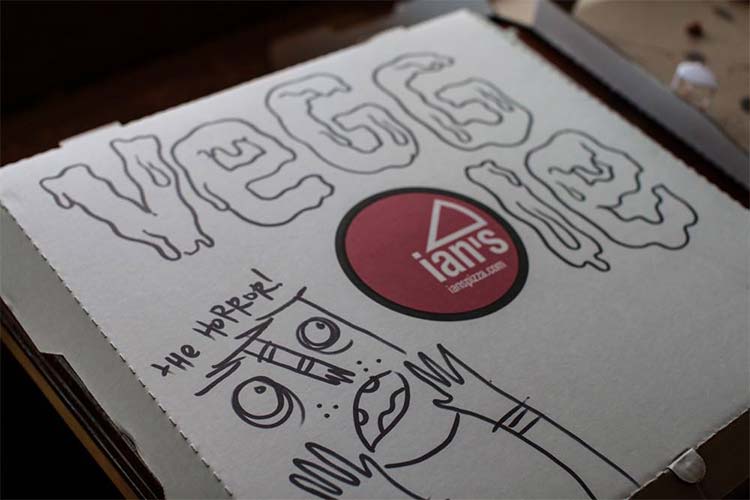 CHAPTER THREE: THE AFTERMATH (FINAL SEQUENCE)
Milan: I don't think I was ever allowed to plan a festival party after that.
John: It was a beautiful troll come to life. Opposite of any sane business owner, it made me proud.
Milan: And it ended as quickly as it arrived. R.I.P., "Bloody Sunday." R.I.P., Hotel Foster.
John: 10/10. Amazing. Would do again. My single greatest source of pride from my days at HoFo was the work I did with Milwaukee Film. Huzzah to everyone that put the time in back then…And to those that still do. Love it.
Matt: Despite everything, we did another "Bloody Sunday" the following year. I chose a really fun/funny '80s horror movie called Dreamaniac. It's about a heavy metal doofus who makes a deal with a succubus or something. No one showed up.
Josh: "Bloody Sunday" might be my favorite experience of The Onion days, and it was oddly inspirational. Milwaukee Record recently showed Dead Alive—a seriously gross and fun horror movie—at the Avalon, and I'm not sure we'd have done that without knowing how much fun it was to watch The Human Centipede as a group.
Erin: I hope this comes close to but does not exceed views of my Milwaukee Record article where I rank the cats at Sip & Purr Café.
Josh: I think the FieriCon article recently surpassed that article for views. Hopefully this will be the new sheriff in Flavortown!
Milan: Our story is about a different kind of Flavortown.