Some places come and go, while some places become icons. Mandatory Milwaukee is all about the latter. Join us as we revisit beloved and well-worn local staples with fresh eyes, and explore how they might figure in the city's future.
When people talk about the changing face of Milwaukee's East Side, what they're really talking about is North Avenue. Countless businesses in that area have emptied in the past year, and countless "luxury" apartment buildings and hot-shit ramen joints are on their way to fill them. But trek a few blocks north and you'll find a pocket of the East Side that remains stubbornly and gloriously dumpy: Oakland and Locust. And within that pocket (dubbed "Oak & Loc," though no one has ever called it that, ever) stands a restaurant that defies modern dining trends—a neighborhood and city icon, a stalwart business that will likely outlive us all: Oakland Gyros.
What is it about Oakland Gyros that screams "Milwaukee!" in a way that, say, a new calzone chain does not? Maybe it's the fact that it's been around for decades, holding down the corner of Oakland and Locust while promising the best Greek food in town. Maybe it's the fact that, according to the 8,000 Shepherd Express and OnMilwaukee advertisements awards on the walls, it is the best Greek food in town, and has been since time immemorial. Maybe it's the fact that it's a late-night beacon to so many new arrivals experiencing the city for the first time via nearby UWM. Maybe it's simply the fact that it's really good and really cheap. Or, barring all of the above, maybe it's because Usher is a big fan.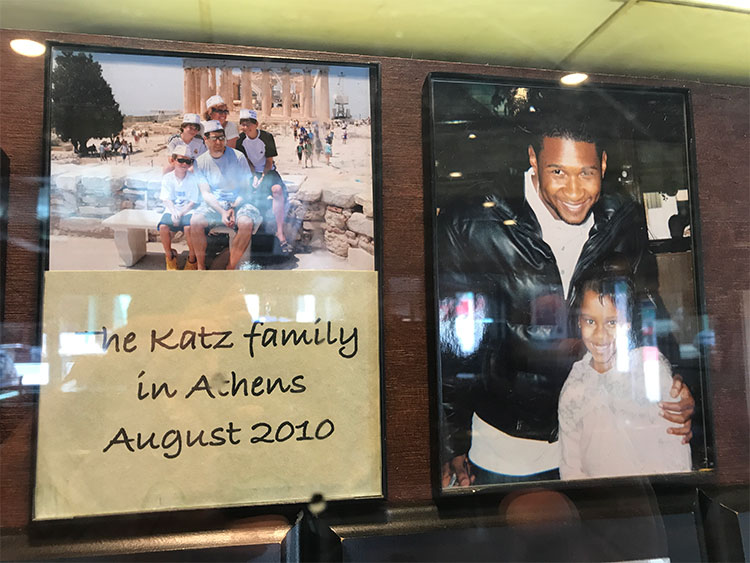 Oakland Gyros opened on the East Side in 1985 (a second location opened on Layton Avenue in 2002). Owned and operated by the Karampelas family, the restaurant quickly became a favorite of UWM students, UWM faculty, and rank-and-file night-owl bar patrons. Here's writer James Wigderson (long before his reign as a tired conservative crank) in a 1991 piece for the long-defunct UWM Times:
Oakland Gyros has always been somewhat of a holy place of eating worship for me. I went there as a freshmen after hitting the bars (in the good old days when nobody checked your ID) and have not been able to find a better gyros sandwich since. […] I can remember UWM Times editors holding lengthy discussions in the corner booth over gyros. There was also the last-minute meal prior to having an all-night study session for a midterm in Dr. Browne's Politics of Western Europe. […] Often one can see their professor grabbing a quick lunch at this establishment.
Not much has changed in the decades since. Walk into Oakland Gyros today and you're greeted by no-fuss décor, paper hat-clad employees, and a solid block of lamb roasting on an upright spit. There are plenty of typical non-gyros options on the menu—everything from stellar kabobs (chicken and steak) to burgers, chili dogs, and fish—but the original gyros platter ($8.99) remains the star. There are college students aplenty, neighborhood regulars, and a solid cross-section of Milwaukee populating the booths. Perhaps because of the shenanigans that can arise at night, there are always a lot of cops eating there during the day.
So let's talk about that original gyros platter. For one, it's big: a fluffy, six-inch pita buried beneath a teetering pile of tomatoes, onions, and a heaping mound of tender, thinly sliced meat. You also get fries with that; they, too, are buried beneath the daunting mountain of food. Slather it all with the provided bottle of tzatziki cucumber sauce, start picking away at it with a plastic fork, wash down every bite with a soda, and good luck. It's filling. It's delicious. That the entire platter comes in under $10 (up from around $5 in the early days) is nothing short of a miracle.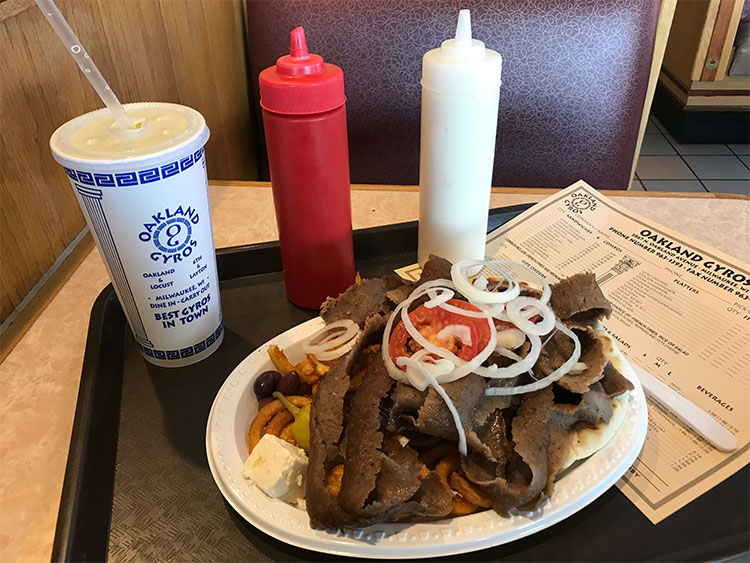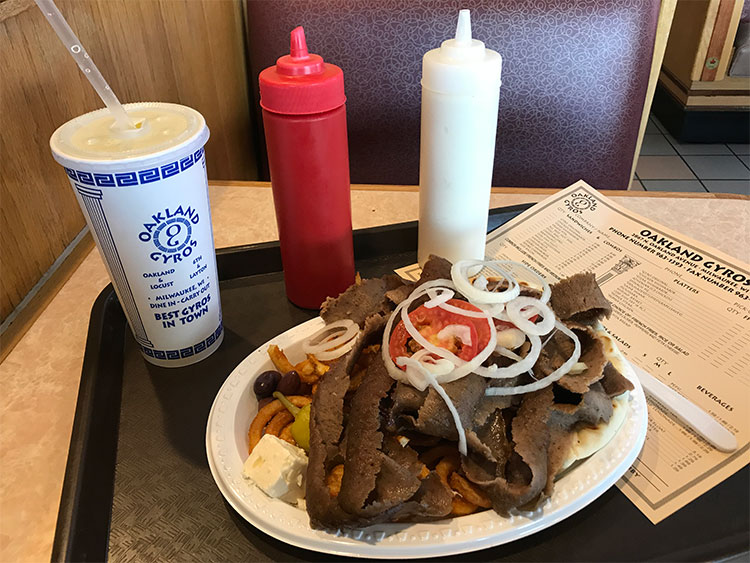 If you happen to be an old-school East Side diner who has since moved on to neighborhoods and restaurants more up-and-coming, you'd be forgiven for thinking Oakland Gyros is solely a weekend bar-time den of cheap eats for drunken college students. It remains that, of course, but it's also perfect for anyone looking to load up on food during the day. Here's former Milwaukee Journal restaurant critic Dennis R. Getto in an, old, undated piece that hangs proudly on the wall:
But Oakland Gyros is more than just a late-night dining spot. It's also one of the best bargains in Milwaukee. Naturally, gyros are the featured attraction here. And they are good. They're a mix of beef and lamb (cheaper versions are beef only) grilled on a vertical spit until they develop a flavorful crust, then sliced and piled on a pita with fresh tomatoes and onions. Add a squirt of the Karampleas' cucumber sauce, and your gyros sandwich becomes a meal.
Again, and thankfully, little has changed.
But change is coming to the area surrounding Oakland Gyros, albeit slowly. Rumblings were heard back in March of a five-story apartment building taking over the forever beat-up Cousins Subs kitty-corner from OG, and the project has plenty of life today. Something is going up in the old Five Guys across the street. Atomic Glass can't last forever, can it? No, "Oak & Loc" is not the new-and-changing North Avenue, but it's only a matter of time before a poke place comes knocking at the door. The future is uncertain; happily, Oakland Gyros is not.