Some places come and go, while some places become icons. Mandatory Milwaukee is all about the latter. Join us as we revisit beloved and well-worn local staples with fresh eyes, and explore how they might figure in the city's future.
Earlier this year, Milwaukee faced a crisis: no one wanted to run Northpoint Custard (2272 N. Lincoln Memorial Dr., 414-727-4886). Bartolotta Restaurants had opened the lakefront snack shack in 2009, and had enjoyed nearly a decade of serving up custard (natch), burgers, fries, cheese curds, and more to hungry and sunburnt Milwaukeeans. But when the property lease agreement between Northpoint and Milwaukee County expired, and the County added a surprise $60,000 minimum rent to the agreement (intended to "increase revenue for Milwaukee County Parks"), Bartolotta balked. The company submitted the only request for proposal (RFP) to run the site for the next five years, but simply ignored the $60,000 requirement.
"We feel it is unreasonable to hold a fixed minimum rent when so many variables outside of the operator is at play," the restaurant group wrote in its lonely RFP. "Our proposal, while variable, reasonably achieves the objectives of the county while not unfairly jeopardizing the operator."
Happily, something gave in the following weeks, and it was soon announced that Bartolotta had signed a one-year extension, and would "continue its partnership with Milwaukee County in 2018." The $60,000 price tag was magically gone, and an opening date was set for May 19.
"As has been a Northpoint tradition, we will celebrate the opening by offering a free hamburger to the first 200 guests in line," Bartolotta's Scott Williams said in a statement. "Northpoint has come to symbolize the unofficial start of the summer on the lakefront and we are thrilled to continue this partnership for our community to enjoy."
Thank Christ. Located just south of Bradford Beach, Northpoint Custard is not only a Milwaukee summertime staple, but a harbinger of summer itself. Along with the ramping-up of summer festivals and, we dunno, Milverine walking his dog, the opening of Northpoint is a cause for warm-weather celebration. Plus, the place is painted like a Holstein cow.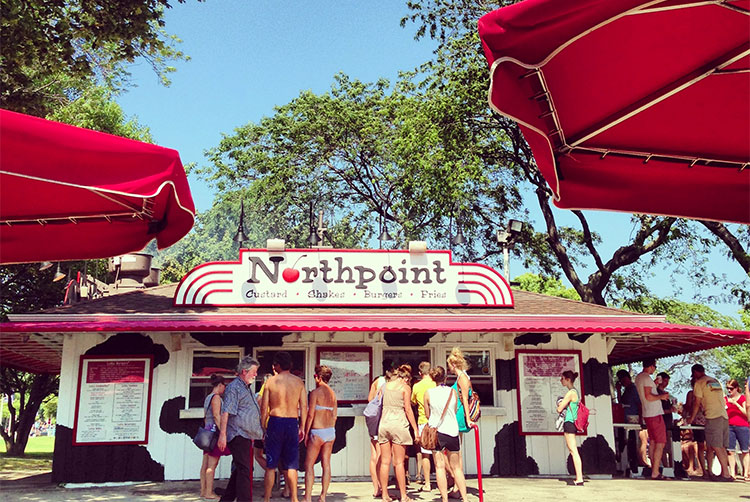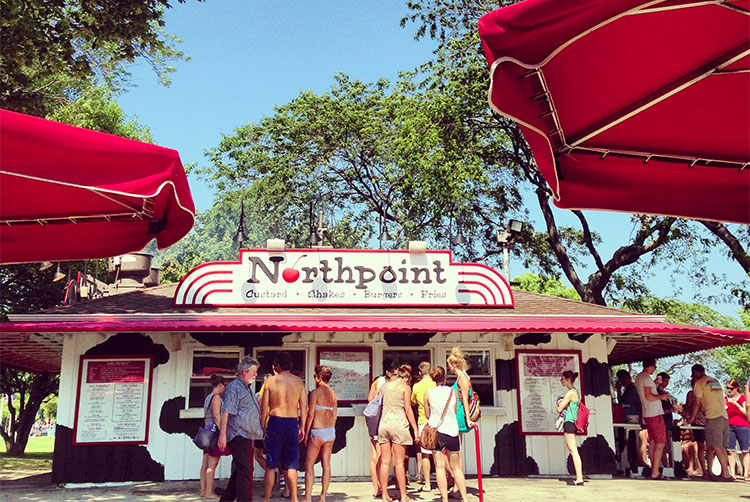 So what makes Northpoint Custard so special? Milwaukee, as any Milwaukeean knows, is loaded with custard joints. Kopp's alone is maybe the best thing ever. But Northpoint's primo lakefront location sets it apart from the pack. Where else can you enjoy a old-fashioned treat in an old-fashioned setting mere feet from Lake Michigan and the tiki hut- and volleyball-laden madness of Bradford Beach? Where else can you do all of the above and maybe luck out and have that one guy selling sunglasses nearby? NOWHERE.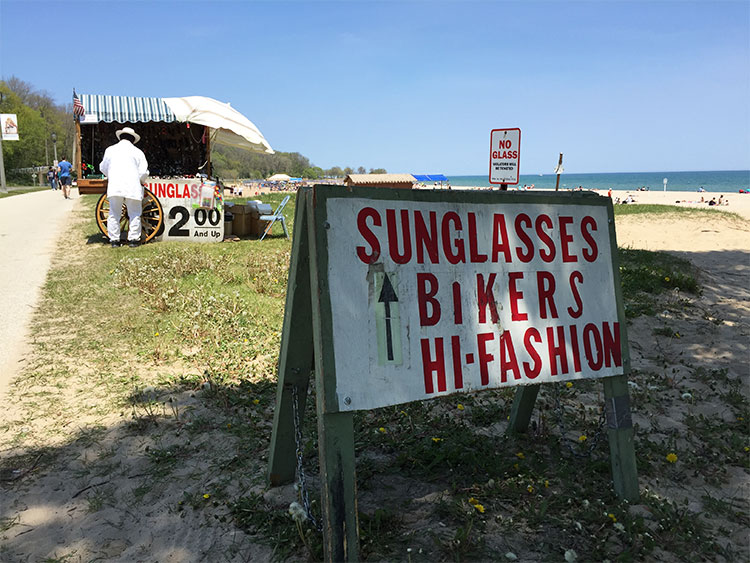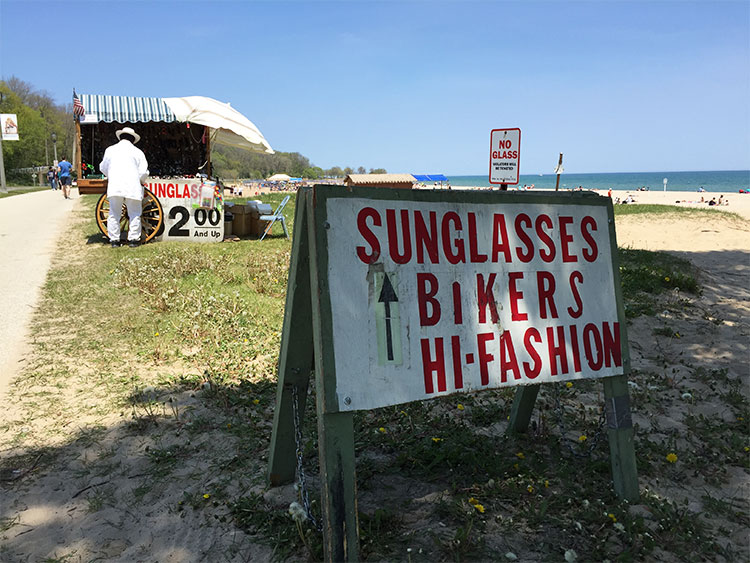 Let's talk custard. "We use Madagascar vanilla in our custard to give it an extra boost of true flavor," Northpoint's website says. "We offer a variety of sauces and cookie/candy add-ins so you can make a customized custard concoction." No muss, no fuss. Frozen custard may have originated in Coney Island, but it has been synonymous with Milwaukee for decades upon decades.
Let's talk hamburgers, fries, and cheese curds. Northpoint scores big with made-to-order char-grilled burgers on buttered and toasted Sciortino's rolls, and goes all-in with options like the intimidating Quad Burger. Its fries are as God intended: Yukon Gold crinkle-cut. Ditto its white cheddar cheese curds.
Oh, and there's more: grilled cheese sandwiches, chicken sandwiches, grilled Portabella mushroom sandwiches, BLTs, hot dogs, and Impossible Burgers round out Northpoint's simple-but-sumptuous menu.
From May through September, Northpoint Custard is open daily, 11 a.m.-8 p.m. And while the future of the beachfront staple may be in question at the end of this summer, Milwaukeeans can take solace in the fact that there are year-round locations at General Mitchell International Airport and the U.S. Bank Center's Downtown Kitchen. Enjoying a butter burger along Lake Michigan may be ideal, but enjoying one above Lake Michigan isn't bad, either.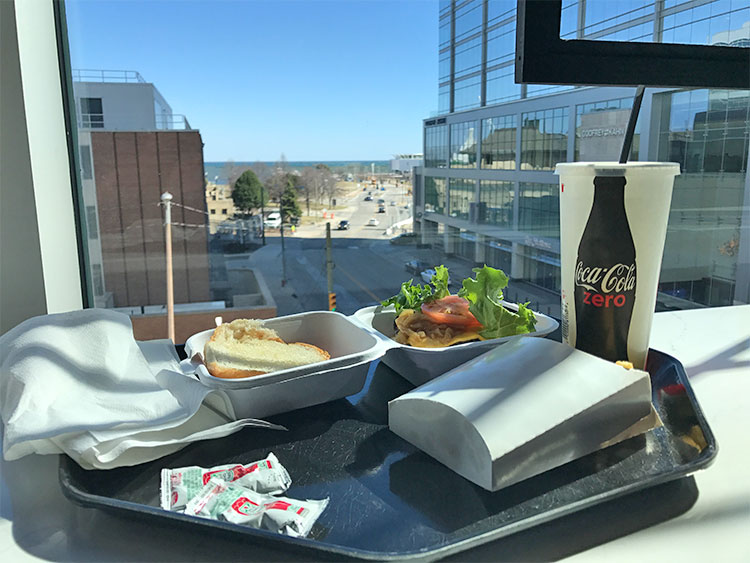 Long live Northpoint Custard. And don't forget the cherry on top.