Between beloved and well-established local staples and a steady wave of new bars and restaurants popping up in and around Milwaukee almost every week, worthwhile dining and drinking gems can occasionally get lost in the shuffle. With Tucked Away, Milwaukee Record digs deep with the hope of unearthing some of these gems.
Can a multi-restaurant downtown food court, operated by one of the biggest restaurant groups in town and located in the tallest building in the entire state, really be considered "tucked away"? It depends on who you are. If you're one of the thousands of people who work in the U.S. Bank Center at 777 E. Wisconsin Ave., the Bartolotta Restaurant Group-owned Downtown Kitchen—located on the mezzanine of that building—is likely your go-to breakfast and lunch spot. If you work anywhere downtown, Downtown Kitchen is probably on your short list of lunch-break destinations. But if you don't work downtown, and find yourself aimlessly wandering the downtown streets during the workday and looking for a place to eat (it happens!), Downtown Kitchen is indeed a hidden gem.
The space: Take a trip up the escalators to the U.S. Bank Center's mezzanine level (or "galleria," per the signs), and you'll find the expansive Downtown Kitchen in all its crowded lunch-hour glory. (A Colectivo and a snazzy waterfall thing stand nearby.) The super-sized cafeteria was taken over by the Bartolottas in 2014; before that, it was known as the Lake View Market. Here's what we had to say about the former space in a 2014 roundup of downtown cafeterias:
If the decidedly below-the-radar downtown cafeteria scene has a single "crown jewel," Lake View Market on the second floor of the U.S. Bank Center would be it. A diverse selection of fresh and prepackaged food, reasonable prices, a huge dining area, and a nice view of the lake (and the not-long-for-this-world Downtown Transit Center) are just a few of the highlights. The cafeteria itself is dominated by a large, circular deli and salad bar straight out of Whole Foods; separate stations selling burgers, onion rings, jalapeno poppers, gooey slices of pizza, and plenty of chips and soda line the perimeter. The sunny and spacious dining area is large enough to accommodate table upon table of co-workers, as well as those who'd rather eat alone and run down the clock.
The sunny and spacious dining area remains, as does the nice view of the lake. (The Downtown Transit Center is indeed now gone.) But what was once a rather sterile and corporate cafe is now a modern and upscale-esque diner, complete with spiffy new chairs, tables, and booths, as well as wood-paneled and mural-covered walls. Flatscreens, a mini lunch counter, and plenty of nooks and crannies perfect for working lunches (or for when you realize you're the only person in the joint who isn't wearing a suit) complete the impressive space.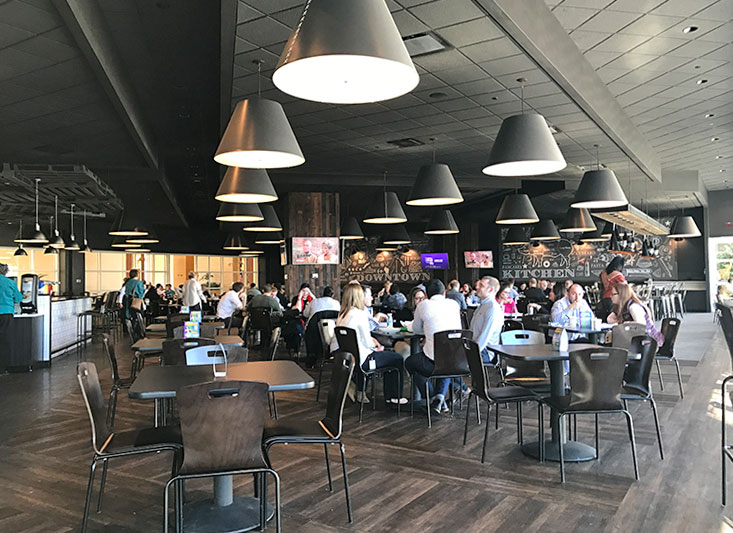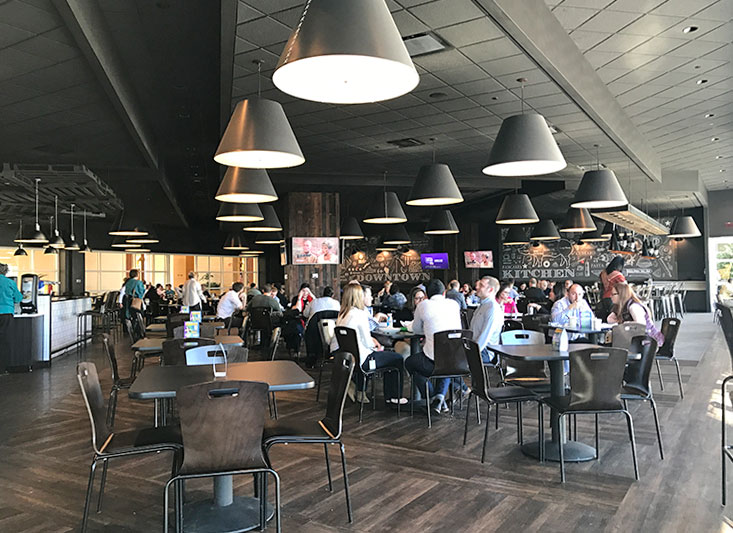 Milwaukee Record's food: The dining area is situated behind the actual food area, a large roundabout loaded with Downtown Kitchen's many offerings. The delightfully named Oy Vey Deli features an array of artisanal sandwiches and sub sandwiches ($5.50-$6.50). Pizzeria Piccola boasts slices of everything from margherita ($5.50) and spicy pepperoni ($6.75) to veggie ($6.50) and "The Piccola" ($7.50). There's also a Hissho Sushi, a Grebe's Bakery, a build-your-own nacho and taco bar, and bagged snacks from Outpost. Too early in the day for spicy pepperoni pizza? Downtown Kitchen's breakfast menu includes all the eggs, French toast, breakfast burritos, pancakes, and hash browns you could ask for. Valentine Coffee is proudly served, and the 8,000-choice soda machines are loaded with Coke products.
But what could possibly be better for lunch during the tail-end of winter than a burger and some fries from Northpoint Custard? Yes, the Bartolotta-owned burger and custard shack, so often associated with its summertime lakefront location, is open year-round in Downtown Kitchen (there's also one in General Mitchell International Airport). Pencil in your order on a slip of paper and prepare to enjoy the time-honored, no-frills delights of Northpoint's hamburgers ($3.75-$7.50), crinkle cut fries ($2.95), and/or cheese curds ($4.95). Custard, shakes, and malts round out the full list of Northpoint offerings, all available without the hassle of pummeling lake winds or seagulls swooping down and terrifying your children.
The verdict: Downtown Kitchen effectively blurs the line between plastic-tray cafeteria and fancy downtown eatery. Yes, there's plenty of pre-packaged grab-and-go sandwiches and subs, but there's also fresh sushi, fresh pizza, and custard. A food court this ain't. The prices are reasonable, the service is fast, and, best of all, you don't have to be a downtown worker to enjoy this kinda-sorta-tucked-away perk of downtown life.