In case you weren't aware, we're in the middle of "Food/Drink Week" here at Milwaukee Record. This theme week, which started June 5 and runs through June 12, gives us an excuse to tackle some ambitious, expensive, and/or unusual stories in the realm of dining and drinking that we've been wanting to run for a while. Since the week started, we've ranked gas station pizza, reviewed two different Cousins restaurants located on the same highway exit, and went all out at the new Pizza Man location. That's just the beginning!
This week also gives us an excuse to post things with little-to-no local relevance that have found their way onto our story doc…so long as they have something to do with consumables. To be honest, we've been wanting to write about this particular topic for roughly a year, but we never really had a reason to until now. Well, since it's Food/Drink Week again, it's finally time to post about the album Hamm's Brewery released that's entitled Hamm's '65 – Bursting With Freshness!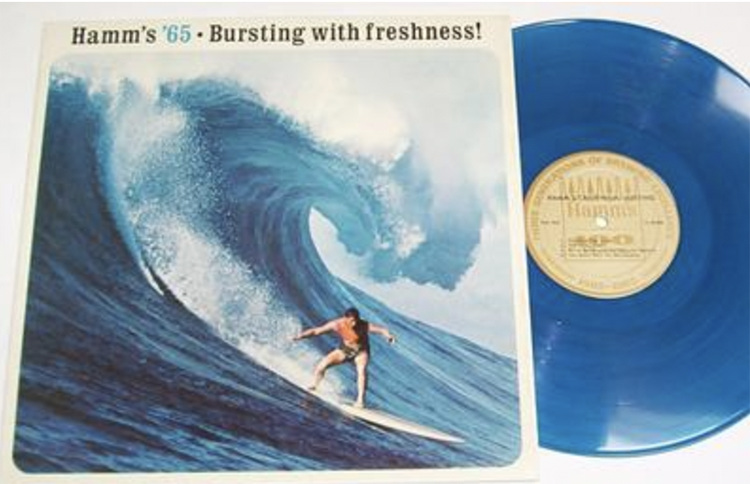 This 1965 release is referred to as an "industrial musical," an obscure subgenre that basically combines Broadway-style numbers with sales jargon you're likely to hear in a boardroom. The style originated during the country's economic boom following World War II and sustained into the '70s. Industrials were produced to keep worker morale high, to instill company pride, and to entertain both shareholders and employees at company-wide meetings. Perhaps you've heard about industrial musicals from the 2018 documentary, Bathtubs Over Broadway, or maybe they're just a baffling mystery to you.
During the style's heyday, major corporations like IBM, Colgate, Oldsmobile, Chevrolet, Xerox, Whirlpool Appliances, Lipton, J.C. Penny, Johnson & Johnson, and Coca-Cola produced, recorded, and quietly released their own industrial musicals in small runs that were privately distributed at company functions. Though these albums weren't intended to be heard by the general public, some of these musicals featured material composed by renowned Broadway songwriters and performed by Tony-winning actors as well as eventual stars of screen like Martin Short and Sally Field. Thankfully, some of these vintage recordings have survived for more than half a century…including Hamm's '65 – Bursting With Freshness.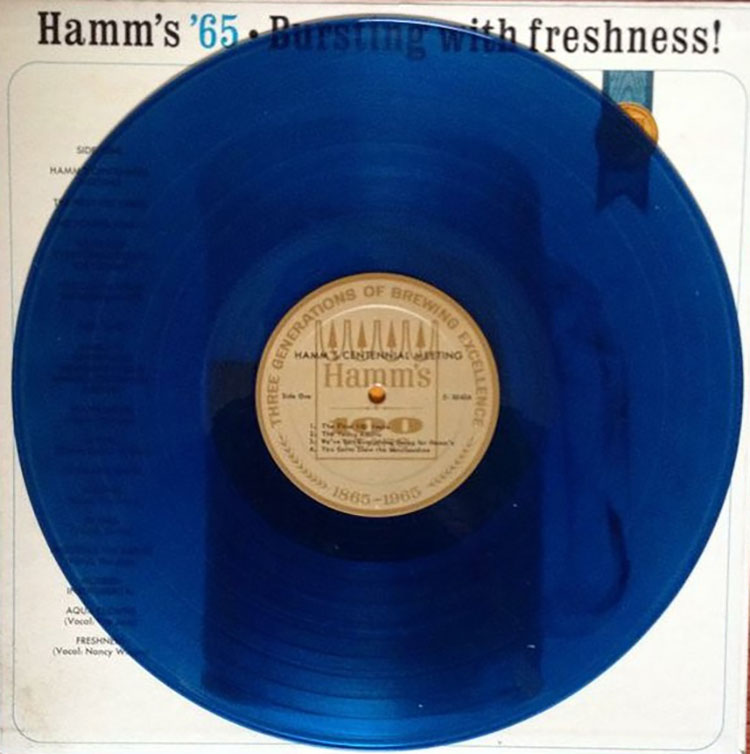 On March 5, 1965, Hamm's—the nation's fifth largest brewery at the time—celebrated its 100th anniversary at The Minnesota Club. Everyone who attended that Hamm's Centennial Celebration Party was given a copy of Hamm's '65 – Bursting With Freshness, which was pressed to blue vinyl as a likely nod to the "sky blue waters" mentioned in the company's motto.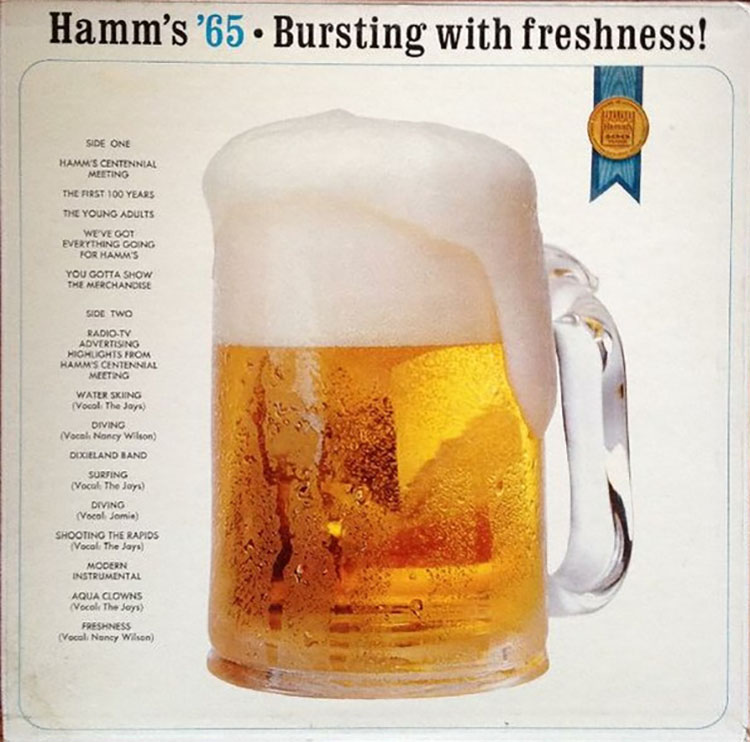 The souvenir album features songs crafted by established songwriters and performed by up-and-coming musicians who were hired to give broad company talking points and bland brand history a stage-caliber sound. Side One has songs like "The First 100 Years"—a three-movement musical journey through the brewery's origin, the resilience displayed during Prohibition, and the state of Hamm's at its centennial—and "We've Got Everything Going For Hamm's," which talks about the beer's strong affiliation with sports, the somewhat recent addition of the now-iconic Hamm's Bear mascot, and its newly released aluminum can option.
Side One also has a peppy call to action called "The Young Adults," which stresses the importance of appealing to baby boomers, a group who was just reaching legal drinking age at that time. Get a load of some of the lyrics:
Be nice to us!
We're the growing new market!
We're the coming new market!
The Young Adults!

We're the married couples, dating couples
Who are drinking beer!
We're the single guys, the single gals
Our group is growing every year

Be good to us!
We're the group of the hour!
With that big buying power!
The Young Adults!
That song, as well as a few others on album's first side, were written by Lloyd Norlin. Norlin was an Academy Award-nominated and two-time Emmy-winning composer. Beyond his output for film and television, Norlin wrote music for Off Broadway productions and would later have his music performed at Mount Rushmore during the Bicentennial Celebration in 1976. His accomplishments also extended to the weird world of industrial musicals, as he wrote well over 200 songs for companies like Marshall Fields, Ford, Standard Oil, and Pepsi. Hamm's '65 – Bursting With Freshness is Norlin's last known industrial musical to be released on vinyl.
Side Two consists of jingles used in radio spots and TV commercials. Even those short and succinct ads had accomplished musicians involved. Some of the jingles on Side Two feature the vocals of The J's With Jamie, a band that was nominated for two Grammy Awards the year before the release of Hamm's '65 – Bursting With Freshness. Other tracks, "Diving" and Freshness," boast the outstanding voice of Nancy Wilson—the prolific jazz singer, not the member of Heart—who had recently charted with her single "You Don't Know How Glad I Am" and earned a Grammy shortly before this Hamm's record came to be. Wilson would go on to win a total of three Grammys, get her own show on NBC, and appear in dozens of TV programs and films over the course of her legendary 55-year career.
Copies of Hamm's '65 – Bursting With Freshness aren't easy to come by and, due to the record's scarcity and the passion of devoted industrial musical collectors, they're pricey when they can be found. We've looked for it on vinyl and we've hunted for recordings online, but haven't had much luck in either department. Though we might never hear "The First 100 Years" and other songs from the record in their entirety, we're just happy to know one of our go-to domestic beers (which is now brewed right here in Milwaukee at Miller Brewing Company) was once the subject of its very own industrial musical. That being said, if you happen to have a copy you'd part with for a fair price or you'd be willing to rip some songs to share as MP3 or WAV files for us, please let us know!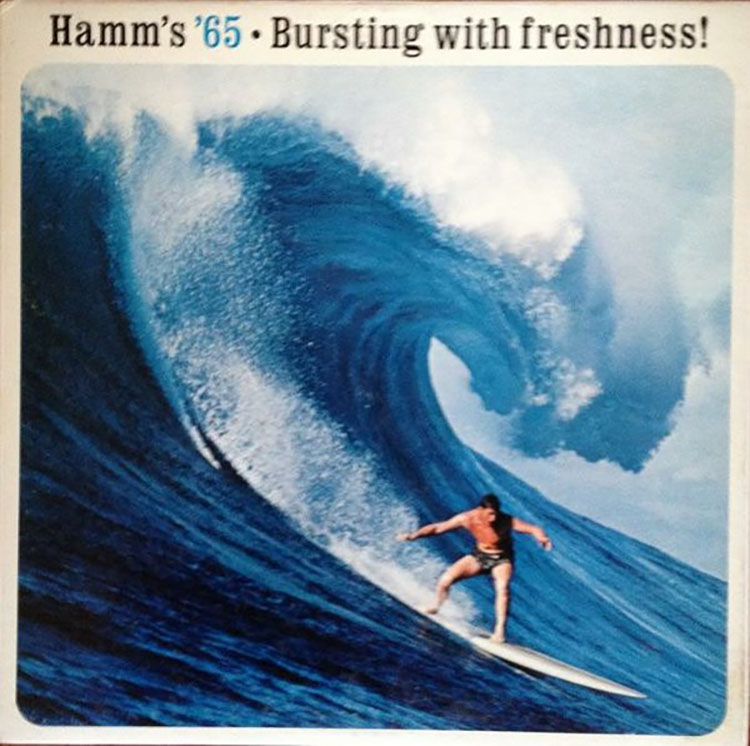 Special thanks to Motion City Soundtrack drummer Tony Thaxton, whose Hamm's '65 – Bursting With Freshness episode of his Bizarre Albums podcast was a tremendous resource when we were putting this article together. Listen to that episode for more information on this record and to hear a few extra song clips.