Out on Highway 41, just a stone's throw north of Milwaukee, there's a road sign that has perplexed us ever since we noticed it about a year ago. As motorists approach Exit 64 A-B, they're presented with some dining options. In case the grainy main image we blindly and dangerously snapped while pushing 75 miles per hour—for the sake of journalism!—isn't easy to see, those options include a Burger King, something called Jimmy's Family Restaurant, and TWO logos apiece that promote regional mainstays Culver's and Cousins.
We first considered the possibility this doubling up could be a case of fast food favoritism on behalf of Wisconsin Department Of Transportation, but then we realized, no, there were probably actually two Culver's and Cousins locations off that particular highway exit. Only in Wisconsin, right?! While heading back to Milwaukee from the Fox Cities recently, we finally investigated and learned that was indeed the case.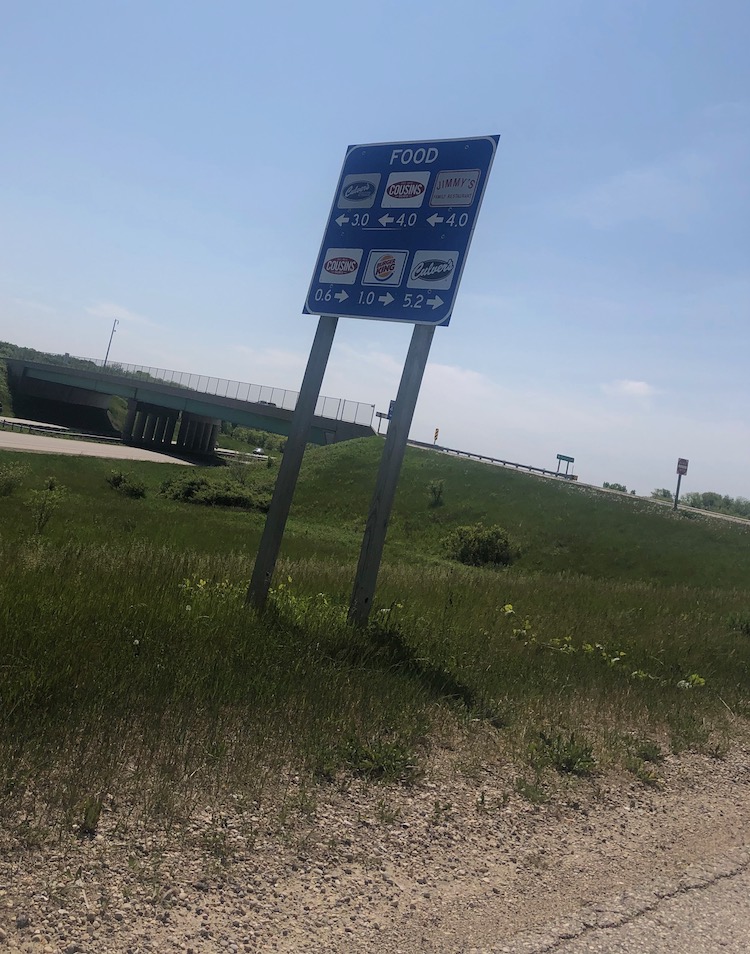 According to the signage on Exit 64, the pair of Culver's stores were a whopping 8.2 miles apart…making it less-than-compelling in terms of coverage. However, the Cousins restaurants were separated by a mere 4.6 miles. They're "Kissing Cousins," if you will! (Sorry.) For reference, that's about a six- or seven-minute drive—the length of a Tool song or the amount of time it takes to empty the dishwasher—on a smooth county causeway with few stoplights between points A and B.
Sure, one is in Slinger and the other is in Jackson, but they're still close enough for discerning sandwich aficionados to venture a short distance out of their way to eat at "The Good Cousins" instead of the one closest to them. So with that proximity in mind, we decided to visit both locations on the same day, order the same thing, dine in, and review BOTH Cousins Subs off Exit 64. These are our findings.
Locations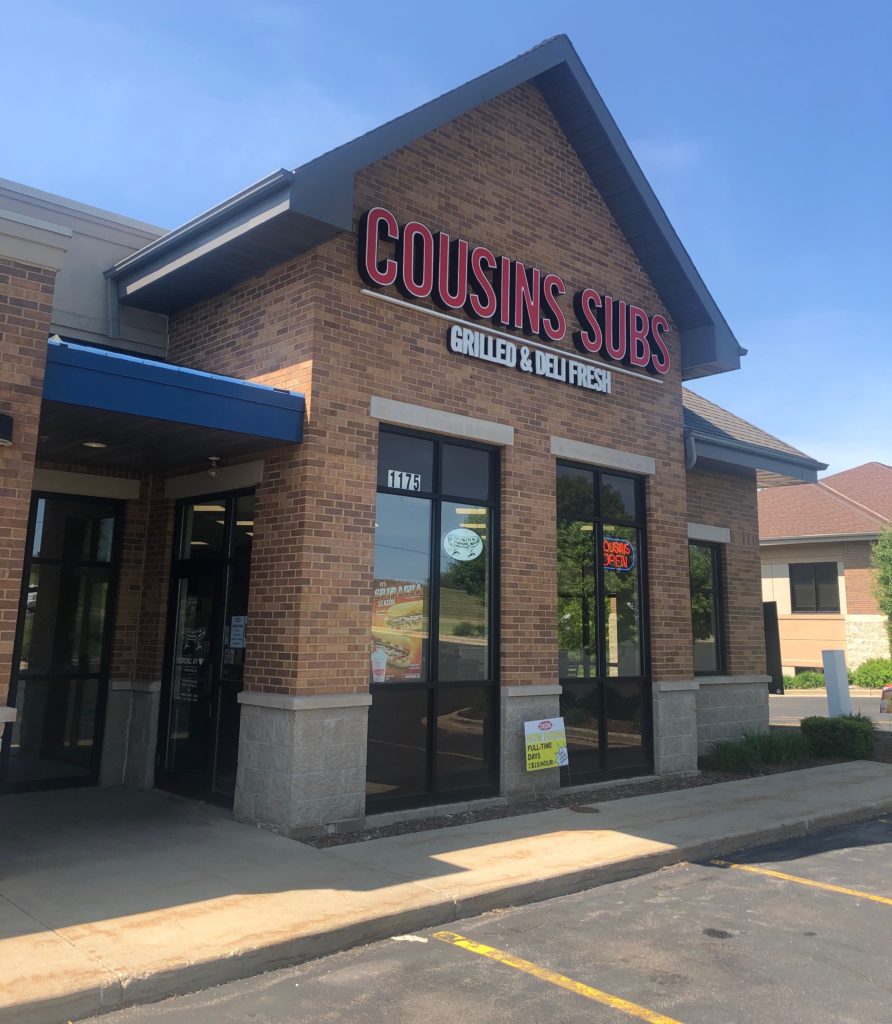 SLINGER COUSINS (STORE #1166)
As the sign indicates, this particular location is just over half a mile west of Highway 41, making it ideal if you want to jump right back on the highway. It's at the edge of a mini mall, which offers ample parking. It has a drive thru.
JACKSON COUSINS (STORE #9132)
The Jackson Cousins is four miles east of Highway 41, making it a bit of a trek for those who wish to get back on the road, but it's not prohibitively far away (especially if the food is good). If you need gas and food at the same time, this could be an efficient option because it's located inside The Village Mart, which is also home to an Amoco station and a bait shop. There's limited parking, but we've seen worse at gas stations. There is not a drive thru.
ADVANTAGE: SLINGER COUSINS (STORE #1166)
Interior/Ambiance/Service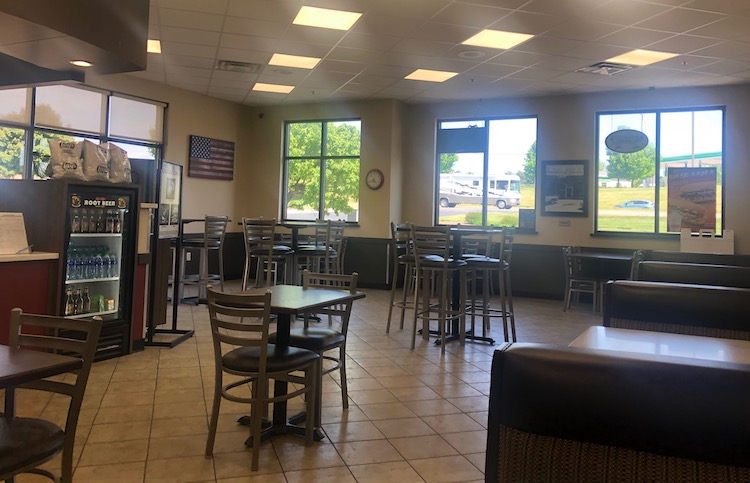 SLINGER COUSINS (STORE #1166)
Store #1166 seems fairly new and pristine. There are some American Flag "art" pieces, corporate stock photos with messaging about brand principles ("Youth Education" and so forth), and framed Cousins items from yesteryear spread throughout the spacious dining area. During our 15-minute experience, the service (from a staff entirely composed of teens) was adequate, and our order came out quickly. We heard 10,000 Maniacs and Sheryl Crow played over the speakers, which was nice. The bathrooms could've been a bit cleaner, but it was a good showing altogether.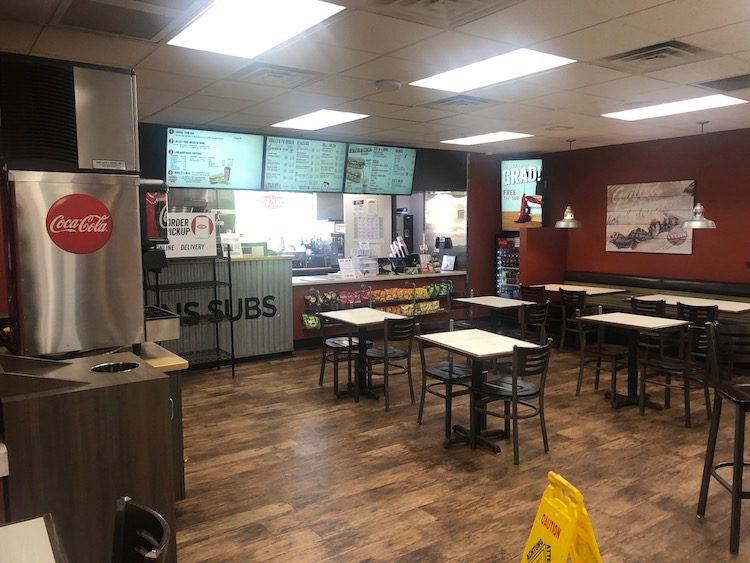 JACKSON COUSINS (STORE #9132)
Being jammed into a mini mart that also has a gas station and bait shop in it didn't do the Jackson Cousins any favors, but they made the most of their limited dining area. It was clean and well-kept, with condiments, straws, and napkins all stocked to the gills. The staff (composed of folks who appeared to range in age from mid-20s to early-40s) was friendly and very on the ball. Musical control seemed to belong to the Amoco station, which played classic rock radio hits from Eric Clapton and Stevie Ray Vaughan during our visit.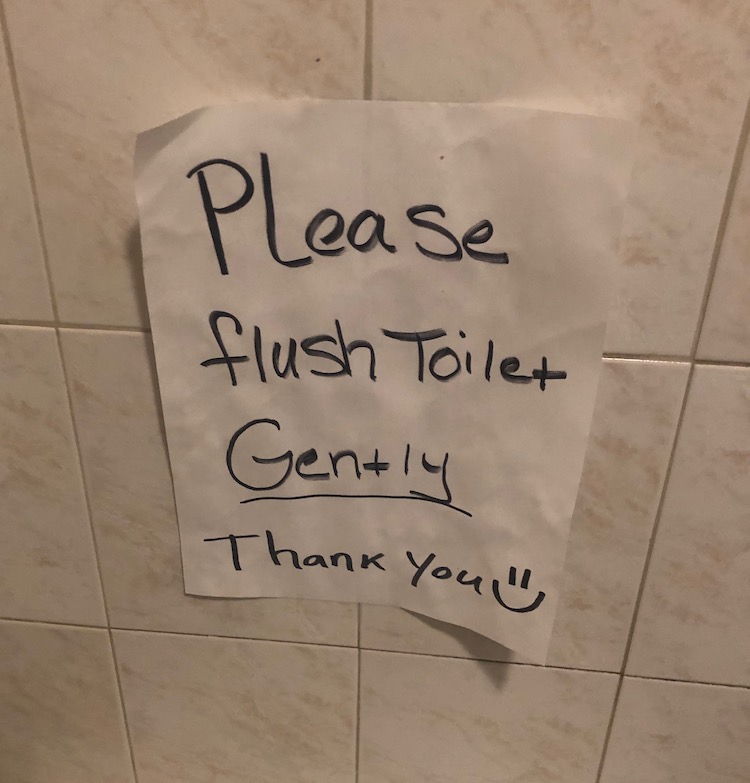 The men's bathroom—located near the bait area on the other side of the gas station—also wasn't perfect, but was miraculously in better standing than Slinger's Cousins. We're guessing bathroom duty is Amoco's responsibility, so we're not even going to ding this Cousins for that.
ADVANTAGE: DRAW. Slinger had better music and has a far better interior, but Jackson's service was better and the staff did all they could to overcome being located in a gas station/bait shop.
Fountain Soda Selection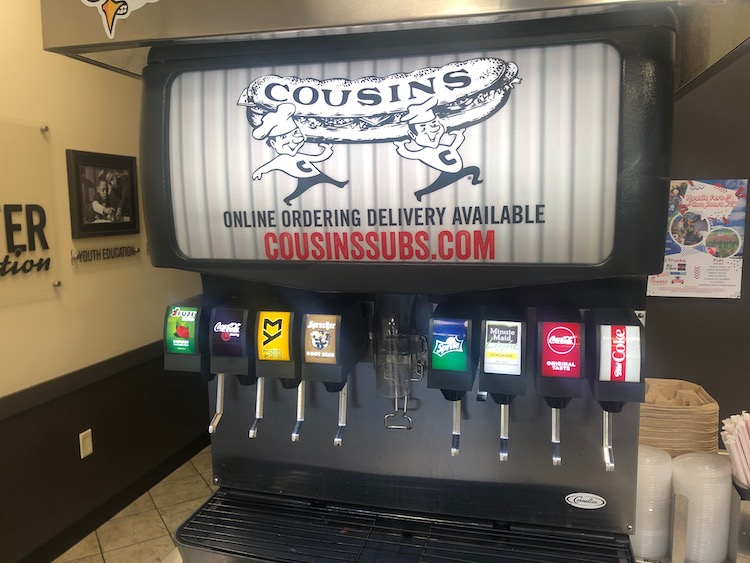 SLINGER COUSINS (STORE #1166)
Water plus eight guns, including Sprecher Root Beer and three Coke variants (including Cherry Coke!). We did a 3/4th Diet Coke and 1/4th Cherry Coke mix with light ice.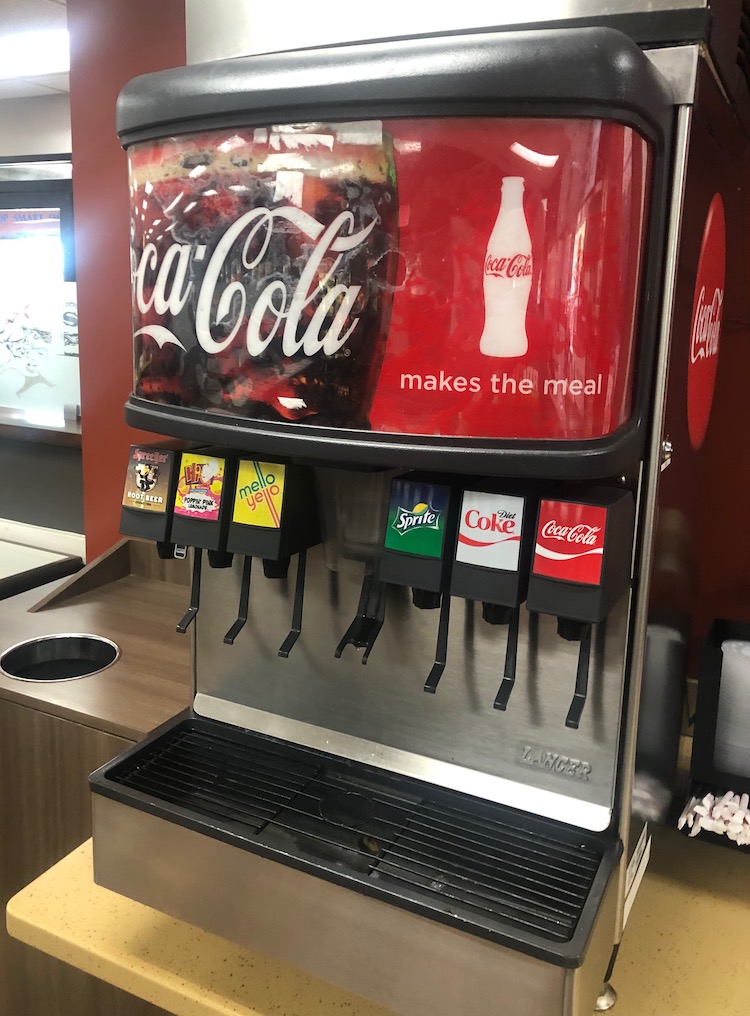 JACKSON COUSINS (STORE #9132)
Water plus six guns, including Hi-C pink lemonade and Sprecher Root Beer. There's no Cherry Coke or tea on the fountain.
ADVANTAGE: SLINGER COUSINS (STORE #1166)
Sandwiches
SLINGER COUSINS (STORE #1166)
Since we were taking two sandwiches to the dome in the span of less than an hour, we decided to keep it simple and light (at least as "light" as a chain restaurant sub sandwich can be) by ordering a 7.5-inch Deli Fresh Turkey Breast sub from each establishment. Before we had something else to compare it to, we found the sandwich from the Slinger location to be a decent representation of a Cousins item we've had a few times before. It was $7.99 before tax.
JACKSON COUSINS (STORE #9132)
When we had the same order at the Jackson location minutes later, the differences were clear. While the bread at this Cousins was oh-so-slightly harder in terms of texture and more oblong in shape, it had noticeably more turkey and tomatoes, fresher lettuce and onions, and (thankfully) less mayo. Oh yeah, this sub was also $7.49 before tax… a full 50 cents less than the same sandwich is sold for 4.6 miles away. To be clear, both sandwiches were good. Still, our turkey sub in Jackson was clearly more filling, less expensive, and marginally better than its counterpart in Slinger.
ADVANTAGE: JACKSON COUSINS (STORE #9132)
Winner (And Final Thoughts)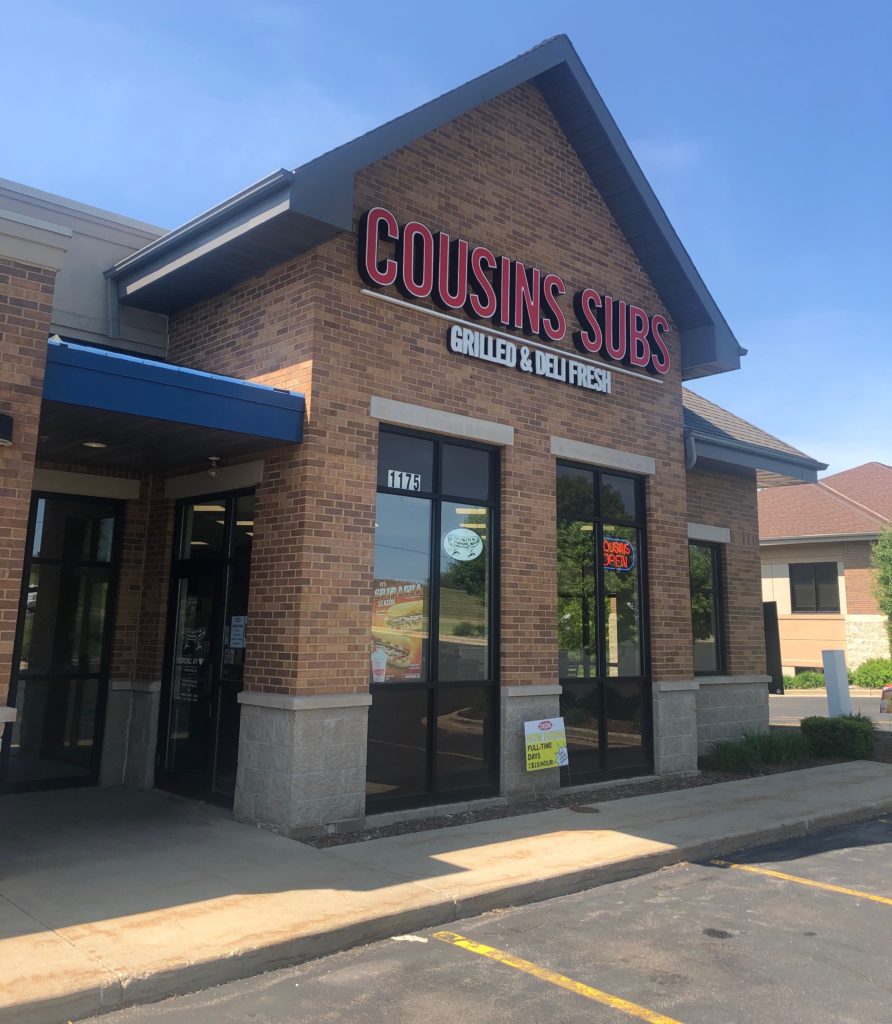 To disrespectfully paraphrase the great Robert Frost…
"Two regional sub shops diverged on a highway off ramp
And happy we could dine at both
And be one traveler with time and a company debit card, twice we ate
And scarfed down two sandwiches as fast as we could…"
After taking both roads (not just the one less traveled by) and experiencing both potential outcomes of our own southeastern Wisconsin sub sandwich version of Sliding Doors, we've seen benefits to dining at each Cousins location off Exit 64.
Jackson's had great service, Hi-C pink lemonade, a better overall sub, and lower prices…but it was cramped in a small gas station/bait shop with limited parking and a butt rock radio station soundtrack that was located a full four miles off the highway. Meanwhile, Slinger's newer/larger/nicer location offers more parking and more soda options, as well as good music and solid service. It's right off the highway and has a drive thru, but it's also more expensive and slightly less satisfying in terms of both service and the sandwich itself.
At the end of the day, SLINGER COUSINS (STORE #1166) narrowly edges out Jackson due to its amenities and its proximity to the highway. The fact Jackson's gas station Cousins that's four whole-ass miles from the off ramp even made it that close is commendable. Really, you won't go wrong at either of these Kissing Cousins (sorry again!), so the next time you're nearing Exit 64 and feeling a bit peckish, get off the highway and just drive either direction until you hit a Cousins. Or try Jimmy's Family Restaurant.