There's no shortage of interesting ways to enjoy an alcoholic beverage in and around Milwaukee. In recent months alone, we've told you about a wealth of bottomless mimosa specials, rounded up a wide array of "mystery beers" in the city, updated our ever-growing list of $1 beer deals, and wrote about more than 100 Milwaukee area patios. In addition to the abundance of money-saving, mysterious, and scenic ways to kick back with a drink in the Milwaukee area, the region also boasts some beverages that are just downright massive.
We aren't talking about a stein of beer or a pitcher of bad, pre-made mix drink here. We're referring to an impressive variety of gigantic cocktails that help bring the city's already-heroic level of imbibing to the next level. From mega Moscow mules and immense island drinks to big bloody marys and some especially bold old fashioneds, here are 10 ways to go big at metro Milwaukee bars and restaurants.
Volcano Bowl (Foundation Tiki Bar)
We'll start this big and boozy tour with one of the city's most notable oversized drinks. For years and years, Foundation Tiki Bar has been a year-round island oasis located in the heart of Riverwest. We've called it "a tropical treasure in a not-so-tropical town," and with good reason. If the decor, the relaxed music and comfortable feel, and the stiff single-serving cocktails aren't enough to get you to make a trip to Foundation, perhaps the "Volcano Bowl" is. The $20 drink serves between two and four "villagers." The sizable punch bowl is filled with aged rum, maraschino liqueur, pineapple, pomegranate, and lemon…then set on fire.
Tiki Love Bowl (At Random)
After being put up for sale and closing for a spell, At Random reopened last October. New owner John Dye (of Bryant's and The Jazz Estate fame) managed to make some subtle improvements to the space and add some much-needed new life to the legendary…but weathered Bay View cocktail lounge. Thankfully, At Random's famed Tiki Love Bowl survived the changing of the guard. The tall and heavy glass vessel is brimming with liquor, garnished with cherries and lemons, and set ablaze to help ignite an evening for two soon-to-be-buzzed patrons.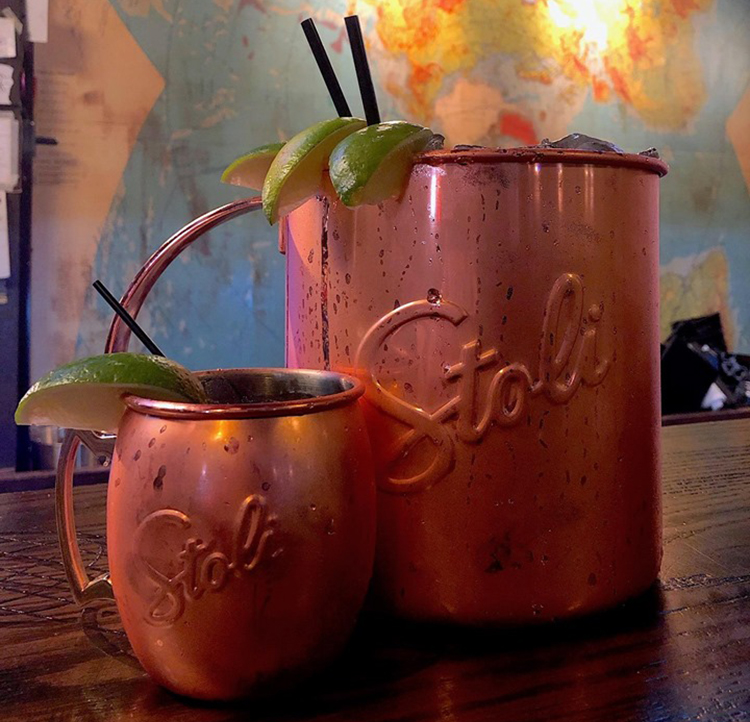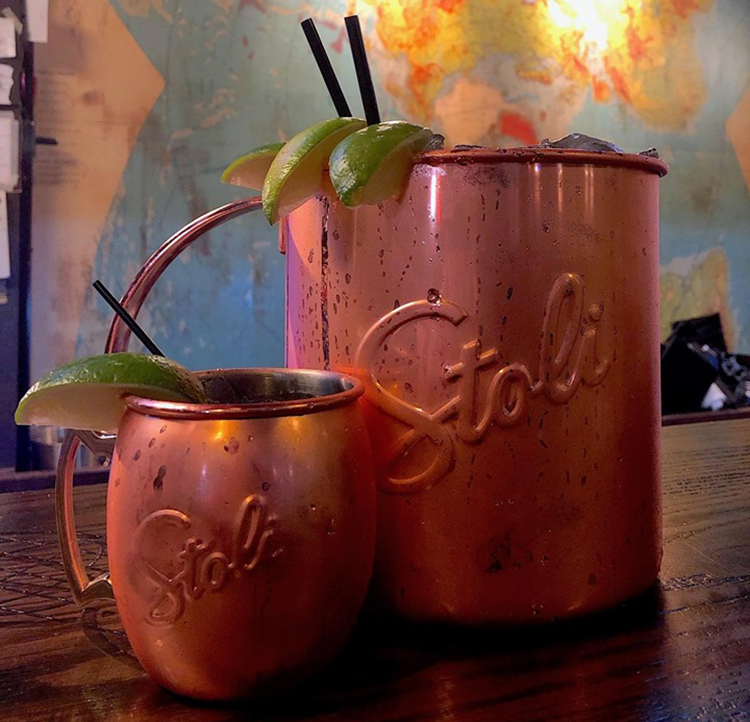 Moore Mule and Mission Impossible (SafeHouse)
As if a secret password, a rotating booth, a shrinking bar stool, in-house magic shows, and a variety of other unexpected and unusual accents aren't already enough to add SafeHouse to your Milwaukee bucket list, the downtown spy bar (which turns 53 years old this Thursday) also has TWO big cocktails on hand for your extended sipping pleasure. The most impressive is the "Moore Mule"—a 96-ounce upgrade of SafeHouse's "Man With A Copper Mug" mule. The Moore Mule (pictured top right) features Stoli 80 vodka, fresh lime juice (and a full lime garnish), soda, and real ginger. It's $40, but between its size and photo potential, it seems to be well worth it. Also, if it isn't already obvious, we'd recommend sharing this one.
If you don't have a 96-ounce thirst, maybe the "Mission Impossible" is more your speed. The smaller (but still pretty huge) souvenir glass is meant for two spies to share. Your mission, if you choose to accept, is to consume a gigantic chalice filled with two types of rum, orgeat, citrus fruits, and grenadine. If you'd prefer to take this $25 mission on alone, that's possible as well. Again, you get to keep this glass after you finish up.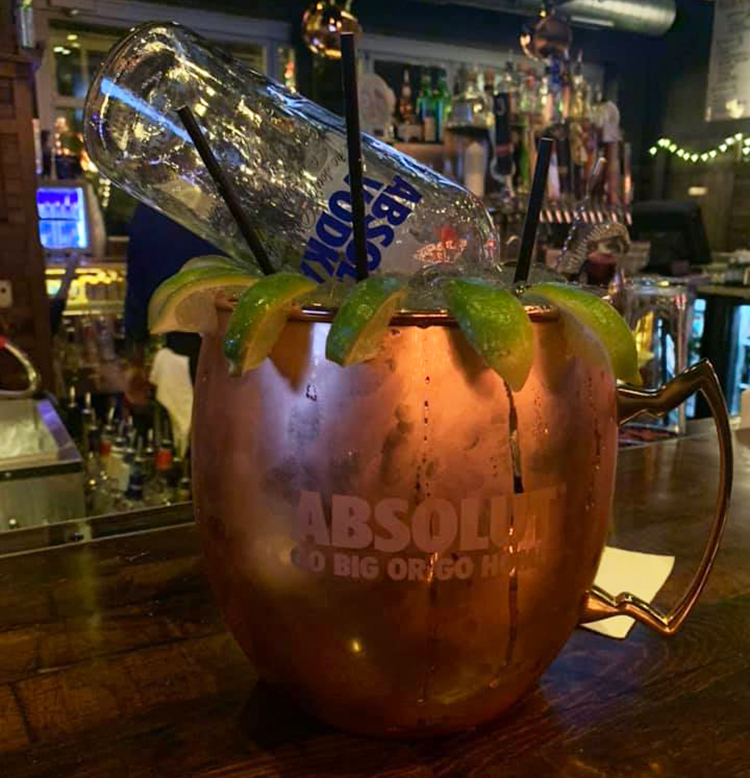 Mega Mule (Garage)
Not to be outdone by SafeHouse on the Moscow mule front, Garage keeps the lower East Side hydrated with a 192-ounce "Mega Mule." Given the staggering size of the behemoth beverage that comes complete with Absolut vodka, a sea of ginger beer, and at least one entire lime, the Mega Mule has to be shared by at least four friends. It costs $80, but Garage routinely offers drink specials that take an additional $10 off the price. Check the bar and restaurant's Facebook page to see when discounted Mega Mules are offered.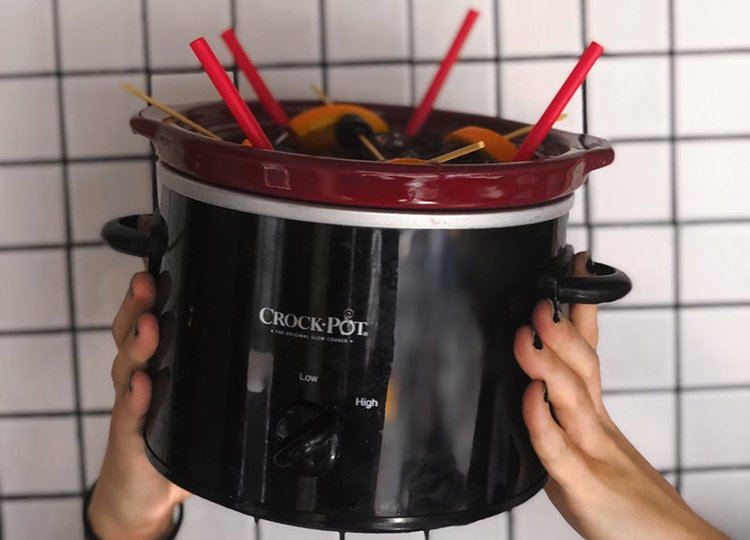 Crock-Pot Old Fashioned (Don's Diner)
Question: What's more Wisconsin than an old fashioned? Answer: An enormous old fashioned that's served in an actual Crock-Pot. Don's Diner in Walker's Point—the same place that brought you the absolutely crazy/awesome 10¢ Martini Lunch special and briefly turned into a Stranger Things-inspired ice cream parlor—routinely turns the fun up to high and serves gigantic old fashioneds in a legitimate Crock-Pot. Garnished with orange slices and cherries, this monster is made for four, but smaller parties (or solo customers) can take a crock, er, crack at it as well. Best yet, they're only $15 during Don's "Old Fashioned Happy Hour" that runs from 3-6 p.m. every Wednesday through Sunday.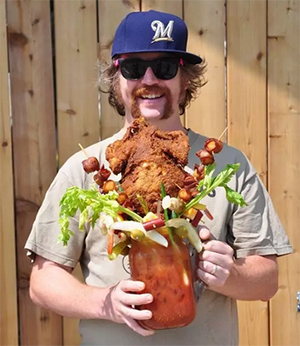 The Bloody Beast (Sobelman's Pub And Grill)
No big cocktail in Milwaukee has garnered more attention (both locally and nationally) than "The Bloody Beast" at Sobelman's Pub And Grill. For years, the flagship location on St. Paul Avenue has inspired oodles of Instagram and Pinterest posts, along with tons of press because of its sheer size and its gluttonous garnishes.
There's a good chance your mom (or another out-of-town relative) convinced you to go try this, and there's a good chance you liked it. Excessive as it is, the prospect of sharing a big bloody mary that's generously topped with a full fried chicken, cheese cubes, beef sticks, celery, some sliders, and bacon-wrapped cheese balls is pretty enticing. Even though it's $60 (up from $50 a few years ago), it's worth trying once if you or someone in your life loves bloodies.
Big Mil Bloody (Milwaukee Burger Company)
Keeping with the bloody mary theme, we take you to Milwaukee Burger Company. The fairly young Wisconsin burger chain (which, ironically, has no locations in Milwaukee proper) lets customers wash down their vast selection of burgers, wings, and other pub fare with five specialty bloody mary options, including its "Big Mil Bloody." The 34-ounce beverage comes topped with a beef stick, two types of cheese, and a mini bacon cheeseburger all for the—comparably small price of $10.99. The nearest location to Milwaukee is in Franklin, so maybe keep it to just one Big Mil Bloody if you're driving.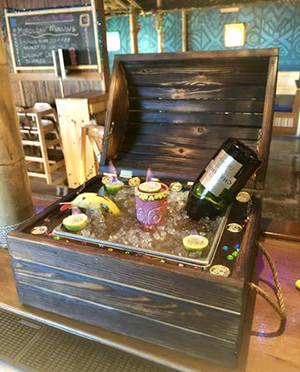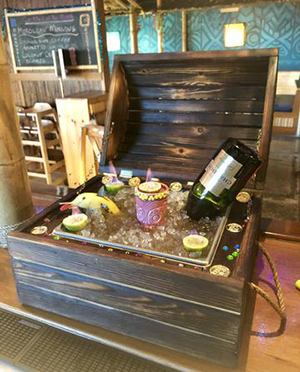 Shiver Me Timbers (WauwaTiki Bar & Grill)
Speaking of suburban establishments with big-ass drinks, WauwaTiki Bar And Grill in (you guessed it!) Wauwatosa actually has a few "share-a-bowl" cocktails. While we recommend you take a closer look at the entire bowl selection yourself, we'd be foolish not to highlight the biggest and most opulent of the bunch.
WauwaTiki's "Shiver Me Timbers" features five liters of "good rum" and other liqueurs, fresh juices, handmade syrups, flaming limes, pineapple, oranges, decorative dolphin bananas, and a full bottle of champagne in a tub that, itself, is stuffed onto a treasure chest. Shiver Me Timbers costs a hefty $225 (plus tip…and you'd better tip), but it serves up to 10 people. If you do the math that, well, is still pretty expensive actually.

Spritz To Share (Punch Bowl Social)
Have you checked out the new Punch Bowl Social? If you've yet to visit the new bar, restaurant, and entertainment destination that's nestled in the shadow of the Fiserv Forum and Turner Hall, then there's a good chance you're unfamiliar with the chain's "Spritz To Share" cocktail. The huge $40 drink is full of Aperol, sparkling wine, and sparking water. It has all the makings of a refreshing and, obviously, sharable cocktail to enjoy before a game or after a concert.