With literally thousands of bars in and around Milwaukee vying for limited drinking dollars, business owners need to get creative to stay ahead of the competition. Some bar owners draw in customers with great food, live music, relaxing patios, specialty cocktails, or weekly theme nights that shake things up with things like trivia or karaoke. Other establishments take a different approach and simply slash the bejesus out of their prices for certain items on specific nights.
Believe it or not, people can still get a beer for $1 in Milwaukee these days. Sure, it's almost always a domestic tap beer. But hey, it's a beer for $1. If you're between paychecks or just want to go on an economy-sized bender for bargain basement prices, let Milwaukee Record be your guide. (This post was last updated January 18, 2020. If we missed any, feel free to add them in the comments.)
Axel's Inn
Axel's Inn has $1 Busch Light from noon through 9 p.m every day.
Club Garibaldi
Okay, so this one technically doesn't qualify, but we think you still might want to know about this weekly special at Club Garibaldi. Every Monday, the Bay View bar and venue offers $1.50 PBR tallboys all night long. You can use your savings to buy some of the bar's incredible wings.
Colonel Hart's
Out on 73rd and State in Wauwatosa, Colonel Hart's commands one of metro Milwaukee's best happy hour deals. Between the hours of 2 p.m. and 6 p.m. on weekdays (Monday through Friday), the bar offers mugs of any domestic beer for only $1. [h/t – Corey]
Comet Cafe
In addition to employing a sizable portion of Milwaukee's music scene over the past 20 years and serving up delicious gut-busting guilty pleasures, Comet Cafe also offers one of the more interesting happy hour specials in town. From 3-6 p.m. between Monday and Friday, the popular East Side mainstay declares a state of "Beermergency," in which Hamm's goes for "just one measly buck."
The Drunk Uncle
Since opening out on 68th Street in 'Stallis back in 2014, The Drunk Uncle has put itself on the map by offering an impressive selection of craft beer, along with some unique and alluring drink specials that make the young West Allis wrestling bar a must-visit destination when you're in the area. The Drunk Uncle is known to reduce prices drastically during Packer games and sell pints of IPAs for just $1 all day/night long on select Saturdays. The bar has re-opened after a lengthy and extensive renovation process, so drop by to see the new and improved space (and the crazy specials they dream up).
Duke's On Water (and Scooter's Pub)
With dollar domestic tappers from 3-6 p.m. every Monday through Friday, Duke's On Water is one of a couple of downtown bars whose prices dip to a buck on weekdays. After that, domestic brews at Duke's (and Scooter's Pub, which is adjoining) skyrocket to as much as—get this!—two or three dollars.
Finks
Pinball machines. Craft cocktail and a great beer selection. Controversial art. Finks has it all. As part of the diminutive drink emporium's weekly Metal Monday series, Fink's chases the tunes with cans of Pabst, Old Milwaukee, and Hamm's priced at just $1.
George's
The dingy and obscured Walker's Point gem and its eponymous owner/amazing storyteller are a portal to a different time. The beer prices seem to follow that theme too, as you can get cans of Red Dog and Busch Light for $1 all day, every day. (Special subject to George wanting to open the bar.)
Hooligan's
Though the neighborhood has changed considerably, the spirit of North Avenue's past lives on at Hooligan's. Every Monday night, domestic beers can be had for just a buck.
Malone's On Brady
Malone's likes to keep things interesting. The Brady Street bar boasts the smallest patio in all of Milwaukee. During football season, Malone's also offers big value on select drinks. In addition to its Jameson specials, the bar offers $1 Pabst Blue Ribbon cans during Packers and Badgers seasons.
McGillycuddy's Bar & Grill
Just across the street from Duke's is McGillycuddy's. Though the spacious Water Street property features two bars on as many levels, not to mention a patio, the prices are small…at least during the bar and grill's tremendous happy hour. Every day from 4-7 p.m., McGillycuddy's offers domestic pints for $1.
McKiernan's
Admittedly, we've never been to McKiernan's. However, Urban Milwaukee paid a visit to the south side tavern and found $1 pints of Pabst, High Life, and Miller Lite between 4-6 p.m. every weekday. After that, prices return to (the still quite great) $2 price.
The Mothership
Since opening in April, The Mothership has quickly established itself to be—in its own words—"a very serious bar." The Bay View serious approach includes offering Hamm's on draft, having Campari on draft, selling gas station-style gourmet sandwiches, and pricing beer crazy-low. Though its selection (primarily made up of mystery beers) is affordable each and every day, Tuesday nights finds The Mothership selling cans of Old Style, Natural Light Naturdays, Miller High Life, and Hamm's Special Light for just a buck.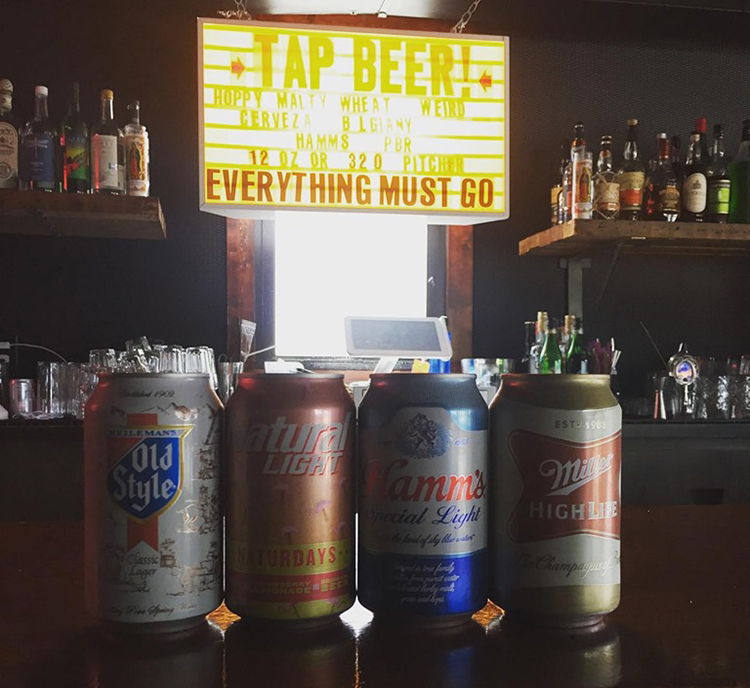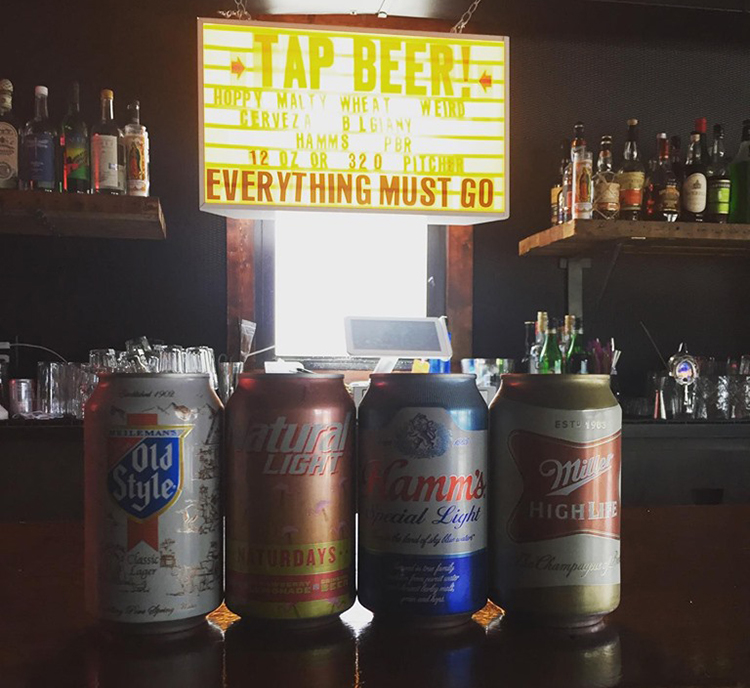 Nomad World Pub
The venerable East Side soccer bar and all-around fun hangout keeps things interesting Monday to Friday with the following special: Every weekday from 4 to 4:19 p.m., all drinks at Nomad World Pub are $1. Prices go up to $2 from 4:20 to 4:39, then $3 from 4:40 to 5.
Old German Beer Hall
It's actually not a dollar…it's better. Every Friday, Old German Beer Hall taps a keg at 6 p.m. and gives it away FREE of charge until it runs out. If you get the last beer from that complementary keg, you drink free the rest of the night.
The Romain Coin
Who says it's expensive to drink on Brady Street? Every Tuesday, Wednesday, and Thursday from 1 a.m. to 2 a.m., The Romain Coin sells 12-ounce tappers of Pabst Blue Ribbon for just a buck.
Sabbatic
Sabbatic has thrived for years in Walker's Point on account of its prime location, its punk rock appeal, and dirt cheap drink specials. On top of the Pabst and Tullamore Dew package deal on hand most of the time, and the two-for-one special on rails, calls, and taps offered from 5-9 p.m. Monday through Thursday, Sabbatic implores customers to "beat the clock" from 7-7:15p.m. with "almost everything" priced at 99 cents every night but Sunday.
Tavern at Turner Hall
When Tavern at Turner Hall opened in October of 2018, downtown Milwaukee got another outstanding pre-concert and before-game destination. On top of the great food and drink selection, Tavern at Turner Hall also features an awesome and unique drink special. Every weekday from 4 to 4:19 p.m., all drinks are $1. Prices go up to $2 from 4:20 to 4:39, then $3 from 4:40 to 5.
Third Space Brewing
It seems like there's a new microbrewery opening in Milwaukee every month (mostly because there has been a new one opening nearly every month). Among the din of new brews pouring into town, Third Space could arguably be considered the best of the bunch. Should fortune find you at the spacious and inviting Menomonee Valley brewery at 5:45 p.m. on a Friday, you'll be able to enjoy $1 pints of a select Third Space beer until the keg blows, as part of the micro's weekly "Brewmaster's Toast" event.
This Is It!
This Is It! isn't only Milwaukee's oldest gay bar, it's also the city's most affordable. Shit, on certain nights it might be one of the cheapest bars in the city, period. Beyond the two-for-one drinks specials whenever a disco ball is spinning, and other great specials every day, Fridays bring about the shockingly great three-for-one drink special on rail drinks and tap beer from 5-9 p.m. That deep discount drops craft beer and tall cocktail prices down to $2 or less and, technically, reduces some domestic pints to $1 apiece.
Thurmans 15
Milwaukee's premier (and only?) Grateful Dead bar has been around since 1987. Though many things at Thurmans have changed over the last 30-plus years, the prices haven't fully adjusted to inflation…at least a select few specials haven't. On Saturdays, the East Side tavern offers $1 PBR tallboys until 5 p.m.
Triciclo Peru
After a couple successful years at farmer's markets, one-off events, and beer gardens with its mobile empanada truck, Triciclo Perú decided to open a permanent restaurant space of their own on Vliet Street. The empanada and pisco bar officially opened in December of 2019. If delicious Peruvian cuisine and South American beverages aren't enough to bring you in, perhaps dirt cheap MGD will do the trick. During the January 12 Packers playoff game, Triciclo marked bottles of the misunderstood and hard-to-find Miller beer down to just $1 while supplies lasted. We can't guarantee that trend will continue during subsequent games, but you should probably just make your way to Triciclo anyway because it's awesome.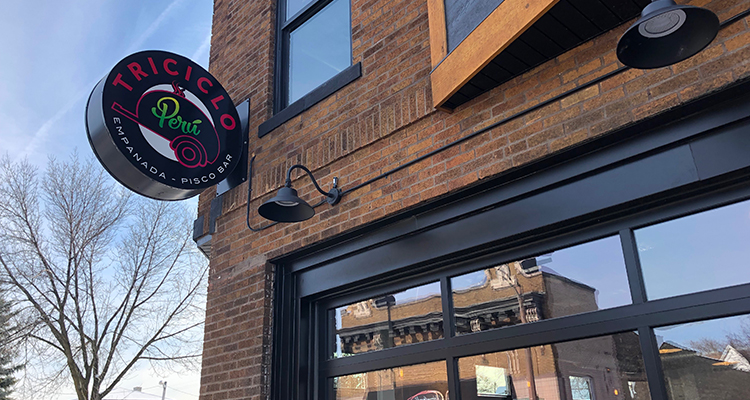 Trio
Thursday nights are "Rec Room Thursdays" at Trio. Each and every week, the Old World Third Street bar has some amazing specials, including $1 domestic taps and rail mixers from 9-10, all-you-can-drink specials from 10-midnight, and $2 mystery bomb shots from midnight-close.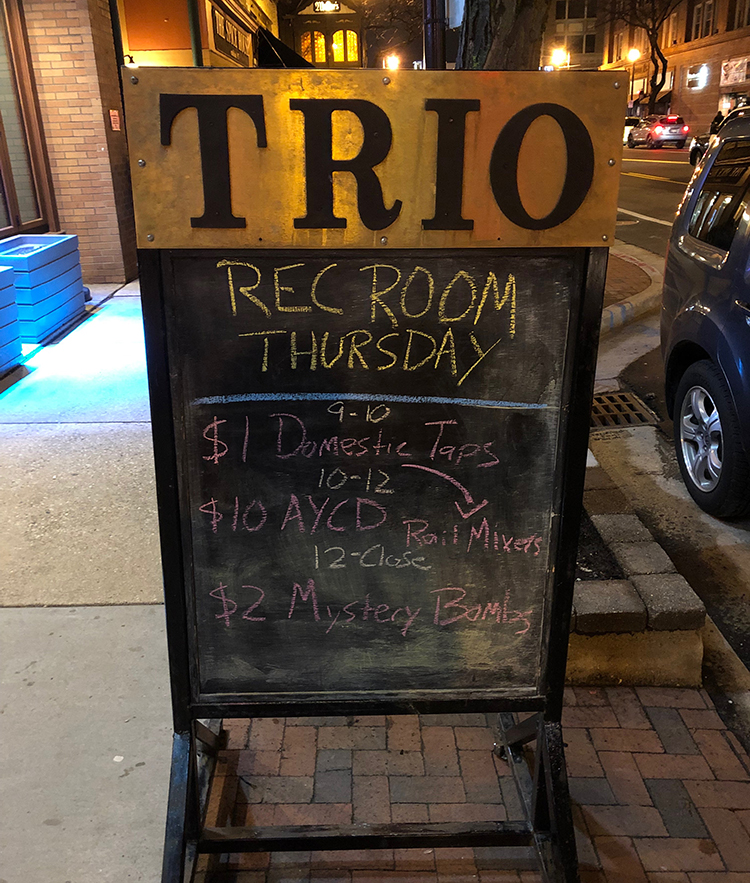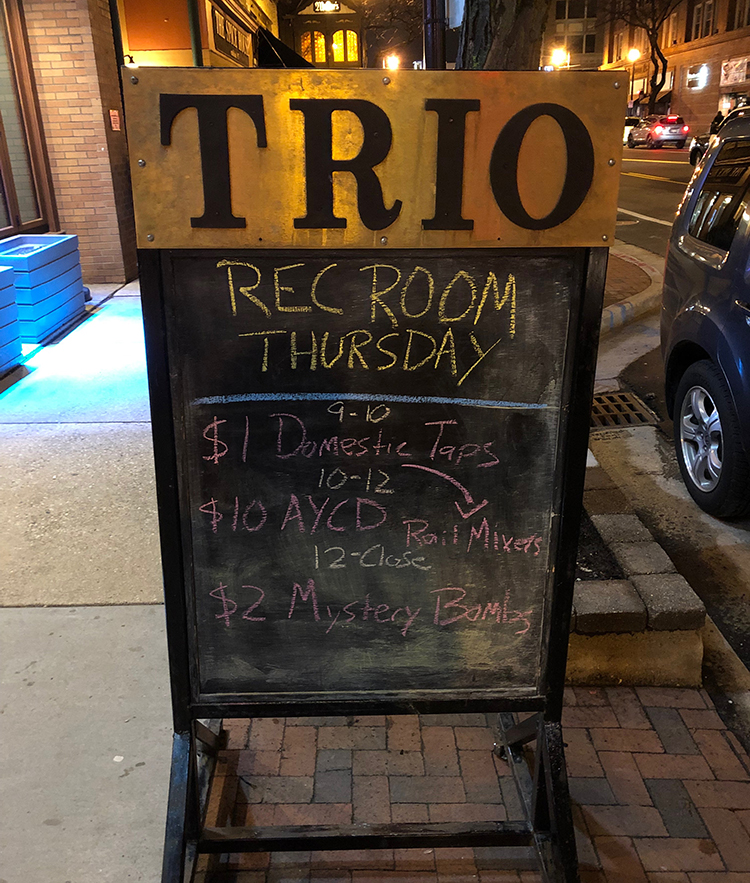 Voyager
Voyager is right at home in Bay View. The new wine bar wasted no time before putting itself on the map with an unbeatable weekly special. Every hump day is "Cold Snack Wednesday" at Voyager. From 5 to 7 p.m., the bar sells $1 Montucky tallboys. If that's not enough, you can get $1 oysters, and $4 glasses of cava, rose, and white wine.