I love my mom. Any good that resides within me is the direct result of something she, my dad or my stepfather instilled in me. As lame as it probably makes me sound, she's one of my best friends on this dumb shit-rock we call a planet. We talk on the phone at least once a week. She's an eternally upbeat, hilarious, compassionate, and all-around wonderful lady I'm proud to call my mother. She has a culinary degree, and was instrumental in my appreciation of food. She raised three kids, two of whom are college graduates, and one that's well on her way. Though she can't claim to understand my less-than-lucrative choice to fashion a "career" covering things like Juggalo rappers, patios, failed flag initiatives, Jon Taffer, and eating adventures, she remains supportive of my choices, and says she's proud of me, which is nice of her to say.
Though I love my mom more than words can adequately express, we don't always see eye to eye. An astounding portion of her wardrobe consists of novelty t-shirts that proclaim her love of wine or bacon. I'm pretty sure her favorite musical genre is polka, specifically songs about the Green Bay Packers being better than other teams. We've learned long ago not to discuss politics, religion, and whether I'll ever give her a grandchild anytime soon (if ever). Even with those differences and so many more, she remains my hero, my rock, my confidant, my pal, my biggest supporter. My mother.
Once or twice annually, our mutual acceptance of the divergent life paths becomes especially evident when my mom makes the 100-some mile trek south on highways that terrify her to spend the day with me in a place her local news has instructed her to fear. Usually, we do something she wants to do, like go to a gimmicky bar or restaurant she saw on Food Network or Travel Channel, tour a distillery, or pose for yet another round of photos by the Bronze Fucking Fonz. At some point, I'll have my fill and suggest we change our trajectory to check out a street festival where a bunch of local bands she doesn't like are playing or catch up in some dim-lit neighborhood dive with a wine selection not at all befitting a woman with her spirit-specific shirt collection.
When she leaves, I'm always so happy I got to see her and give her at least a partial glimpse of where I live: the places I go, the people I've met, the things I do, the home I've made. Still, I can't help but wonder if my desire to expose my mom to new things leaves her—the woman who brought me into this world, raised me, protected me, and paid for my braces and shit—regretting she came. I'm 31 now, but I still don't want to disappoint my mom. Recently, with a visit taking place close to her birthday, I told her she should pick all the activities. Nothing was off limits. Moreover, I pledged that I would do my best to avoid complaining and to approach each activity with an open mind. I wanted my mom to have her favorite Milwaukee day with her family. Who knows, maybe I'd have a little fun too. She called the 24-or-so hours of activity her "Milwaukee Bucket List." I referred to it as my "Milwaukee Fuck It List." Here's what we did.
Stop 1 — Bloody Marys at Sobelman's
Thanks to Pinterest and glowing reviews from friends, our day started at Sobelman's at 11 a.m. sharp. As the first customers in the door, we were escorted to the small back room dining area, where my stepdad quickly commandeered the TouchTunes machine and our group placed an order for the beloved burger joint's famed "Bloody Beast." While my parents waited for the $50 amalgam of a fried chicken, shrimp, pickles, a burger, cheeses, bacon-wrapped garnishes, and enough of the beverage to generously serve five patrons, Disturbed's cover of "The Sound Of Silence" blared over the speakers. I ate an above average cheeseburger. Others in our group sipped standard Sobelman's bloodies.
After a 30- to 45-minute wait, the moment my mom had waited years for had finally arrived. Sobelman's makes the unsubstantiated claim that The Beast is "The Best Bloody In Wisconsin." Her review: "This is one of the best bloody marys I've ever had in my life." I stuck to beer, but to both her and Sobelman's credit, the chicken and garnishes were quite tasty, and with the amount it serves, it's actually a better value than any of its $12 single-serving bloodies that come with just a fraction of the food. I'm not about to order one, but I have to admit I kind of understand the appeal now.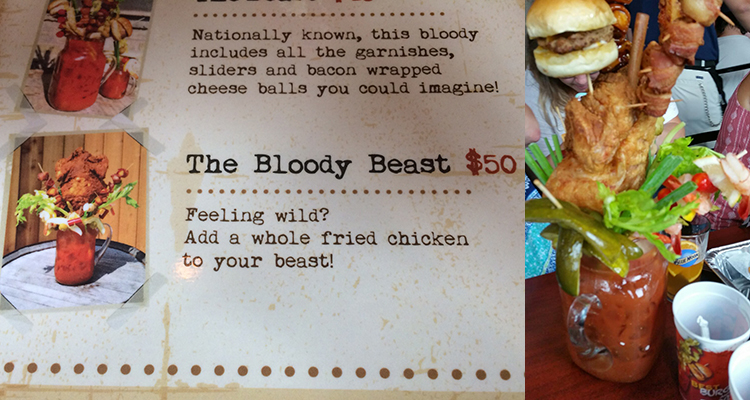 Stop 2 — Flying kites at Veterans Park
Beverages and burgers in our bellies, we made our way to Veterans Park to…yep, fly fucking kites. Our group of grown-ass adults gathered between a jogging path and a fenced off area where a car show was taking place to try to fly cheap kites on a hot and humid day that was utterly devoid of anything resembling wind. It sucked. My mom tried to make the most of it, as puzzled strangers looked on. My sister scolded me for complaining. I think we all hated it. After one awful hour, we gave our kites to kids in our vicinity and got the fuck out of there.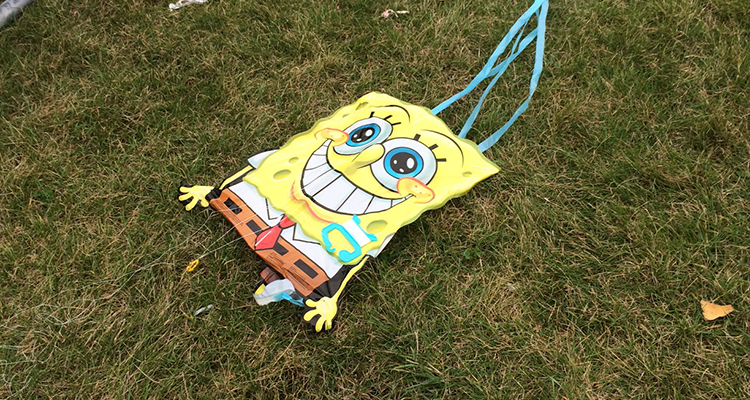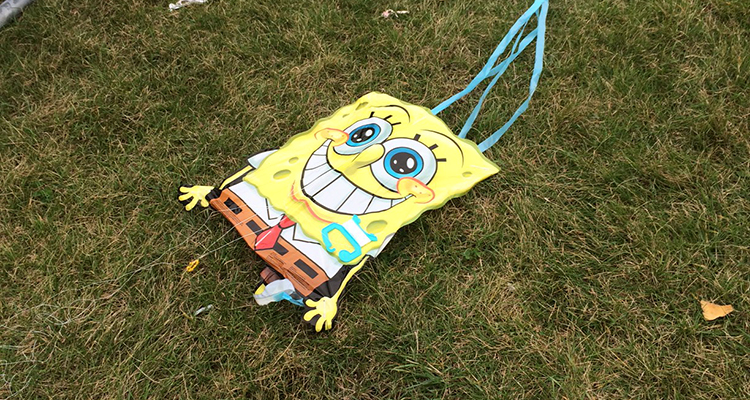 Stop 3 — Drinks and spy stuff at Safe House
We've been to Safe House together a couple times before, but not since it was updated. We took an Uber—where my mother delighted the driver with her misuse of the word "fetish"—there and she (and else everyone except my stepdad) recalled the password. Us spies took a spot at the bustling theme restaurant's bar and sipped drinks. As I took on the near-impossible mission of finishing the sourest Moscow Mule I've ever had, my mom had another bloody mary, a drink she recently decided she was going to try to like, and struck up a conversation with a group of people from Antigo. After a pleasant chat with her new friends, she went to the souvenir stand and bought our group fake mustaches to wear. Since I already have facial hair, I used mine to make a uni-brow. Drink notwithstanding, I've had worse Safe House visits. Hey, at least we weren't flying kites!
Stop 4 — The Bronze Fonz at Downtown Riverwalk
With Safe House's proximity to the monument, we had to stop by Ol' Bronzarelli before hitting our next stop. Having recently celebrated its eighth birthday, I had to admit the statue was starting to grow on me. It was still stupid as hell, yes, but as we waited for our turn to pose beside the metallic likeness of Henry Winkler, I took notice of all the groups gathering for pictures. Their smiles and anxiousness to stand by the statue sort of warmed my jaded, dead heart. Before we took our turn, I slapped my fake mustache onto Bronzie's upper lip, which made my mom laugh and helped me get rid of my fake mustache. Win-win.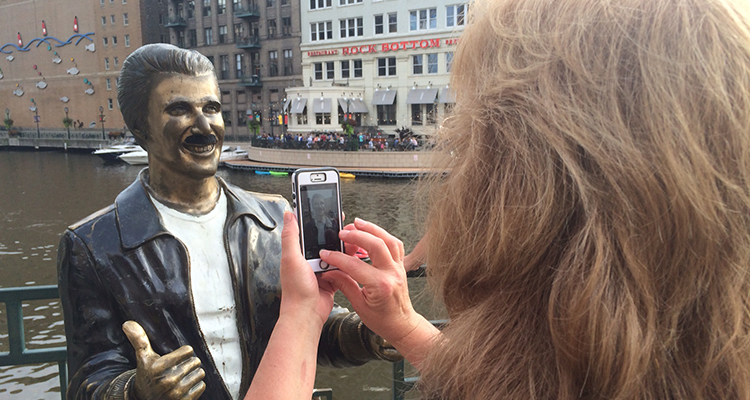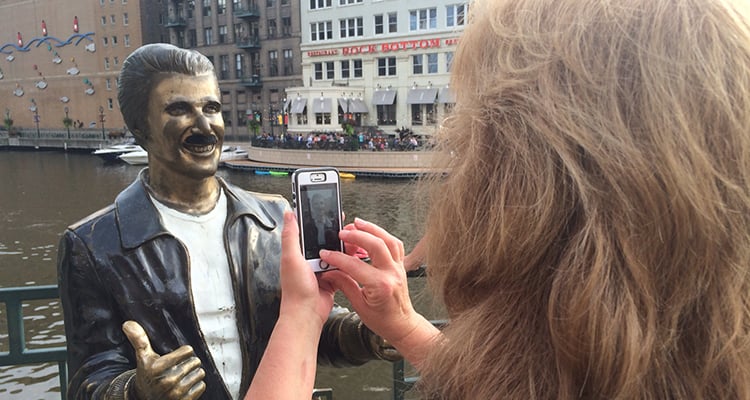 Stop 5 — Shotski, hammerschlagen, and a giant pretzel at Old German Beer Hall
I didn't mention this to my family beforehand, but I actually don't mind Old German Beer Hall. In a sea of detestable and douchey Old World Third drinking establishments, its an embassy of sorts that offers decent beer in addition to pretty good snacks and entrees in a long bar that just so happens to have a very Germanic theme. Mom had her sights set on a shotski, since nothing says "fun" like five people of differing heights tipping a plank to drink offbrand schnapps in unison. I tried and failed to kiss a goat mounted to the wall. We shared a huge soft pretzel with excellent house mustard. Then we played hammerschlagen, a game where competitors try to be the first to pound a nail all the way into a stump. As dumb as it sounds, it was pretty fun and actually became quite competitive near the end. Someone in our group invited a really, really drunk middle-aged dude to play, and my mom made fun of how bad he was to his face. My mom is awesome.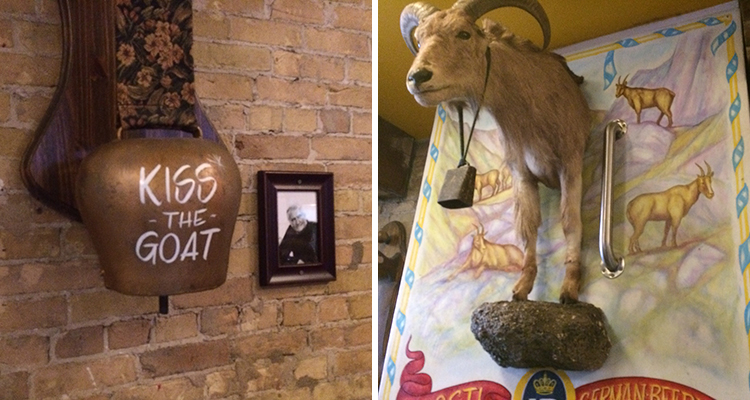 Stop 6 — Dueling pianos at Lucille's Rockin' Pianos
Besides kites, this was the stop I feared most. Few things are cornier than dueling pianos. The idea of making reservations, paying a cover, and dealing with hoards of rowdy bachelorette parties to hear songs covered on the ivories seemed crazy to me, but it was high on my mom's so-called Bucket List. I knew I needed to get really drunk or I would be in hell. Even that wasn't easy. I split a fish bowl of some gutrot-inducing hard iced tea cocktail and watched as two pianists use decades of training to pound out requests for songs by Eminem, Journey, and—of fucking course—Billy Joel.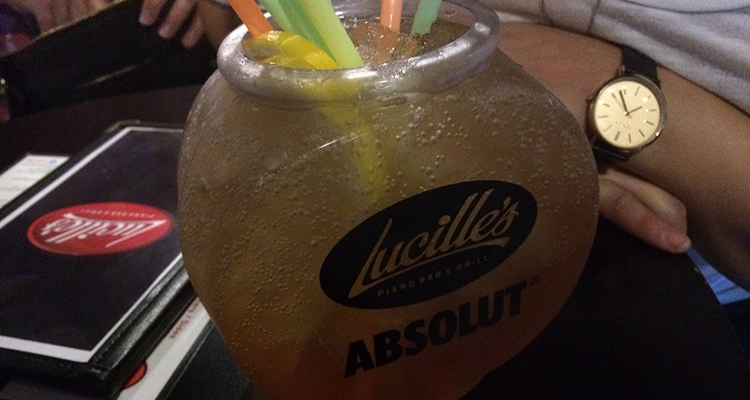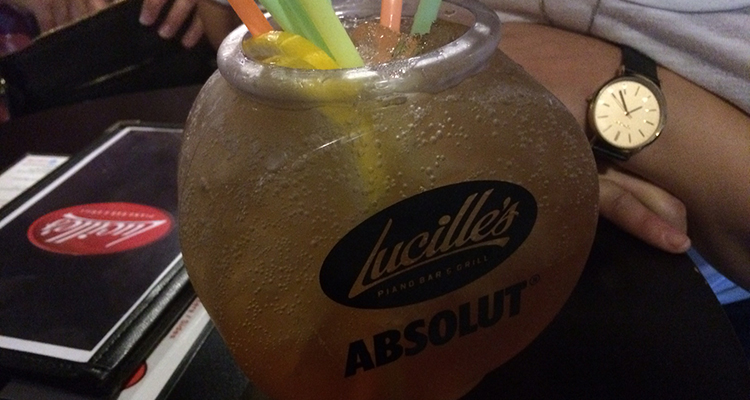 Maybe it was the Jeremiah Weed hitting me. Perhaps it was the subsequent buckets of beer or the fact my mom and stepdad looked to be having the time of their life, but I grew to actually tolerate—if not somewhat enjoy—the shtick of Lucille's staff, and how performers played off one another. Why don't they call it "supporting pianos"? I digress. Eventually, my mom's request, "Living Next Door To Alice," was played, and our group all stood up and sang along to the song's "Alice! Alice? Who the fuck is Alice?" chorus. Had it not been for my mom's insistence, I guarantee I never would've set foot in Lucille's in my life. Hopefully, I never will again, but I have to say I'm glad I gave it a shot, if only to witness my mom inspiring dozens of people to scream "fuck" a bunch in public. It was a fittingly weird end to night one of a two-day experience.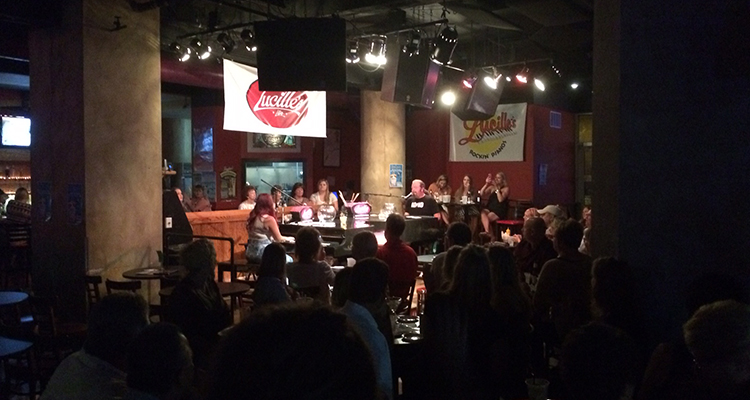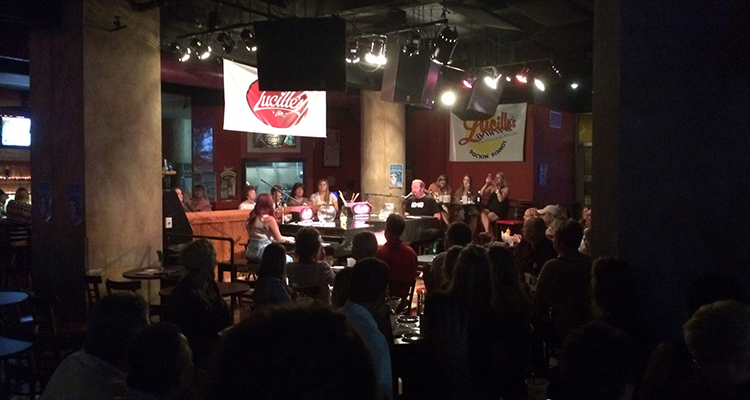 Stop 7 — Milwaukee Pedal Tavern
I planned to go my entire life without boarding a pedal tavern, but that fateful Sunday morning, that's just what I did. After signing our liability waivers, we hopped on our own slow-moving, traffic-halting, impossibly dumb mobile bar. Each two-hour session allows up to three stops, and customers can bring a cooler with their own drinks. An aux cable allows riders to supplying their own soundtrack. With the Happy Schnapps Combo hits "The Bears Still Suck" and "We're The Minnesota Vikings" playing over the sound system, we struggled around Walker's Point and annoyed motorists all the while. My mom didn't seem concerned, and mostly took a seat on the pedal-free rear bench. I high-fived a passing cyclist. We had $1 Red Dogs at George's (a great little bar the owner actually credits Pedal Tavern customers for saving!) and some craft brews at Camino before my mom weighed in on our final stop…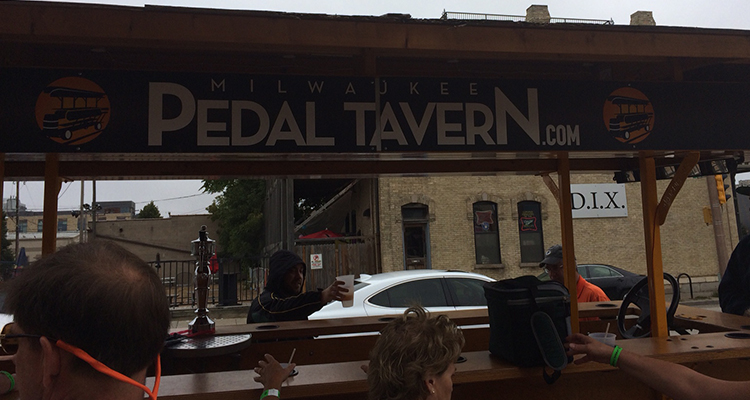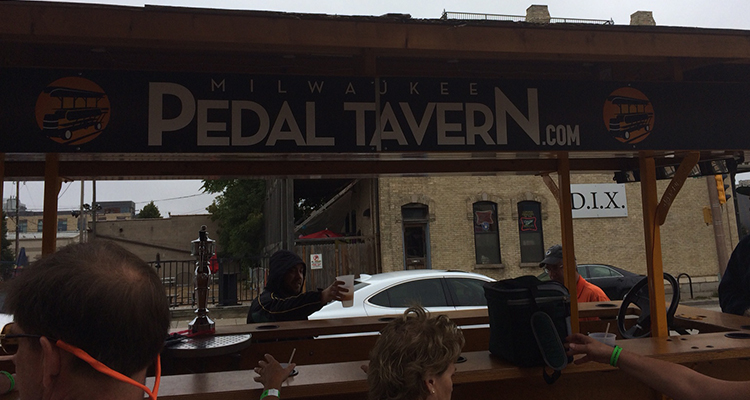 Stop 8 — Drink Wisconsinbly Pub
I pledged I'd never visit a bar based on a t-shirt pun. But since I love my mom (and because Shit Happens When You Party Naked Gastropub wasn't open Sundays), I broke my promise to myself and agreed to Drink Wisconsinbly. I was surprised to find it was much smaller and more understated than I imagined it to be. There was a decent patio, but we stayed inside, where I was impressed to see a nitro tap of an O'so stout available. I had a pint of it along with a spicy pickled egg as I examined the Wisconsin map wallpaper. Fortunately, someone in our guild ordered some baskets of cheese curds, which were fried to golden perfection and overstuffed with gooey cheese that made chewing entirely optional. Combined with the four-container flight of dipping sauces, I must admit Drink Wisconsinbly's curds cracked my shortlist of favorite bar snacks in recent memory. My mom bought a bunch of Drink Wisconsinbly shirts and, again, declared her latest bloody mary to be one of the best she'd ever had. As much as it pains me to say, it was IrrWisconsinble of me to make up my mind about this place before I tried it.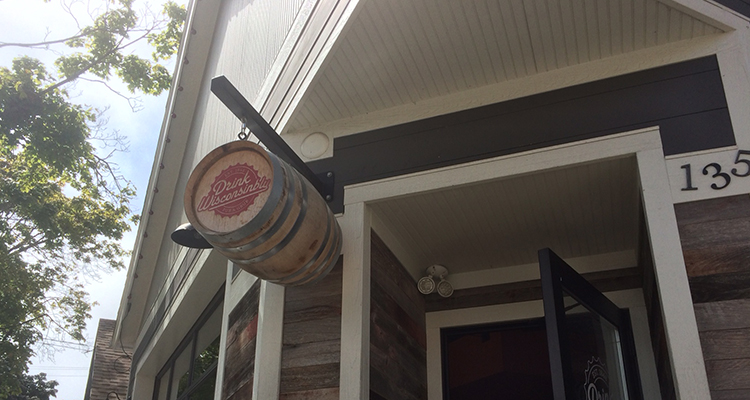 Last Stop — Milwaukee Public Market
Full of beer I didn't want, fatty foods I didn't order, still nursing a hangover from the night before, and working on a few hours of sleep in a hotel chair, I was ready for the Bucket (or Fuck It) List weekend to end. I think we all were. However, we had one more stop. St. Paul Fish Company at the Milwaukee Public Market is home to my mom's favorite food of all time. As I "saved" a picnic table for us by laying on it and drifting in and out of sleep, she ordered us lobster rolls, a scrumptious mixture of lobster hunks, mayonnaise, and celery on a soft and buttery roll. As worn down—both spiritually and physically—as I was, the lobster roll was damn good. My mom raved about it between bites and sips of, yes, another bloody mary.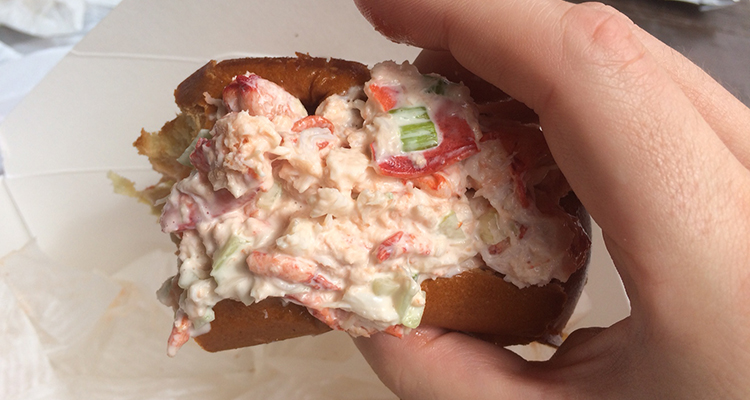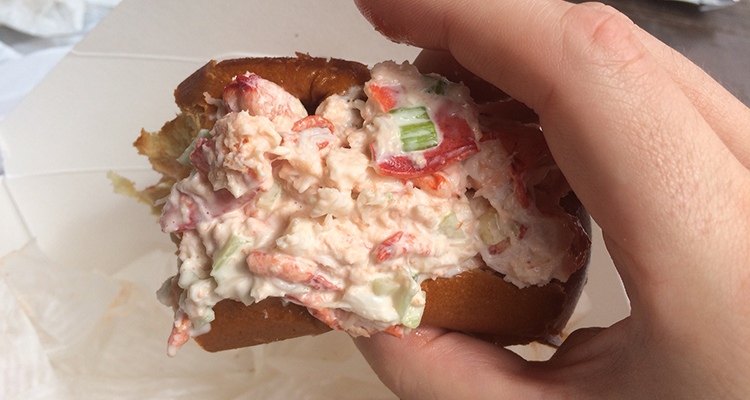 Even a few years into her 50s, my wonderful mother wasn't showing any signs of slowing. As I slumped on a Third Ward picnic table, she was still upbeat, funny, and taking pleasure in quality food and drink, the company she kept, and the opportunity to take at least a minor break from the norm. As different as we were in so many ways, I made note that I needed to try to be more like her. No, I won't be returning to most of the stops on my mom's Bucket List. Yet I'm happy I made a concerted effort to see Milwaukee through my mom's eyes. Shit, at certain points, I even liked what I saw. Just don't expect me to fly a kite ever again.