I'm perfectly happy to admit that I grew up idolizing Corey Feldman. Along with Michael J. Fox, Corey Feldman represented something of an ideal '80s kid to me: cool and cocky—with a full head of hair and a shit-eating grin—but still an outsider. Sure, Corey Feldman was a badass vampire killer in The Lost Boys, but he was also a comic book nerd and a headband-wearing weirdo. Yeah, he was kicking a Members Only jacket and a Purple Rain T-shirt in The Goonies, but he was still, you know, one of the Goonies. He was both me (an outsider) and something I could one day hope to be (cool). Plus, Mouth had a weird thing for Stef in The Goonies, and I had a weird thing for Stef in The Goonies. Go figure.
Like everyone else, I moved on from my childhood idolizations. I never really kept up with Corey Feldman, only occasionally seeing him in some direct-to-video dreck, dimly acknowledging his music career and his continuing obsession with Michael Jackson, avoiding his Two Coreys reality show with Corey Haim, and cringing at that Vice piece where a dude went to Feldman's creepy-looking birthday party. Corey Feldman became just another thing from my hazy '80s past—a Rubik's Cube, a pair of acid-washed jeans, a fun memory.
But then came Feldman's now-infamous 2016 appearance on the Today show, in which the 45-year-old former Jason Voorhees killer, decked out in his finest Assassin's Creed gear and joined by a bevy of barely dressed "angels," performed the puzzling and perplexing EDM epic "Go 4 It." There was dabbing involved. Yes, Corey Feldman was still pressing his music career, and it was weird.
Or downright awful, according to the internet. But while some on the internet mercilessly mocked Feldman, and others wondered just how and when he had lost his goddamned mind (others rallied to his support), I found myself pondering a different question: Could it be that Corey Feldman was more self-aware than people were giving him credit for? Could the whole thing be at least partly tongue-in-cheek, similar to that time Charlie Sheen kept blathering on about "winning" and tiger blood or whatever? Could Corey Feldman's music career be an elaborate joke?
"It's not rocket science. We're not The Beatles," Feldman told LA Weekly earlier this month. "But there's an importance to what we're doing. It's tongue-in-cheek and we're all having fun with it, but it's also an important and positive message: Don't ever think that your day is done. As long as you have the fight and fire in you, you can achieve anything."
With that quote in mind, I drove from Milwaukee to Green Bay Thursday night to see Corey Feldman & The Angels perform at the Green Bay Distillery. (By myself, I should add, because this was the sort of thing that needed to be done alone.) My intentions were pure: I wasn't looking to mock Feldman or giggle at his questionable music and dance moves, and I wasn't looking to raise an eyebrow at the thought of a former child star serving as a "mentor" to a group of lingerie-clad ladies. I was genuinely curious about what kind of show Corey Feldman—star of The Goonies, The Lost Boys, Stand By Me, Dream A Little Dream, and so many other go-to VHS rentals—would put on. I wanted to have a good time. I wanted to go 4 it. And, well, I don't know. I just don't know.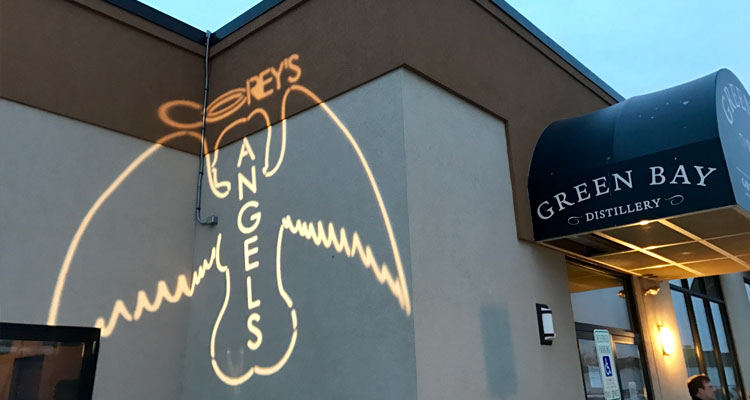 Let's start with the above logo, which I guess is supposed to look like an angel, but in reality looks like a big dick with wings. This was the first thing that greeted me upon my arrival at the Distillery, and it perfectly summed up the "So, is he kind of kidding?" vibe that was yet to come.
The crowd was pretty much what you'd expect: lots of "'80s retro night" folks, plenty of sports bar regulars, a smattering of Green Bay punks, and me. But like me, most everyone seemed more genuinely curious than "train wreck" curious. One dude I talked to noted he had been "dragged to this thing" by his girlfriend, but admitted he was a huge Lost Boys fan. A woman told me she and her girlfriends had surprised their Corey Feldman-loving friend with a full $90 meet-and-greet package (regular tickets were $15). There were some Milwaukee folks there, and one couple had driven all the way from Nebraska. Another woman said the show was "another check off the ol' bucket list." A guy said he'd "do anything for Corey," though he was kind of smiling when he said it. We were all about 40 years old.
Oh yeah, there was an opener: Green Bay hard rock band Red Light Saints. They were good! "Are you ready for some Corey Feldman!" bellowed the lead singer approximately 12 times during the opening set. "AHHHHHHHHH!!!" replied the crowd. You're goddamn right we were ready for some Corey Feldman.
Yep, there's that winged dick again.
So here's the part where I describe what happened during Corey Feldman & The Angels' 90-minute-or-so set. If the above headline hasn't already tipped you off, I don't know. I just don't know. I ended up livestreaming a good chunk of the thing, so maybe an embed below would do the trick. But before that, here's a bullet list of some of the things contained in that footage:
• An over-the-top (and perhaps a little winking) hype reel that preceded the show. ("4 DECADES OF POP CULTURE CLASSICS. TOP 40 BILLBOARD HITS. SEVERAL HIT SINGLES. ORIGINAL DANCE MOVES.")
• The lingerie-clad Angels backing band, complete with light-up wings and light-up shoes. One of them, the keyboard player, is Feldman's wife, Courtney Anne. As a band, they were competent, and played live the entire night. As a presence, they were unnerving: their facial expressions and body language varied between tired, bored, embarrassed, and mortified. Maybe they were just bummed to be in Green Bay. [Edit: One of the Angels, Margot Lane, assures me they had a great time.]
@ByMattWild @milwaukeerecord Despite your recent article on #CoreyFeldmanAndTheAngels We LOVED playing @GBDistillery thanks for having us

— Margot Lane (@Margotlanemusic) March 24, 2017
• Corey Feldman. He came out wearing a red, Michael Jackson-esque jacket and a gold, Daft Punk-esque hoodie. Many more costume changes were in store, including a straight-up Michael Jackson outfit (complete with a "Billie Jean" tribute) and the studded black leather jacket he wore in Dream A Little Dream. His long, dyed-black mane was from the Damien Echols school of hairstyles, and at one point he took off his shirt. Dude is in good shape!
• More Corey Feldman. He played a ton of stuff from his old albums, a ton of stuff from his new album (Angelic 2 The Core), and a song he co-wrote with Rick Springfield called "Former Child Actor" that includes the lyric, "And even though that don't mean shit to you / I still gotta drink your pee." He played "Go 4 It" and, yes, "Ascension Millennium."
• Corey Feldman on a hoverboard.
• Corey Feldman getting real with a song about "what's happening in the world right now."
Okay, so here's the footage. Sadly not included is Feldman's sincere tribute to the late Corey Haim, Courtney Anne giving Cyndi Lauper's "The Goonies 'R' Good Enough" the old college try, and Feldman sitting in on drums for an unfortunate cover of "Why Don't We Do It In The Road?" Again, I don't know. I just don't know.
Corey Feldman live in Green Bay

Posted by Matt Wild on Thursday, March 23, 2017
Corey Feldman live in Green Bay

Posted by Milwaukee Record on Thursday, March 23, 2017
I ended up leaving somewhere in the middle of the encore. I wasn't alone—by 10:15 p.m. or so, the once relatively large crowd had thinned out. I drove home tired, confused, and perplexed. I had an inkling of what the Angels must feel like.
Was it a good show? Sigh. Not really. The best bits were when Feldman seemed to fully embrace the ridiculousness of the whole thing, like when he tooled around the stage on a hoverboard. He had an endearing, boyish chuckle throughout the night, which seemed to indicate he knew what he was up to. The music was mostly forgettable ("Everybody" and "Duh!" were kind of fun), and what could have been a fun and sexy stage show (in the best of circumstances) ended up being a little sad. There was something there, but not something fully formed. I wanted a big, goofy, and sincere grin on my face for 90 minutes. I'd say it only showed up for about five.
But you know what? I still give Feldman a ton of credit. He gave it his all Thursday night. Dude played a rock star for an hour and a half and seemed to be having fun. He went 4 it. And if he came up short? Well, maybe it's something he'll never shake: the cool and cocky kid—older now, but still with a full head of hair—forever an outsider, forever looking for a way (back) in.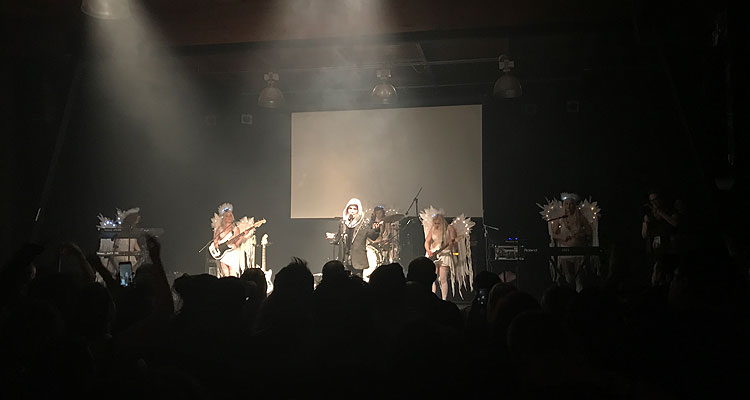 Exclusive articles, podcasts, and more. Support Milwaukee Record on Patreon.
---
RELATED ARTICLES
• I saw Corey Feldman play the show of his life, knock his tooth out, and then look for his tooth
• Been blocked by Corey Feldman? Now there's a patch for that