With the Packers on bye this week, Sunday could be tough for some fans to get through. There's a ton of bullshit things you can do this weekend, but if you find yourself in desperate need to see some, any, representation of players wearing green and gold on your television once kickoff rolls around, we recommend you dust off your controllers and take things into your own hands. Yes, video games are another measure fans can take to distract themselves between now and the next Packers game, and a fine way to at least somewhat address the football-sized hole in your weekend. It isn't the real thing, but it'll have to do.
Unlike the real world, many video game titles feature players with bloated rankings and inflated abilities. Sure, Bo Jackson was great, but no mere mortal could ever do what he did in Tecmo Bowl. Shawn Kemp couldn't actually dunk a flaming ball from half court. Aaron Rodgers can't just throw a Hail Mary touchdown at will. Oh wait, disregard that last example. In an effort to help you get a competitive edge by exploiting some significant glitches, contributor Nick Olig and editor Tyler Maas have found 11 of the most overrated Packers in video games.
Don Majkowski — Quarterback, Tecmo Super Bowl (NES)
In the early '90s, the Majik Man's immortal poster showed a lot of lame walls how to be cool. As if that wasn't enough to cement the cult Packer hero's legacy, Majkowski was also a steady middle-tier quarterback in Tecmo Super Bowl. In fact, his attributes give him the edge over the likes of then-rising star Troy Aikman and prolific journeyman Vinny Testaverde. Astonishingly, in the history of home consoles, Majkowski is one of only three QBs to be listed as the Packers starter. And as for the other two, Favre and Rodgers, they're probably jealous of the Majik Man's knack for photogenic poses and sorcery. [Nick Olig]

Bob Nelson — Defensive Tackle, Tecmo Super Bowl (NES)
Shown in this artist's rendering that dares us to compare his likeness to that of Lando's alien buddy aboard the Millennium Falcon, Bob Nelson tallied a mere three sacks in four career seasons, yet somehow, he's a Tecmo legend. In the 1991 Nintendo classic renowned for its oftentimes spot-on ratings, Nelson is an exception to the rule. He's rated the fourth best defensive tackle in the game, and the most likely explanation for his prowess remains, "Somebody fucked up." But fans of the Pack are glad the ball got dropped by whomever scouted Nien Nunb's double, and with his slick zigzag move to get after the quarterback, Bob Nelson was one to make his 8-bit opponents shout, "56 Quickness, my ass!" [NO]
LeShon Johnson — Running Back, Madden '95 (SNES)
The real 1995 LeShon Johnson had two carries for negative two yards for a Packers team that would wash their hands of the second-season running back before season's end. Video game LeShon Johnson was nothing short of a green and gold god. Those who incurred enough halfback injuries or who fussed with the lineup enough wound up with a speedy rusher who could outperform Edgar Bennett, Dorsey Levens, and shit, even Emmitt Smith. Real life Johnson would finish with five career touchdowns and serve prison time for dog fighting, so yeah, fuck that guy. Video game LeShon Johnson is still cool with us. [Tyler Maas]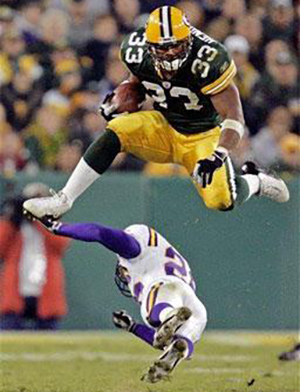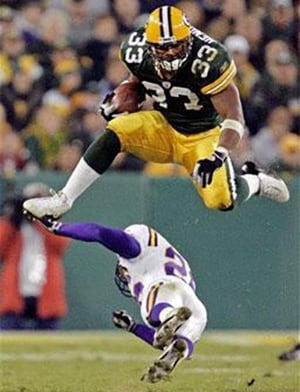 William Henderson — Fullback, Madden '07 (PS2, Xbox)
A beloved member of the Packers Hall Of Fame, William "Boogie" Henderson was a bruising lead-blocker who was valued on offense, despite rarely touching the ball. But because Madden '07 touted him as a 96 Overall in his 12th and final season in the NFL, Boogie is perhaps the most overrated player on the list. We don't begrudge John Madden if he had a man crush on Hendo.
Who wouldn't be swayed by Henderson's hard-nosed style of play and a level of Toughness that could best be described as "86 out of 100"? He makes a hell of a case, but the truth is, Favre's favorite fullback carried the ball just once in his final four seasons, totaling negative five yards in his final rush. So yeah, a 96 Overall may have been extreme, but if looking cool mid-hurdle could be ranked, we think Boogie deserves a 99. [NO]
Greg Jennings — Wide Receiver, Madden NFL 10 (PS2, PS3, PSP, Wii, Xbox 360, iOS)
Just to be clear: Greg Jennings was an outstanding Packers player, and his Madden NFL 10 rankings (90 Overall, 93 Speed, and 96 Acceleration) actually seem about right, but not even Jennings could "put the team on his back" and score a 99-yard touchdown with a broken leg. He may "do this shit for Madden," but that's the only place he'd ever be able to. [TM]
88 Packers (aka Keith Jackson) — Tight End, Tecmo Super Bowl III: Final Edition (SNES)
In the spirit of Jim "QB Bills" Kelly from the first Tecmo Super Bowl, when it came to getting ID'd for a video game, Keith Jackson had zero fucks or names to give. With ratings Tecmo nerds will find impressive, Keith "88 Packers" Jackson boasted 63 Receptions and 56 Hitting Power. Truly, 88 Packers was one badass who preferred to remain anonymous, even though Jackson struggled with injuries the season the game was released. (It was the veteran's next and final campaign in which he exploded for 10 scores and retired as a Super Bowl champ.) We're too skeptical to believe that "88 Packers" is also what awaits good Cheeseheads in the afterlife, but it is without question the alias of the best tight end on our list. [NO]
Derrick Mayes — Wide Receiver, NFL Blitz (Nintendo 64)
In the seven-on-seven format of Blitz, an arcade-style free-for-all in which football players were basically possessed by demons on steroids, the Packers' Super Bowl-era skill-position stars should have been running back Dorsey Levens and wide receivers Robert Brooks and Antonio Freeman. Unfortunately, somebody at Blitz headquarters must have screwed the pooch big time because Derrick Mayes and the paltry 730 receiving yards he garnered in three disappointing Packers seasons somehow got picked over Antonio Freeman and his 7,251 career receiving yards and 61 touchdowns. [NO]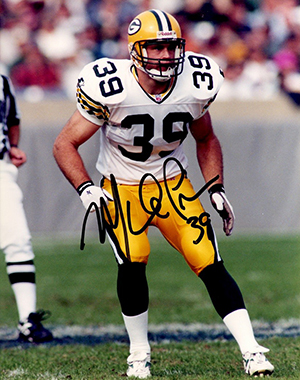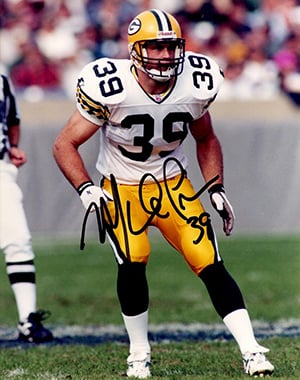 Mike Prior — Safety, NFL Blitz (Nintendo 64)
For a game known for its glorified violence that blended tackling with some WCW Revenge-style brutality, it's ironic that the makers of Blitz opted to saddle the Packers defense with a guy who appears to have all the intensity of a systems analyst. The spot opposite of real life/Blitz force LeRoy Butler in the defensive backfield went to veteran Mike Prior. Though he was a quietly solid Packers contributor, Prior started a mere six games over the course of his seven years with Green Bay, so it's hard to justify him as one of the four playable guys on D. As a footnote, Prior remains the franchise's number one nickelback most likely to rock out to Nickelback. [NO]
Harry Galbreath — Left Guard, Tecmo Super Bowl (SNES)
We did some next-level research on the Super Nintendo version of TSB, and here's our big scoop: Harry Galbreath has a higher Hitting Power than the Vikings' Randall McDaniel, a 12-time Pro Bowler and Hall Of Fame guard. Harry Galbreath didn't need to make any trips to Hawaii or be inducted into some Hall Of Whatever to get his Hitting Power rating of 69 (which was the same as the Cowboys' standout Nate Newton). Apparently, all that was required of Harry Galbreath to win the favor of a few Tecmo scouts was a name that made him sound like one of the Garbage Pail Kids. [NO]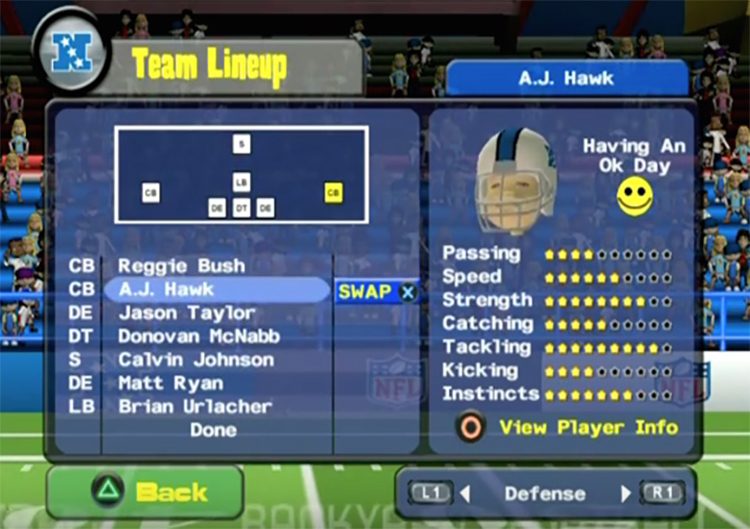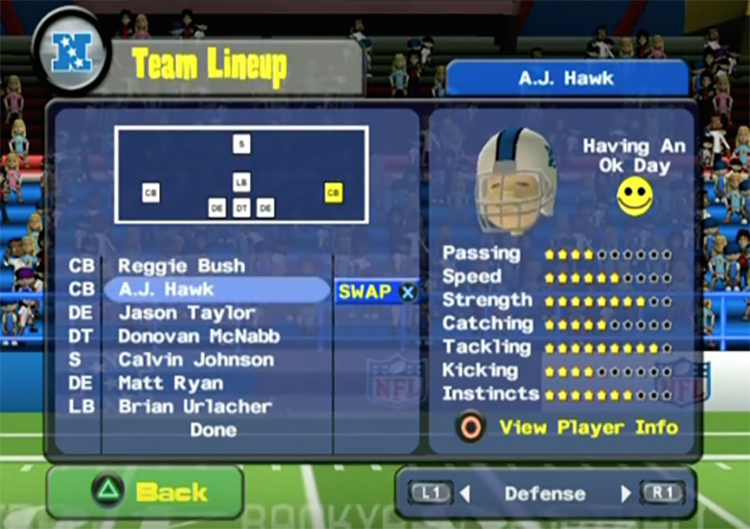 A.J. Hawk — Linebacker, Backyard Football '09 (Wii, Nintendo DS, Playstation 2)
If the graphics and the game's relatively short run aren't already enough of an indication, you might be surprised to learn Backyard Football isn't very good. What the sandlot football franchise lacked in gameplay and concept, the officially licensed game made up for in star power. Tom Brady, Ben Roethlisberger, both Manning brothers, Larry Fitzgerald, Tony Gonzalez, Calvin Johnson, Maurice Jones-Drew, Adrian Peterson, Ray Lewis, Steve Smith, LaDainian Tomlinson, and Brian Urlacher were just some of the NFL mainstays who had pixelated personas on Backyard Football '09. Unfortunately, Green Bay's lone representative on the 2008 release was A.J. Hawk, who benefited from Favre's recent departure, Rodgers' inexperience, and the unmarketable likes of Ryan Grant in the backfield. Anybody who has watched Hawk play knows that tackling rating is complete bullshit. [TM]
Bill Maas —Defensive Lineman, Tecmo Super Bowl (SNES)
Maas had a solid run in the NFL, highlighted by Pro Bowls in both 1986 and 1987. By the time he joined the Packers in '93, however, his talent had depleted. He was a non-factor in his final season in the league, but at least Tecmo still believed in him. As Reggie White's bookend on the defensive front, the Quickness rating of Maas is as shocking as it is bogus. [NO]