With Aaron Rodgers potentially out for the remainder of the season and the Brett Hundley-led Packers in a two-game slide, both the team and its fans could use a break. The disappointing play of late doesn't make the prospect of enduring 14-plus days without the Packers any easier to take. Still, as arduous as the task seems, it's actually possible to survive an autumn Sunday without Green Bay football.
Over the past two seasons, we've suggested a bunch of bullshit things you can do to help fill that Packers-sized hole in your soul. Though many suggestions on the 2015 and 2016 lists still hold up, we figured more ideas couldn't hurt. So as you hunker down and wait for next Monday night's game, behold 25 more bullshit things you can do during the Packers bye.
1. Clean out your closets
With summer decidedly over and winter on the way, there's no better time to go through your wardrobe and cycle out clothing you either no longer like or don't expect to be able to fit into by New Year's Day. It's productive and time-consuming.
2. Donate stuff to Goodwill
Once you've collected a few garbage bags worth of old clothes and household items, donate them to your local Goodwill. While you're there, look for a jersey to wear next week.
3. See Goran and Morgan of The Gufs
Find a way to score a ticket to this sold out Sunday show or risk waiting upwards of 15-18 months to see a former Guf perform somewhere in Milwaukee.
4. Pet a dog
You'll thank us later.
5. Floss
Flossing is a necessary part of life, and one of the top reasons life can be so hard.
6. Go see Beetlejuice at Avalon Theater
As October nears its conclusion, so does "Shocktoberfest" at Avalon Theater and Rosebud Cinema. Fortunately, the theaters have saved some of their best for last. As NFL games are kicking off at noon on Sunday, the classic 1988 film Beetlejuice will begin at the Avalon. Don't make us say it two more times.
7. Do yard work
Regardless of your living situation, there's probably some work to be done outside. Take down your stupid ass "People's Flag Of Milwaukee" or underrated actual Milwaukee Flag before the elements get to it. Transfer plants into pots. Mow your lawn for one of the last times in 2017. Rake. (Hard take: Raking is the flossing of yard work.)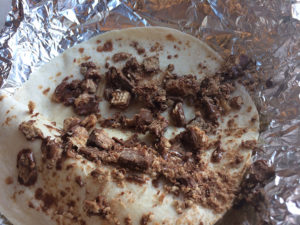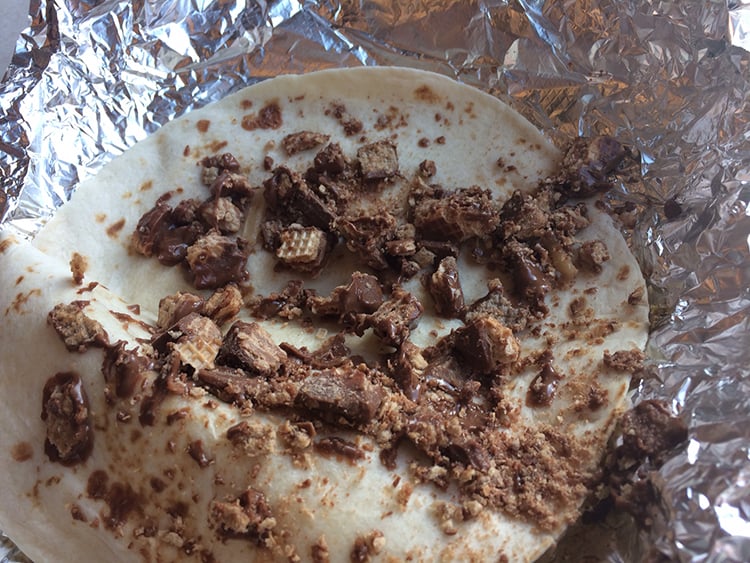 8. Try Taco Bell's Kit Kat quesadilla while there's still time
Prediction: The "Chocoladilla" won't be a permanent fixture on the menu because it's very, very bad.
9. Try hot yoga
Or try room temperature yoga. Do anything you can to work off the calories and regret you just put into you body with that Kit Kat quesadilla, you monster!
10. Watch the Bucks play the Hawks
While some people are already declaring the Packers season to be over, another Wisconsin pro sports franchise is off to an amazing start. The Bucks are 3-1 and Giannis Antetokounmpo is averaging 36.8 points per contest. If you've been sleeping on Milwaukee the last year or two, let this early afternoon broadcast of the Bucks in Atlanta bring you over to the good side.
11. Have an all-day brunch
Lately, brunchers have faced a different dilemma every Sunday. Do you skip brunch to make it home (or out to a bar) in time for a noon game? Do you cut a meal short to be ready for a 3:20 kickoff? Do you curb your bloody mary or mimosa consumption to make sure you'll be alert for a 7:30 game? This week, you can let 'er rip.
12. Turn it all around
It could be just another Sunday…or it could be the first day OF THE REST OF YOUR LIFE. Be the person you've always wanted to be—the kind of person who does yard work, flosses for once, pets dogs, and tries yoga. The new you was inside of you all along! Find them. That, or sleep in. Rest is important, too.
13. Look at the clouds
Why not? You might find something good up there…or something absolutely terrifying. MUHAHAHAHAHA!
14. Try to muster any feelings at all for another NFL game
How shitfaced must you get to even remotely care about the outcome of the Bill-Raiders game? Find out Sunday!
15. Make small talk with a stranger
Motherfuckers everywhere seem to love doing this, so maybe there's something to it. Start with the weather (there's always weather and sometimes it differs from recent conditions) and see where the conversation goes from there.
16. Get your affairs in order
No offense, but you aren't getting any younger. Make sure your loved ones are taken care of when you lurch into what's almost assuredly an eternity of nothingness by getting your affairs in order. If you're feeling extra silly, set up your will in a way that's sure to result in life-long disputes that will fracture your family for decades after your death.
17. Try to do burpees
It looks so easy when other people do burpees, but those bad boys are pretty difficult. Set a new personal best of, like, 11 or something.
18. Clean your oven
There's a first time for everything. There's a specific oven setting for cleaning, so we assume it supposed to be done at some point. Why not this weekend?
19. Smoke a bunch of weed
While you're waiting for your oven to finish cleaning and looking at clouds or, worse yet, a non-Packers NFL game, consider getting totally cheeched out. Its relaxing properties will help you get through Jordy Nelson withdrawals.
20. Go to an art gallery
Milwaukee Art Museum is always a treat, but we'd also recommend taking in another exhibition at Redline, Latino Arts, or Var Gallery. They're great and they're all free. Get some culture!
21. Revise your Olivia Munn conspiracy theory
How did their break-up effect Aaron's decision-making? Did Olivia imparting her Hollywood (!!!) lifestyle and almond milk-drinking ways on her longtime beau cause his collarbone to become more brittle? Stock up on some spools of yarn and black out your windows. The answers are there…if you know where to look.
22. Fire off those emails you've been meaning to send
C'mon. Clear that Drafts folder already. It's pathetic.
23. Watch Terriers in its entirety
This show had limitless possibilities! You can plow through all 13 episodes of this prematurely cancelled 2010 FX series in roughly the amount of time it'd take to watch most NFL games.
24. Give a food you've never liked another chance
Your taste buds change every seven years, you know. Maybe 2017 is the year you started liking eggplant and you weren't even aware of it.
25. Tell someone you love them
Go for it, dude! You know you've wanted to for months. Who knows, maybe they'll say it back. Good luck. We're pulling for you!