Halloween is just around the corner, which means many of you will soon find yourself in a thrift store to search of a costume. Wisconsin is presently also in the midst of Packers fever, as Green Bay is off to a 4-1 start and only days removed from a huge come-from-behind win in Dallas. For those of you looking to pick up the final pieces of their holiday getup and back the Pack, you can save some time and money by heading to your local Goodwill.
While we can't guarantee you'll find the necessary attire for your timely Halloween getup (Sexy Sean Spicer?), we're confident you'll at least be able to find a Packers jersey. However, given the store's secondhand nature, we can't promise you'll find the jersey of your dreams. But we can safely say you could walk out with at least one of these jersey archetypes. These are the five Packers jerseys you'll meet in Goodwill.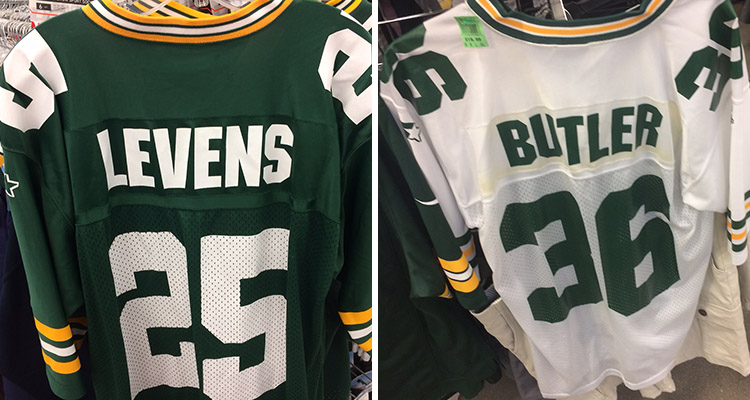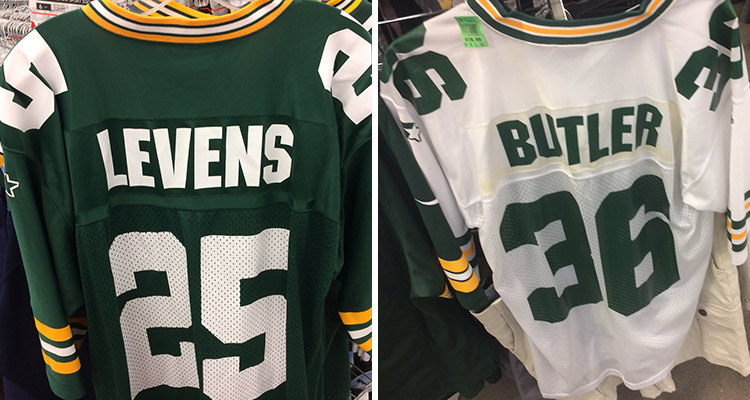 1. The Super Bowl XXXI Contributor
No matter if you're into '90s nostalgia, attempting to act like you've been a diehard fan for decades, or just paying respect to one of the best Packers teams of all-time, there's a good chance your local thrift store has at least one replica jersey of a player from the 1996 squad. Beyond almost certainly having a Brett Favre jersey on hand, LeRoy Butler, Mark Chmura, and Robert Brooks are pretty common. If you're lucky, you could score duds honoring a role player from the Super Bowl XXXI season, such as Don Beebe, Gilbert Brown, Keith Jackson, Dorsey Levens or Super Bowl MVP Desmond Howard. If you see an Andre Rison Packers jersey in the wild, buy it immediately.

2. The Prematurely Retired
We don't need to tell you that football is a dangerous game. On any given Sunday (or Monday, Thursday, and sometimes Saturday), a promising career can be cut tragically short by injury. Sadly, thrift shops often serve as a grim reminder of the calloused nature of the game, as the clothing racks often hold the jerseys people have discarded in the same harsh way the Packers (and professional football) have parted ways with those actual players. Go to enough Goodwills and you're bound to see jerseys from the prematurely "retired" likes of Jermichael Finley, Sterling Sharpe, Nick Collins, Sam Shields, BJ Raji, and (tragically) many more. Football is a tough business, and when a player's value suddenly shoots downward, so do the price and availability of that player's jersey.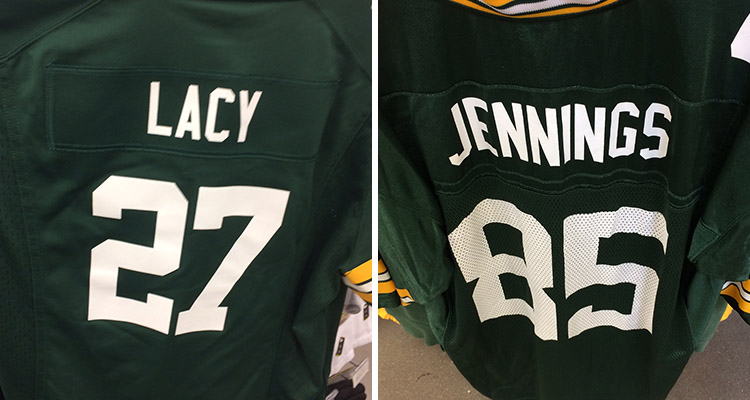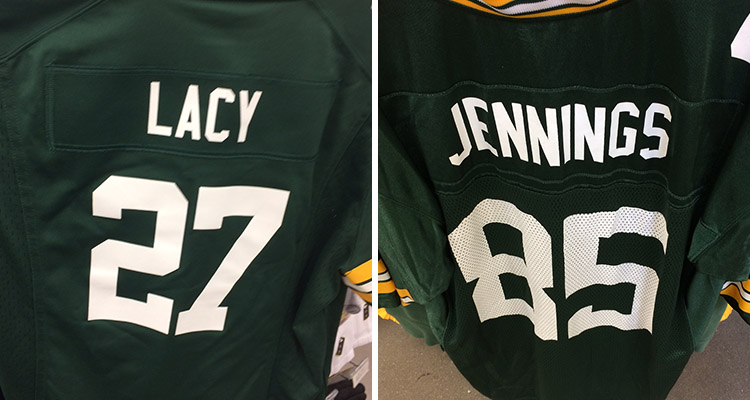 3. The Free Agent Departure
Even more common than garments made in the likeness of players with injury-shortened careers are those bearing the numbers and surnames of athletes who decided to test the free agent market. Greg Jennings is pretty common, and now Eddie Lacy is starting to make its way into circulation as well. Sometimes, a fan parting with a jersey can pay off for a customer down the line, as the Packers appear to have an open door policy for veterans. Jerseys of players like James Jones and Antonio Freeman enjoyed a nice second run of relevance.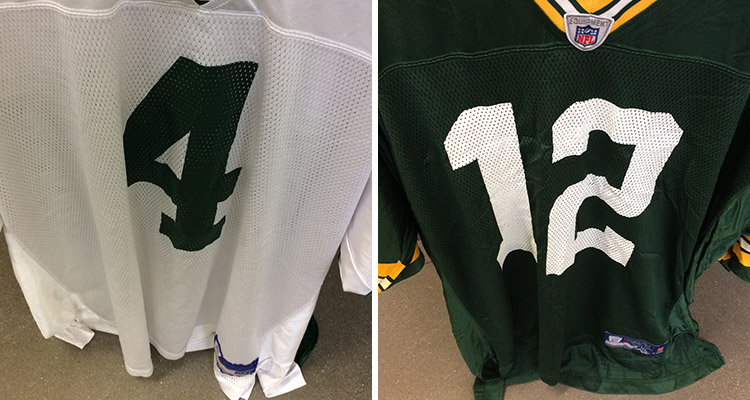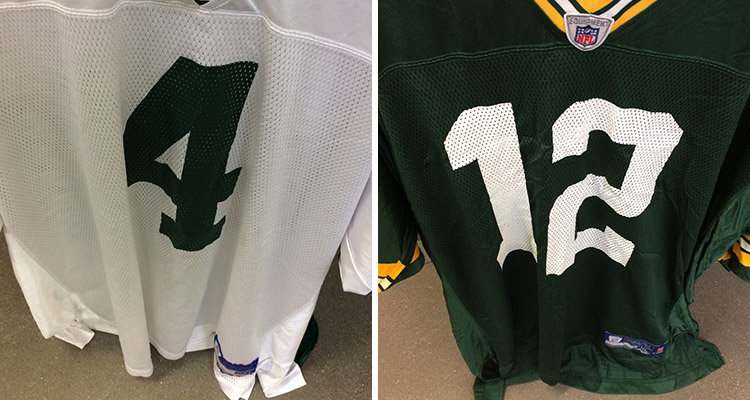 4. The Quarterback
If you're not looking to wear something outdated or that has the reminder of a 25-year-old man's career-ending neck injury, the fact that Green Bay has basically had two starting quarterbacks since 1994 can be a benefit to your wardrobe. Brett Favre jerseys are the most common jersey in Goodwill stores across the state. Usually, they're Packers jerseys, but you can occasionally happen upon a Jets or Vikings jersey from a foolish fan who sided with Favre during the quarterback's messy divorce with the Packers and ultimately realized his or her mistake.
An Aaron Rodgers jersey is a perplexing piece of clothing to find for sale at this point, unless some kind soul is buying full-price No. 12 jerseys and donating them to Goodwill so fans on a budget can pay homage to the greatest quarterback in Packers history. There might even be a few Don Majkowski jerseys out there still.
5. The Bewildering
Of course, the beauty of shopping at thrift stores is you never know what you could find. With a rotating selection and inventory that requires prospective customers to find value in something another individual gave away, you could come home empty-handed or you could find the jersey of your ultra-specific dreams. Your next trip to Goodwill (or any thrift store) could be the time you time you found the jerseys of Derrick Mayes, Bill Schroeder, Jeff Thomason, Kabeer Gbaja-Biamila or any number of other semi-obscure of just plain bewildering former Packers. Admittedly, this Samkon Gado jersey is ours (jealous?), but that's just an example of the weird, wonderful jerseys you might meet at your neighborhood Goodwill. Good luck shopping and go Pack go.