Welcome to Food/Drink Week at Milwaukee Record, brought to you by Milwaukee's new favorite import, Bofferding. From May 13 through May 20, belly up and enjoy a fresh smattering of restaurant visits, beer articles, booze videos, deliciously arbitrary rankings, and some good old fashioned adventure food journalism.
Milwaukee is a city of amazing drink specials. Thirsty and thrifty people are still able to obtain a beer for $1 at a shockingly high number of area establishments. You can also save money and add a refreshing dash of uncertainty with a mystery beer at a few local bars and restaurants. There's no end to beer-and-shot pairings at Milwaukee watering holes. Places even freely distribute "touchdown shots" when the Packers score. That's not to mention the abundance of other amazing deals happening throughout our fair city each and every day. As legitimately great as many Milwaukee drink specials are, none of them can hold a candle to what Don's Diner & Cocktails (1100 S. 1st St., 414-808-0805) does.
Not long after Don's opened in the former site of c.1880 late last year, the new Walker's Point bar and restaurant somewhat-quietly announced a crazy new special on its website and on its 1st Street-facing marquee. The aforementioned exterior signage simply reads: "Home Of Milwaukee's 10¢ Martini." Upon seeing this, our head started spinning about exactly how a restaurant in the year 2019 could possibly offer a promotion that gives customers a classy cocktail for pre-Prohibition prices. Is it served in a thimble? Is it a "you get what you pay for" gimmick where—against all better judgement and health code requirements—bartenders ring out a rag into a tumbler or something equally disgusting? Is it a full-size (and full-price) martini with a dime plopped into the glass in the place of an olive? Okay, so we knew none of those were probably it, but we were sure there had to be some sort of catch.
It turns out there is a catch, but it's a small and totally reasonable one. Every Wednesday through Friday from 10 a.m. to 1 p.m., Don's "10¢ Martini Lunch" gives customers the opportunity to order up to THREE heavily-discounted martinis for a dime apiece with the purchase of an entree. To clarify, that's lunch and up to three martinis for the price of an entree…plus 30¢.
According to the restaurant's website, "No lies, no gimmicks, just ten cent martinis for lunch. We'll flag your bar tab when you reach 30¢, and have a coffee ready!" Those terms seemed more than fair to us, so we recently cleared a weekday afternoon for potential inebriation and decided to put the city's strangest and most affordable drink deal to the test.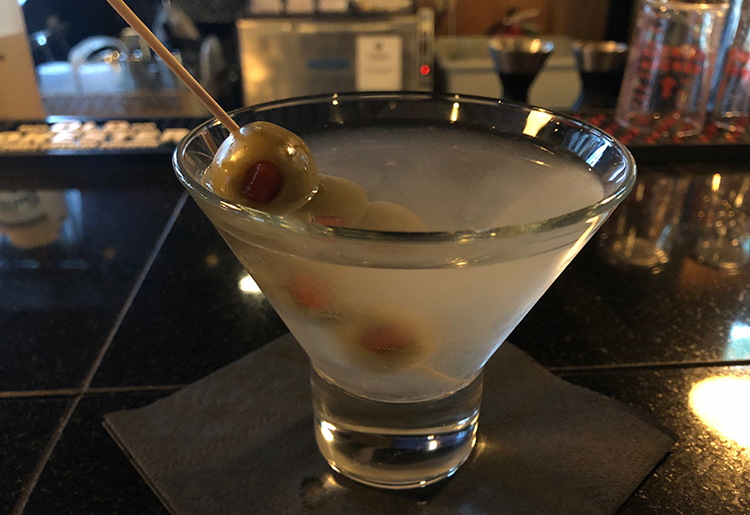 Yesterday, during a rainy portion of the morning that seemed tailor-made for day-drinking, we pulled up a stool at the bar to take part in the 10¢ Martini Lunch. After we made sure this weird special was actually still running, we ordered our first martini and scanned the food menu. By the time our dirty gin martini with three humongous olives arrived, we were ready to place our order and start this strange solo brunch experience.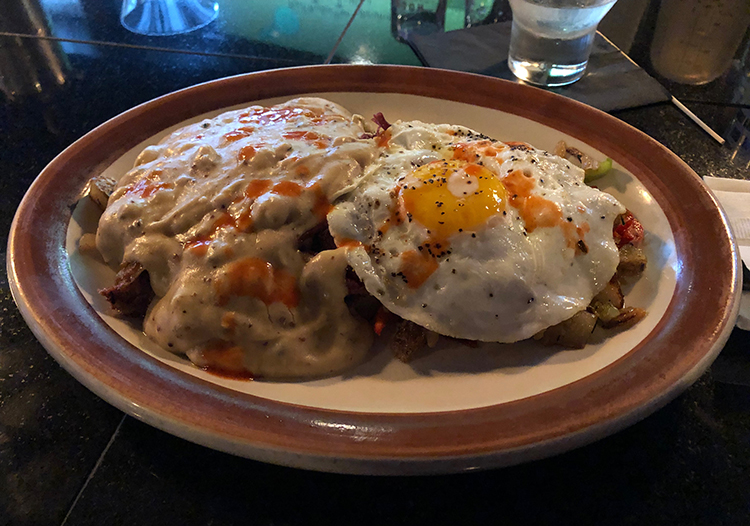 We eventually decided on the scrumptious-sounding (but decidedly not fancy) Corned Beef Hash. The platter was piled high with a delectable amalgamation of tender corned beef, russet potato, fresno chilies and green peppers, onion, sauerkraut, a fried eggs, and dijon mustard cream. After enjoying about half of the rib-sticking meal, we felt comfortable downing the remainder of our first martini and ordering number two.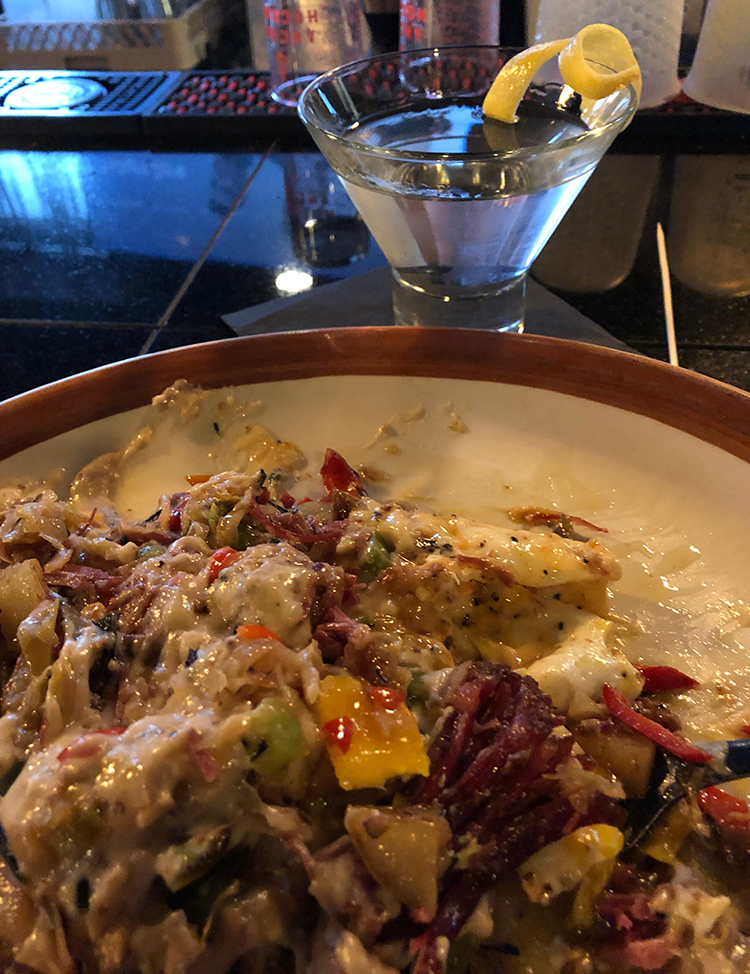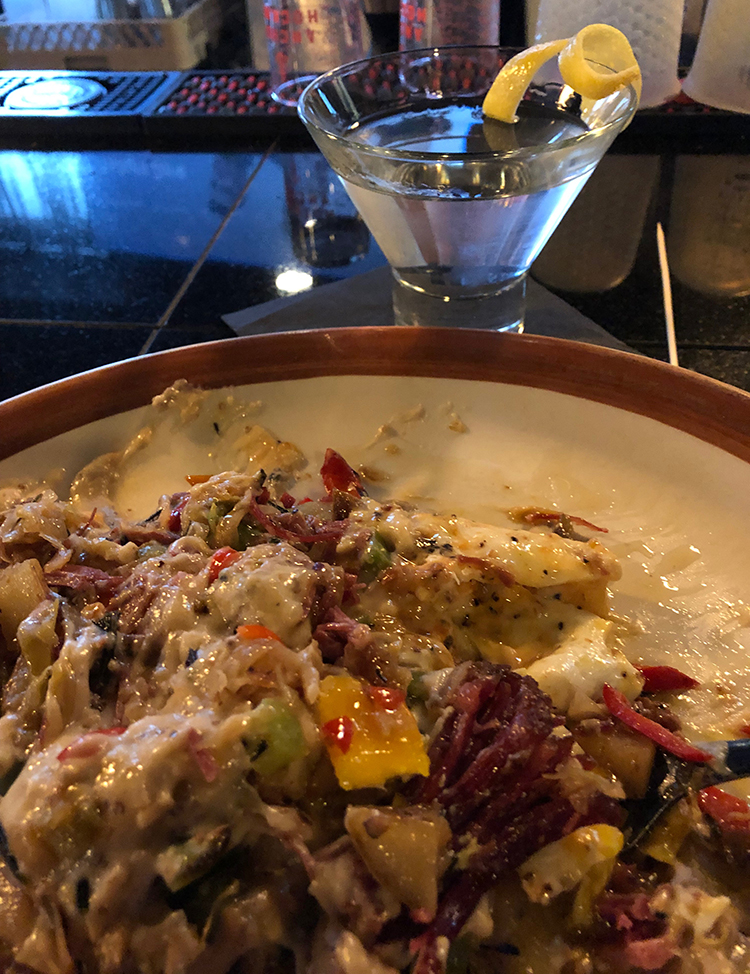 The martini can be made with gin or vodka, and they can come either dirty or classic, with olives available. They're stiff and abundant. And they're good…especially when you factor in the deep discount that's, like, one percent of what a similar martini would usually run anywhere else in town.
By the time we were nearing the end of our hash and the classic gin martini we'd just received, we were feeling it. It was noon and we were borderline hammered. Though the prospect of taking full advantage of the three-martini offer was enticing, we ultimately decided to bow out after just two with the hope of salvaging our day.
Though we initially had some reservations about this strange special, we can tell you from firsthand experience that the 10¢ Martini Lunch is the best drink deal in town. If you're hankering for great upscale diner food and wouldn't mind a budget-conscious buzz in the process, Don's Diner & Cocktails has you covered (during select daytime hours every Wednesday through Friday, at least).