Milwaukee and its surrounding suburbs boast a wealth of great independent coffee shops, award-winning roasters, and other excellent area establishments where you can get a caffeine fix. We plan to celebrate some of these places in a bi-weekly series we're calling "Brewed City." This week: Sprocket Café.
Kinnickinnic Avenue could also be referred to as the "Caffeine Corridor" of Metro Milwaukee. The vibrant thoroughfare spans the entirety of the city's Bay View and Fernwood neighborhoods, cuts completely through St. Francis, and makes its way into Cudahy before reaching an end at Layton Avenue. In addition to the bevy of bars, the abundance of restaurants, and the array of retailers that call the lakeside main drag home, Kinnickinnic Ave. also boasts a dizzying number of coffee shops.
Anodyne's flagship location is on KK—as is the venerable Hi-Fi Cafe, a massive Colectivo Coffee, the newly-opened Sisu Cafe, a Starbucks (if you're into that sort of thing), a dedicated cafe inside Outpost Natural Foods, and a forthcoming Interval Coffee that will soon be opening shop in the former site of a Stone Creek. That's not even factoring in establishments that make food or alcoholic beverages their top priority and also just so happen to serve up outstanding coffee and espresso drinks. Ironically, the first Kinnickinnic Ave. coffee shop we're covering in this young "Brewed City" series is among the KK cafes we've actually been to the least.
Sprocket Café (3385 S. Kinnickinnic Ave., 414-539-4040) opened in 2016. At the time, it was the coffee complement to the affiliated Rusty Sprocket Antiques, which was located next door. Even after the neighboring antique retailer with a similar name closed its doors in 2018, Sprocket Café has endured and has actually been in business for more years than Rusty Sprocket was at this point. We suspect there's a good reason for that.
We say "suspect" because our Sprocket experiences, admittedly, have been somewhat sparing through the years, despite living fairly close to the Fernwood-based business. Since it opened, we've stopped in to drop off event posters from time to time. During some of those visits, we'd order a cold brew (which incorporates coffee ice cubes!) or a hot black coffee to-go. We recall one pre-pandemic visit in which we got a sandwich and a latte that we enjoyed while sitting at a window-adjacent perch. Embarrassingly, that's about it for our Sprocket memories. Wanting to remedy its unconscious omission from our cafe rotation…and, yes, having the intention of writing about the place for this very series, we headed southbound down the Caffeine Corridor that is KK recently to grab a bite and a beverage to enjoy at Sprocket Café.
While Sprocket's drink menu is far-from voluminous, it still offers options to suit almost every percolated preference. There are timeless cafe standbys like coffee, Americano, lattes, cappuccino, tea (including Chai tea), hot chocolate, and outsourced items like soda and juice. You'll also find house specialties like the Oaxacan Latte and the London Smog. Beyond drinks, customers are also encouraged to stay a while to enjoy a small-yet-sturdy selection of traditional sandwiches, bagel sandwiches, hummus, and The Cake Lady-sourced bakery items.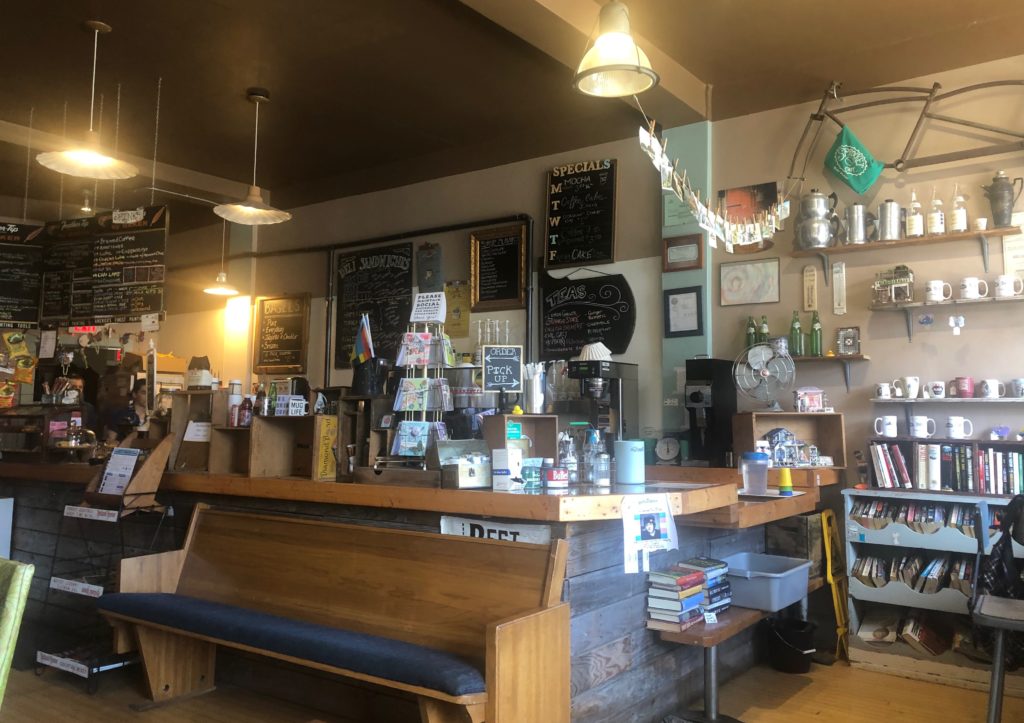 Nodding to the business' antique-adjacent past, much of Sprocket's decor is a mishmash of aged items that come together to give the quaint cafe an inimitable look and a cozy feel. The quaint coffee shop has five tables of differing size and condition, some charmingly clashing chairs, and a repurposed church pew for those who wish to enjoy their purchases in-store.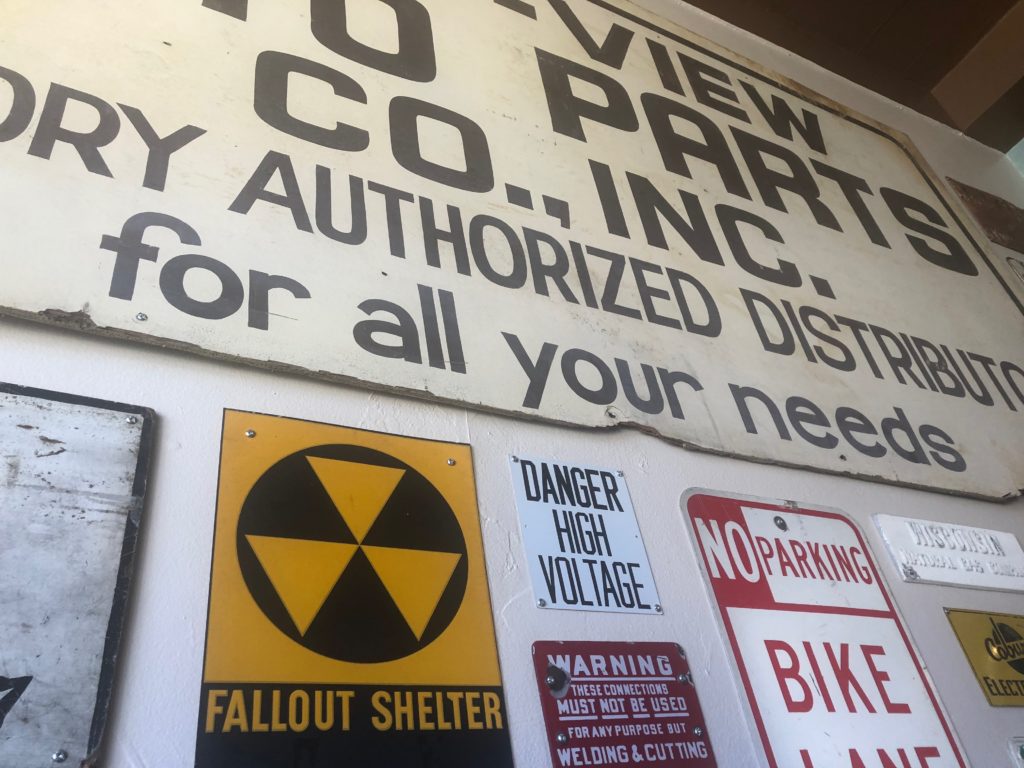 The walls are covered in vintage signs, as well as shelves stocked with decorative containers from bygone products, mismatched mugs, and a veritable library's worth of old books and periodicals to page through while you sip. The cafe's east-facing side is completely lined with windows, which allows a great deal of natural light to make its presence known during the entirety of Sprocket's 8 a.m. to 3 p.m. daily hours of operation. It's both quirky and cute, and it successfully cultivates a style and spirit many chain establishments try hard to create and rarely succeed in pulling off. Judging by the rotating cast of regulars who stopped in throughout our most recent visit, it's safe to say people feel at home here.
Figuring we were already well-versed in their cold brew and hot black coffee (a nice house blend made by Anodyne Coffee Roasters), we opted for a change of pace during this week's visit. The Oaxacan Latte is a tongue-tickling mixture of espresso, coffee, steamed milk, and Mexican chocolate. Our 20-ounce order (which we ordered "to-stay") came in a massive glass beer stein. We found it to be a bit rich and sweet to be a daily indulgence, but our bitter-leaning palate still enjoyed it and we could see ordering it again when the mood strikes.
We also ordered one of Sprocket's specialty sandwiches. The Rocchetto is a savory and simple sandwich consisting of Italian salami, Provolone, lettuce, and Giardiniera (choice of hot or mild—we went with hot, of course) on a toasted Ciabatta bun.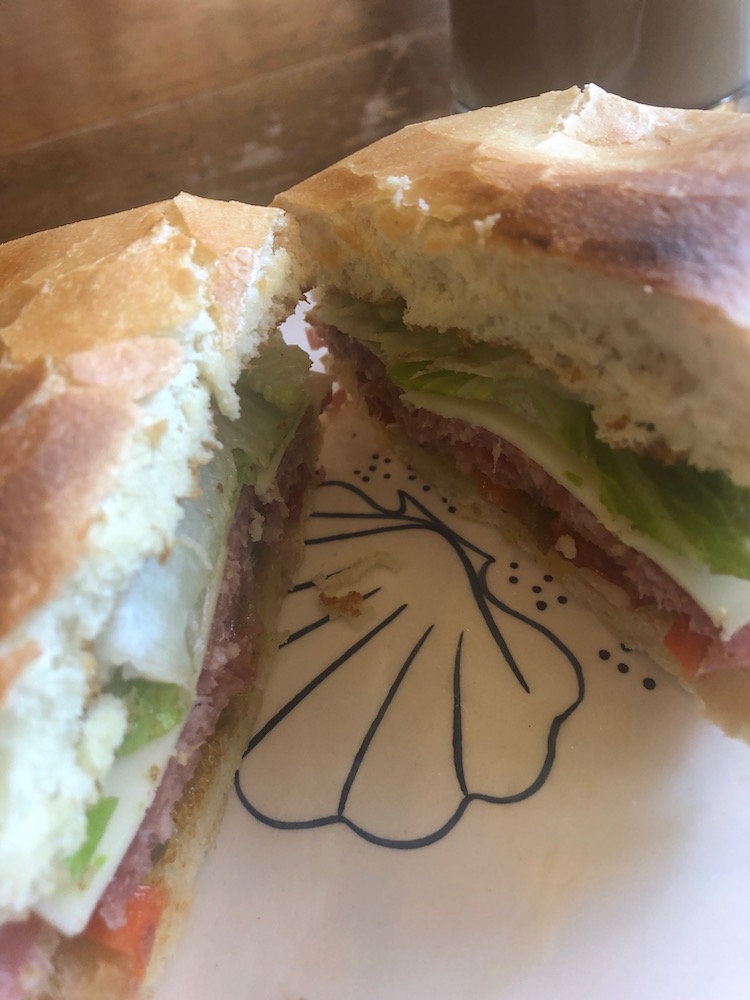 While not groundbreaking or overabundant, our Rocchetto was still tasty and the perfectly toasted Ciabatta left a lasting impression. Our only regret is we didn't opt for chips or hummus as well. Altogether, the large specialty latte and fresh-made deli sandwich came to a pleasantly surprising total of $12 before tip. That ain't half bad! We're excited to try a breakfast bagel sandwich next time around.
There are a lot of coffee shop options in Milwaukee. Hell, there's a ton of coffee shop options on Kinnickinnic Avenue alone. With its unique and inviting atmosphere, its small-but-potent food and drink menus, and its iconic antique-themed interior, Sprocket Café is definitely one of them that's worthy of a visit.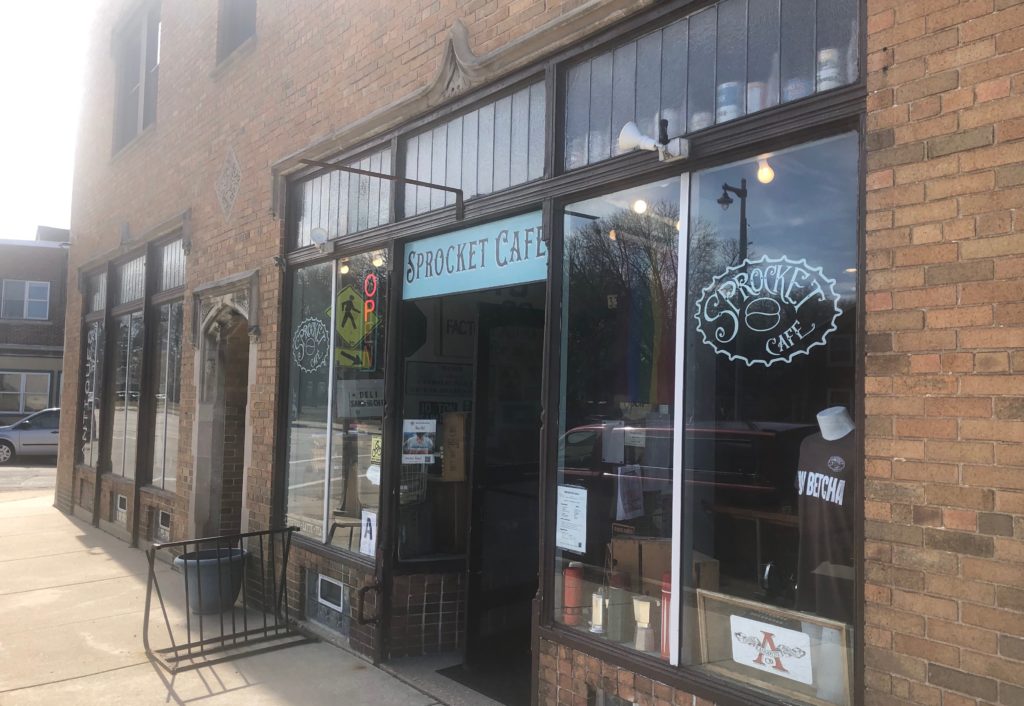 Exclusive articles, podcasts, and more. Support Milwaukee Record on Patreon.
---
RELATED ARTICLES
• Brewed City: La Finca Coffeehouse
• Brewed City: Vennture Brew Co.
• Brewed City: Escuela Verde New Line Cafe