Milwaukee and its surrounding suburbs boast a wealth of great independent coffee shops, award-winning roasters, and other excellent area establishments where you can get a caffeine fix. We plan to celebrate some of these places in a bi-weekly series we're calling "Brewed City." This week: Escuela Verde Newline Cafe.
Silver City is great. The historic neighborhood—situated to the south of the Menomonee River Valley and directly east of Miller Park Way—is home an abundance of excellent restaurants, character-laden bars (including the incomparable Mamie's), the annual Silver City International Festival, Asian markets, amenities like the Urban Ecology Center and Three Bridges Park, a portion of the Hank Aaron State Trail, and perhaps the most diverse population of any Milwaukee neighborhood.
In 2017, Silver City also added a new independent cafe to the mix when Velobahn Coffee & Cycle opened at 3618 W. Pierce Street. We made it there a few times early in its existence, had some pleasant experiences, and intended to add it (a place located roughly a five-minute drive from our office) to our semi-regular local coffee shop rotation. Sadly, Velobahn was a casualty of the pandemic, closing its doors before the end of 2020. While Velobahn's existence wasn't particularly lengthy, it helped fashion the framework for another markedly different coffee shop that would open in its place.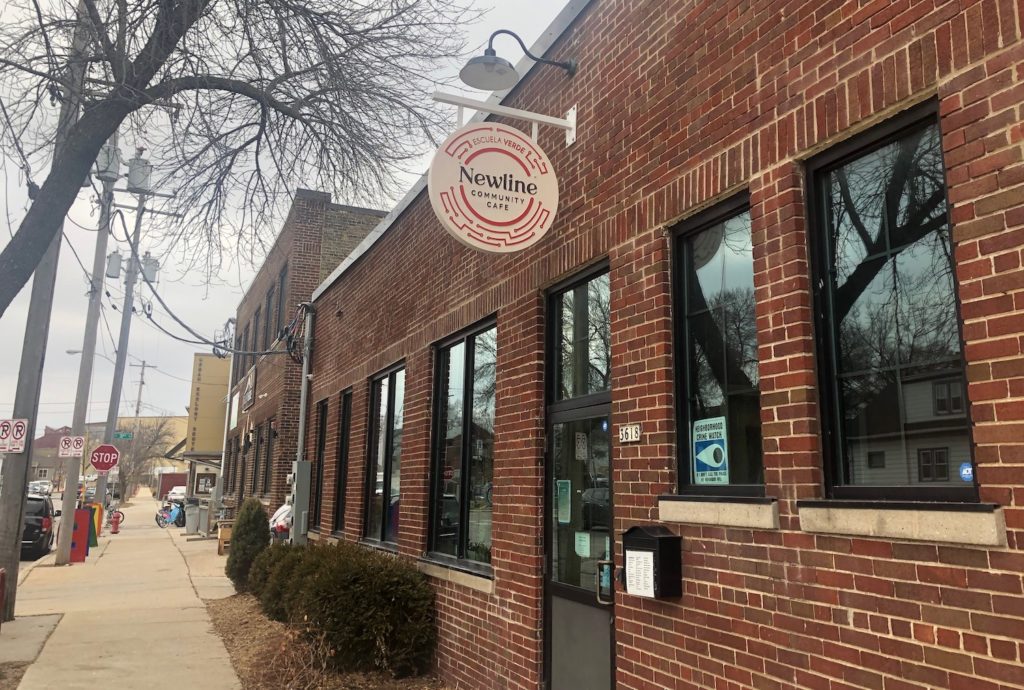 Escuela Verde Newline Community Cafe (3618 W. Pierce St., 414-988-7960) is not a typical coffee shop. Opened in late 2021, the "school-based enterprise" offers students at neighboring Escuela Verde an opportunity to have real life work experiences and learn on-the-job lessons about things like money handling, customer service, building maintenance, marketing, design, and teamwork. It's an unconventional classroom, a community hub, and a fully functioning cafe that's all encased in part of an unassuming brick building on a Silver City side street.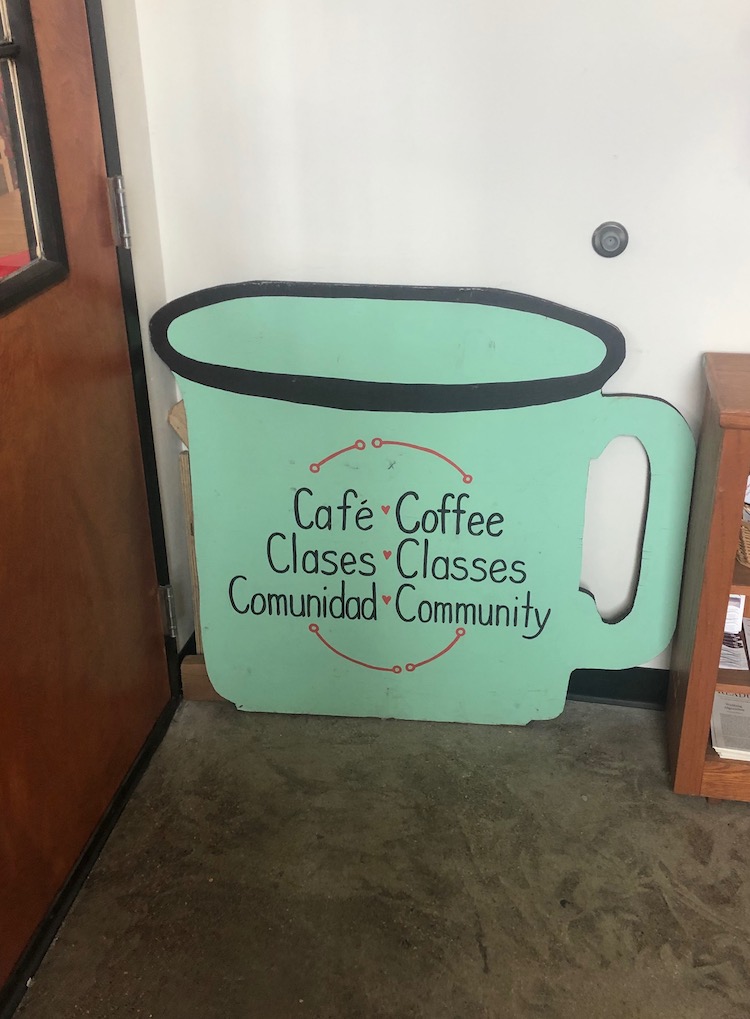 Last February, Milwaukee Record contributor Carmella D'Acquisto penned a feature about Newline Cafe and its unique mission, saying:
"One of the goals of the cafe is to prioritize skill development for students who are likeliest to face employment challenges after graduation. At Escuela Verde, this includes students who are learning English as well as students with a variety of abilities."
After reading that article about the cafe and its goals that extend far beyond the realm of coffee, we decided to stop by Newline a couple of times in 2022: Once for a meeting over coffee and another time to get some cold brew to drink on our walk from Silver City to American Family Field (via the Hank Aaron State Trail) to catch a Brewers game. It's been a few months since our last visit, so we dropped in yesterday for an early afternoon pick-me-up.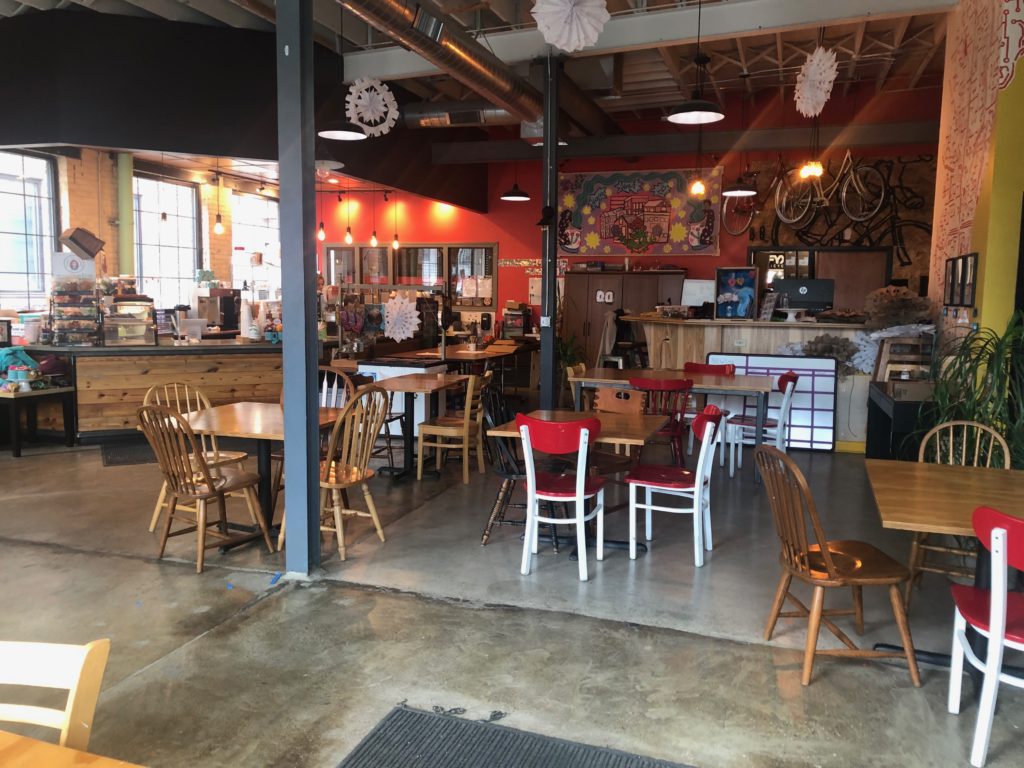 Newline Cafe shares a building with Fyxation, a Milwaukee bicycle manufacturer that occupies the majority of the property. However, the cafe makes good use of its somewhat limited square footage by having a dozen tables of various sizes scattered throughout the renovated space that still bares its industrial bones with exposed brick, concrete flooring, and an unfinished ceiling.
The interior is given a dash of warmth through vibrant paint jobs on each of Newline's non-brick walls. House plants are set before every window and each of them gets their fair share of sunlight in the bright and altogether inviting room.
A shelf with board games, books, and art supplies invites people to stay a while. The cafe's upbeat collection of Spanish language pop songs that played during our latest visit proved to be a nice aural complement as well.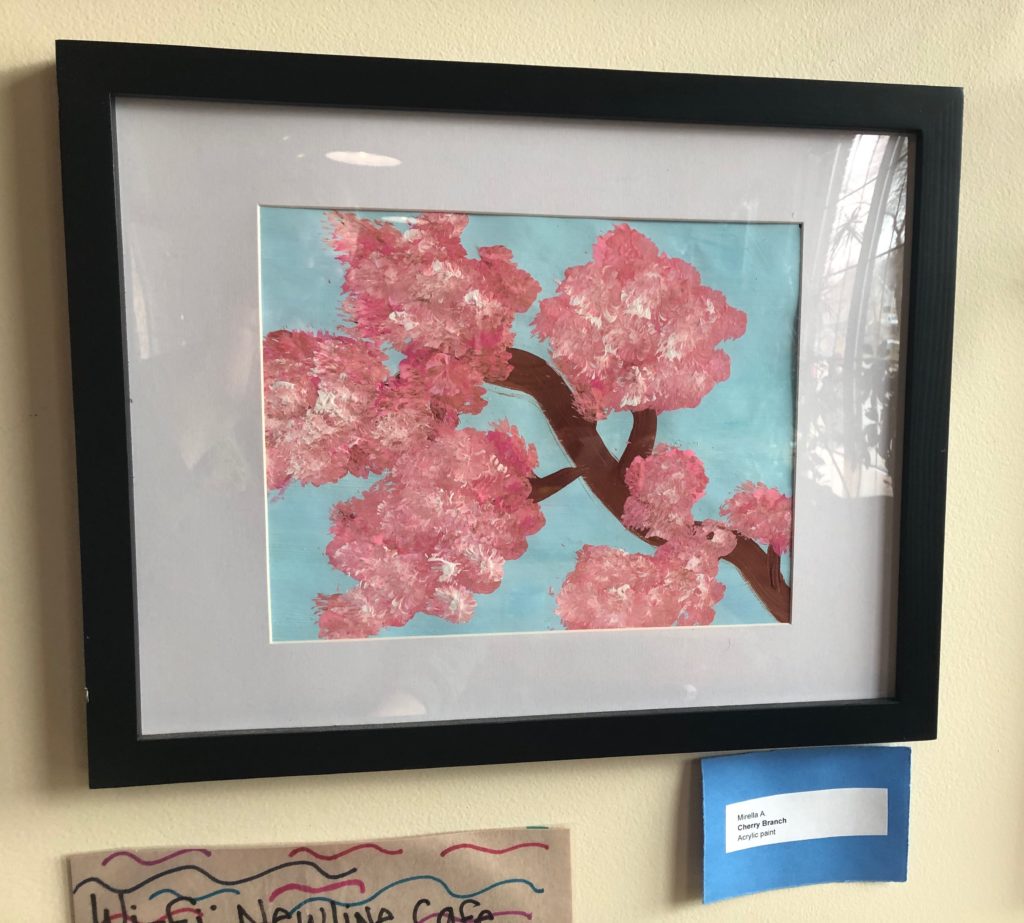 It's a cozy and effortlessly cool hangout for teens and grownups alike, and the knowledge purchases are helping students develop meaningful life skills while also benefiting a Milwaukee school in the process only adds to the positive vibes Newline puts forth.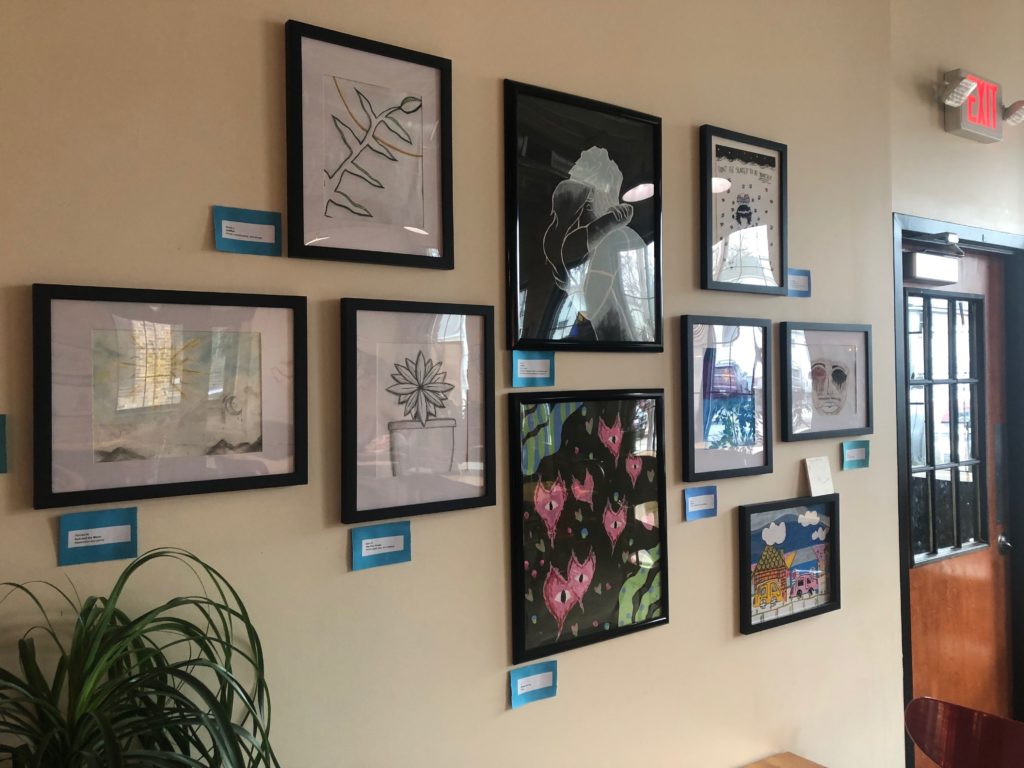 One way the cafe's primary focus is stressed is in its wall decor that consists almost entirely of art that's created by Escuela Verde students.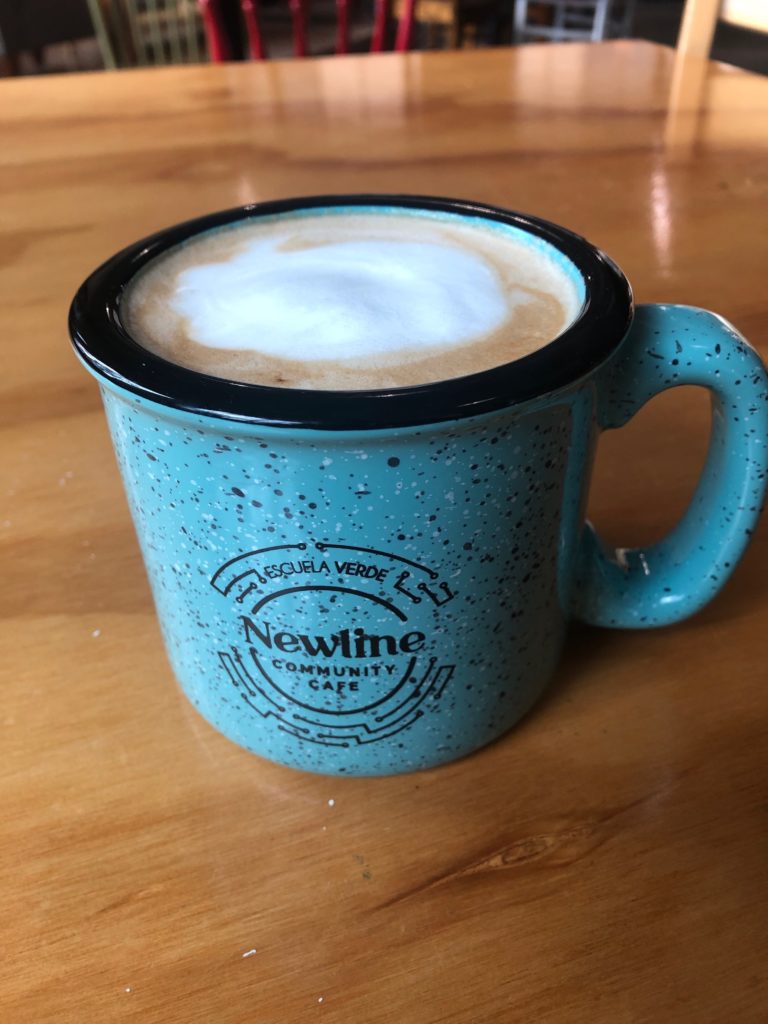 In our two previous visits, students have been working the register and preparing drinks. This time around, we were greeted by "an advisor"—what Escuela Verde calls its teachers—who was working alone during this particular weekday afternoon shift. We examined the menu at the front counter. That didn't take very long because Newline's drink list is short, but it's chock full of classic Colectivo-roasted favorites such as coffee (drip and cold brew are both available), Americano, cappuccino, lattes, mocha, hot chocolate, and Steamers (a.k.a. steamed milk with a bunch of flavor add-ons options that can be mixed in).
Rather than continuing our cold brew streak, we decided to try a Gingerbread Latte. The special seasonal beverage features espresso, streamed milk, and homemade gingerbread syrup. We found it to be a well-composed blend of somewhat sweet and dynamic gingerbread flavoring, frothy milk, and some bold and bitter espresso. And the scant $3.50 price for our latte served in a house mug wasn't half bad!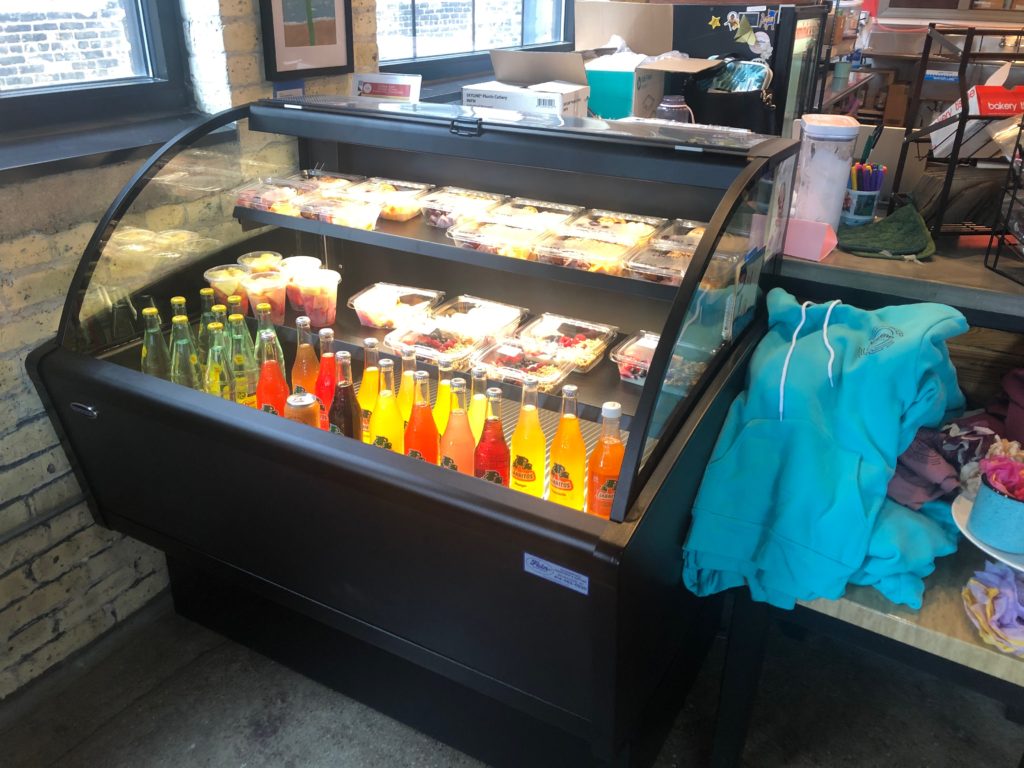 If coffee isn't really your thing and you're still reading this for some odd reason, Newline Cafe also serves an array of Rishi Tea varieties and stocks Jarritos soda, Topo Chico mineral water, and specialty Chai Latte. There's also fresh fruit, granola and yogurt, and gummy candy available for purchase. It's safe to say almost anyone could find something they can enjoy while unwinding at Newline, taking an art class or piano lessons, playing Esports, learning printmaking techniques, or enjoying a performance by a musician or storyteller.
We said "Newline Cafe is not a typical coffee shop" earlier in this article. With its educational aim and community focus, that statement is absolutely true. However, through it comfortable environment and tasty drinks made with care, Escuela Verde Newline Cafe is also a just plain good coffee shop…that just so happens to be simultaneously working hard to make both Silver City and the world a better place one cup at a time.