Newline Cafe (3618 W. Pierce St., 414-988-7960) is the only coffee shop in the Silver City neighborhood of Milwaukee. It's also a classroom for Escuela Verde, the adjoining high school that focuses on emotional growth and social opportunities just as much as academics. As an extension of the school, Newline Cafe is helping students develop life skills in a real work environment.
"As a school we do project-based learning," says Jeremy Ault, an advisor at Escuela Verde. "We wanted to create something called a public-facing classroom. The cafe afforded us the opportunity to showcase to the community what education could look like in the radical sense through learning and equity."
Newline Cafe is run by students and is designed to represent the identities of the community. The teachers, called advisors at Escuela Verde, are creating an evolving curriculum that can be taught in the cafe space.
The hands-on learning helps to develop skills that the students will use every day after they graduate: money handling, customer service, building maintenance, and teamwork.
"When they graduate, we want to make sure they're confident enough to apply for jobs they're interested in and will be ready to work," says Lucero Serna, Newline Cafe's community educator and barista.
Escuela Verde students aren't just baristas. Their work touches every part of running a business. Students work on projects like marketing, entrepreneurship, product design, and interior design.
"They don't just create throwaway projects for their portfolio," says Ault. "The community can purchase the products they create. It's real-world product design."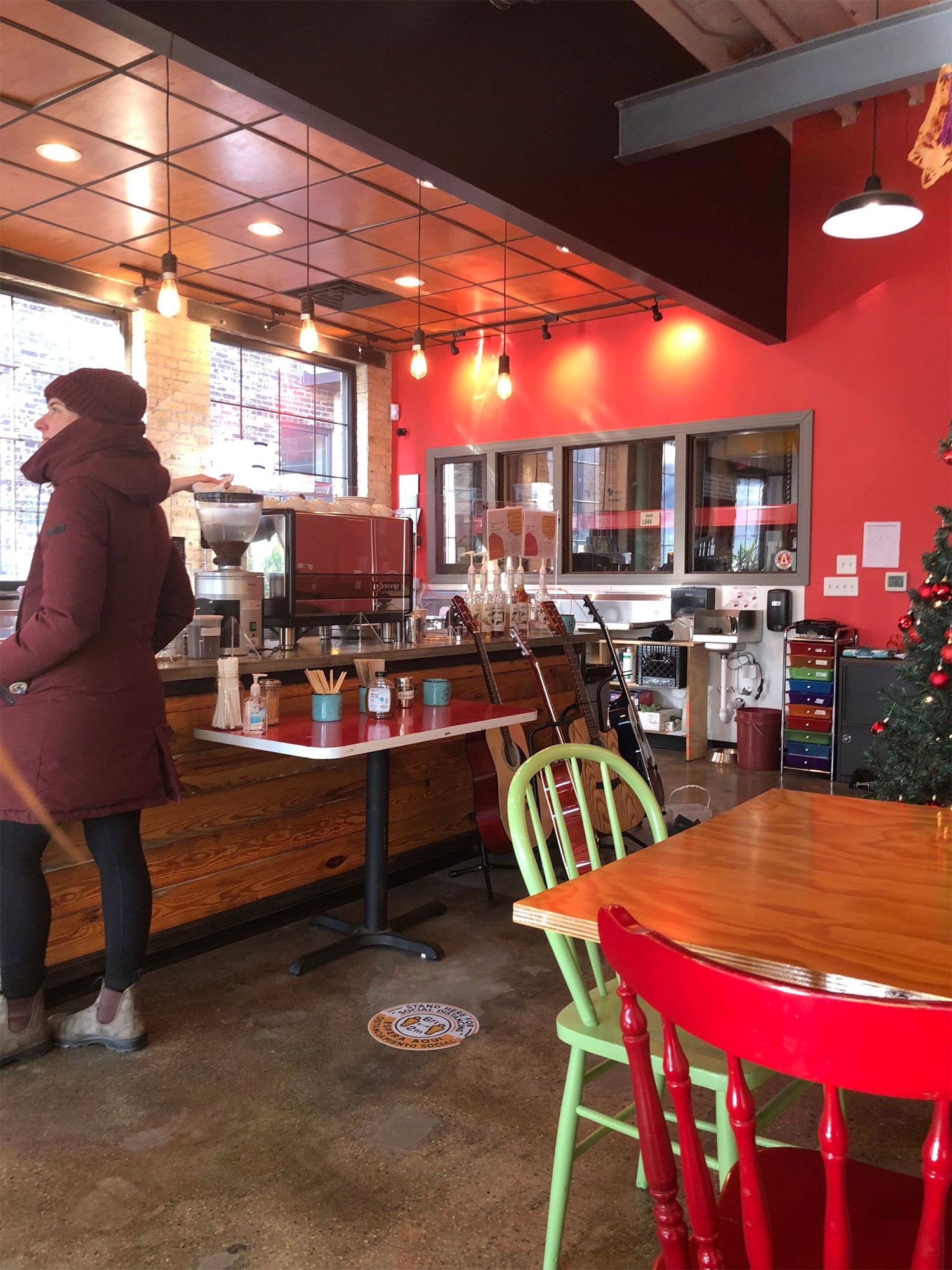 One of the goals of the cafe is to prioritize skill development for students who are likeliest to face employment challenges after graduation. At Escuela Verde, this includes students who are learning English as well as students with a variety of abilities.
"A lot of people use inclusion as an adjective, but we want it to be a verb," says Ault. "Inclusion is active. When you come into the cafe you'll find students of different cultural, linguistic, and intellectual backgrounds and frameworks that they are bringing to you. What other coffee shops do you see that in?"
Jasper Schmiedel is a sophomore at Escuela Verde with passions in fashion design and dance. He is also a student with exceptionalities, and one of Newline's biggest advocates. After doing a whole year of virtual learning he's excited to work in person at the cafe and make drinks for customers and students.
"I like the people," says Schmiedel. "I like to make orders. I'm learning how to make coffee and I'm doing taste testing."
Newline Cafe also gives students an opportunity to build educational resources for their community. There are students involved with Teens Grow Greens who educate the community on caring for a garden. There are students working with Safe & Sound who host workshops on mental health. Another student's project aims to help community members understand their rights when dealing with the police.
"We want to organically develop our educational programming as a response to what the community is curious about," says Sarah Luther, art educator and Newline Cafe manager. "We have an amazing resource in our students. They have a huge wealth of knowledge through the research and projects they work on. We want them to see this cafe as a space where they can share their knowledge with the community."
There are currently three Escuela Verde students who work at Newline Cafe full time. One is interested in opening his own restaurant one day.
"I want them to know what being in a healthy workplace looks like," says Serna. "I want them to feel like their needs are getting met, that they can communicate with us honestly, and that their ideas and perspectives are valuable."
As the cafe's baristas graduate, many will directly enter the workforce. Some may choose to stay in the service industry. According to research from the U.S. Bureau of Labor Statistics, the American food and beverage industry had over 250,000 job openings in the month of October alone. With the skills students are learning on the job, they may enter the turbulent workforce with a few extra bargaining chips.
"The values that workers around the world are waking up to in the pandemic are the same values that are already inherent at Escuela Verde," says Luther. "We come from a place of genuine respect for our students, and are working to ensure they leave with the same respect for themselves. We don't want them to accept anything less from anyone else."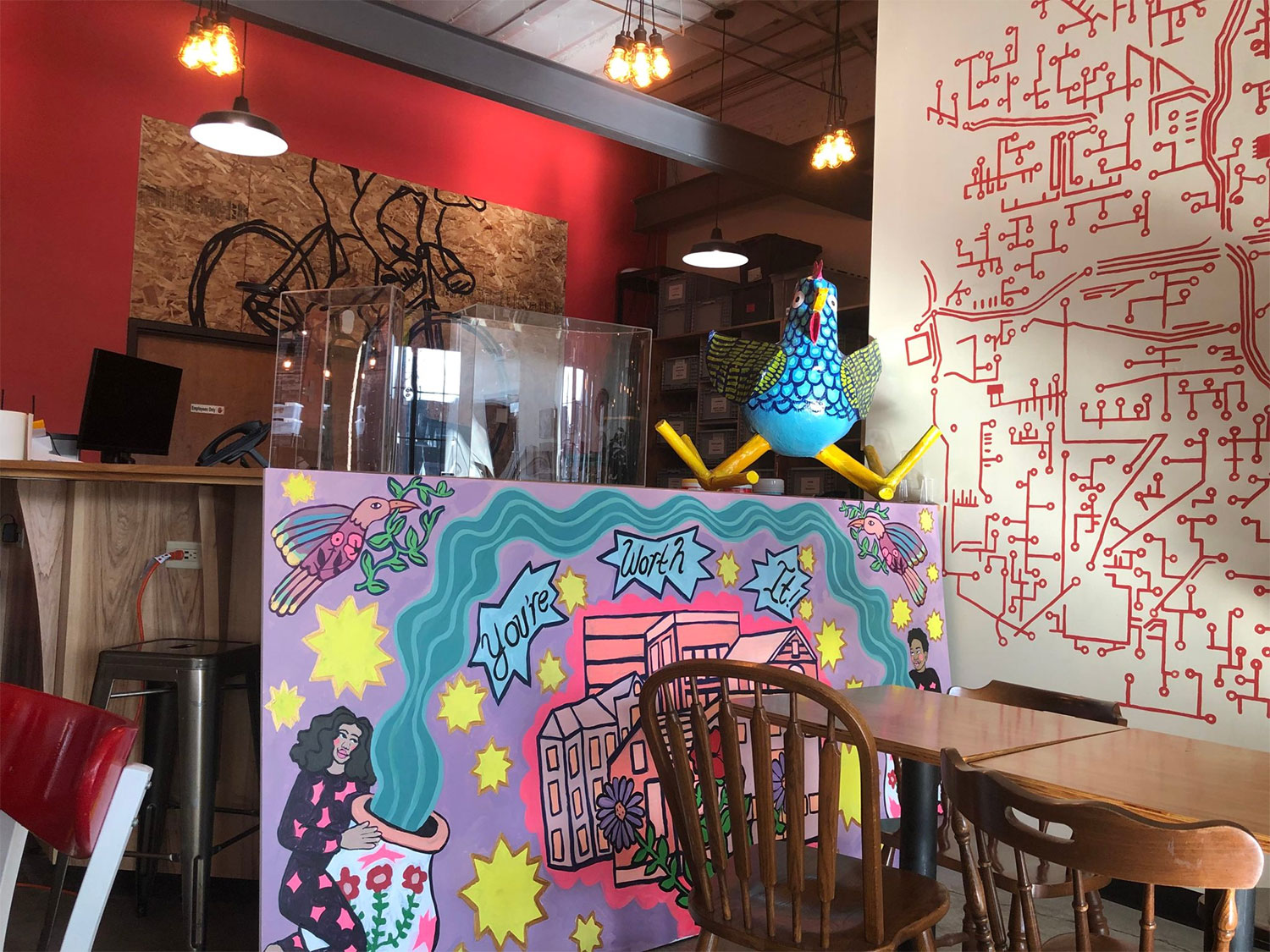 Exclusive articles, podcasts, and more. Support Milwaukee Record on Patreon.