Some places come and go, while some places become icons. Mandatory Milwaukee is all about the latter. Join us as we revisit beloved and well-worn local staples with fresh eyes, and explore how they might figure in the city's future. This week: the Lincoln Memorial lakefront intersection! One of Milwaukee's worst intersections!
A few years ago, a tweet from Kaitlyn Herzog went Milwaukee-viral. It was a picture of the big Lincoln Memorial lakefront intersection/interchange—you know, the one next to the Summerfest grounds—accompanied by this text: "Imagine not being from Milwaukee and coming to this intersection. You have 1.3 seconds to read all of these signs and numbers." (The original tweet has been deleted, but you've probably seen screenshots making the rounds on social media.)
The tweet only got it half right. Imagine actually being from Milwaukee and coming to this intersection. For visitors and residents alike, the intersection is a nightmare of signs, ramps, lights, lanes, interstates, and regular city streets. (Milwaukee Magazine counts 24 lanes of traffic and 22 stoplights in the overall area.) Even if you think you know where you're going, the intersection is like a giant pachinko machine, bouncing you (and others) in and out of different lanes of traffic until you accidentally end up downtown. Or in the Third Ward. Or alongside the Summerfest grounds. Or on the Hoan Bridge headed south. Or on the interstate headed west. Good luck!
Seriously—just look at this. Headed south on Lincoln Memorial Drive, just past the Milwaukee Art Museum, things appear to be okay…
No problem! But what's this ahead….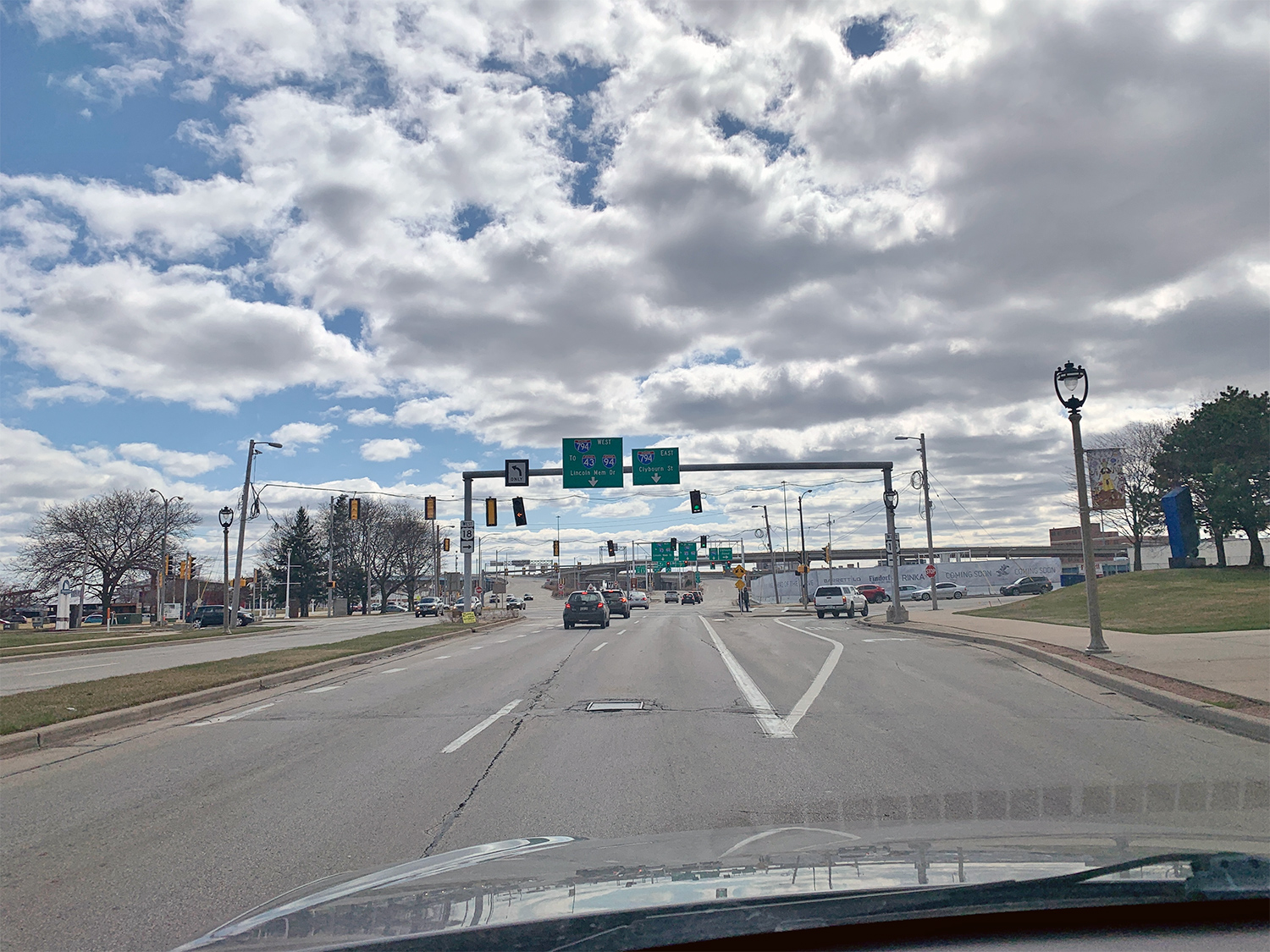 Okay, so if I go right I'll end up on Michigan Street, right? Right. But I don't want to go downtown. I want to get on I-43. So I'll stay in the left two lanes…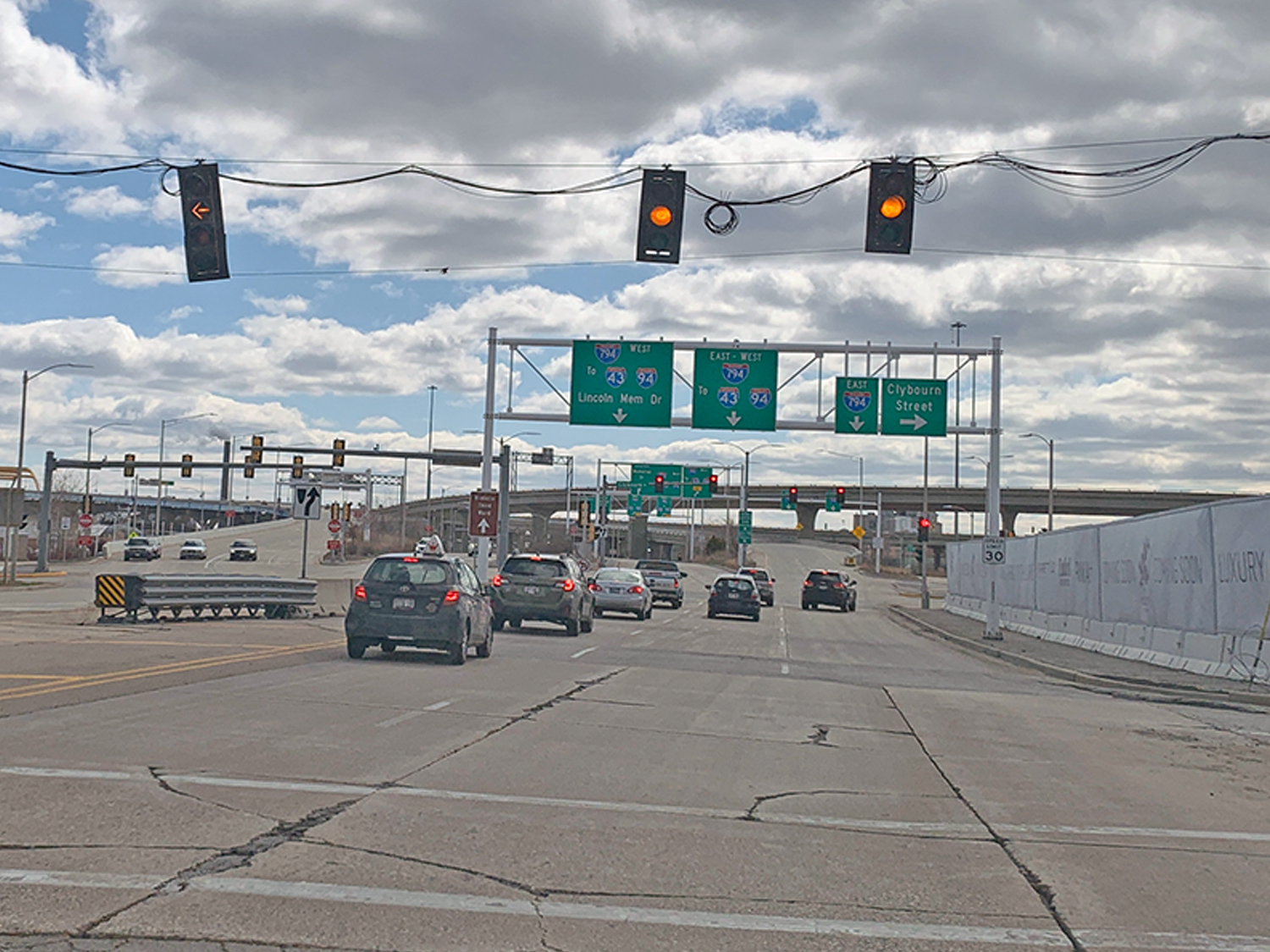 Okay, great. I made it to the lights. Well, the first set of lights. There's Summerfest. There's where they've been threatening to build the Couture since 2012. Wait…do the left two lanes suddenly turn into three lanes…in the middle of the intersection? What…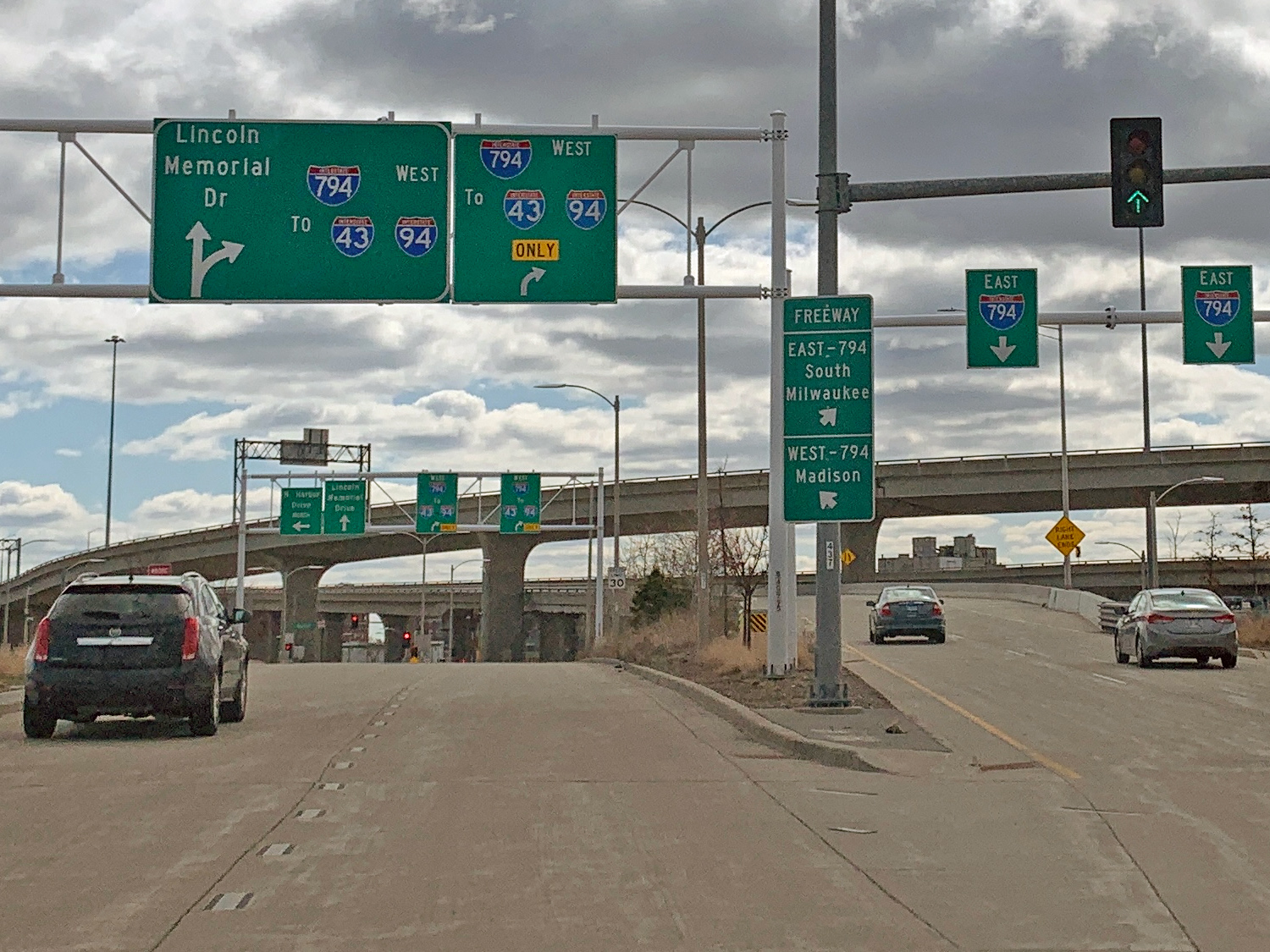 Wait…is that another layer of signs down that hill and to the left? So if I want to go west…I have to go east first? That can't possibly be the case. I want to go west! Guess I have to make a sudden lane change to the right…
Aaaaaaand I'm in Bay View. End scene.
Making matters much, much worse is the fact that this ugly snarl of highway hell is a major pedestrian intersection for Summerfest, Discovery World, and the lakefront in general. Welcome to Milwaukee and the World's Largest Music Festival! Please enjoy waiting on the corner for 10 minutes in a sweltering huddle of humans and car exhaust before hustling across 17 lanes of traffic! And yes, sir, I already have a ticket.
Surely this motorist/pedestrian nightmare is a relic of a less-enlightened time, a time before dedicated bike lanes and "walkability" scores? NOPE. This sucker took its current form in 2016! It's part of the larger Lakefront Gateway Project, a city, county, and state collaboration that seeks to "improve public spaces at the downtown lakefront, improve connections between the lakefront, downtown Milwaukee, and the Historic Third Ward, and create and enhance development sites." Well, it's nice that Clybourn comes all the way down to the lake now. But beyond that, um…
HOWEVER, to be fair, the area is far from finished. The downtown streetcar will eventually make its way down Michigan and Clybourn! A pedestrian bridge will cross the intersection! The Lakefront Gateway Plaza will transform the east side of the mess! And it's all hinging on the Couture—the 44-story, 322-unit lakeside luxury apartment tower and streetcar hub that was announced in 2012 but still hasn't broken ground! (Current prediction: spring, or maybe summer.)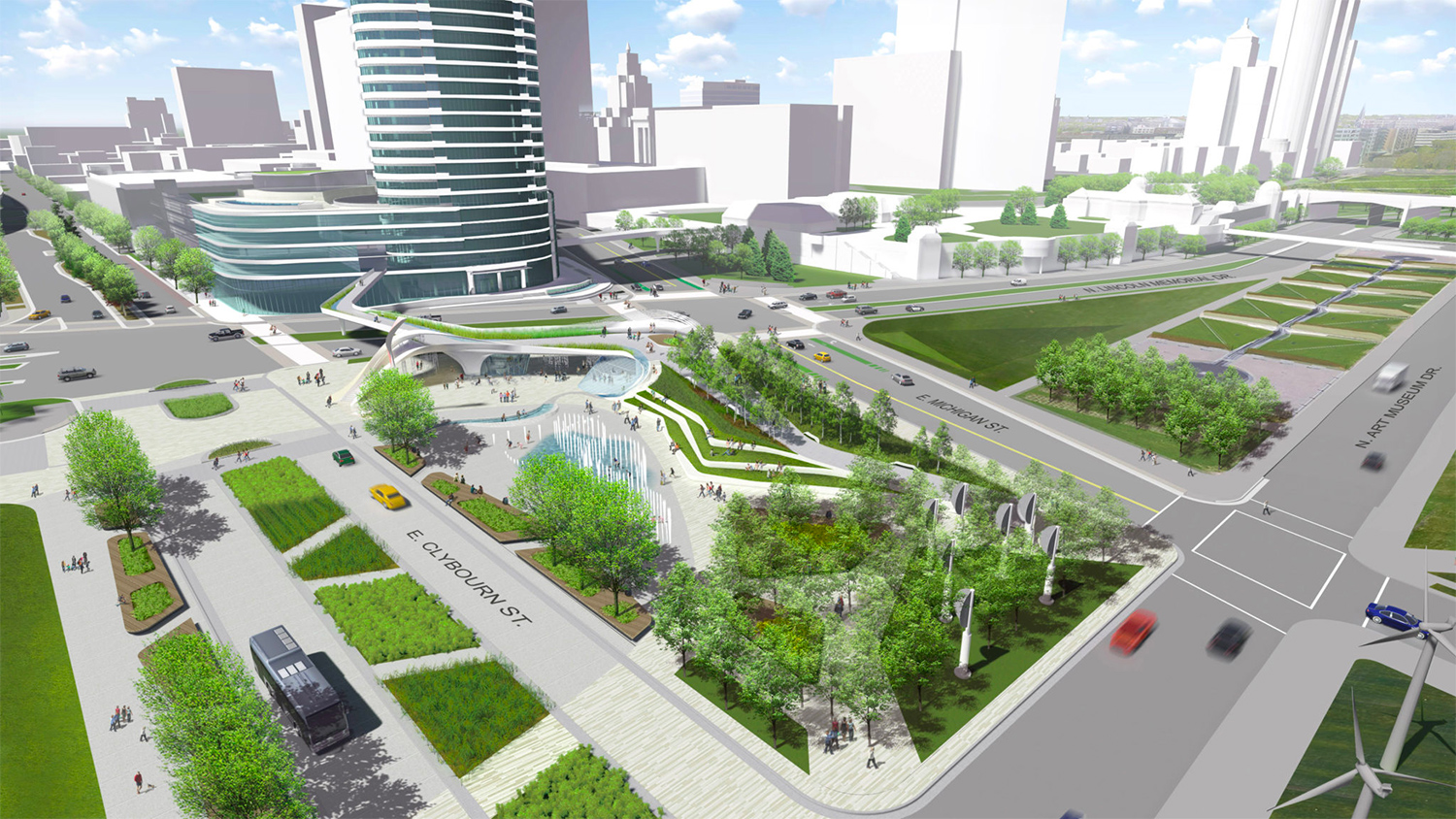 Until then, "enjoy" the nightmare that is the Lincoln Memorial lakefront intersection, Milwaukee! It's ugly, it's ridiculous, and it's ours. Just be sure to use your signals when you inevitably change lanes at the last second, and use the Port of Milwaukee exit if you accidentally end up on the Hoan.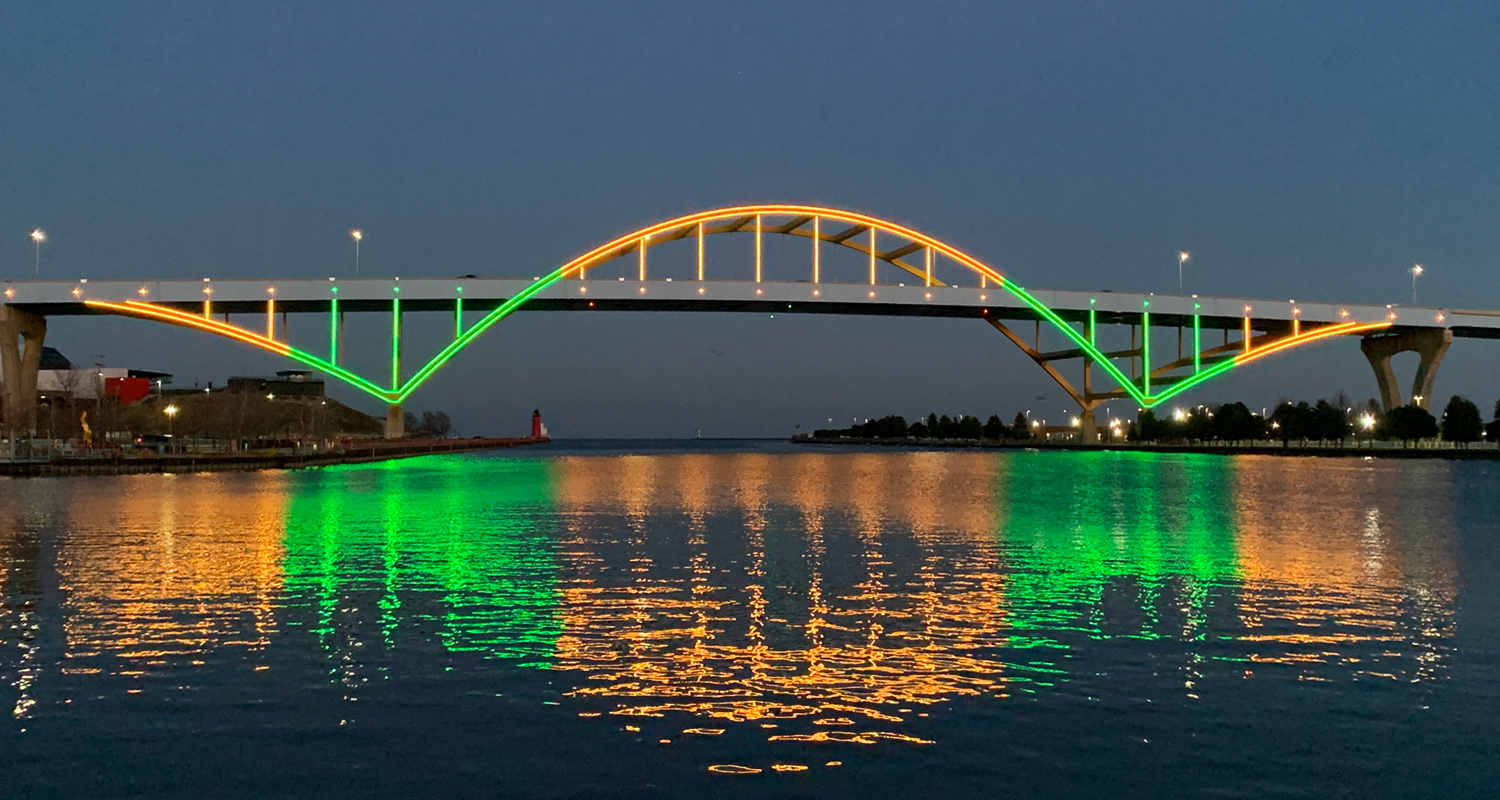 Exclusive articles, podcasts, and more. Support Milwaukee Record on Patreon.
---
RELATED ARTICLES