Last year, as the world around us continued its rapid descent into darkness and division, Joe Pera Talks With You offered a dash of positivity and was a welcomed weekly 11-minute respite from the difficulty and negativity that seems to envelop modern existence. Seriously, just try to watch "Joe Pera Reads You The Church Announcements" without smiling. You can't.
The heartwarming and side-splitting Adult Swim's program that stars comedian Joe Pera also earns some extra points with us because much of the show was filmed right here in Milwaukee. Yes, despite being based in Michigan's Upper Peninsula, the bulk of Joe Pera Talks With You's first season was shot in Milwaukee and its surrounding suburbs.
Following the first season's more-than-respectable ratings and rave reviews, Adult Swim renewed Joe Pera Talks With You for a second season, which will premiere on Adult Swim tonight. Once again, the bulk of the 14 episodes were shot in Milwaukee, which is reason enough to tune it on its own. That said, there are many more reasons that people in Milwaukee…and everywhere else, for that matter, should watch the new season of Joe Pera Talks With You. Here are just a few of them, including a few given to us by Pera himself.
New season, new local filming locations (and some old ones as well)
If you watched closely during the first season, you might've been able to recognize local landmarks like Copper Kitchen, Brown Deer Middle School, Clifford's Supper Club, Leon's Frozen Custard, Redeemer Lutheran Church, Ted's Ice Cream, and Dunham's Transmission, among other area haunts. Season 2 will bring some of those spots back to the screen, as well as a number of new places.
"On the hunt for a beauty parlor, we found the incredible Modern Styling Salon, and cast half the staff in the show as well," Pera tells Milwaukee Record. "Yvonne, the owner, plays a large role and is a great actress. Although it was a summer season, we shot a surprising amount of the show in characters' houses, and it'd probably be best not to say where those are."
Beyond Modern Styling, Talks With You also shot portions of the upcoming season at area parks and Alioto's (more on that later), as well as a return to Brown Deer Middle School, Dunham's, and countless other locations. We can't give away all of them, but you're sure to recognize some familiar places throughout the season.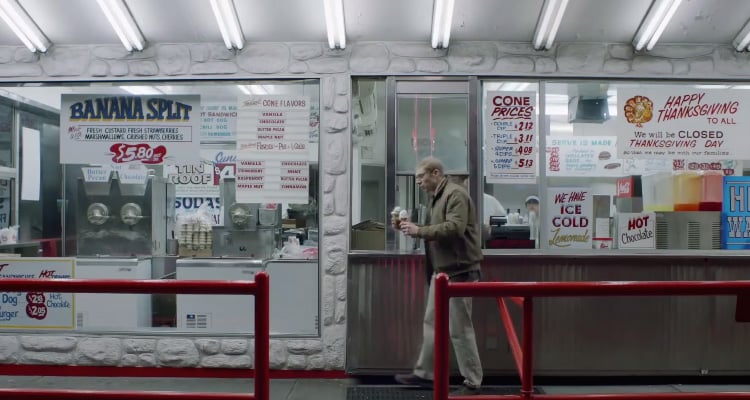 This season features an episode where fish fry plays a prominent part
As a native of Buffalo, the tradition of Friday fish fry has been an important part of Pera's life since he was a kid. With his show being set in Upper Michigan and primarily shot in Wisconsin (two other places that adhere to this weekly tradition), it was only natural for him and the fellow writers to work fish fry into the show. In fact, fish fry plays a big part in one episode of the upcoming season.
"It was neat that it connected the U.P.—where the show is set—where we shot a lot of it in Milwaukee, and Buffalo where I grew up, and where I guess I draw a lot of my ideas from," Pera says. "It made perfect subject matter for the show because it's one of those regular things that brings a lot of joy and if you've been going to them your entire life, it also takes on some importance. No matter how your week went, you can go get a fish fry and beer and that's a good thing."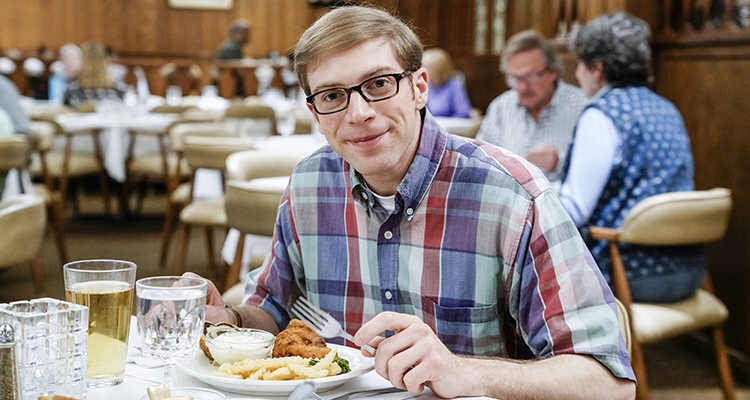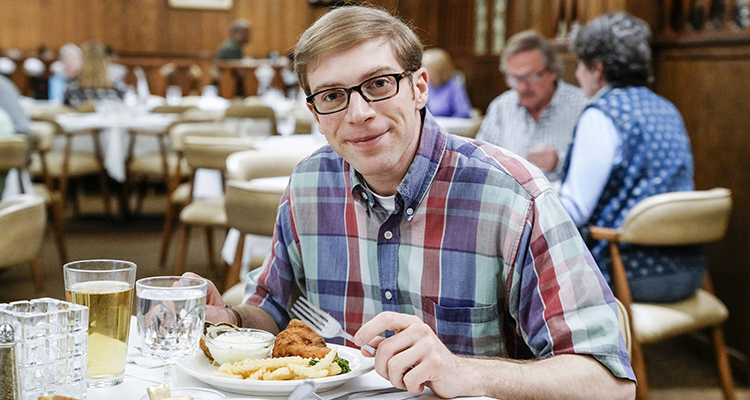 The fish fry episode was shot at Alioto's, a local favorite of Pera's. It's also one of the spots where Pera attempted to cast the role of his Nana in the show last season.
"While filming Season 1, I asked around about where the best fish fry was, and a lot of people recommended it, so I went and they were right—I hope that doesn't get me in trouble," Pera says. "There are a lot of great fish fries but I really liked the atmosphere and free popcorn as well. They were kind enough to let us shoot there this season, and it was great because I got to eat of lot of fish while shooting the scene."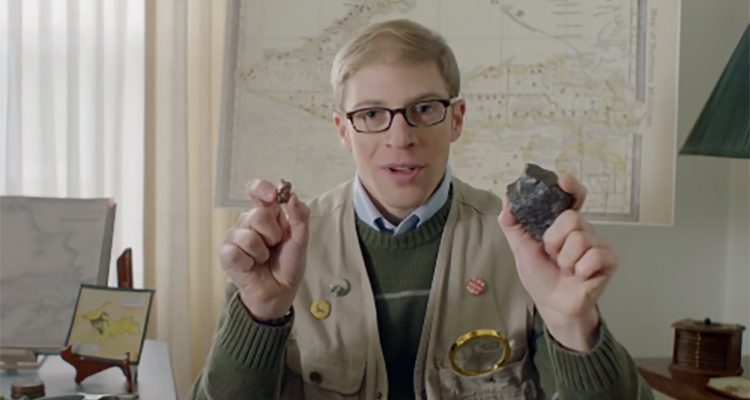 You might learn something
Given the nature of the show and the unique passions of its protagonist, viewers are likely to learn something over the course of most episodes. Last season brought information about iron, waterfalls, and Canadian pest control history. This year manages to seamlessly weave gardening tips, information about sugarloafs, a brief history on lighthouses, and much more between hilarious plot points.
The production used a predominantly local crew
The success of Joe Pera Talks With You has a direct impact on Milwaukee's film community. The show employs a wide range of local talent to work on the production team. It has been that way since Season 1, and after being renewed for a 14-episode order in Season 2, that didn't change.
"The show wouldn't be the same if we didn't [use local talent]," Pera says. "It's written and acted by close friends, and now that we were able to work with a lot of the same crew as Season 1 again, it really helped give it the show a 'homemade' feel. The crew was very hardworking and made the process of making the show a lot of fun as well."
There's a chance you'll recognize someone
In addition to the local crew involved in the production, Joe Pera Talks With You relies heavily on area actors and homegrown extras to round out the cast. Pera's dog "Gus" on the show is actually a pooch named Fitzgerald William from Oconomowoc's Canine Comfort, and one of the Melsky daughters is a young woman from Shorewood. Milwaukee comedian Greg Bach plays a fellow teacher at Pera's middle school. That's just a small sampling of the local talent you'll see in Season 2.
"Lori and Trent [from Lori Lins Ltd. casting agency] have introduced us to so many great actors from the area, and when it came time to write Season 2, we kept a lot of them in mind, like Rick Richter, and wrote larger parts for them," Pera says. "To see returning characters gives the show depth, and we were lucky to work with many more actors from Milwaukee this season that were so nice to work with and gave us a lot more new ideas."
Pera does Milwaukee in Season 2
While the majority of the series is set in Marquette, Michigan but filmed in metro Milwaukee, the show was able to actually base an episode of the season here, meaning they didn't have to go to the extra effort of making Wisconsin's largest city look like a city of about 21,000. In the near future, viewers will get a glimpse of local fashion on an upcoming episode.
"There is episode later on in the season set in Milwaukee and we got to showcase the city as itself, shooting in some of its more unique locations," Pera says. "I think it's one of the best this season and I'm excited for residents to see it."
Joe Pera—both the character and the actor—likes the Packers
Though his heart belongs to his hometown Buffalo Bills, Pera has always claimed the Green Bay Packers as his NFC team. When it came time to chose a team for the show's eponymous main character to favor, Pera and the production team had a difficult decision to make: Packers or Lions?
"There was actually a discussion about it because the U.P. is fairly split between the Lions and the Packers," Pera told us last year.
It was ultimately decided that TV's Joe Pera, too, would back the Pack. Attentive viewers may notice a Packers pennant hanging in Pera's home in a Season 1 episode.
It's the single sweetest show on television and there's nothing quite like it
Over the course of the program's nine near-perfect episodes in its first season, Pera helped viewers pick out the perfect Saturday breakfast, he spoke about the wonder of minerals, he taught us to dance and to fall in love with The Who's "Baba O'Riley" all over again, he restored his soul with a fall drive, and he soothed us back to sleep with sheet music. There's more wholesome, uplifting, and altogether hilarious things in store when Joe Pera Talks With You returns tonight. It's the most heartwarming show on television right now, and there's truly nothing like it. Don't miss it.
Starting December 6, Joe Pera Talks With You airs on Adult Swim every Friday night at 11 p.m. You can catch up on Season 1 of the show here.