Between beloved and well-established local staples and a steady wave of new bars and restaurants popping up in and around Milwaukee almost every week, worthwhile dining and drinking gems can occasionally get lost in the shuffle. With Tucked Away, Milwaukee Record digs deep with the hope of unearthing some of these gems.
In the most literal sense of the term, Copper Kitchen (3935 S. Howell Ave., 414-482-1315) is far from being "tucked away." The sprawling single-level structure and its towering exterior signage are tough to miss when traveling down the perpetually bustling segment of the South Side causeway that's situated between Bay View and General Mitchell International Airport. If the high-traffic location hasn't caught your attention, perhaps Copper Kitchen's longevity has exposed you to the restaurant at some point in the last 27 years.
Though most Milwaukeeans have no doubt encountered Copper Kitchen through the years, it's tough to tell how many have actually dined there. With no website, nothing in the way of marketing effort, and little (if any) critical attention to its name, the longstanding diner has silently subsisted thanks to a devoted cast of regulars and first-timers who have the good fortune of stumbling upon this timeless, no-frills breakfast and lunchtime gem by way of general curiosity or sheer chance.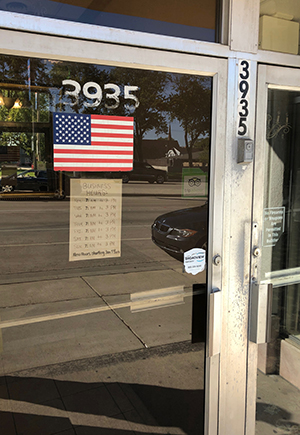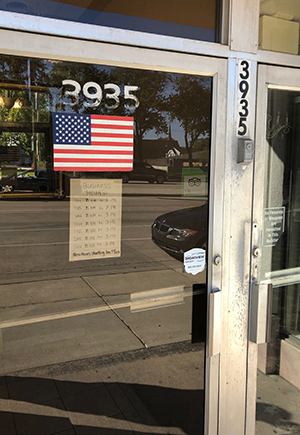 Opened in the early '90s, Copper Kitchen runs no risk of being confused as trendy. As numerous establishments within a stone's throw of the diner serve up cold brew and avocado toast, Copper Kitchen, thankfully, seems to be caught between generations. (Editor's note: for the record, there's nothing wrong with cold brew and avocado toast. In fact, they're both extremely good, and we don't understand how they became punchlines.) As the popularity of brunch builds, the collective culinary creativity of Milwaukee restaurateurs improves, and the tastes of the populace change, the mom and pop diner seems to be a vanishing commodity.
As the dining landscape continues to change, this Polish-American owned eatery seems content to be serving up quality executions of the classics at a price point that's more-than-fair and in a space that appears refreshingly unaffected by the passage of more than a quarter century.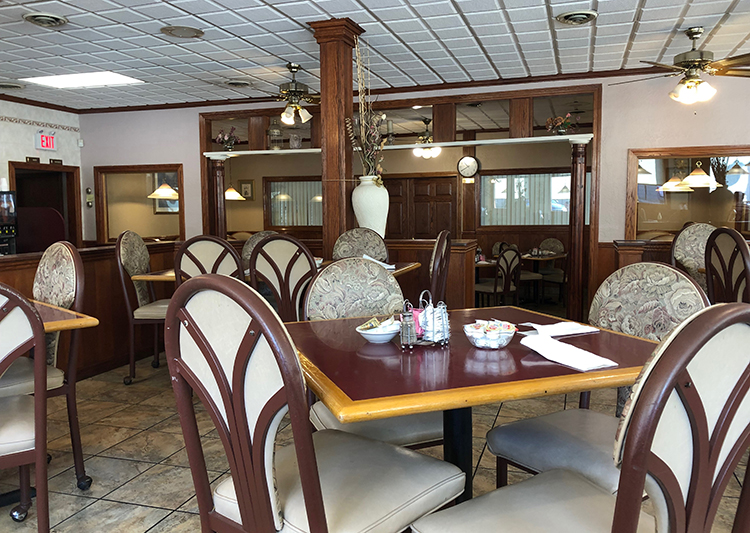 The split dining room is pretty spacious. There's an elevated area with a string of comfortable booths lining the window, as well as an abundance of four-top tables. There's a counter that runs along the back wall, with a row of stools facing the kitchen, a mural, and the lone TV (which was showing The Price Is Right during our most recent visit). There are artificial plants in ceramic pots and a line of video poker machines situated near the entrance. The adjoining banquet hall used to be open for a breakfast buffet on weekends, but it currently functions as a rental space for private events. Collectively, the space avoids being too dated, but it also isn't cutting edge. More than anything, it's clean, inviting, and functional.
Even if you've never been to Copper Kitchen, there's a chance you've seen the restaurant's interior…at least a version of it that's deemed suitable for television. Last year, the (legitimately awesome) Adult Swim program, Joe Pera Talks With You, set an entire episode at Copper Kitchen—renamed "Rousso's Family Restaurant" for the program. Though there's not actually a cake case at the restaurant, the show granted viewers an otherwise-apt glimpse of the place as Pera interacts with a breakfast crew, watches an acquaintance's ill-fated attempt to achieve "The Perfect Egg Bite," and wrestles with what he's going to order.
While Pera's character struggled to make a decision, we've learned over the course of our small handful of visits that it's tough to go wrong at Copper Kitchen. There's something for everyone in the seven-page tome that is the diner's menu. Two years ago, owners decided to do away with dinner service—stressed with the line of tape struck through the word "dinner" on their sign—but there are still a few dozen breakfast items, as well as a wide range of sandwiches, burgers, soups, wraps, appetizers, and sides for lunch. Excluding a trio of steak- and pork chop-involved items, nothing on the regular menu costs more than $9.99 (with the vast majority running well below that). Besides steak and chops, only select options on its list of Friday Fish Fry offerings fetch double-digit dollar amounts. Yes, despite closing at 3 p.m. daily, Copper Kitchen still has fish fry on Fridays. Oh, and there are even a few cocktails and beer options (including $3 High Life on tap!).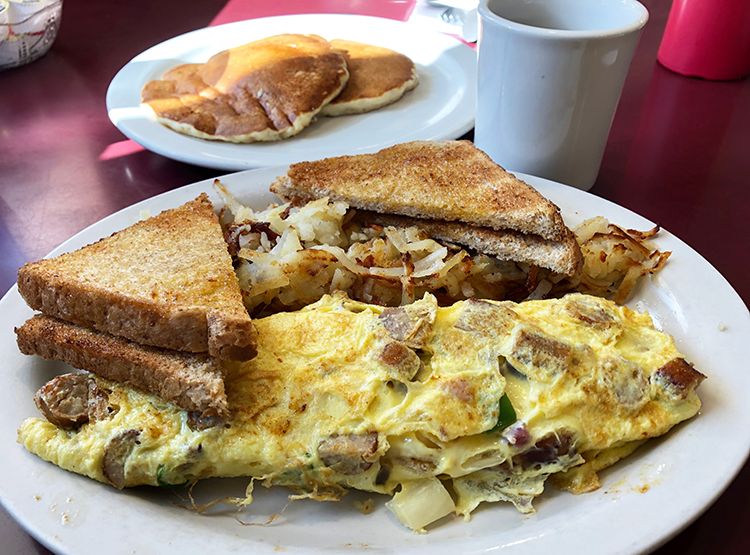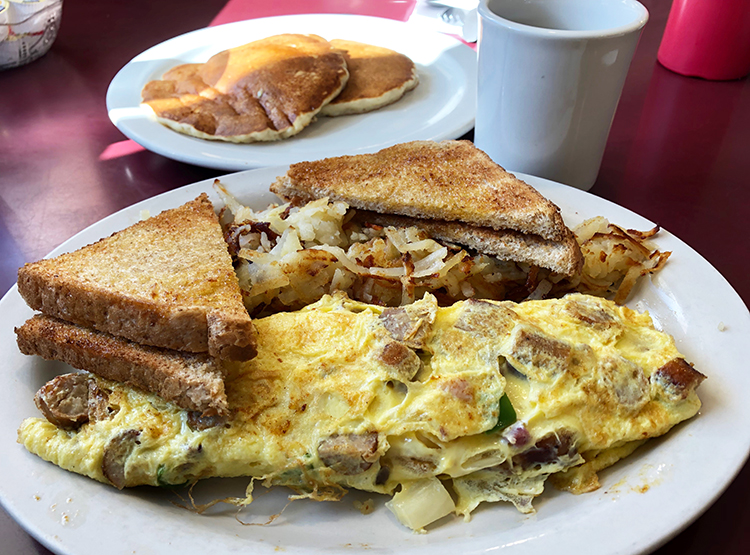 There's a ton to choose from, but it's the breakfast that brings us out. Copper Kitchen's egg-ceptional breakfast selection features 12 omelets, 13 skillets, and a seemingly endless run of first-meal favorites like eggs, waffles, pancakes, bacon, sausage, potato preparations, and more. Having enjoyed a skillet during our previous visit, we decided it was high time for an omelet this time around. We were tempted by that morning's $4.99 Denver Omelet special, but ultimately landed on the restaurant's namesake: Copper Kitchen Omelet ($6.95) that was a massive, meaty, and altogether satisfying blend of bacon, sausage, ham, mushrooms, green peppers, onions, tomatoes, and both American and Swiss cheese wrapped in a fluffy blanket of eggs. It also came with our choice of potatoes and two slices of toast.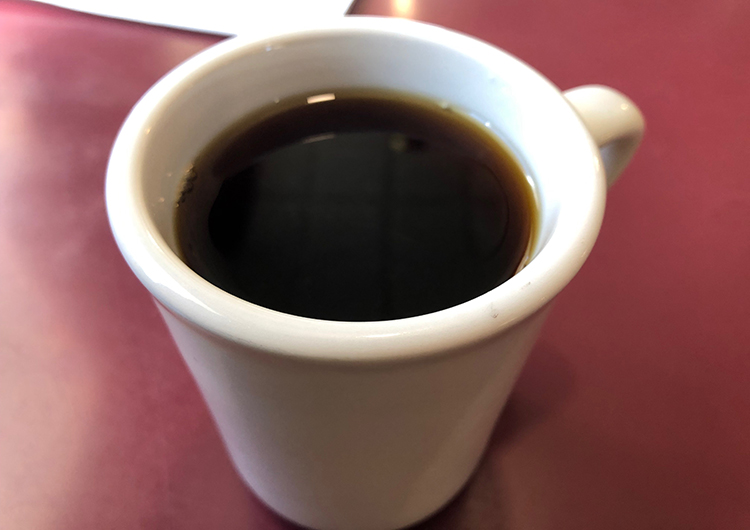 Speaking of fluffy, our traditional order of pancakes for the table ($4.75 for two) were incredibly soft and pillow-y, at least until we drenched the golden brown circles with syrup to take already-tasty cakes to the next level. And of course, we washed it all down with a cup of black diner coffee that was bad, but in the expected and strangely soothing way all true diner coffee is, was, and will always be. When that coffee is regularly replenished by a kindly server named Debbie who tells you (whom she'll call "sweetheart" and "honey" whenever she addresses you) stories about her grandson and the previous day's lunchtime rush, the comforting ritual of piping hot joe, eggs, pancakes, and the audio accompaniment of game shows and soap operas is made all the better.
This Howell Street restaurant isn't reinventing the concept of the diner. Instead, it's helping to preserve it during a time in which authenticity is fading and "the most important meal of the day" is on its way to becoming the most expensive. Yes, Milwaukee is experiencing a renaissance of excellent and innovative brunch spots, and we welcome that fully. Hell, we encourage it, so long as places like this aren't lost in the process. If you're looking for a new spot for your breakfast crew, a place to strive for that perfect egg bite, and somewhere you can fill up without emptying your bank account, Copper Kitchen is there for you. It has been for 27 years, and with any luck, it will continue to be for many years to come.