To most, Sunday afternoon's meeting between the Green Bay Packers and Detroit Lions doesn't mean a whole lot. Outside of offering marginal bragging rights for two subpar NFC North teams and serving as a platform for entertainment (or, more likely, debates about whether both teams should try to lose to improve their draft status), this weekend's season finale doesn't hold a great deal of significance for football fans in Wisconsin or much of Michigan.
However, folks in Michigan's Upper Peninsula, an otherwise meaningless Week 17 match-up between a pair of losing teams still has some importance. Twice a year, a mysterious region with split NFL rooting interests is treated to "The Yooper Bowl." Yes, despite being based in another state, the Packers aren't just popular in the U.P., they're the preferred team.
USA Today Network entertainment writer Shane Nyman grew up in the Upper Michigan city of Negaunee. Though he's been a Lions fan (and an adamant Packers hater) all his life, he says Packers fans in the U.P. actually outnumber Lions fans. He estimates 50 percent are Packer backers, 45 percent like the Lions, and the remainder root for the Bears or Vikings.
"I think the best way to look at it is the western half of the U.P. is Packers country and the eastern half is Lions country. That's often been the thinking and Facebook data has backed it up," Nyman says. "It's probably really all Packers country, but I refuse to admit it."
Before moving to Oshkosh after college, Nyman spent the first 23 years of his life in the Upper Peninsula. There, he grew up thinking the Packers and Lions had a "significant rivalry" because the (at least) semi-annual match-ups would be discussed in school and inspire trash talk between friends and Nyman's extended family—consisting of a fairly even mix of Packers and Lions fans—leading up to each game.
"Then I moved to Wisconsin and learned that Packers fans in and around Green Bay care about the Lions as much as, say, the Buccaneers or the Jaguars," Nyman says. "They've almost never been threatened by [the Lions]."
So why does Michigan's Upper Peninsula suffer from this identity crisis when it comes to its NFL rooting interests? Nyman says there are a number of factors that play into it. The first and most important of them is geography. Basically, Green Bay is much closer to anywhere in the U.P. than Detroit is. For example, the U.P. hub of Escanaba is just a two-hour, 110-mile drive from Lambeau Field. Meanwhile, Ford Field is more than six hours and 435 miles away. Another factor is access to broadcasts and telecasts. Nyman says his hometown Negaunee (located just outside the peninsula's most populated city, Marquette) didn't get most Lions games on TV until the early '90s.
Rush-Mor Records co-owner Dan DuChaine spent much of his childhood in the U.P. His grandparents lived in Escanaba and were huge Packer fans. He claims he's never met anybody from the region "that champions the Lions." In addition to the proximity to Green Bay, DuChaine says he thinks most of Upper Michigan chooses to go Green and Gold because of the players' connection to people there, especially those who frequented the region in the '50s and '60s.
"They were regular, hardworking people—the woodsman. It was a grassroots mentality, so I think they felt aligned to them because they were neighbors," DuChaine says. "It wasn't really relegated to the state. They knew those people, so they were real loyal to them."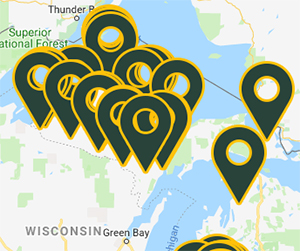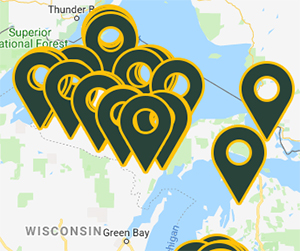 Decades after DuChaine first watched his beloved Packers with his relatives in Escanaba, the U.P.'s love affair with Green Bay seems stronger than ever. According to online directories, there are roughly 20 Upper Peninsula places that officially claim to be Packers bars.
Nyman says some establishments hang both Packers and Lions memorabilia and show both teams' games. Some places, such as Pacinos in Escanaba, go all out by devoting some (or all) their screens to the Packers on Sunday and having servers and bartenders don Green Bay apparel.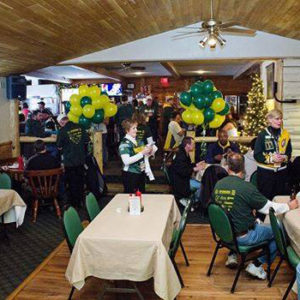 Other places, such as Black River Valley Pub in Bessemer, Michigan have sizable Packers gatherings and have been known to host current and former players at events.
This year, Adult Swim viewers were also exposed to the Upper Peninsula's divided rooting interest when Joe Pera Talks With You—based in Marquette, Michigan—chose a team for the show's eponymous main character to favor. Attentive viewers may notice a Packers pennant hanging in Pera's home.
"There was actually a discussion about it because the U.P. is fairly split between the Lions and the Packers," Pera told us.
Ultimately, Pera (a lifelong Buffalo Bills fan) chose to make the character a Packers fan because they're his favorite NFC team.
In addition to proximity, access to broadcasts, the identifiable aspects of the franchise, and the community of displaced fans that cheer on their team from Ironwood to Newberry and everywhere in between, there's another major reason the Packers seem to reign supreme throughout one massive portion of Michigan: they've almost always been better than the Lions.
"For the baby boomers, it was the Lombardi-era Packers that hooked them as children. For Generation X and millennials, [Brett] Favre did the same thing," Nyman says. "And, of course, Charlie Batch and Jon Kitna weren't exactly enticing young people to become Lions fans."
The Lions have never won a Super Bowl. Moreover, Detroit has only reached the playoffs four times in the last 20 years. The last time they won the division was 1993. Meanwhile, the Packers have won four Lombardi Trophies, made the playoffs 14 times since 1998, and won the division 12 times since the last time Detroit came out on top. The Packers hold a 98-71-7 advantage all-time against the Lions, including a 27-10 mark since the year 2000. Recently, though, fortunes have reversed. The Lions will try to win their fourth consecutive games against Green Bay this weekend.
While it might be difficult for most of us to derive much meaning from the futile late-season contest between a pair of fledgling franchises, it's nice to know that in one oft-forgotten and misunderstood place, the Packers and Lions rivalry is strong. What might be an insignificant contest to those of us in Wisconsin and much of "The Mitten" is still important to people in the Upper Peninsula.
In a portion of a state with two strong rooting interests, Sunday's game isn't a meaningless endeavor—it's The Yooper Bowl.