Milwaukee and its surrounding suburbs boast a wealth of great independent coffee shops, award-winning roasters, and other excellent area establishments where you can get a caffeine fix. We plan to celebrate some of these places in a bi-weekly series we're calling "Brewed City." This week: Hawthorne Coffee Roasters.
Down on Howell Avenue, near the convergence of the Tippecanoe and Town Of Lake neighborhoods on Milwaukee's south side, Hawthorne (4177 S. Howell Ave., 414-331-1382) has been roasting and serving up coffee since it migrated from its original West Allis location to the airport-adjacent property in late 2015.
Since its arrival, the space has seen significant change. Iron Grate BBQ briefly shared the property before moving to its own location a few doors north. Foxfire also utilized the kitchen for semi-regular pop-ups, as did Dairyland, Press, and Donut Monster for a time. The adjoining side room was occasionally used to host comedy shows and other sporadic live events. And somewhere between the start of the pandemic and the present day, a brand new counter was installed in the sports-bar-turned-cafe.
While a span of close to eight years has brought numerous adjustments to the Cream City cafe, Hawthorne's primary focus has always been the quality of its coffee. The beverage list is minimal, but features options that highlight small batch coffee that's roasted on-site to be served in a pour-over capacity or in the form of cold brew, bourbon barrel cold brew, and cold brew mocktails. There's also a modest selection of espresso drinks, teas, and other non-alcoholic options on hand.
Though we can't claim to be regulars, we stop by Hawthorne a handful of times each year on average, alternating between cold brew coffee and the occasional latte to-go, or a bag of beans. When we decide to stick around Hawthorne and sip, we typically opt for a mug of pour-over Joe.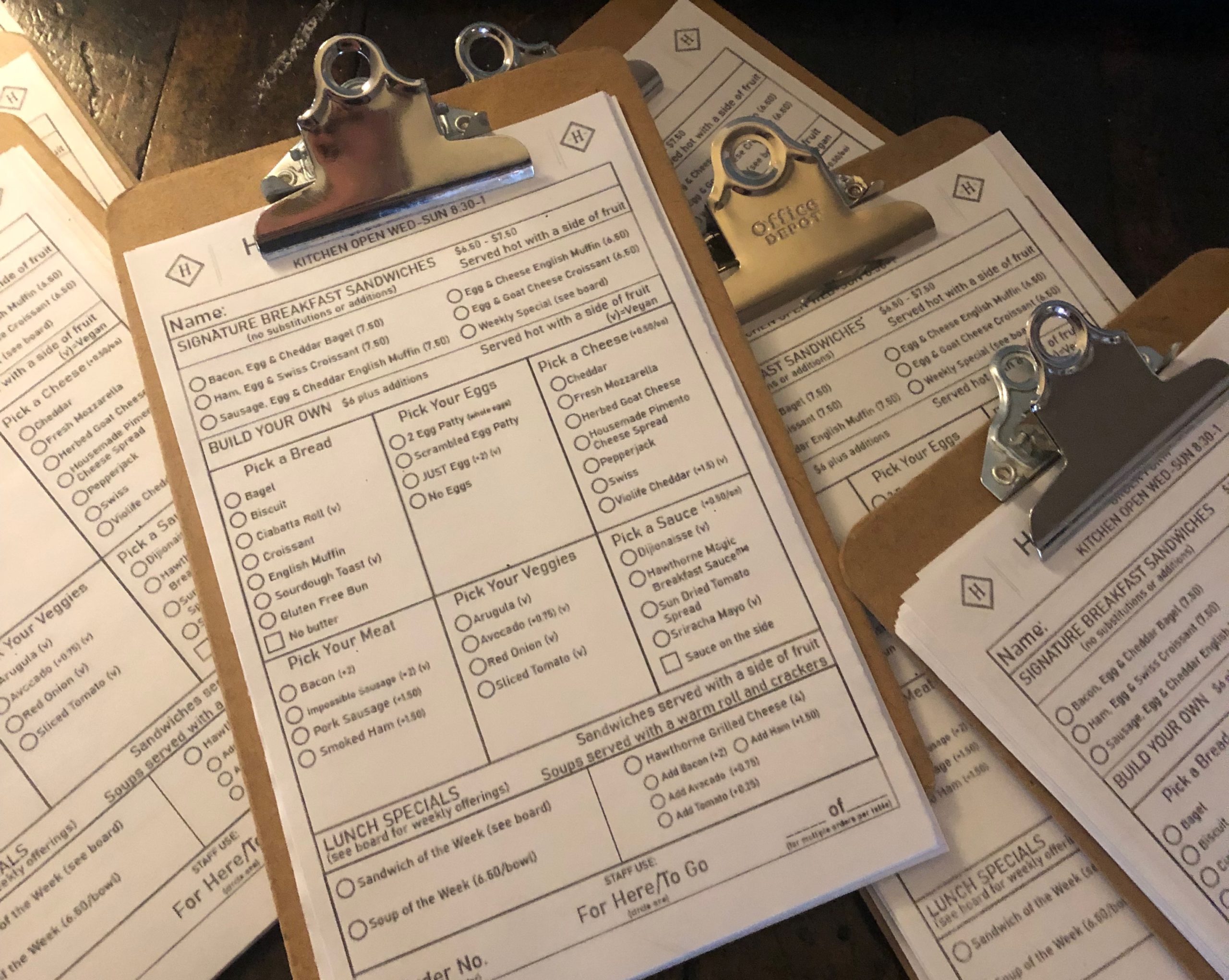 During our most recent visit, they were serving up Guatemala. We ordered a mug, but not before making our selection from Hawthorne's relatively new breakfast sandwich menu. Yes, from Wednesday to Sunday between the hours of 8:30 a.m. and 1 p.m., the coffee shop that used to serve as an incubator of sorts for other people's restaurant concepts is now offering up its own breakfast and lunch fare…and it's damn good.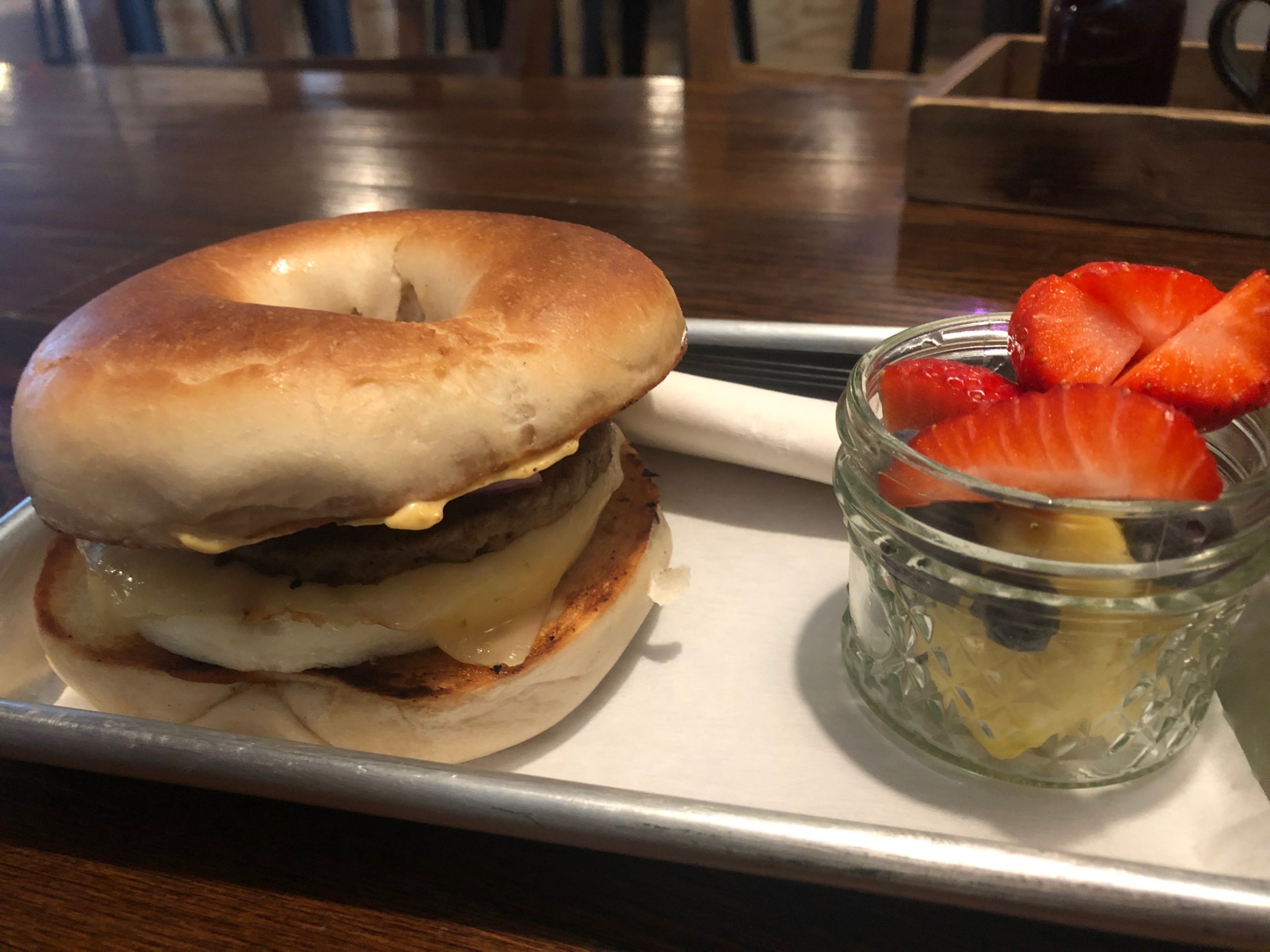 In addition to the pre-made sandwiches stocked in a cooler near the door, Hawthorne now prepares a half-dozen signature sandwiches to order or allows customers the opportunity to build their own sandwiches. After examining the form affixed to a clipboard, we made our decision: a bagel with two egg patties, pepperjack cheese, Impossible sausage, red onion, and—largely swayed by the name and its supernatural claims—some Hawthorne Magic Breakfast Sauce™.
The delectable and filling breakfast sandwich was accompanied by a small jar that was heaping with fresh pineapple, blueberries, and strawberries. Instead of reinventing the wheel, Hawthorne's breakfast menu simply-but-indisputably improves on the classics. And yes, the Breakfast Sauce is magic. We encourage you to read this excellent article that first brought Hawthorne's new breakfast offerings to our attention if you'd like more info on the food menu. Oh, and there's also homemade bakery items available at the counter. We're still thinking about the Egg Nog muffin we had at Hawthorne back in December.
As we waited for our coffee and food to arrive, we grabbed a seat at one of the tables situated in the shop's spacious and no-frills front room, took out our laptop, logged onto the free WiFi, and got some work done. As we typed away between bites of bagel sandwich and satisfying sips of hot brown, we took in the sound of regulars casually shooting the shit with one another, the focused chatter of a pair there for a work meeting, and Hawthorne's vibe-y pop soundtrack that ranged from Katy Perry and Harry Styles to Vanessa Charlton and even some local love for Milwaukee's own Reyna. Other visits have highlighted bluegrass and indie rock, so we'd say the music seems to be dependent on the shift and/or the barista's preferences.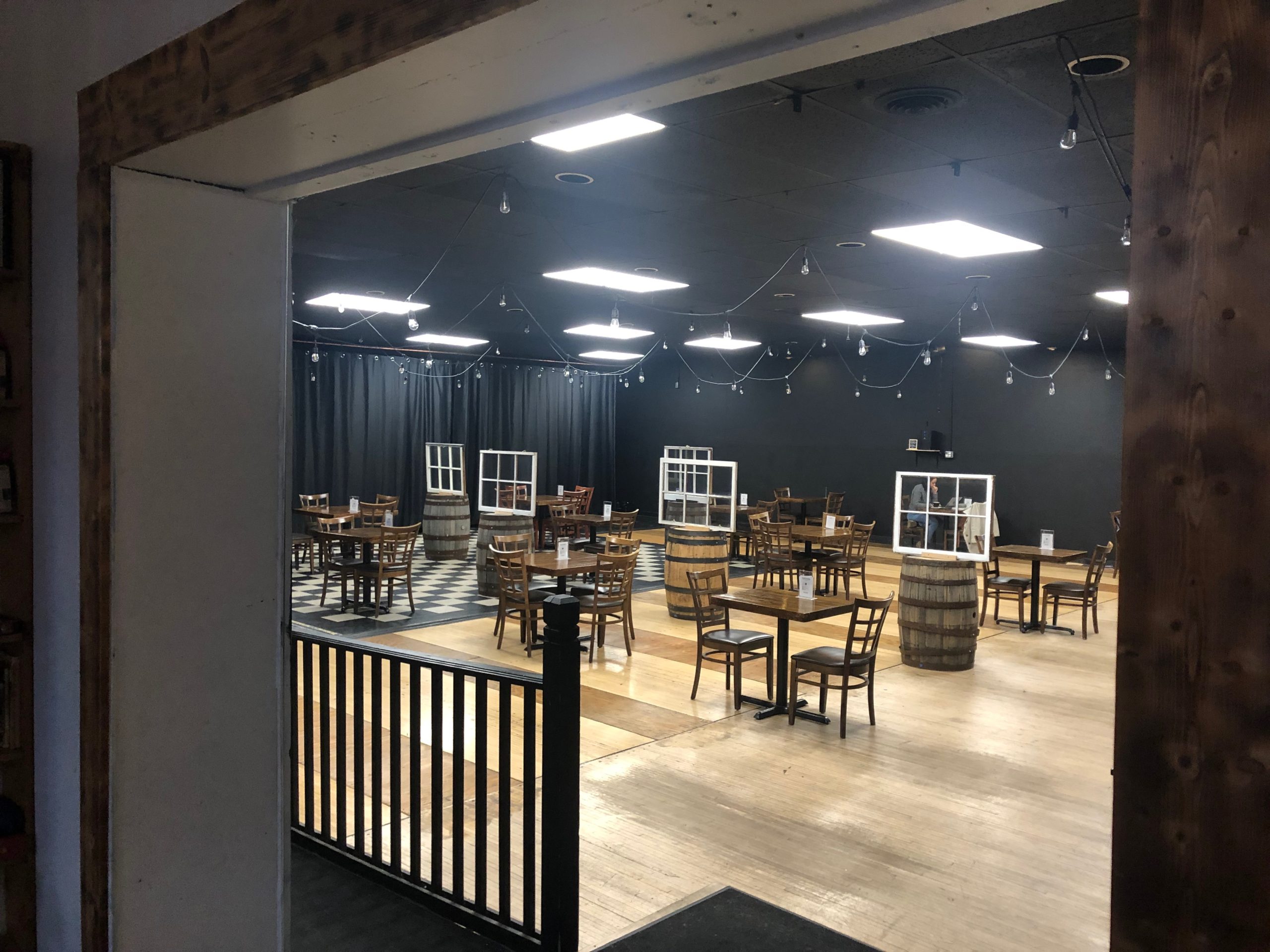 If something a bit brighter and even more spacious is preferred, you can make your way to the veritable sea of two- and four-top tables strewn about Hawthorne's back room. In warmer months, the patio along the Plainfield Ave.-facing side of the establishment offers outdoor seating as well.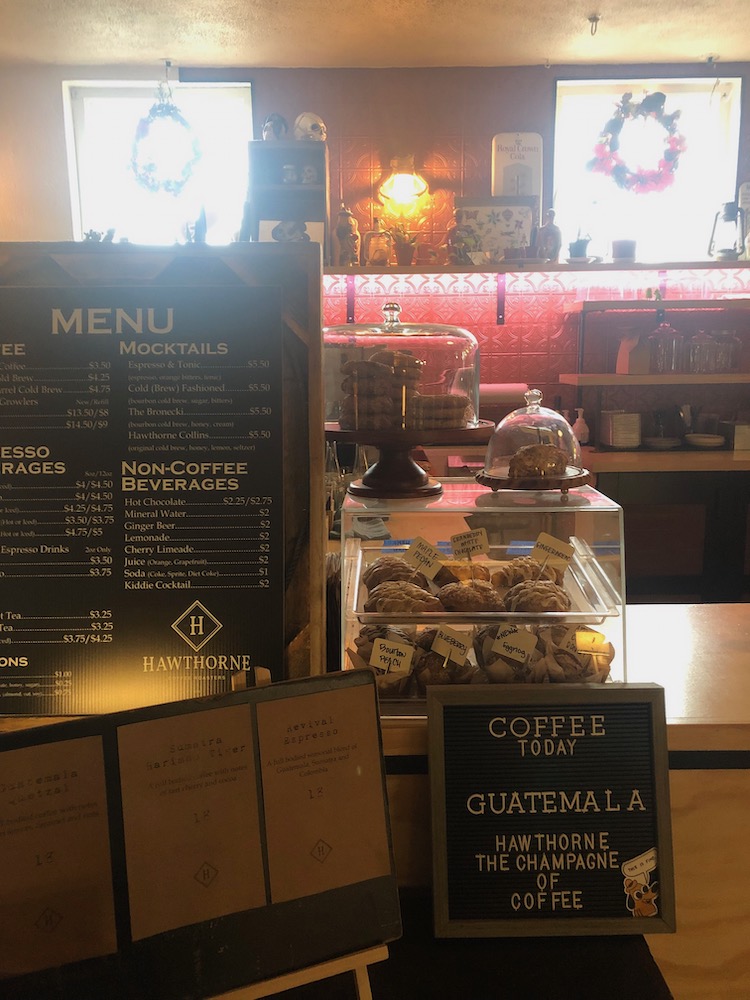 Between the tasty and bold small batch coffee, the elevated take on time-tested breakfast sandwiches, the comfortable setting that in no way evokes anything resembling the sterility or uniformity of a chain cafe, and the variety of references to The Office scattered throughout the interior, we're left wondering why we don't hang out at Hawthorne Coffee Roasters more often. Well, so long as they keep the coffee brewing and continue to spread Magic Breakfast Sauce™ on perfectly toasted bagels, we suspect it won't be too long before we make our way back down Howell Avenue to spend a little more time at the south side gem that is Hawthorne Coffee Roasters.