Keeping track of what's coming and going at East Side food hall Crossroads Collective can be challenging. Sure, turnover is the nature of the food hall beast, but the bustling dining hotspot at 2238 N. Farwell Ave. seems especially turnover-y lately.
Take Atwood Hwy BBQ Company. Owners Donteah and April Morehouse opened an Atwood location (their second) at Crossroads in April 2023. Five months later, the location has closed.
"After much contemplation, we have decided to close our second location at Crossroads Collective effective today," reads a social media post from last week. "This decision was not made lightly however, circumstances beyond our control have forced us to reevaluate our operations, and after careful consideration, we believe it is in the best interest of our business to close this location. Our doors at South Milwaukee (925 Madison Ave) will remain open and we will still be out with The Shack so stay tuned for updates."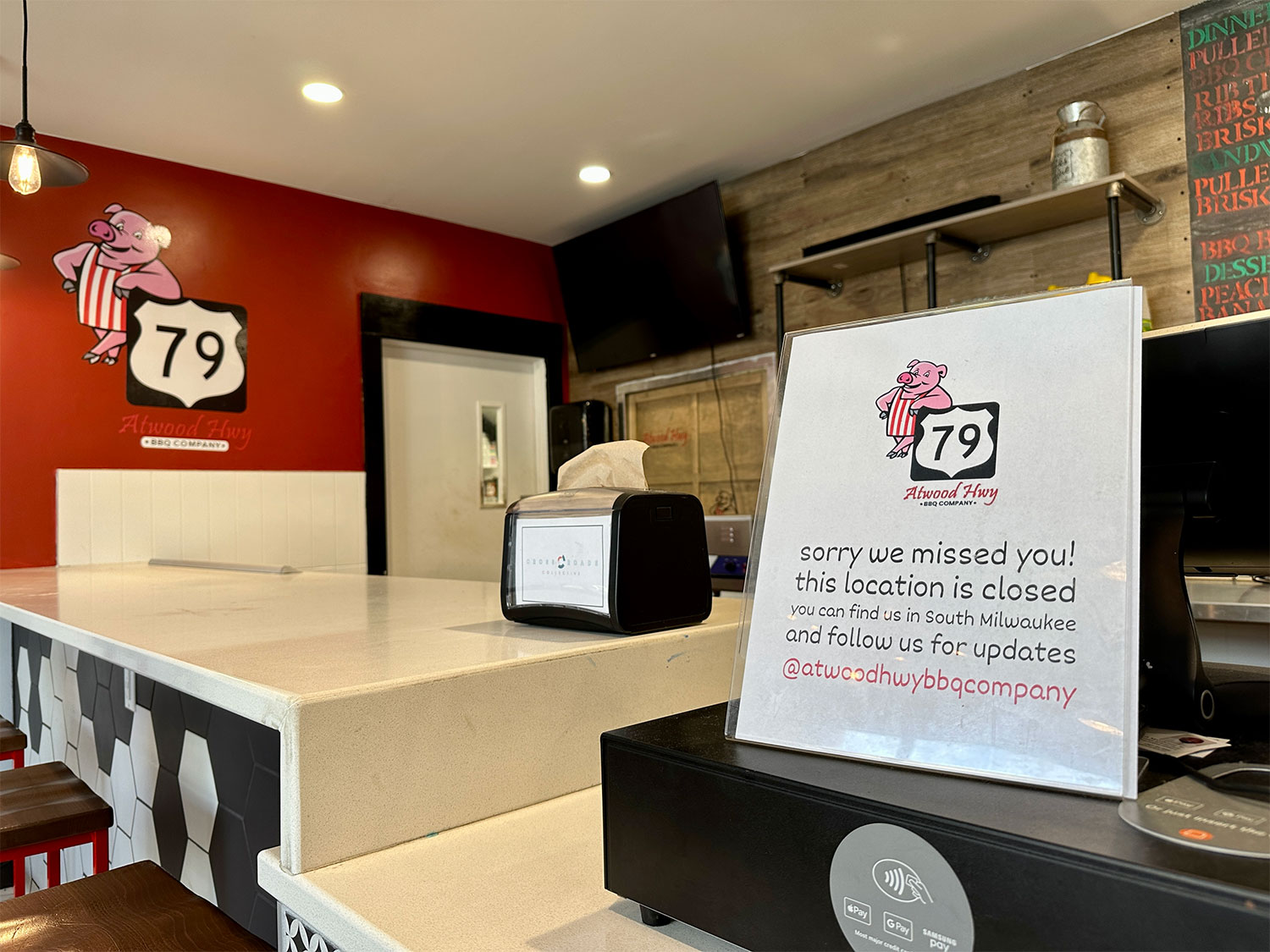 Meanwhile, a new artisan egg roll joint, Ready To Roll, is being planned for a different stall at Crossroads. License applications filed with the city list a proposed opening date of October 15, 2023. Hours are listed as 11 a.m. – 9 p.m., Thursday through Sunday.
A website for Ready To Roll highlights that the business is both Black- and woman-owned. It lists three types of egg rolls:
• The Southern Belle: "Get your hands on Ready To Roll's one-of-a-kind superfood egg rolls—made with fresh garlicky roasted collard and turnip greens, mixed with kale. Fried and dipped in our signature garlic butter sauce."
• The Chi: "Inspired by the famous Chicago Italian Beef sandwich, but veganized! Made with vegan 'beef,' bell peppers, and vegan cheese. Fried and dipped in our signature garlic butter sauce."
• The Chicken Philly: "We took the traditional Philly Cheesesteak and reinvented it with ground chicken, onions, bell peppers, and cheese. Rolled it all together, fried, and dipped it in our signature garlic butter sauce."
The currently empty stall Ready To Roll is planned for serves as a pop-up spot branded "The Corner." Per Urban Milwaukee, the space "host[s] vendors for two to six weeks—providing equipment, support and camaraderie from fellow entrepreneurs for the duration of the short-term stay."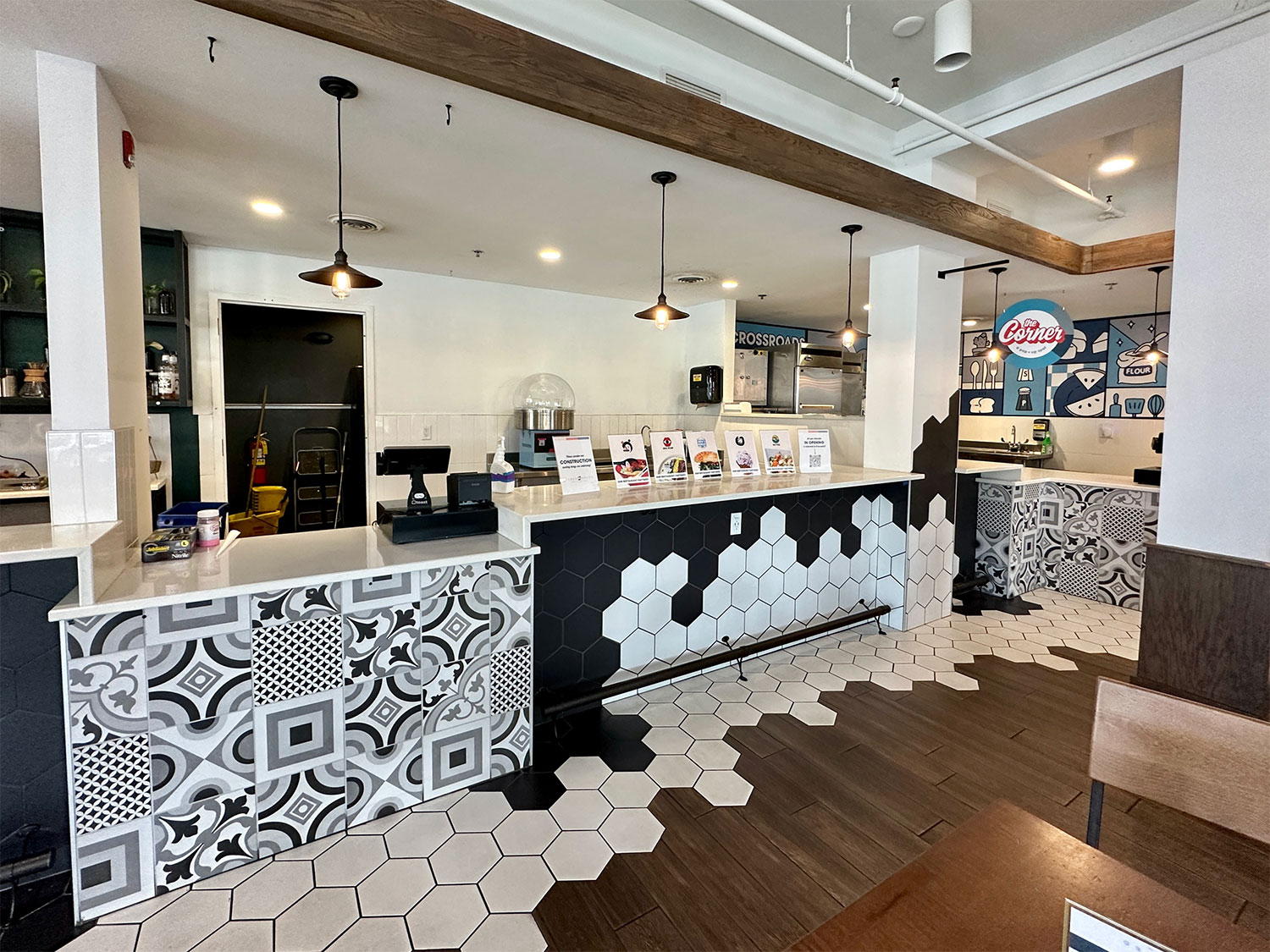 In other Crossroads news, Kawa Ramen & Sushi has been operating out of the stall formerly occupied by Egg & Flour since July 2023, following a fire at its nearby location at 2321 N. Murray Ave. The Counter Day Bar, a heavily hyped non-alcoholic cocktail bar from Discourse, closed in July 2023 after five months in business. (Discourse operated an "experimental coffee bar" in the same space from January 2022 to December 2022.) Nute's Café opened in April 2023, replacing Ruta's Cafe, the latter of which now has its own location at 207 W. Freshwater Way in Walker's Point.
Crossroads Collective opened on the corner of North and Farwell in late 2018. Longtime Milwaukeeans still remember the space as the former home of Oriental Drugs pharmacy.
Want more Milwaukee Record? Subscribe to our free weekly newsletter and/or support us on Patreon.
---
RELATED ARTICLES
• Crossroads Collective welcomes new vendors, bids farewell to Counter Day Bar
• Egg & Flour Pasta Bar will leave Crossroads Collective after May 4
• Crossroads Collective announces Nute's Café as new vendor
• Crossroads Collective welcomes Atwood Hwy BBQ Company
• The Counter Day Bar brings a non-alcoholic cocktail bar to Crossroads Collective
• Discourse, an "experimental coffee bar," will open in Crossroads Collective February 5
• Shout-out to Crossroads Collective for finally putting their (full) name on their sign
• Can Crossroads Collective live up to the legacy of Oriental Drugs?
• Take a look inside Crossroads Collective, which opens Monday
• Spirit of Oriental Drugs will live on in Crossroads Collective food hall