The transitory nature of food halls not only makes it hard to keep track of which vendors are coming and going, it makes it hard to get attached to certain vendors. Still, Egg & Flour Pasta Bar has been such a staple of East Side food hall Crossroads Collective (2238 N. Farwell Ave.) that its sudden announcement that it will be leaving after May 4 is particularly devastating.
"After an incredible four years in business, I had the best but hardest decision of my career. I have decided to close our original Egg & Flour location on the East Side," said Chef Adam Pawlak in a statement on Tuesday. "I am extremely proud, fortunate, and humbled by the love and support of the Milwaukee community. I was able to open my own restaurant and serve the food that made me genuinely happy. I can not thank my business partners, staff, and customers enough for everything over the years, and I am incredibly honored to call MKE home."
After the May 4 closure, Pawlak says he will focus his attention on Egg & Flour's Bay View location, 2273 S. Howell Ave. His statement continues:
After much consideration, it is time for another great dreamer, entrepreneur, chef, and inspired owner to come into this space and create their own story. Their own dream come true. I am ready to do new events, private dinners, charity work, spend time with friends and family, hopefully get some more free time, and enjoy life a little bit more!

The foodhall has given me the opportunity to start and build a brand that I am so incredibly proud of and so thankful for the opportunity over the last 4 years. I have met so many amazing people, and our pasta movement will always leave its mark in the food hall. Crossroads Collective has always been a great anchor for the east side and supported everything I have done.

I am excited about our flag ship Egg and Flour Location in Bay View! Which will be our forever home base and location for all things pasta! Being able to focus on one business gets me excited for all the cool new additions to the BV location!

Our last day of service on the east side will be Thursday, May 4th! I hope to see people come down one last time and celebrate what has been an amazing 4 years!

Again, thank you… We can't wait to see you all in Bay View and keep the pasta movement going!
Egg & Flour opened in Crossroads in May 2019, five months after the food hall opened its own doors. The Bay View Egg & Flour location opened in March 2020. A Wauwatosa Egg & Flour location closed in early 2022.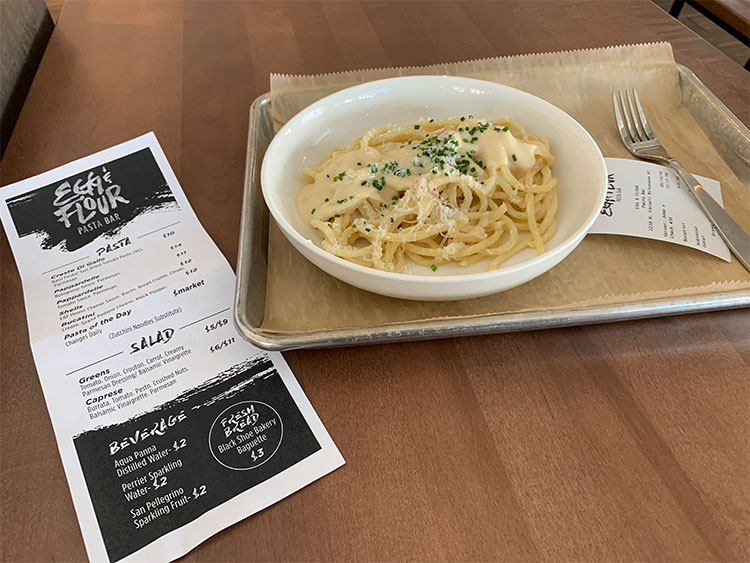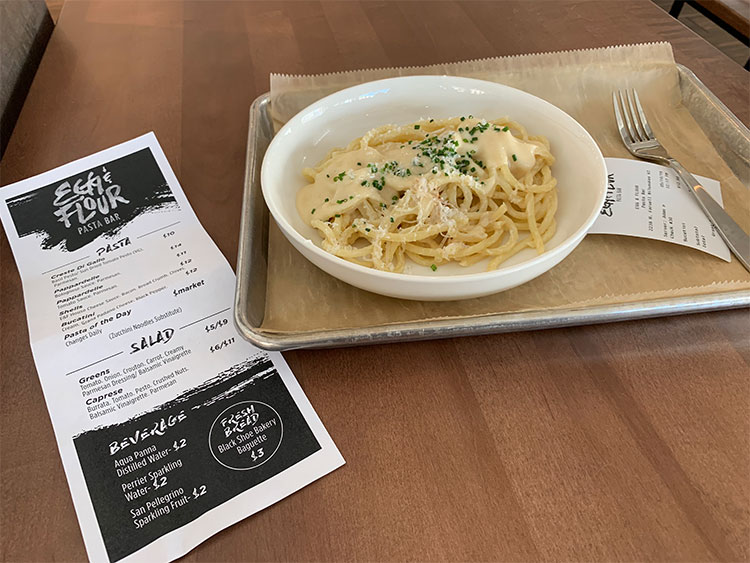 Exclusive articles, podcasts, and more. Support Milwaukee Record on Patreon.
---
RELATED ARTICLES
• Egg & Flour Pasta Bar is open at Crossroads Collective and it's good
• Egg & Flour Pasta Bar's Bay View location will open March 9
• Crossroads Collective announces Nute's Café as new vendor
• Crossroads Collective welcomes Atwood Hwy BBQ Company
• The Counter Day Bar brings a non-alcoholic cocktail bar to Crossroads Collective