Welcome to Food/Drink Week at Milwaukee Record, brought to you by Milwaukee's new favorite import, Bofferding. From May 13 through May 20, belly up and enjoy a fresh smattering of restaurant visits, beer articles, booze videos, deliciously arbitrary rankings, and some good old fashioned adventure food journalism.
Since opening in December 2018, Crossroads Collective—a.k.a. one of the city's first "food halls," located in the former Oriental Drugs space on the East Side—has been great. Walk inside and you're greeted with various "micro-restaurants": Heaven's Table BBQ, Falafel Guys, Raw Bar, Frida (soup and sandwiches), Beerline Café (veggie and vegan crepes), and Scratch Scoop Shop. (The Laughing Taco recently closed its stand.) Plus, there's a nifty secret bar in the back alley! Fun!
Oh, and beginning today, Egg & Flour Pasta Bar is totally open for business. We tried it. It's good!
Egg & Flour is the brainchild of former Black Sheep executive chef Adam Pawlak. A press release from earlier this year goes on to explain…
Egg & Flour will be a first of its kind in the Milwaukee market; offering fresh (that morning) pasta with a variety of different and ever changing noodle (pasta) and sauce combinations, again, all made fresh daily. Egg & Flour will be unique in its way of providing a high end, fresh pasta experience at fast casual prices. Diners can expect handmade raviolis, tortellinis, agnolotti, and a variety of fresh extruded pasta such as linguine, rigatoni, fusilli, shells of all sizes, and much, more…including "zoodles" for gluten intolerant and vegan guests.
So yeah, we tried the Bucatini ($12) and it was pretty fantastic. Other menu items currently include Creste Di Gallo ($10), two kinds of Pappardelle (with bolognese sauce, $14; with tomato sauce, $11), Shells ($12), and a market-rate pasta of the day.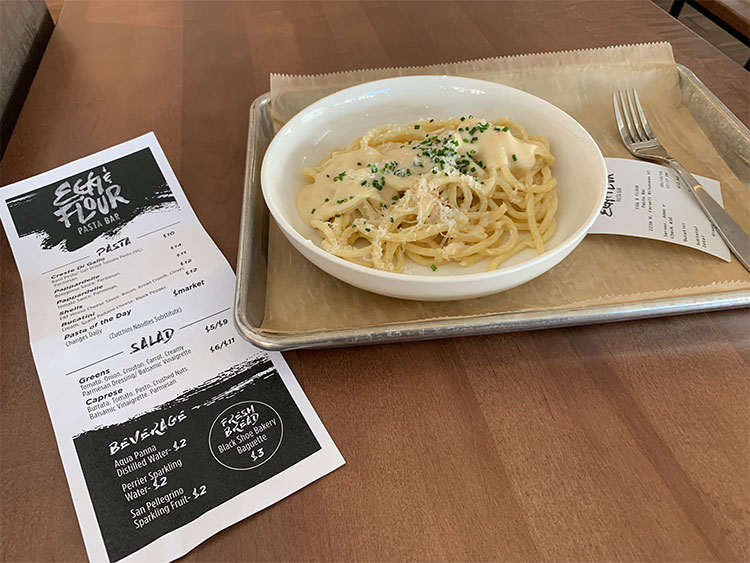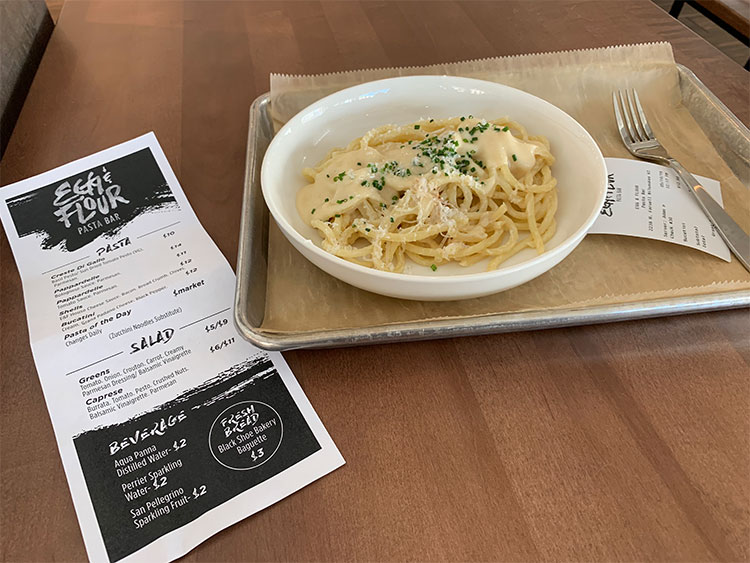 Crossroads Collective is open daily at 11 a.m. Check it out!
Unrelated: Here's a golfer we saw on the walk home who was working on his short game in one of those tiny triangular parks: